One of the questions I often get asked is "What are the best travel resources to use when planning a wine trip?"
After sipping my way through 30 countries and half of the United States, I've pretty much nailed the whole planning and packing process.
I've tested A LOT of different tools and products in my many years of travel. And let's just say I've mastered the art of safely transporting wine (lots and lots of wine!).
So, here's the deal. I've sifted through the heaps of options out there. And I've compiled a handpicked list of my go-to travel planning websites, trusted booking platforms, and must-have packing essentials.
Plus, I've thrown in some insider advice and money-saving tips to ensure your next adventure goes off without a hitch!
Using my affiliate links is a great way to support Wine Travelista at no additional cost to you. I only recommend products and services I truly like and trust.
Trip Planning
TripAdvisor
TripAdvisor is one of my go-to tools for planning a wine trip…hotels, restaurants, tours. Even if I'm booking elsewhere, checking the reviews on TripAdvisor is always my starting point. Plus, it's a great way to compare prices across a number of platforms.
It's even a great resource for researching wineries. I wouldn't take the overall rating at face value. But read individual comments to get a sense of the vibe, whether the customer service is good, and if they have options for food. Plus, you can usually tell whether they cater to large groups or have a more intimate tasting experience.
Google Sheets
I'm all about keeping things organized, especially when it comes to my wine adventures. That's why I love using Google Sheets to track my bookings and trip details.
I create a dedicated sheet for each trip, and it's a game-changer. Whether I'm at home or on the road, I can access all my essential info right on my mobile phone.
If you travel frequently, create a tab for each trip. It makes it easy to toggle between current trips and reference past ones.
Flights
Skyscanner
When it comes to scoring the best deals on flights, Skyscanner is my go-to resource. I love their whole-month view for comparing prices and finding the ideal departure and return dates.
You can also explore nearby airports to uncover hidden savings. Plus, get notified when there's a lower price with fare alerts. Make sure to download the mobile app too in case you need to book a flight on the go.
And if you're feeling adventurous and don't have a specific destination in mind, just type "everywhere" in the search field. Skyscanner will show you the cheapest flights to top destinations worldwide from your airport.
And if you're still on the fence about where to go, take my wine destination quiz to find your perfect match!
Accommodations
Booking.com
Booking.com is my favorite website for finding and booking hotel stays. It's easy to use. And it defaults to displaying the total price, so I know exactly what I'll be paying. Plus, most properties offer free cancellation.
And, if you're like me and book frequently, their "Genius" program gives you increasing perks like discounts, free breakfast, and room upgrades. Penthouse suite? Yes, please!
VRBO
One of my best travel tips for saving money is cooking your own food. But that's not the easiest thing to do in a hotel room.
VRBO is awesome for finding stand-alone vacation homes (no shared spaces here!) hosted by property owners throughout the world. I've noticed their prices often edge out Airbnb because VRBO takes a smaller cut (though not always). And it's like having a home away from home, even on a wine adventure.
Harvest Hosts
If you own a self-contained RV, this camping membership is an incredible way to fully immerse yourself in wine country. With more than 4,000 unique host locations in the U.S., including 800+ wineries, you can stay overnight with no camping fees.
Wake up among the vines, stroll over to the winery for a wine tasting, and maybe even meet the winemaker. And through 1/12/24, the annual membership fee is 30% off.
Wine Tours & Tastings
These are the sites I use for booking wine tasting tours, sightseeing adventures, day trips, and multi-day journeys. Also, check out my wine region travel guides for tailored tour recommendations specific to your destination.
Viator
Viator is a great site for finding the best wine tours throughout the world. They've got an extensive selection that's hard to beat. Whether you're looking for private drivers, small group tours, or budget-friendly options, they've got it all.
Viator is also fantastic for sightseeing adventures and experiencing local culture. And most tours offer free cancellation up to 24 hours before the adventure. Because let's face it, travel can be unpredictable.
GetYourGuide
If you're all about sustainable travel, GetYourGuide is the way to go. Look out for their "eco-certified" icon on tours, emphasizing their environmental commitment.
While they may not have as many options in North America, they're great in Europe and other global destinations.
TravelStride
If you're not the DIY traveler type, I recommend checking out TravelStride. This is the best place for finding and comparing multi-day tours from top providers.
Search a large database, filter by trip style, budget, and duration, and find your perfect adventure. Be sure to create a free account and select "Member Savings eligible trips" in the Deals & Savings filter for special discounts exclusively for TravelStride members.
Priority Wine Pass
For U.S. wine regions on the West Coast, I love the Priority Wine Pass for saving money on tasting fees, bottle purchases, and more. They offer an annual, 30-day, or 3-day wine pass that gets you all kinds of discounts at 350+ wineries in California, Washington, and Oregon.
They also partner with hotels, restaurants, and transportation companies to save you even more on your wine travels. And with the included concierge service, you can get a personalized itinerary that focuses on wineries that match your wine style.
Car Rentals
Kyte
Kyte offers fantastic car rental prices, available in select U.S. cities. What's cool is their "surfer" service. They deliver the car to you and pick it up when you're done.
On the West Coast, find them in California (Los Angeles, San Francisco) and the Pacific Northwest (Seattle).
In the east, Kyte's available in Washington D.C. (perfect for Virginia wineries) and NYC (great for Long Island wineries and Finger Lakes wine country). I also rented one recently in Chicago to drive out to Southwest Michigan wineries.
Discover Cars
When Kyte's not available, Discover Cars is a great place for finding the best price. Through the search engine, you can compare negotiated rates from rental companies in more than 145 countries.
And the price shows all the fees and taxes, so you know which one is actually the best deal. Plus, they offer free cancellation.
International Travel Resources
Airalo
In the world of travel, staying online is essential. Until recently, I'd spend precious vacation time hunting for a SIM card store upon arrival.
But eSIM cards from Airalo make it so much easier. They offer pre-purchase options for local, regional, and global eSIM cards, covering 200+ countries. Just choose the amount of data and number of travel days, and you're ready to stay connected on your next wine adventure.
Transporting Wine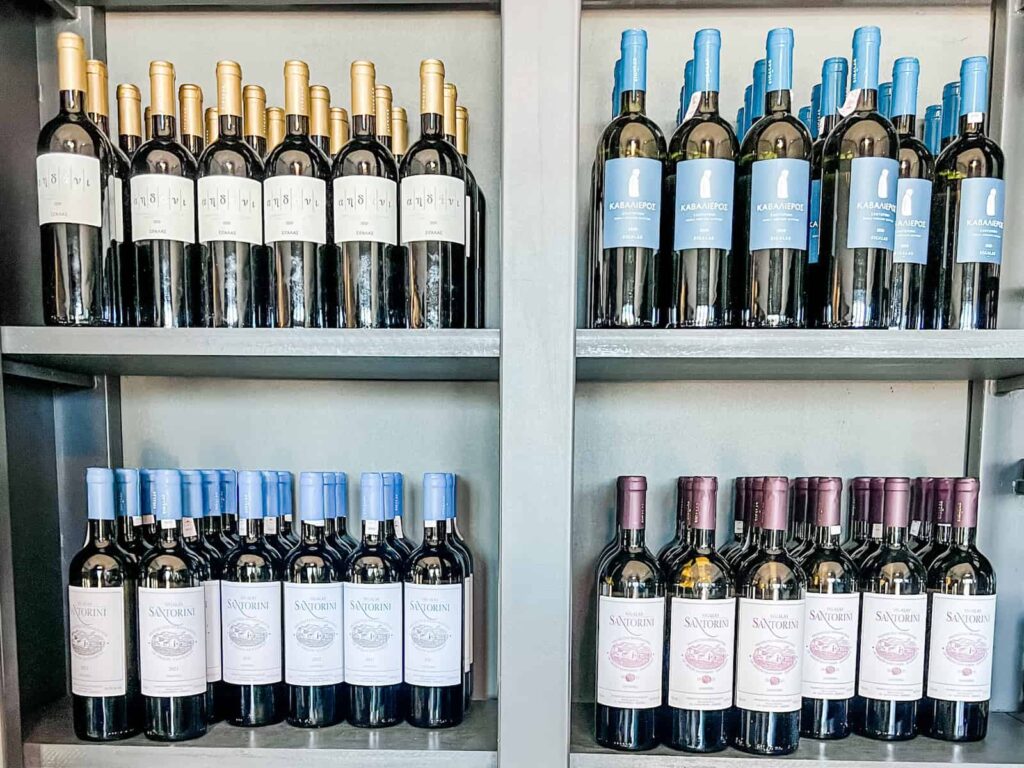 Wine Protector Sleeves
Wondering how to safely bring wine home from your wine country journeys? My trusted method involves using wine protector sleeves. Knock on wood, I've never had a bottle break. And they're flat and light so they're easy to bring with you.
To meet airline weight limits, I bring a large suitcase with extra room for wine. And I pack a foldable carry-on-size duffel bag to offload items for the journey back.
Wine Suitcase
If you're a frequent wine traveler, consider investing in a wine suitcase. VinGardeValise has padded cases designed specifically for wine bottles. While they aren't cheap, they can pay off after a few trips compared to shipping costs. You can buy them in these sizes:
Tip: Bottle weights can vary based on the type of wine and glass thickness. So you may not always be able to stay under the weight limit with the 12-bottle suitcase fully packed.
Suitcase Weigher
A portable luggage scale is essential so you don't get dinged by airline fees. Especially if you went a little overboard with your wine purchases.
TSA-Approved Suitcase Lock
Protect your wine treasures with a TSA-approved suitcase lock if your suitcase doesn't come with one.
Cooler Bag
If you're traveling during the summer or in a warm region, make sure your wine doesn't get cooked in a hot car or tour van. I always bring an inexpensive cooler bag and pick up some ice before hitting the wineries.
Bonus: Not only does it keep your wine chilled, but it doubles as a carry-on for your return journey if you need to lighten your suitcase.
Wine Travel Essentials
From staying organized to staying hydrated, these are the travel essentials I swear by. Plus, when you're on a wine adventure, it's always wise to have some wine accessories on hand.
And if you're looking for a comprehensive list, don't forget to grab my free packing list download.

Whether it's your first trip or you're a seasoned pro, I hope you find these resources helpful while planning your next trip!