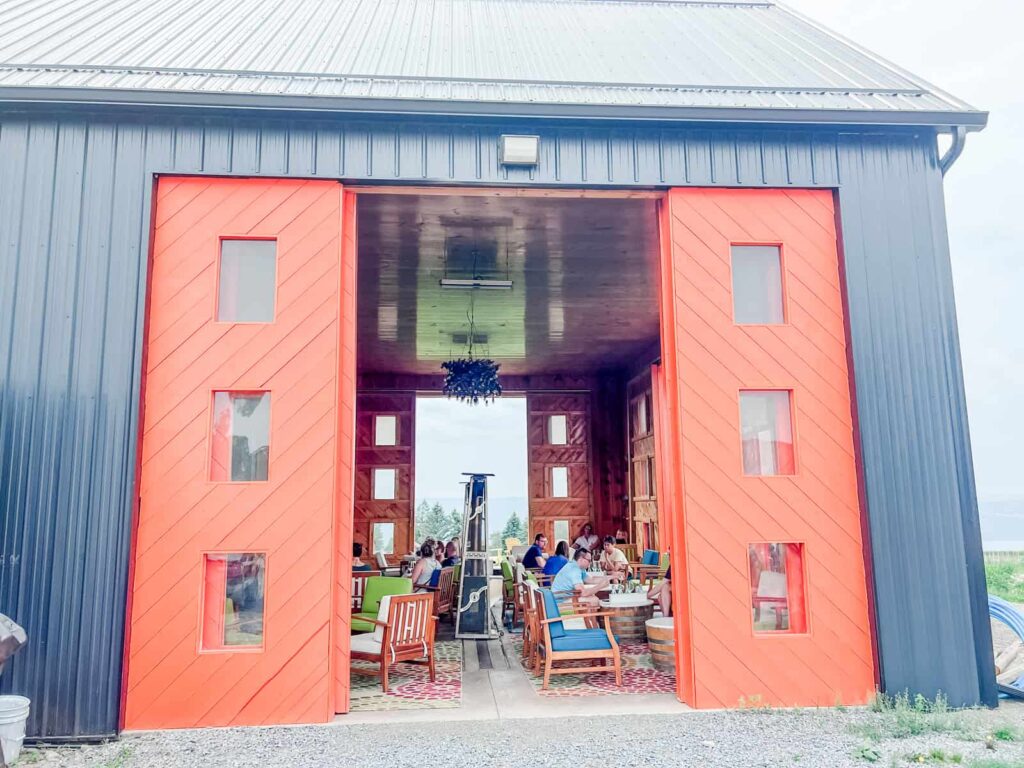 Looking to do some swirling and sipping in the Finger Lakes, NY? If you're planning a trip to this stunning region, you can't miss exploring the incredible Seneca Lake wineries. In this complete guide, I'm popping the cork on all the deets you need for a wine-filled adventure.
Not only is Seneca the largest and deepest of the Finger Lakes, but it has the most wineries. The conditions make it ripe for producing incredible aromatic white wines, elegant reds, and delicious dessert wines.
But with more than 50 wineries to choose from (plus many others in the surrounding Finger Lakes wine country), it can be hard to narrow your list down.
Don't worry, I've got you covered! As an American Wine Expert and WSET-certified wine blogger, I've done the sipping and swirling for you. And I cherry-picked this shortlist of the best wineries on Seneca Lake.
So, get ready for an unforgettable wine tasting journey through Seneca Lake's finest.
While you're here, don't miss taking my wine country destination quiz! It will magically match your taste buds, travel style, and winederlust desires to reveal the wine region of your dreams. Plus, you'll get my wine region guide to make planning a breeze. Take the quiz.
History of Seneca Lake Wineries
Way back in the early 1800s, Reverend William Bostwick planted the very first vines in the Finger Lakes on the south end of Keuka Lake.
But it wasn't until 1866 that the first winery popped up on Seneca Lake. With 100 acres of plantings, Seneca Lake Grape Wine Company had the biggest vineyard in the whole state back then.
In the 1880s, the New York State Agricultural Experiment Station opened shop in Geneva. Their grape breeding and research programs paved the way for others in the grape-growing industry.
By 1900, the Finger Lakes region was up to 50 wineries. But Prohibition hit the region hard in the 1920s. Only the biggest wineries survived, staying afloat with grape juice and sacramental wine.
But the 1970s brought a renaissance! Charles Fournier and Dr. Konstantin Frank had successfully grown vinifera vines at their Keuka Lake wineries. And they expanded these plantings to Seneca. At the same time, a German immigrant named Hermann J. Wiemer planted 140 acres of vinifera on Seneca's west side.
Soon after, new wineries like Glenora Wine Cellars and Wagner Vineyards followed. Plus, the Agricultural Experiment Station (now part of Cornell) developed French-American hybrid grapes like Cayuga, giving growers more options.
This decade also saw the passing of the NY Farm Winery Act, letting wineries sell directly to the public.
In 1982, the Finger Lakes AVA (American Viticultural Area) became official. And 1986 saw the birth of the Seneca Lake Wine Trail.
The '90s brought rapid growth, with more than 100 wineries sprouting up throughout the Finger Lakes. Finally, in 2003, Seneca Lake got its own AVA. And here we are today, with more than 50 amazing wineries calling Seneca Lake their home!
Pin for Later!
Seneca Lake Climate and Terroir
This cool climate region is no cakewalk when it comes to grape growing. Snow, rain, humidity…you name it, it's got it.
And with things changing drastically from year to year, there's no shortage of vintage variation. Just in the last few years 2020 was hot and dry, 2021 was a monsoon, and 2022 had a little of both!
Ancient glaciers carved out the Finger Lakes, leaving all kinds of different soils. From shale to limestone to gravel and silt, it makes for an interesting puzzle when it comes to planting the right grape varieties.
Seneca Lake is the largest of the Finger Lakes by volume. Stretching 35 miles long and diving to depths of more than 600 feet, it's no wonder it rarely freezes, even in the chilliest winters.
The east side of Seneca Lake gets slightly more warmth from afternoon sunshine.
And the lake acts like a giant temperature moderator for the vineyards. In the spring, the cold water cools the surrounding air and delays budburst, protecting from frosts.
In the fall, the warm water gives off extra warmth and extends the growing season. And being the deepest lake, this effect is magnified even more than smaller ones like Keuka Lake.
What Wine Is Seneca Lake Known For?
Like the rest of the Finger Lakes, Riesling is the star of the show in the Seneca Lake AVA. It's made in a variety of styles. But this region is famous for dry wines with a mineral-water type quality.
But you'll find plenty of other aromatic and semi-aromatic white grape varieties like Gewürztraminer, Pinot Gris, and Chardonnay.
Thanks to this deeper lake's extra warmth, red wines do a bit better here than on the other Finger Lakes. Cabernet Franc, Pinot Noir, Lemberger, especially. But you'll also find Cabernet Sauvignon and Merlot.
And there are some excellent sparkling and ice wines being made these days.
You'll still find some French-American hybrids and Native American varietals sprinkled across this wine region too.
If you haven't yet, make sure to check out my guide to the best Keuka Lake wineries.
The Best Seneca Lake Wineries
Hermann J. Wiemer Vineyard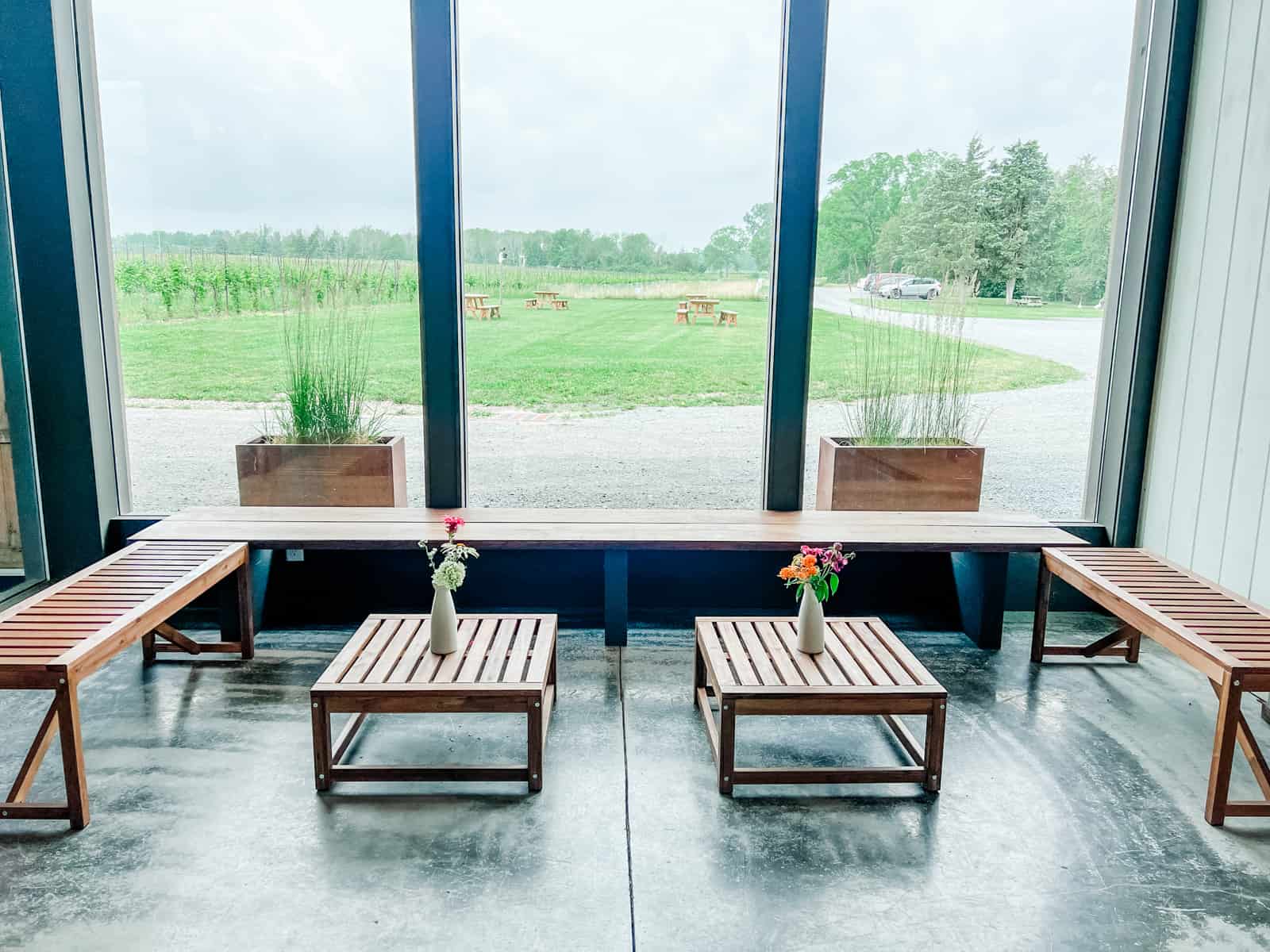 Hermann J. Wiemer was one of the first to successfully plant vinifera vines on Seneca Lake. Hermann's family's winemaking roots run deep, with his mother producing wine in the Mosel Valley and his father in charge of the Agricultural Experiment Station in Bernkastel, Germany.
In the 1960s, Hermann took a job in the Finger Lakes. After arriving, he discovered the region was a lot like the Mosel Valley, and thought, "I bet I can create similar wines here."
And in 1973, he took the plunge, purchasing land and planting experimental vines. By 1977, Hermann's 9-acre blocks of Riesling and Chardonnay were a success. And in 1979, Hermann J. Wiemer Vineyard was born.
Since then, the wines have won prestigious awards like the Governor's Cup. And they've expanded by acquiring Standing Stone Vineyards on the eastern side of Seneca.
Fred Merwarth, Hermann's apprentice, runs things today. He's increased focus on sustainable farming that's paid off with the HJW Vineyard achieving Demeter Biodynamic Certification. And is using small-batch, low-intervention winemaking, including indigenous yeast and neutral Hungarian oak.
When you visit, their friendly wine educators will set you up with a custom wine flight. Mix and match 2.5-ounce pours to discover your personal faves.
Try the Riesling HJW to experience a wine from Hermann's original plantings. The older vines give great concentration to the ripe pear, apricot, and honeydew melon notes.
And the Riesling Reserve Dry, a special blend from the HJW and Magdalena Vineyards, is a true treat, available only in the best years.
I was also loved their Blaufränkisch (aka Lemberger), with dark cherry, blackcurrant, and a touch of clove and nutmeg.
Outside food is allowed so feel free to bring snacks or lunch to enjoy at their winery picnic areas. And be sure to make a reservation for tastings. It's a popular spot!
Red Tail Ridge Winery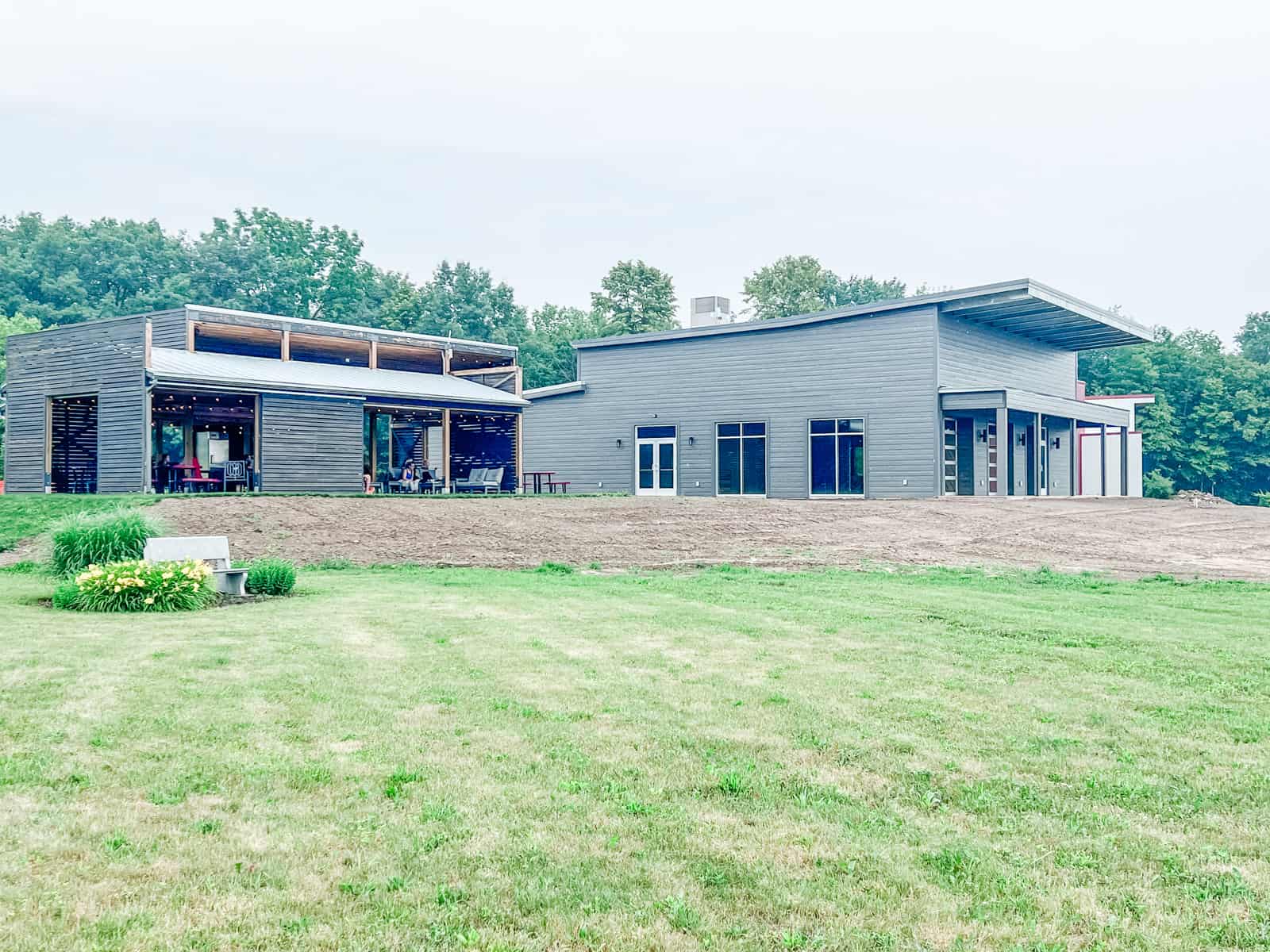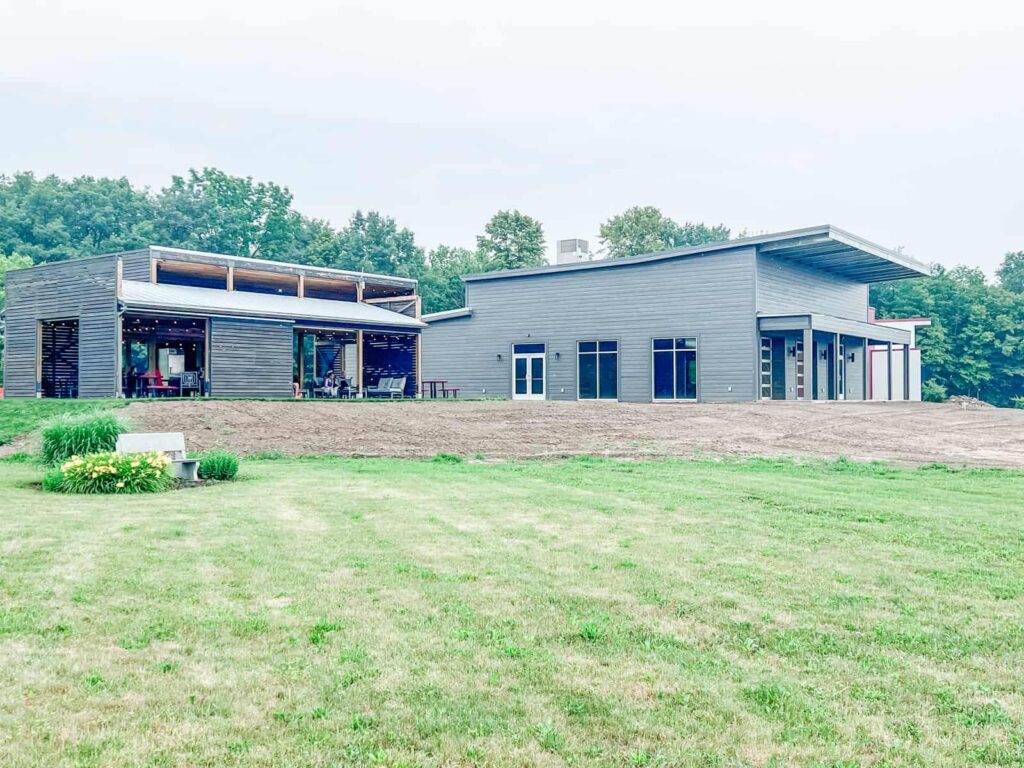 Mike Schnelle and Nancy Irelan founded Red Tail Ridge Winery in 2005. Nancy's got a Ph.D. in grape genetics and 35+ years of wine biz experience, including a gig as VP of Viticulture & Enology at Gallo Wines.
Mike took a different route, with a finance degree and a background in construction. But, after some viticulture courses at UC Davis, he was all in for their Finger Lakes venture. The two are joined by their adorable winery dog, Bueller.
Red Tail Ridge is all about sustainable viticulture, being the first LEED Gold Certified Green winery in NY State. And they use geothermal energy for heating and cooling in the wine production process.
As James Beard Award semifinalists in 2019 and 2020, they're making a name for Red Tail Ridge. Plus, their wine "Good Karma" does good too, with a portion of sales supporting hunger relief efforts.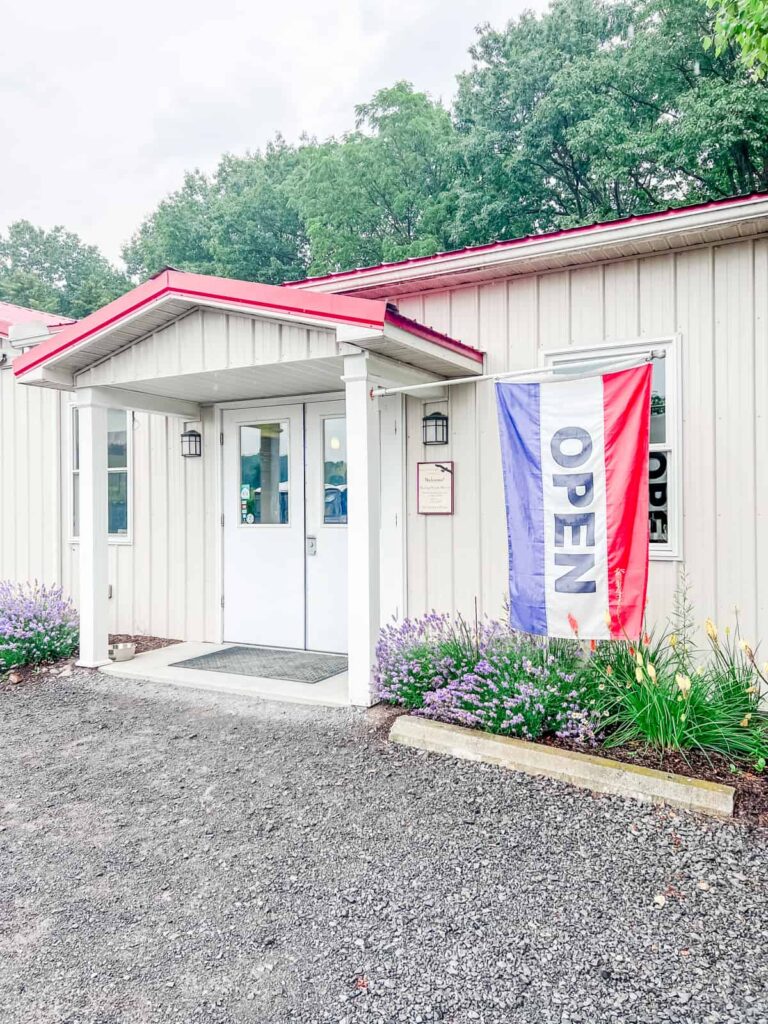 When it comes to the wine, they've got a stunning lineup. My fave was the delicately sparkling Perpétuelle Change, made using a solera system, just like in sherry production. And if you're a fan of Lambrusco, try the Sparkling Rebel With a Cause, a dry red bubbly with black cherry goodness.
The Teroldego, a Northern Italian grape, is also a unique find. It has beautiful black raspberry and blackcurrant fruit and earthy notes that linger on your palate.
Reserve your spot at the tasting bar, newly upgraded to a larger space. Take your pick of 5 wines from their rotating list of current releases. And be guided through them by a knowledgeable staff member.
Or head to the covered outdoor pavilion for self-guided flights or glasses. It's the perfect place for sipping and soaking in the vineyard views. And don't worry, your furry friends are welcome too!
Kemmeter Wines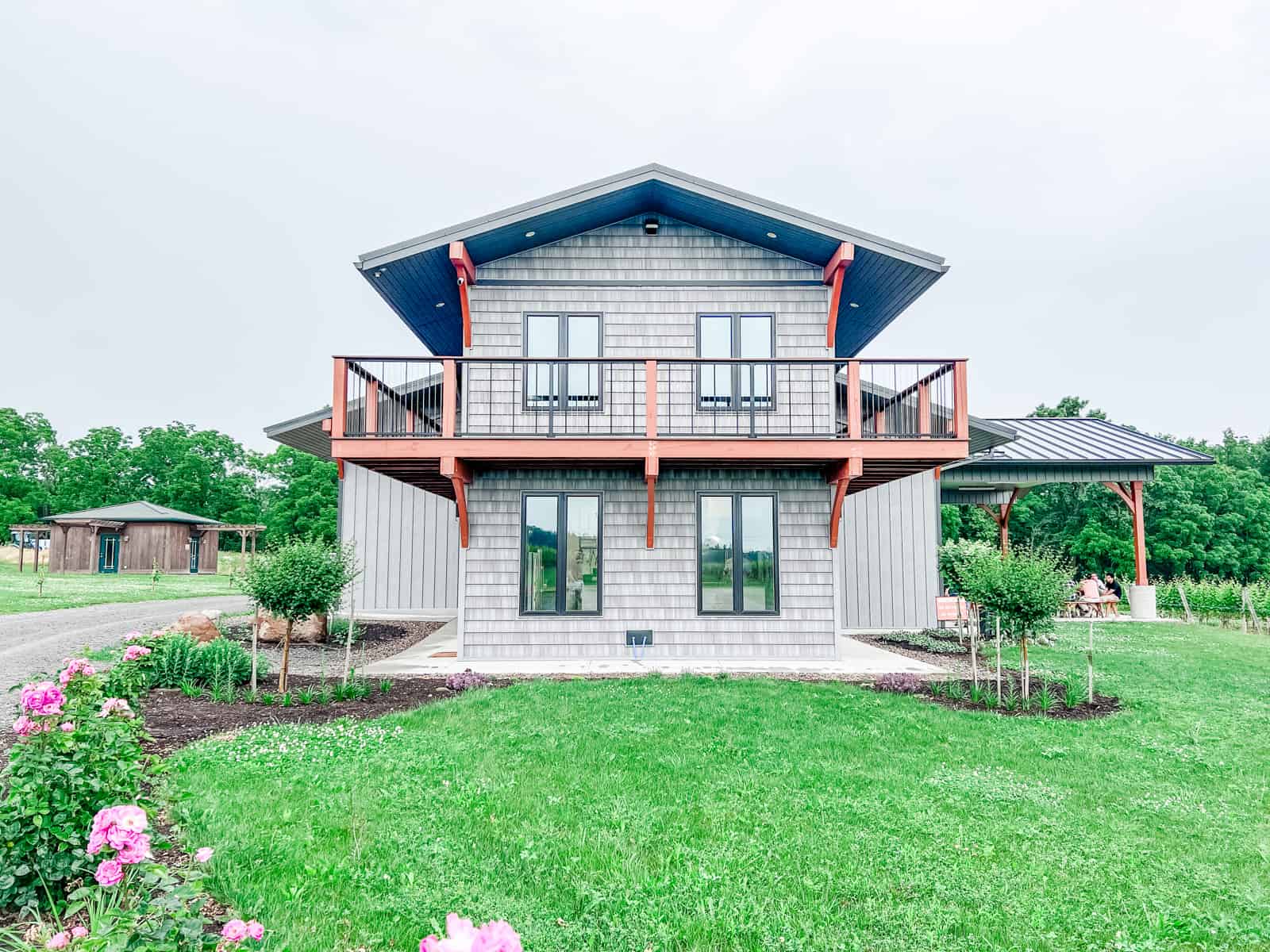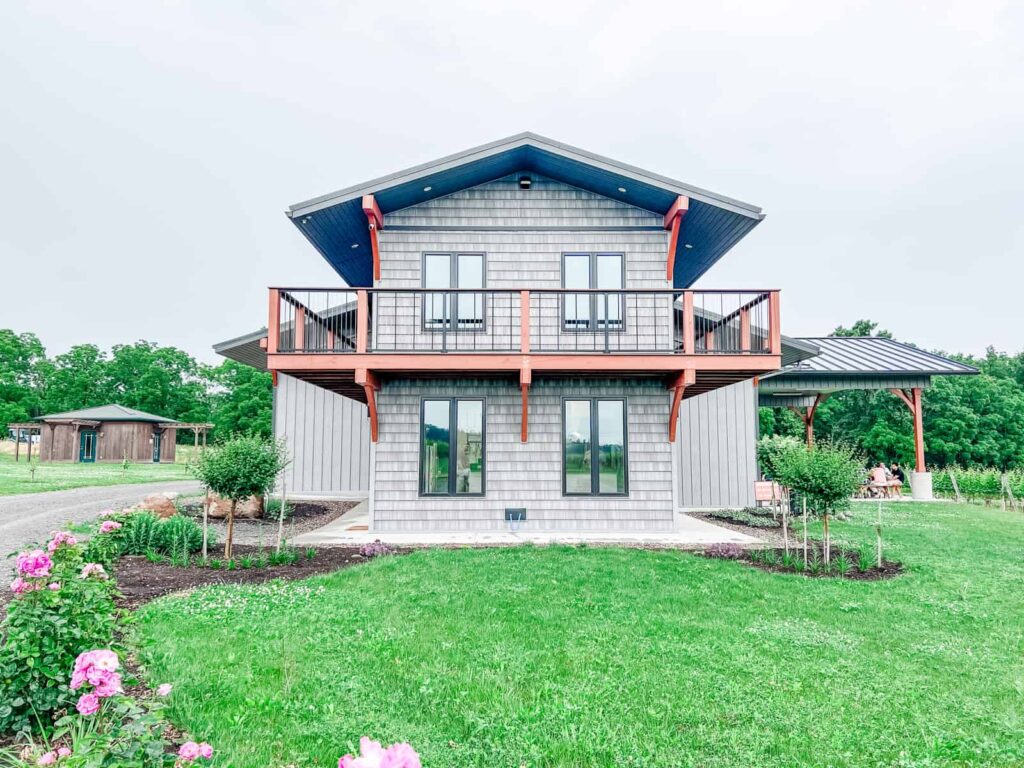 Located on the west side of Seneca Lake, this winery and dumpling shop is the creation of Johannes and Imelda Reinhardt.
Their story began when Johannes, who comes from a family of Bavarian winemakers, crossed paths with Imelda, a food scientist from a tiny Indonesian island. After some twists and turns, they joined forces to create the Kemmeter Wines and Sans Dumplings dream — to spoil guests with the best food and wine around!
After working at Anthony Road Wine Company, Johannes planted Kemmeter's first vines in 2014. And by 2018, they were growing all their own grapes. The care they put into each vine shows in their wines, thanks to extra practices like green pruning that help get the perfect ripeness.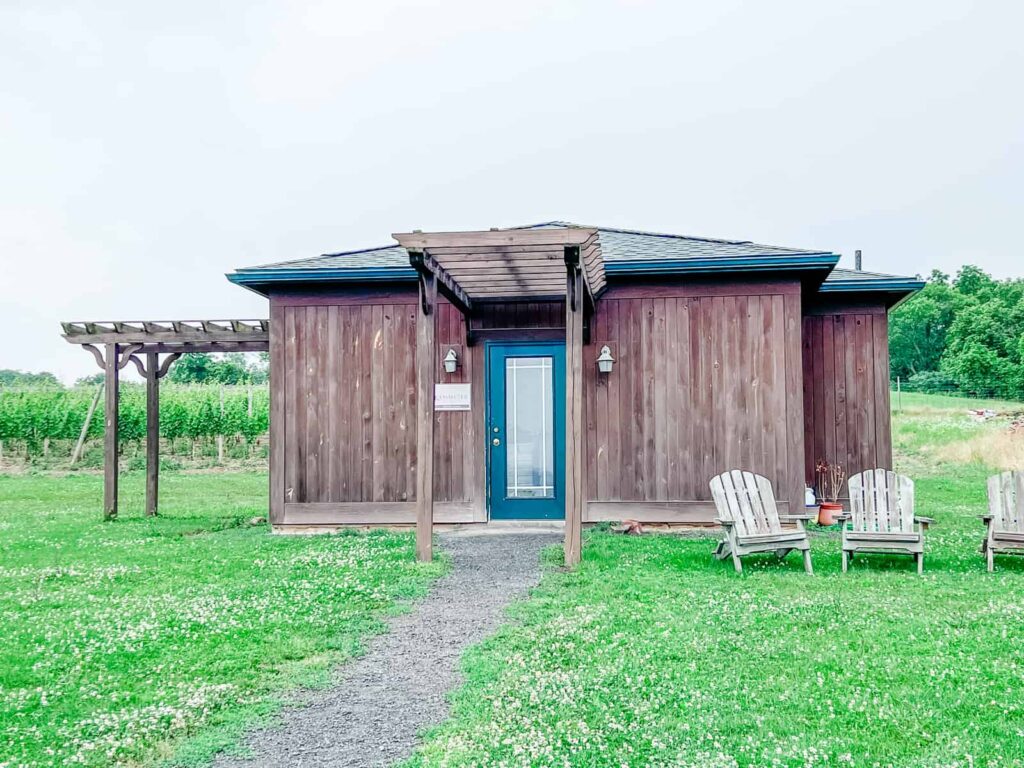 Their bottle labels reflect the wines' symphony of flavors, bearing part of Johannes' favorite Bach piece. And all of the estate wines were exceptional, from the everyday drinking Sonero to the ageable Kemmeter and the rare SanSan, reserved for the best vintages.
I especially loved the SanSan, a Riesling blend with Gewürztraminer adding a floral twist to juicy tropical fruit. And The Controlled One vs. The Spontaneous One is a unique comparison of how using cultivated vs. wild yeast can completely change the wine's character.
To taste Kemmeter's wines, you'll need to make a reservation well in advance. They're only open Thursday through Saturday, and demand is high. But trust me, it's worth it!
Prepare for an intimate hour with Johannes himself in the small tasting room. He'll guide you through a blind flight and discuss the differences the wines express. Then reveal these delightful mysteries at the end.
And don't leave without hitting up Imelda's dumpling shop! Take your order out to the picnic tables and enjoy some seriously good dumplings surrounded by stunning vineyard views.
Forge Cellars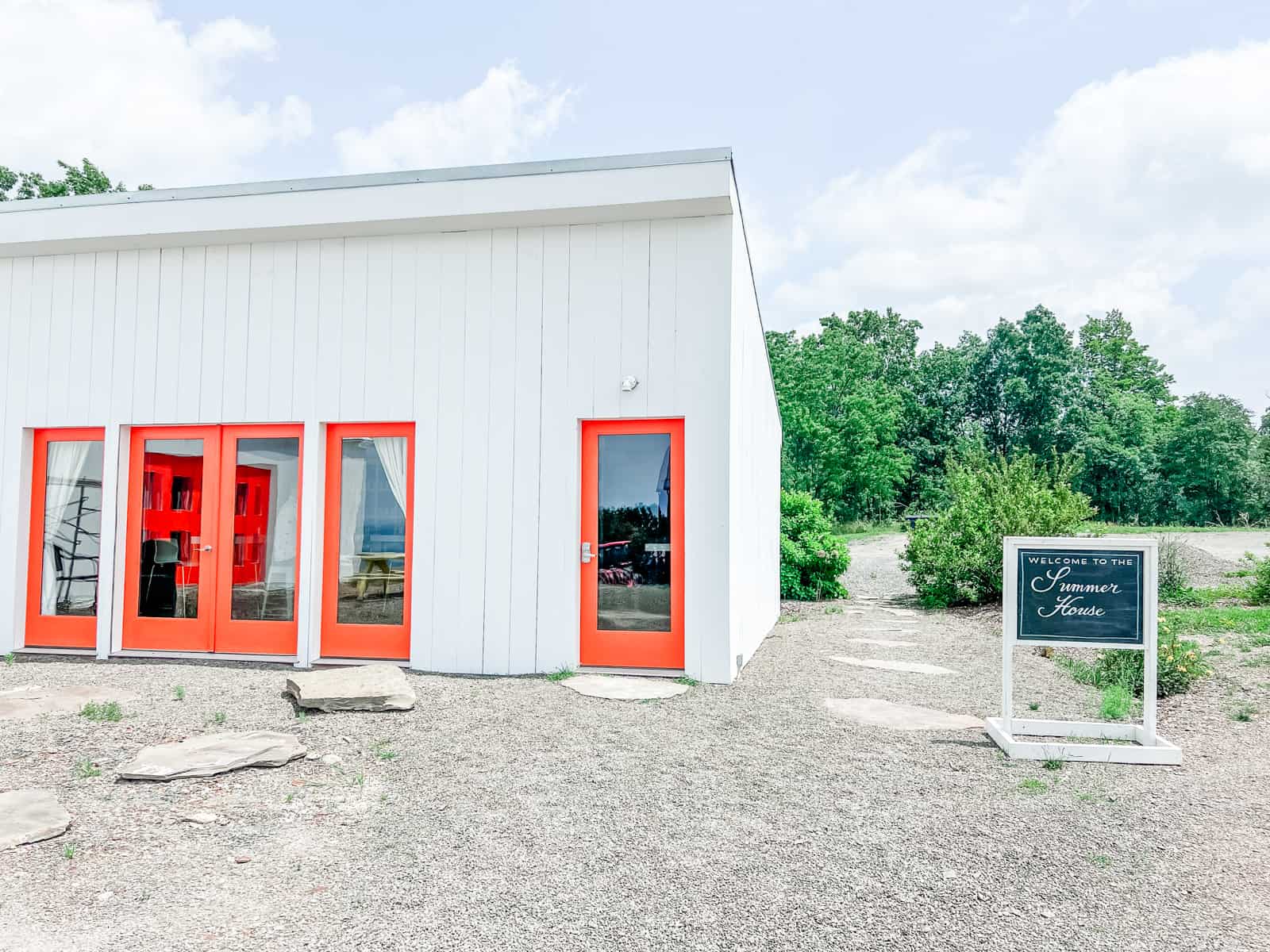 Louis Barroul comes from 14 generations of French winemaking in the Gigondas region of Southern Rhône. After taking over Château Saint Cosme, his family's estate, he wanted a new challenge.
Louis traveled the world looking for the right spot and found it in the Finger Lakes. And in 2011, he joined forces with longtime friend Rick Rainey to create Forge Cellars.
Embracing low yields and sustainable practices, they work with growers that manage 16 different vineyards. The wines are spontaneously fermented in small batches using indigenous yeast. And aged in neutral or old oak to give texture but not too much flavor.
For a fun and educational experience, book a guided group tasting in The Summer House. You'll get in-depth insights into the vineyards and winemaking process.
We started with three of Forge's Rieslings. These single-vineyard wines are produced exactly the same way. So, each tells a unique story about where it comes from.
The sandy loam and shale soils of Willow create wines with elegant floral and citrus notes. Railroad's stony soils result in a richer and creamier texture. And Tango Oaks' steep slopes and low topsoil give it more herbal notes and minerality.
We also tasted the Pinot Noir Classique, an earthy wine that was a delicious pairing with bites of Whitney Cheese from Vermont's Jasper Hill Farms.
For a more casual experience, stop by The Salon for a flight or a glass. Here, you can also taste wines from Forge's French sister wineries too. And enjoy artisanal foods like local cheese and tinned fish that pair perfectly with their bone-dry Rieslings.
Plus, stay tuned for a brand-new tasting room coming soon!
Boundary Breaks
Bruce Murray, a New York native, had his wine epiphany in a little Thai joint in LA. And that was it. He kissed his publishing career goodbye!
In 2008, he found a perfect 120-acre plot, just begging for some Riesling magic. Since Boundary Break's first harvest in 2011, Bruce's Rieslings have been raking in awards, landing on Wine Enthusiast's Top 100 Wines in the World list three times.
But there's more to this love story. Bruce reconnected with his high school friend Diana, and the two tied the knot in 2017. Diana brings her botany degree and plant science teaching experience to the table. Plus, she manages the tasting room.
With clay-rich soils, Bruce took the extra step of installing special drainage pipes, making the vine's roots reach deeper. The wines themselves are crafted through partnerships with local producers like Sheldrake Point Winery and Lakewood Vineyards.
These include a range of Rieslings, from dry to sweet wines. I loved the Extra Dry Riesling with its crisp acidity and juicy pear and peach.
The Cabernet Franc was a standout too, with cherry and cranberry and a hint of pepper. And for you dessert wine lovers, don't miss the ice wine. The sweet peach and honey notes are perfectly balanced with mouthwatering acidity.
No need to fuss with reservations. Just swing by their outdoor tent or indoor tasting room for a guided flight of these award-winning wines. Or grab a glass of wine and chill on their patio Adirondack chairs, soaking in the breathtaking views of Seneca Lake.
Hungry? On weekends Boundary Breaks also offers sandwich service. And check out Sunset Saturdays for evening wine, live music, and local food vendors. Furry friends are welcome anytime at their dog run.
Ravines Wine Cellars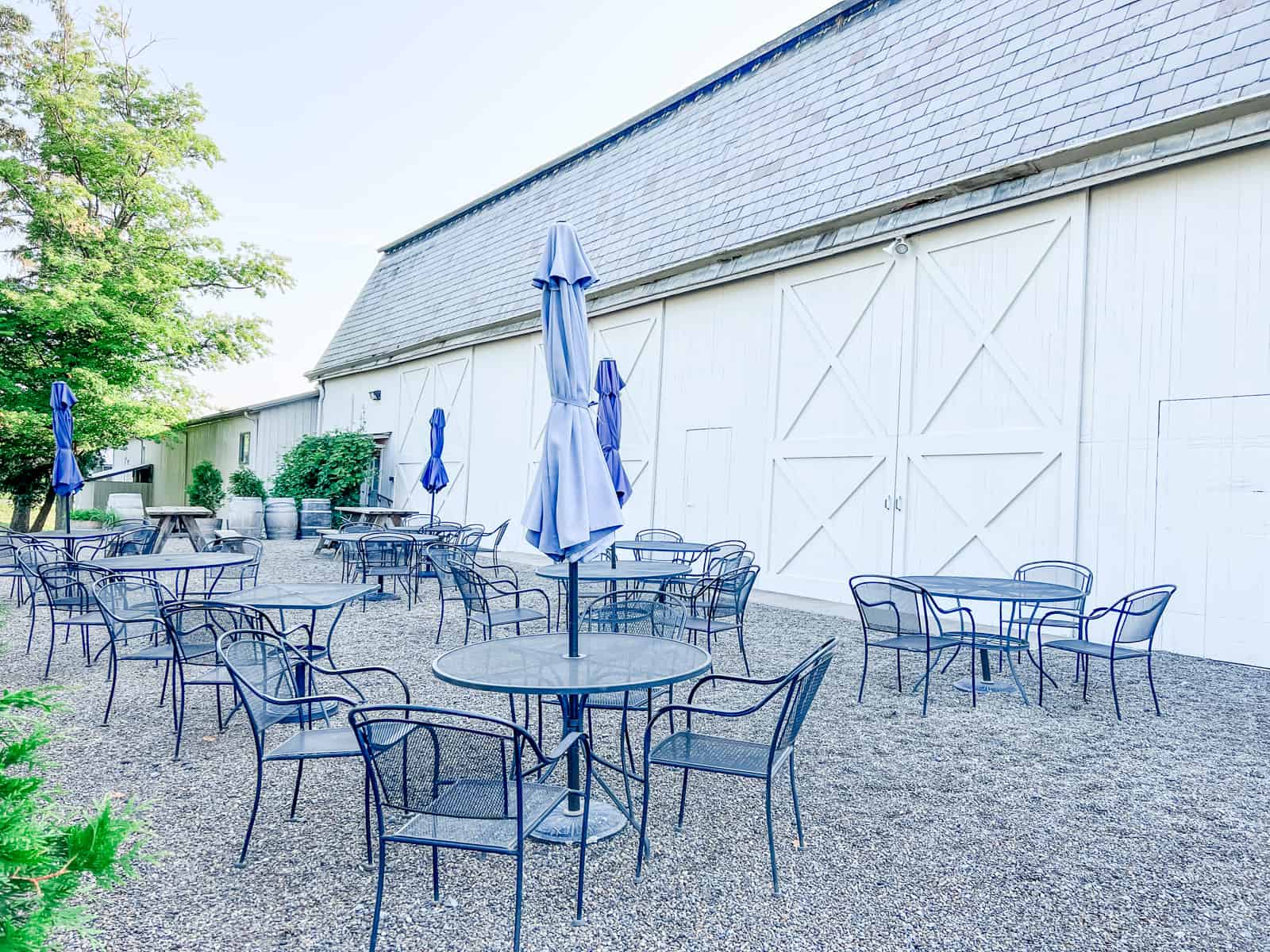 Founded in 2001 by Morten Hallgren and his chef wife Lisa, Ravines Wine Cellars brings the best of wine and food together.
Morten grew up in a winery-running family in Provence, France. With a degree in enology and viticulture, he honed his skills in Bordeaux, Texas, and North Carolina before landing in the Finger Lakes. After a stint as chief winemaker at Dr. Konstantin Frank Winery, he broke out on his own.
Ravines sustainably farms grapes on their 130 acres of vineyards. And they're all about dry, vinifera wines produced using European winemaking practices. They even pioneered the iconic bone-dry, mineral-tinged Riesling style that the Finger Lakes is known for.
I loved the White Springs Riesling — floral, mineral, and oh-so-aromatic. Oh, and if you're a fan of Sancerre, try their Sauvignon Blanc that's made in a similar style.
And for something different, don't miss the Sparkling Riesling. The nobly rotted grapes give it golden hues and delicious flavors of honey and dried orange.
Ravines has two tasting rooms: one on Keuka Lake and one in Geneva on Seneca Lake. The Geneva location is a historic barn that sits next to their White Springs Vineyard.
Make a reservation for a tasting and enjoy seasonal small plates. Or indulge in their tasting table experience in the cellar. Rated one of the top winery kitchens by Food & Wine Magazine, you won't be disappointed.
Anthony Road Wine Company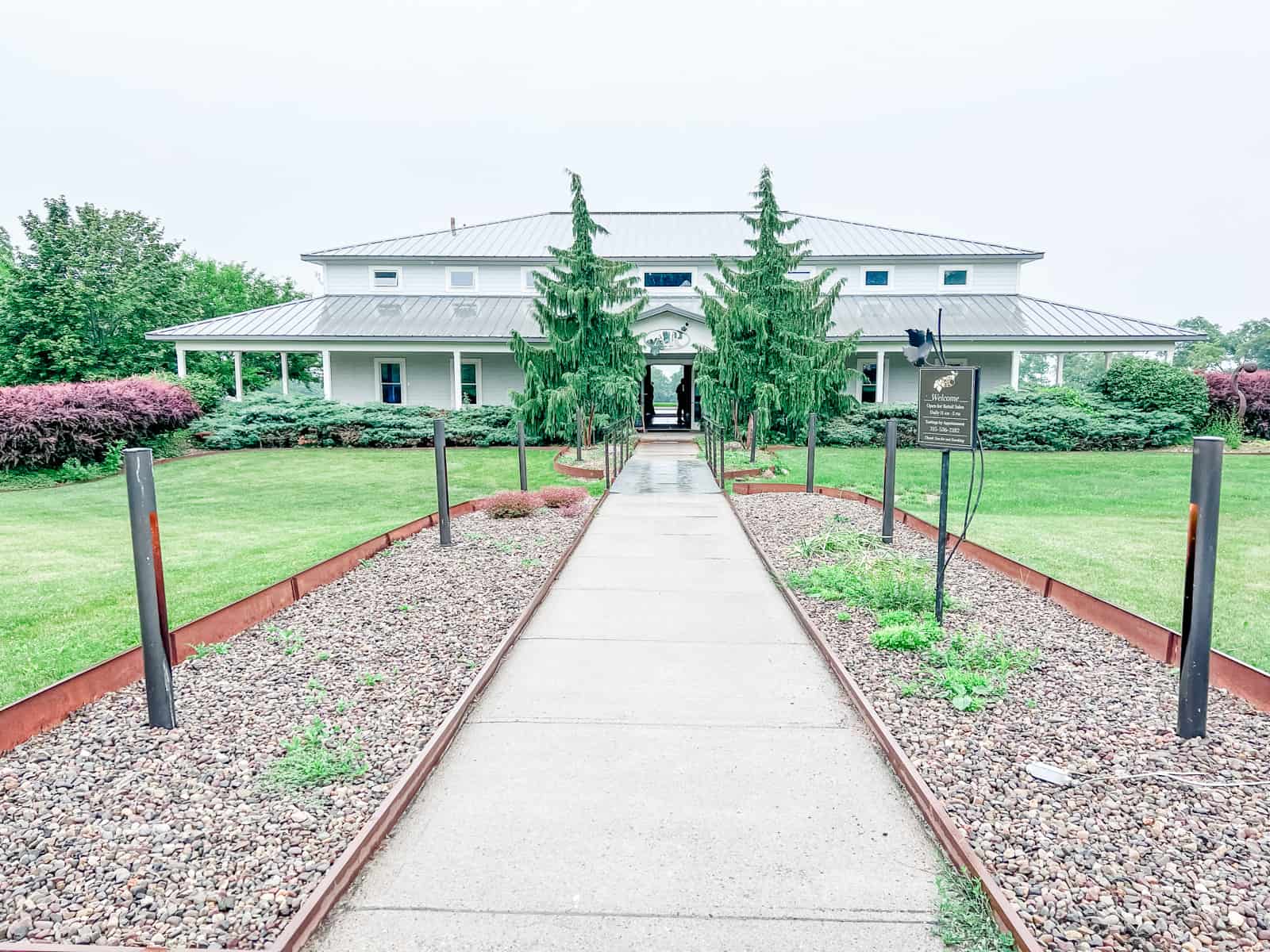 Ann and John Martini are the wine-loving duo who started Anthony Road back in the 1970s. John worked at Cornell's Agricultural Experiment Station, while Ann managed the vineyard.
At first, they sold the grapes to Taylor Wine Company. But then decided, "Hey, why not make our own wines?" So, in 1990, they took the plunge, and the rest is history! Fast forward to today and their kids are now part of running the show.
Their Martini Vineyard has the OG plantings. But they've since added the Nutt Road Vineyard. Plus, a teaching and demonstration vineyard in partnership with Cornell.
Now, let's talk about the wines. If you're a Pinot Gris fan, check out their all-Pinot flight. The delicate Pinot Gris Rosé was a standout for me. I also enjoyed the Lemberger with its tasty black cherry and chocolate truffle notes.
And if you're a bubbly fan, ask about their traditional method sparklers. The Sparkling Riesling and Blanc de Noir are stunning!
Tastings are by appointment. But if they have space, they'll take walk-ins. Or you can enjoy a glass or bottle of vino on the veranda that's open daily. They even have lawn games available like bocce and cornhole.
Feeling artsy? Take a self-guided tour of their garden and gallery, featuring local artists' works. It's the perfect pairing with their artfully crafted wines!
Red Newt Cellars
In the late '80s, David and Debra Whiting connected over a shared passion for food and wine. David worked as a winemaker at several Finger Lakes wineries, while Debra ventured into gourmet cheesecake and catering businesses.
In 1998, the perfect opportunity arose. David began making his own wine under the Red Newt Cellars label. And Debra opened the Red Newt Bistro the following summer.
It was a dream come true, combining their love for regional wine and cuisine. Sadly, Debra passed away in 2011. But her vision lives on through the Debra Whiting Foundation.
In 2014, David handed over winemaking to Kelby Russell. This Finger Lakes native got his start at Fox Run Vineyards. Now he even has his own "Kelby James Russell" wine series.
Red Newt sources grapes from various vineyards on Seneca, including Nutt Road and Tango Oaks. And they focus on aromatic white wines like Riesling, Gewürztraminer, and Pinot Gris.
I especially liked their Grüner Veltliner's zesty lime flavors and herbaceous grassiness. It's a delicious summer sipper. The Dry Riesling was great too, but I snagged a bottle of their top Riesling to try at home.
Grab a reservation for seated tastings and food experiences. Inside or out, flights, glasses, bottles, and tadpoles (adorable personal-sized bottles) await. Or swing by the bar for standing tastings.
Plus, keep an eye on the calendar for special events. Susan Waterbury, David's violinist wife and co-owner, keeps things entertaining with live classical and jazz music performances.
Fox Run Vineyards
Fox Run Vineyards' story starts in 1984 when Larry and Adele Wildrick planted the first grapes. Fast forward a decade, and Scott Osborn and his buddy Andy Hale bought the place.
They made the smart decision to bring on Peter Bell, fresh from working at Dr. Konstantin Frank Winery. He's become a bit of a legend in the Finger Lakes, mentoring others like Kelby Russell of Red Newt.
After 27 years Peter retired, and Craig Hosbach stepped in. Scott and his wife Ruth also teamed up with Ruth's sister and brother-in-law Kathleen and Albert Zafonte to make Fox Run an all family-owned winery.
Fox Run uses all estate-grown grapes that are sustainably farmed. Plus, they now operate on 100% self-generated solar power.
Now, let's talk wine! The Fox Run Rosé is totally crushable with yummy strawberry and cranberry flavors. And for a fun comparison, try the unoaked vs. oaked Lemberger. The unoaked version is light and elegant, while the oak brings a bit more tannin and spice.
No reservations are needed for their indoor seated tastings, featuring 4 flight options. And if you're a foodie, go for the Taste Buds Flight with 5 wines and delicious food pairings.
Or grab one of their self-guided wine flights to enjoy outdoors under their flower-adorned pergola. And check out the Wine Barn on Saturdays, serving up glasses, bottles, snacks, and flights.
Plus, they've got a seasonal café, wine tours, and if you want the ultimate wine country experience, you can even rent their Vineyard House.
Once Finger Lakes
While not technically a winery, this wine bar is the spot to hit up if you want to taste the best of the Finger Lakes. From Seneca to Keuka to Cayuga, Once has teamed up with 12 top-notch producers. Including the likes of Dr. Konstantin Frank, Forge Cellars, and Hermann J. Wiemer.
Oh, and it's pronounced "OHN-say" like eleven in Spanish. Yup, the number of lakes that make up this beautiful region!
The founder, Antonio, was inspired by similar concepts in Australia and Europe. Here, it's all about sharing local stories and traditions through great wine.
Try their discovery flights with themes like best sellers, sparkling, and trailblazers. Oh, and don't miss the food and wine pairing tastings — Flights & Bites!
My favorite discovery was the Heart & Hands Pinot Noir. With its delightful cherry spice flavors, it was seriously beautiful. Their secret is the perfect site on Cayuga Lake, with limestone-rich soil and just the right sun exposure. You'll feel like you're sipping a bit of Burgundy magic right here in New York!
No reservations needed at Once for parties of less than 6. But for big groups, call ahead. And check out their special events like happy hours, brunches, and fancy wine dinners.
Looking for more Eastern United States wine regions to explore? Check out Long Island wineries, wineries near Charlottesville, VA, Northern Virginia wineries, and New Buffalo wineries in Michigan.
Or explore New England with these Cape Cod wineries, Southern Maine wineries, and wineries in Newport, RI.
Seneca Lake Wine Tour
If you don't want to deal with driving while wine tasting on Seneca Lake, this is a great tour option. It includes transportation and tastings at four wineries in the northern part of the lake, including Anthony Road Wine Company and Fox Run Vineyards. They also offer this similar tour of the southern end of the lake.
Or if you prefer to plan your own wine tour, it takes about two hours to do a full loop around Seneca Lake. So, I'd suggest splitting your days between the east and west sides or the north and south parts.
Boundary Breaks, Forge Cellars, and Red Newt Cellars are located along the eastern shore of Seneca Lake.
And on the west side, you'll find Ravines Wine Cellars, Fox Run Vineyards, Once Finger Lakes, Anthony Road Wine Company, Kemmeter Wines, Red Tail Ridge Winery, and Hermann J. Wiemer Vineyard.
Recommendations may be affiliate links on which I earn a small commission at no additional cost to you. This helps me share new wine destinations with you and I only recommend products and services that I love and think you'll love too!
Planning Your Visit to Seneca Lake Wineries
When Is the Best Time to Visit Seneca Lake Wineries?
The best time is typically from May to October when the weather is warm and the vineyards are at their prime.
But each season offers its own advantages, whether you want to take in fall's stunning foliage or take advantage of winter's more intimate tasting experiences.
If you're there in July, check out the Finger Lakes Wine Festival to sample top wines from many of the region's producers. Plus, enjoy live music and cooking classes.
How Many Wineries Are There Around Seneca Lake?
You'll find more than 50 wineries around Seneca Lake. A little more than half of them are member wineries of the Seneca Lake Wine Trail.
are wineries in the finger lakes open Year-round?
Many of the wineries in the Finger Lakes, including ones around Seneca Lake, are open year-round. Just be sure to check their website before stopping by in the off-season.
Do You Need Reservations for seneca lake wineries?
Not all Seneca Lake wineries require a reservation. But it's a good idea to make one if you can, especially during peak times.
Some have limited spots for tastings and tours. So, booking in advance means you'll get your preferred time slot. And you won't be stuck waiting or turned away.
How Much does seneca lake wine tasting cost?
Tastings at Seneca Lake wineries are very affordable compared to other popular United States wine regions. Most are around $10 to $15 but may be higher for things like food and wine experiences.
Some wineries will credit your tasting fee if you purchase a certain number of bottles or become a wine club member.
Can I Bring My Kids and dogs to the Wineries?
Unlike regions like Napa Valley and Sonoma, many of the Finger Lakes wineries are fine with the kiddos and pups joining. Some even offer grape juice or other non-alcoholic beverages. Just keep in mind that policies vary, so check the winery's website before packing up the crew.
Where to Stay for Visiting Seneca Lake Wineries
Seneca Lake has two main towns. Geneva is in the north and Watkins Glen is on the southern tip of Seneca Lake. Both make excellent base camps in the heart of the Finger Lakes wine region.
Here are some great hotel options for each:
Now, if your plan includes exploring wineries on Keuka Lake too, Penn Yan is another good option. It offers the convenience of being close to the west side of Seneca Lake. In this area, I recommend the cozy Los Gatos Bed and Breakfast or the Best Western Plus Vineyard Inn & Suites.
Find these and many other great options on Booking.com. Just enter the city and state and select your dates below to see available options.
Have you visited any of these Seneca Lake wineries? What wines did you like?
Learned something new?
Shop My Travel Essentials