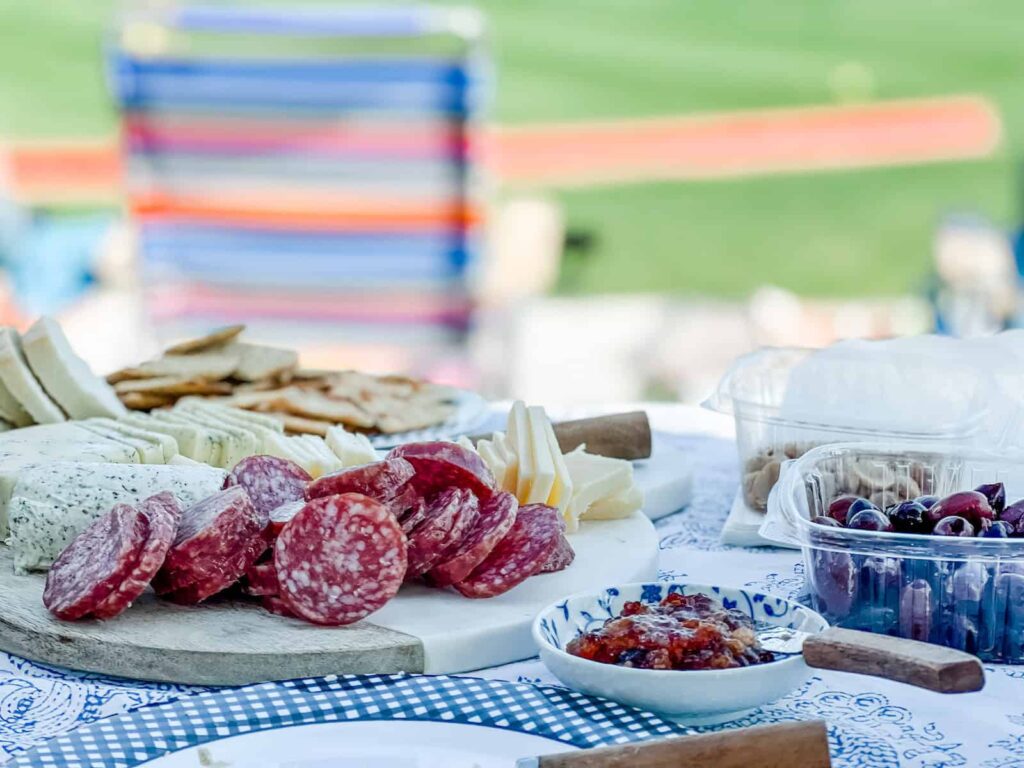 So, you've decided you want to take your winery picnic to the next level and join the ranks of the pros. Those elite groups you see with set-ups out of a magazine, Pinterest-worthy charcuterie boards, and attire that even Lady Whistledown would approve of.
Or maybe you're a wine enthusiast but just haven't done this before. So, you're looking for the basics on what to bring and some winery picnic food ideas. It's all good! I got you.
But before you bust out that picnic basket, make sure to check that your chosen location allows outside food.
Usually, the website will say if they have picnic areas. If not, call ahead to confirm you can bring your own food.
And depending on the size of your party, make sure they can accommodate larger groups. It would be a sad day arriving with all your classy accoutrements only to have them say, "No way, rosé!"
Read on for my pro tips to make your picnic look like you've been doing this since the 1855 classification of Bordeaux.
BTW, if you haven't yet, make sure to grab my free Wine Tasting Party Planner for your next party. It has 20+ wine night theme ideas, including the exact ones I've used for my wine tastings. Plus, a timeline, food pairings, games, free printables, worksheets, and more. Get your copy here.
Recommendations may be affiliate links on which I earn a small commission at no additional cost to you. This helps me share new wine destinations with you and I only recommend products and services that I love and think you'll love too!
What to Bring to a Winery Picnic
Picnic Basket
Yes, I know this is picnic 101. But it's all about picking the right picnic basket for you. Are you a fashionista who wants the picnic basket to express your personal style? Or a maxinista that needs a built-in cooler and all the bells and whistles? Or a functionista, who just wants something you can throw over your shoulder and go?
Cooler
If you opt for a basket without a built-in cooler, then you'll need something to keep your cuisine ice cold. I'm partial to the bag style because it's lighter. Bonus: It takes up less space once you've consumed its contents = more trunk space for wine.
Wine Bag
If you're visiting a winery, chances are you're buying some wine to take home. This handy bag will tote your goodies in style. It even comes with extra wine glasses and a mini cheeseboard in case of emergency.
Blanket
You know what they say about blankets — size matters. It should be big enough to hold your spread but roll up small enough to pop in your basket. I like this soft fleece one with a water-resistant underside and a shoulder strap. It even has a pocket. Who doesn't like pockets, am I right?
Pin for Later!
Wine Opener
Any winery worth its weight in wine is going to have a corkscrew. But it never hurts to have a spare (I find keeping one in each of my handbags works best for me, but you do you). Check out this one for something that'll last you a few thousand bottles. Or this is a solid value option.
Cheese board & Cheese Knives
No winery picnic is complete without cheese. Unless you're lactose intolerant like my husband, in which case hold the cheese, please! And when you bring cheese, you've got to have a sweet cheese board to display your goods all fancy like. I'm partial to this one that has a little groove for your crackers. Or you could go with this one for something more portable.
Foldable Table
I'm obsessed with this genius table in a bag. It folds up super small and goes right into, yup, you guessed it, a bag. Because who wants to be lugging a 25-pound folding table through a vineyard? Not me!
Tablecloth
If you're bringing a table, consider upping the bouge with a tablecloth. This is also a great way to express your picnic style. Go bold with bright colors or elegant with all white. For me? I like the coastal look.
Other Picnic Essentials
Sun Hat
Sunscreen
Sunglasses
Water
Freezer Packs or Ice
Knife
Extra Wine Glasses – usually the winery tasting room provides these along with the purchase of your favorite wine, but always good to have a back-up
Small Plates, Utensils, Napkins (if they don't come with your picnic basket)
Paper Towels
Trash Bag
Food to Bring to a Winery Picnic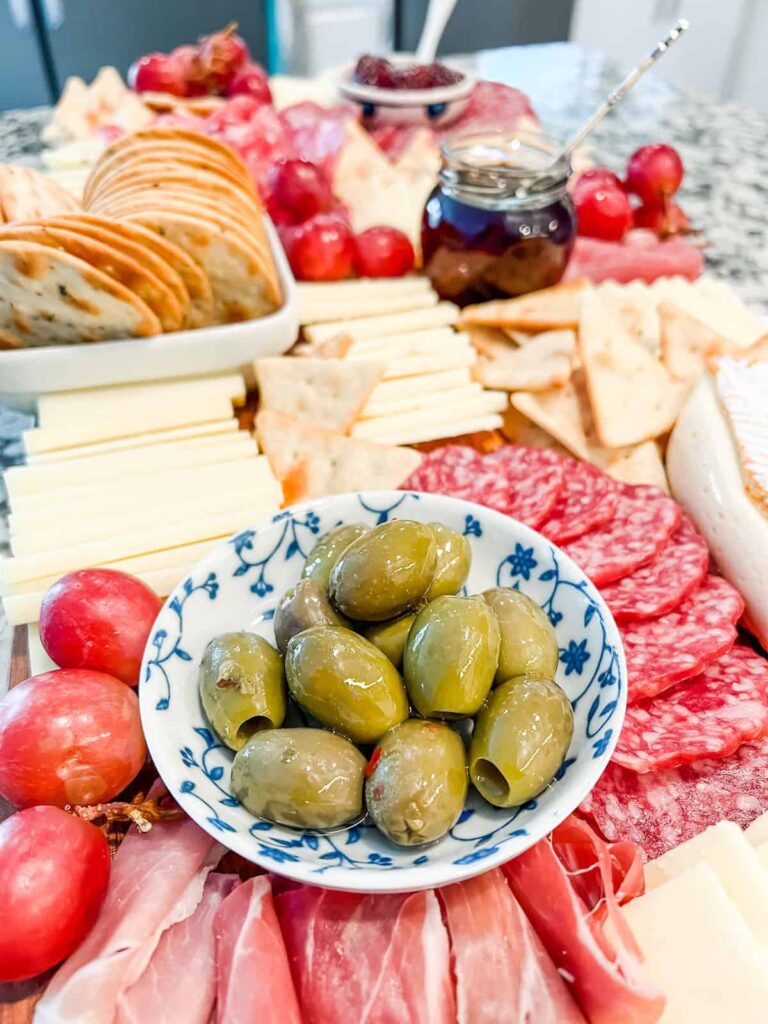 Okay, so you're geared up with all the right equipment. What's next?
It's time to plan your picnic menu. The possibilities are endless, but here are some of my go-to faves for winery picnic food.
Cheese
If you haven't yet gathered from my blog that I love cheese, well, keep reading. Cheese is usually the leading lady of my picnics. And it just so happens to be wine's best friend.
I like to have a mix of 2-3 hard and soft ones on my cheese plate so they go with a variety of wines. But if you know what type of wine you'll be drinking, you can plan ahead with these food pairing guidelines:
Light white wine (e.g., Sauvignon Blanc), dry rosé, and sparkling wines – go for something soft and creamy like camembert, goat cheese, or burrata
Medium-bodied whites and reds (like Pinot Gris or Pinot Noir) – these pair well with semi-hard cheeses like manchego or havarti
Bolder red wines and full-bodied whites (like Cabernet Sauvignon or Chardonnay) – get a hard cheese that can hold its own against the wine like aged cheddar, comté, or gruyere
Sweet or dessert wines (like Port or Sauternes) – these call for the sweet & salty classic pairing with blue cheese
Cured Meats
Like cheese, you want to match the intensity of your meats with the intensity of the wine. For lighter wines, stick with something mild like prosciutto or soppressata. For the bold, you can go heavier with bresaola or coppa.
For more picnic ideas, check out these small charcuterie boards, including a step-by-step tutorial.
French Bread or Crackers
While somewhat of a supporting actor, you still need a vehicle for all that meat and cheese to make its way into your mouth. So don't forget it!
Antipasto Skewers
If you don't want the mess of a full-on charcuterie board, my favorite finger food alternative is this Antipasto skewers recipe. It's the best appetizer to make for a picnic because it's super quick to put together ahead of time. Plus, having everything on a stick makes it the easiest option for clean-up.
Tea Sandwiches
If there's anyone that knows how to do a picnic right, it's the English. There's always the classic cucumber sandwich, but I like to up the ante by adding cream cheese and smoked salmon. Ham and cheese also works well for a winery picnic. Or you could go caprese style with a little tomato, basil, and mutz. Pinkies up!
Marcona Almonds
Really you can bring any kind of nuts, but why not go for the Barry White of nuts? They're smooth. They're buttery. They're salty and sweet. I can't get enough of your love, Marcona almonds…
Fruit
Grapes, raspberries, dried apricots, and figs all work well. For sommelier level, you can choose fruit that matches the aromas/flavors in your wine.
Olives
Love 'em or hate 'em, this salty snack is a classic wine pairing. Try mild castelvetranos for lighter wines or red-wine cured alfonsos with bolder wines.
Spreads
Jam goes great with soft cheeses and mild meats. Honey is always a good choice with blue cheese.
Whatever you choose, you're bound to have a brilliant time. Because what beats sitting on a lawn sipping wine and eating delicious food with your favorite people? Bon appétit!
What food do you like to bring to a winery picnic? Which wineries near you have great picnic spaces?
Learned something new?
Shop My Picnic Essentials
Shop Picnic Essentials