Are you on the hunt for some spectacular small charcuterie board ideas? Look no further, my fellow foodies!
As an expert in the world of wine, let me tell you, few things pair as beautifully as charcuterie and a delicious glass of vino. But here's the best part: You don't need to wait for special occasions to enjoy this delightful pairing.
My husband and I love making a simple charcuterie board and popping open a bottle for our cozy date nights or movie marathons. And when we have friends over or a small family get-together during the holiday season, it's the perfect appetizer.
Plus, it's fun to get creative with board styles, ingredients, and artfully assembling them like a masterpiece.
Read on to get the lowdown on ideas for small charcuterie boards, along with step-by-step instructions to make your creation a breeze. Oh, and let's not forget about the wine pairings! I've got you covered there too.
BTW, if you haven't yet, make sure to grab my free Wine Tasting Planner. It has 20+ wine night theme ideas, including the exact ones I've used for my wine tastings. Plus, a timeline, food pairings, games, free printables, worksheets, and more. Get your copy here.
Recommendations may be affiliate links on which I earn a small commission at no additional cost to you. This helps me share new wine destinations with you and I only recommend products and services that I love and think you'll love too!
Small Charcuterie Board Ideas
When it comes to small charcuterie boards, the sky's the limit! Don't box yourself into using a wooden board. You can get as creative as you want with different shapes and containers for your charcuterie extravaganza.
Whether you're enjoying a solo snack session, a date night for two, or hosting a small gathering with friends, here are some ideas to inspire your snacking:
Small Charcuterie Board for Two: For movie nights with your sweetheart or a winery picnic with your bestie, small boards for two are just what you need. Grab a wooden cutting board. Or add a touch of rustic elegance with a fancy slate board. Personally, I love this beautiful marble and wood combo.
Individual Mini Charcuterie Board: Just because you're solo snacking doesn't mean you can't get fancy. Why not treat yo' self to a personal charcuterie delight with an adorable mini board? It's your chance to create a culinary masterpiece, tailored just for you.
Charcuterie Cups: Yes, you read that right! Cups can be your charcuterie buddies too. Fill them with bite-sized treats, like cheese cubes, olives, or even mini pretzel sticks. They're perfect for your next party. And who doesn't love finger food in a cup? Clear plastic tumbler cups will do the trick. But for a fancy twist, I love using coupe glasses like these.
Charcuterie Jars: Get crafty and fill small mason jars with a medley of goodies. It's like a mini treasure chest of deliciousness. Plus, it adds a cute and quirky touch to your spread.
Charcuterie Plates: A smaller charcuterie platter is classic, versatile, and always a safe bet. Arrange your meats, favorite cheeses, and other delights on a colorful plate, and let the flavors shine.
Charcuterie Boxes: Thinking outside the board? Try using a small box! It's unexpected and adds a playful twist to your charcuterie presentation. Just make sure it's food-safe, of course.
Charcuterie Bites: Create a party in your mouth. Individual charcuterie bites on crackers are the ultimate crowd-pleasers. Pile on the savory meats, creamy cheeses, and irresistible toppings. They're perfect for your guests to pop into their mouths while juggling a glass of wine.
Looking for more fun finger foods? Check out antipasto skewers and my wine pairing tips.
Charcuterie Board Ingredients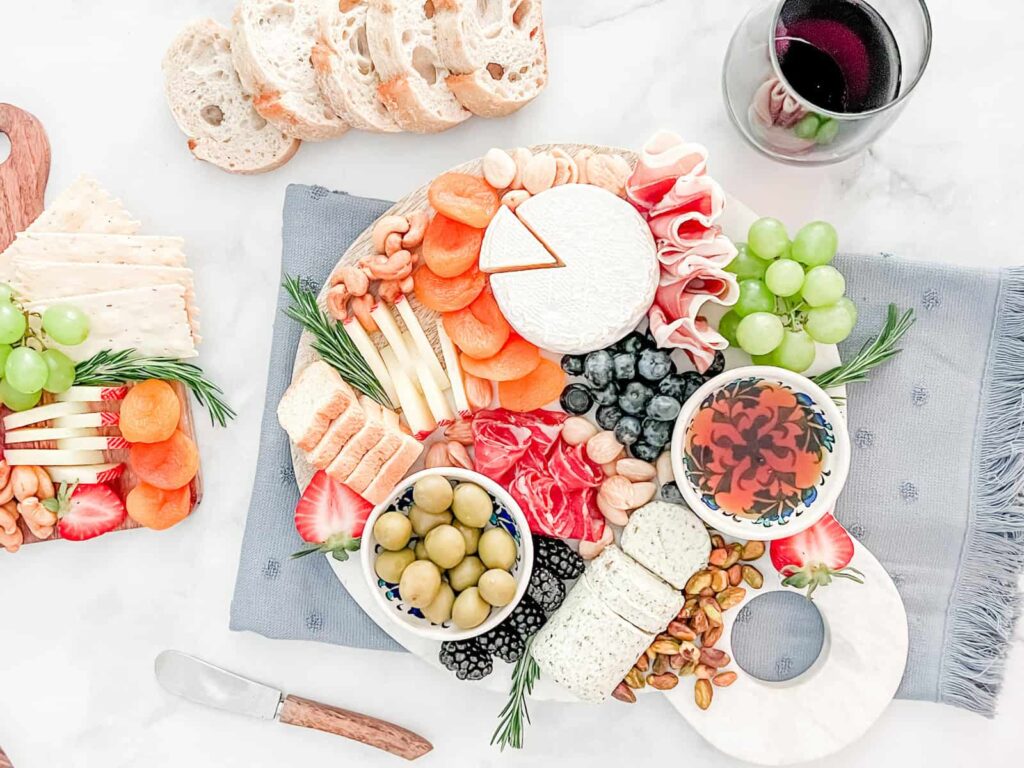 Wondering what to serve on a small charcuterie board? I've got your back with a handy list of ingredients.
From savory meats and creamy cheeses to mouthwatering accompaniments, here's a lineup of tasty goodies that will take your board from ordinary to extraordinary:
Cured Meats: When it comes to crafting a small charcuterie board, the star of the show is the cured meat. Keep it mild with classics like prosciutto, coppa, and summer sausage. Feeling a bit bolder? Go for bresaola and soppressata to kick things up a notch. And don't forget to mix up those textures. Throw in some harder meats like hard salami for a satisfying chew. And add a touch of luxury with velvety foie gras.
Cheeses: Cheese, glorious cheese! Go for a mix of textures and flavors. Soft options like brie cheese and goat cheese bring the creamy factor, while semi-soft or semi-hard choices like Manchego and Havarti add a delightful bite. Don't forget the aged cheeses like Cheddar or Gouda for that extra punch. And if you're feeling adventurous, you can throw in a slightly funky cheese like Cambozola.
Fruits: Fresh or dried, fruits add a burst of sweetness and vibrant colors to your board. Ripe raspberries, blueberries, and strawberries are like little bursts of joy, while grapes are the perfect juicy pop. And I love using dried apricots for their candy-like flavor and beautiful splash of color.
Nuts: Time to go nuts with an array of flavors and crunch! Cashews, macadamias, pecans, Marcona almonds, dry roasted almonds, and walnuts bring that satisfying crunch and complement the other flavors on your board.
Pickled Vegetables: Get your tang on with cornichons (the French word for those mini pickles), pickled carrots, or pickled green beans. They add a zesty kick and a fun texture to the party.
Olives: These bring that salty, briny goodness that pairs perfectly with the other ingredients. I like mild and buttery Castelvetrano olives with fresh cheeses. For bolder-flavored charcuterie, go for something stronger like Kalamata olives.
Preserves: Sweeten the deal with a dollop of jam or jelly. Or go fig-tastic with some fig preserves. They add a delightful contrast to the savory elements.
Spreads: Drizzle honey for a touch of natural sweetness. Or slather on some tangy olive tapenade for a flavor explosion. And flavored or whole-grain mustards make a great addition too.
Crackers and Bread: These edible vehicles are essential for transporting all that goodness to your mouth. Water crackers are the go-to. But you can go wild with herb crackers, multigrain options, sourdough, breadsticks, crostini, or even baguette slices. Mix and match for that perfect crunch.
While you're here, check out 21 more ideas for snacks with wine.
How to Assemble a Small Charcuterie Board
Ready to create an Instagram-worthy charcuterie board? Impress your guests (and yourself!) with these tips to make a mouthwatering spread that's a feast for the eyes too.
Just follow these step-by-step instructions to arrange the perfect charcuterie board:
Place Little Dishes: Arrange small bowls or ramekins that will hold your spreads and briny delights. These need their own VIP section, so they won't be running all over your board. And they'll provide an anchor to align your other ingredients to. Wait until the end to fill them so you avoid any accidental spills while arranging your board. And don't forget the mini spoons!
Add Cheeses: Keep soft cheese whole, like little pillows of creamy goodness. You can add cheese knives for self-slicing. For hard cheese, cut into bite-size pieces. Then arrange them in a captivating pattern, like a work of art on your board.
Arrange Meats: Now it's time to get creative with your charcuterie meats. Craft a mini salami rose, a prosciutto ribbon, or a coppa bouquet. Separating them into individual pieces will make it easier for you or your guests to grab and go.
Place Fresh Fruit: Next, add a splash of vibrant colors with fresh fruits. Start filling in large gaps with sliced strawberries, juicy blueberries, and crisp grapes. It's like a rainbow on your board!
Fill in Gaps with Nuts & Dried Fruit: Time to add some different textures and fill in those empty spaces with smaller items. Sprinkle handfuls of crunchy nuts and toss in some dried fruit for that sweet chewiness. Your board is becoming a flavor fiesta!
Adorn with Garnishes: Let's not forget the final touch of elegance. Work in some fresh herbs like rosemary and thyme to give it that extra something-something. It's the little details that make a big difference.
Pair with Crackers: Last but not least, bring on the crackers. Set up a variety of options on the side. They're the trusty sidekicks that complete the charcuterie adventure.
Pin for Later!
Creative Small Charcuterie Board Ideas
While technically the word charcuterie means cured meat, I say rules are meant to be broken! Small charcuterie boards don't have to be limited to the classic meat and cheese combo.
Check out these fun and creative ideas that will take your charcuterie game to the next level:
Cheese Board: We're talking a cheese lover's paradise. Think a variety of soft and hard cheeses, dried fruits for that sweet chewiness, nuts for a satisfying crunch, and a crusty baguette or crisp bread to tie it all together.
Fruit Board: Get your fruity fix with a board loaded with juicy grapes, strawberries, kiwi, pineapple, mango, and berries. Don't forget to sneak in some cheese and a whipped cream dip for that extra indulgence. It's like a sweet symphony for your taste buds.
Veggie Board: Who says veggies can't be exciting? Gather up some tomatoes, cucumbers, carrots, and a variety of herbed cheeses and flavored cream cheese. Add some hummus, cured olives, pickled veggies, pita bread, and a drizzle of olive oil, and you've got a fresh and fabulous feast.
Snack Food Board: We're talking about snacks on snacks on snacks! Pretzels, popcorn, peanuts…you name it. And don't forget to throw in some candy-covered chocolate for that sweet and salty combo. It's the perfect grazing board for when hunger pains strike.
Breakfast Board: Rise and shine with a breakfast-themed charcuterie board. Waffles, pancakes, bacon, and an array of fresh fruit will make you jump out of bed. Mini bagels, smoked salmon, spreadable cheese, sliced cucumbers and tomatoes, and red onions will bring that brunchy bliss. Or go for the classic combo of hard-boiled eggs, fruit, bacon, and cheese. Breakfast has never been this fun!
Lunch Board: Embrace the deli vibes with a lunch-inspired board. Cold cuts, sliced cheeses like Swiss and provolone, pickles, tomatoes, spreads like mustard and mayo, and a crusty baguette will make your midday munchies sing.
Dinner Board: Take a break from the ordinary with a dinner-themed board. Tacos or burgers with all the fixings? Yes, please! It's like a build-your-own-meal adventure on a board.
Dessert Board: Get ready to satisfy your sweet tooth with a dessert extravaganza. S'mores board with all the gooey marshmallow and chocolate goodness? Cookie board with an assortment of freshly baked (or store bought) treats? Candy board with an irresistible selection of sweets? The choice is yours, and the sugar rush is guaranteed.
Small Charcuterie Board FAQs
How Many Cheeses Do I Need for a Small Charcuterie Board?
For a simple charcuterie board, aim for 2-3 different types of cheese. Choose a mix of soft, semi-soft or semi-hard, and hard/aged cheeses to offer a variety of flavors and textures.
If it's just 1-2 people, you can go with about 4-6 ounces (115-170 grams) of cheese in total. For a small gathering of 4-6 people, aim for around 8-12 ounces (225-340 grams) of cheese.
Of course, these are just rough guidelines, and you can always adjust based on your number of guests. Remember, it's all about enjoying the flavors and having a gouda time! (Sorry, I can't resist a cheesy pun.)
What Shouldn't I Put on a Charcuterie Board?
While there are tons of great options for charcuterie board ingredients, there are a few things you might want to avoid.
Here are some items to skip:
Strongly scented or pungent foods that overpower other flavors.
Messy or runny items that make the board soggy or difficult to handle.
Highly perishable foods that spoil quickly at room temperature.
Foods that require intricate assembly or cooking.
Allergenic foods that may pose a risk or cause discomfort for guests.
Also, if you're pairing with wine, keep these tips in mind:
Spicy foods increase the burning sensation of alcohol and make tannins in red wine taste bitter.
Strong blue cheese can be challenging to pair with wines that aren't sweet.
Extremely sweet items will make dry wines taste unpleasantly acidic and bitter.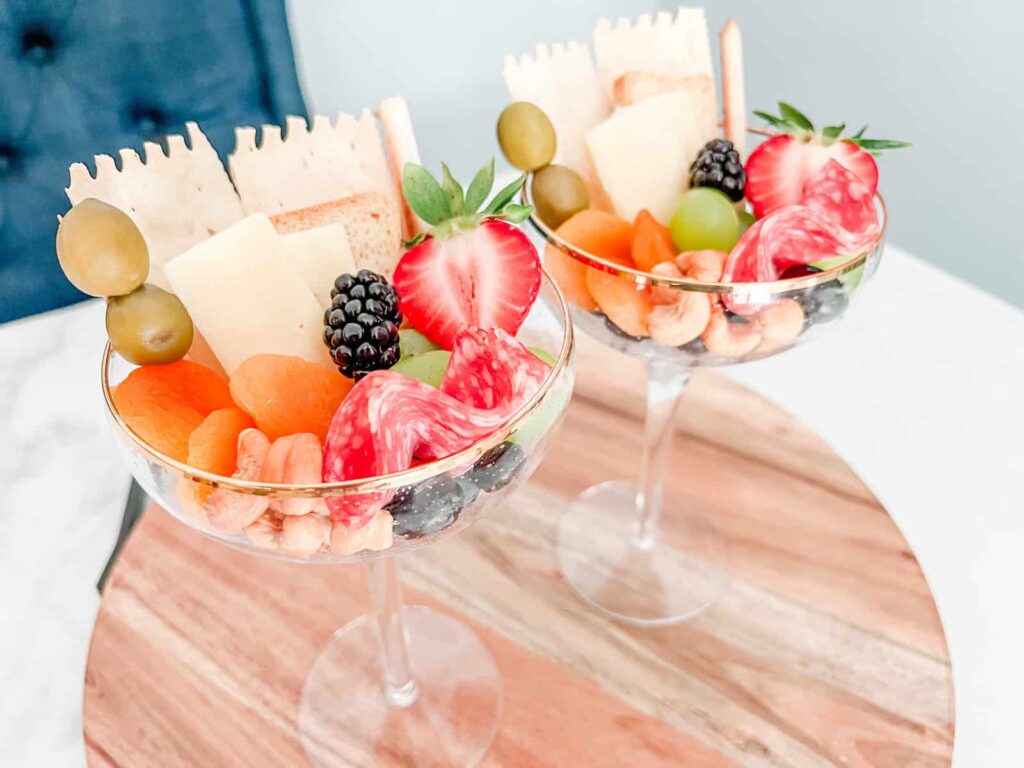 When Should I Assemble My Charcuterie Board?
If you're a planner, you can prep your ingredients the day before. Just store everything in airtight containers overnight. Or you can even assemble the whole shebang. Just cover it up with plastic wrap and pop it in the fridge. Easy-peasy!
Pro tip: When you're assembling, meats will be easier to manipulate when they're not fresh out of the fridge. And before serving, make sure to let your cheeses come to room temperature. This will unlock their full flavor potential.
Just remember, keep your board out of direct sunlight. And don't leave it out of the fridge for more than two hours. We don't want any cheesy mishaps or funky surprises.
Charcuterie Board Wine Pairings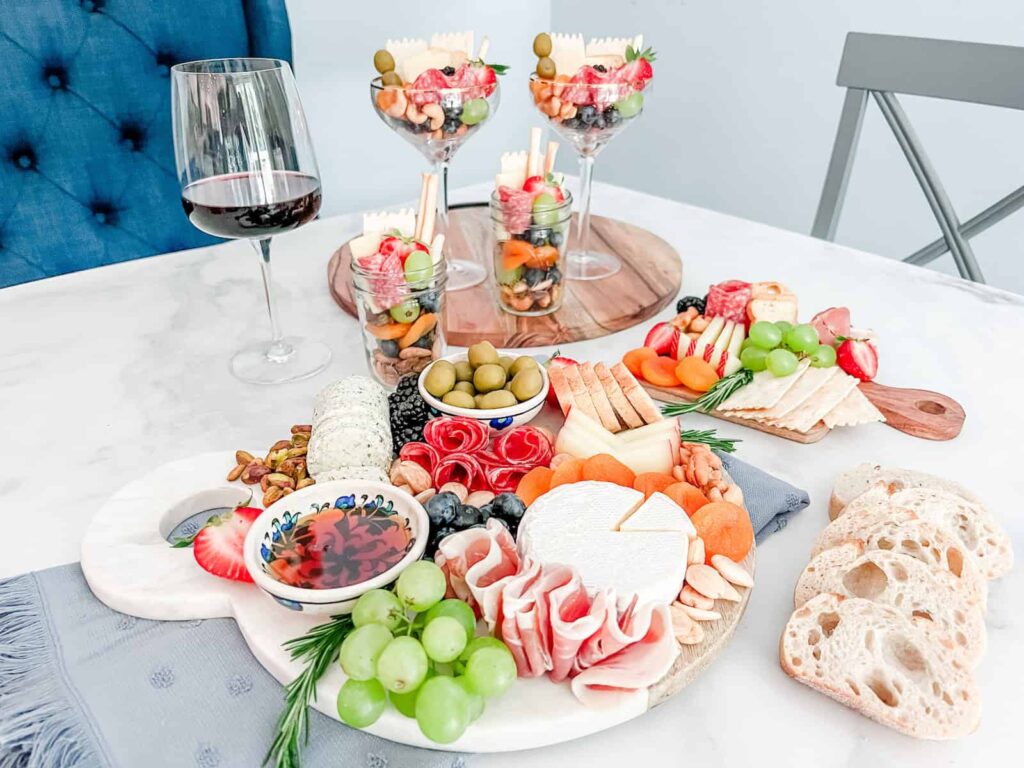 When you've got an array of delicious flavors on your charcuterie board, finding the perfect wine can feel like a challenging puzzle. Whether you're rocking mild and mellow ingredients or going all out with bold and robust flavors, it's all about finding the right balance.
To complement your charcuterie picks, match the wine's boldness to the ingredients. And don't forget about the salt and fat content! Opt for a wine with good acidity to balance things out.
For charcuterie boards with a mix of mild and bold ingredients, I recommend a crisp white wine like Riesling or Sauvignon Blanc that will give you a refreshing kick. Or you could go with a light and fruity red wine with good acidity such as Barbera or Beaujolais.
Now, if you want to get into the nitty-gritty, here are some tips to match your charcuterie style with specific wines.
Mild Charcuterie Wine Pairing
Going with mild charcuterie like prosciutto or mortadella? And soft and creamy cheeses such as burrata, Boursin, or Brie? Choose a lighter wine that complements the delicate flavors of these ingredients.
Wine Pairing Options:
Medium Charcuterie Wine Pairing
For medium charcuterie like coppa and speck and semi-soft or semi-hard cheeses like Havarti, Gruyère, or Manchego, you can turn up the dial on your wine selection.
Opt for a medium-bodied wine with good fruit flavors that isn't too earthy. And don't shy away from a red wine with a touch of tannins.
Wine Pairing Options:
Light to medium-bodied white wine – Riesling, Chenin Blanc
Deeper colored rosé wine – like those from Tavel or Bandol
Medium-bodied, fruity red wine – Zinfandel, Merlot
Bold Charcuterie Wine Pairing
For bold charcuterie like bresaola or soppressata and aged cheeses such as Cheddar, Gouda, and Parmigiano-Reggiano, go for a bolder wine that can hold up to the more intense flavors. You can also up the tannin level since the salt content in these cheeses will help soften them.
Wine Pairing Options:
Alright, my charcuterie-loving friends, we've come to the end of our flavor-filled adventure! We've dived into small charcuterie board ideas and the art of wine pairing like true connoisseurs.
Now it's your turn to get creative with your own mouthwatering combinations. Whether it's a date night, a solo snack fest, or a gathering with pals, remember to savor every bite and sip.
Looking for more appetizer ideas with wine pairings? Check out the best wine with crab cakes.
Small Charcuterie Board Recipe
This small charcuterie board is easy to make and perfect for two to four people. Pair it with a glass of high-acid white wine or light, fruity red wine.
Ingredients
2-3 cheeses, mix of soft and hard
12 pieces cured meat (salami, prosciutto, coppa)
3/4 cup fresh fruit (grapes, strawberries, blueberries)
1/4 cup dried fruit (dried apricots)
1/4 cup nuts (cashews, pistachios, almonds)
1/4 cup spread (jam, mustard, honey)
1/4 cup olives or pickled veggies
3 sprigs fresh herbs like rosemary or thyme
Crackers or bread
Instructions
Arrange small bowls or ramekins to hold your spreads, olives, and/or pickled items. Make sure to space them out on the board.

Add your cheeses. Keep soft cheese whole. Slice hard cheese into bite-size pieces and place in a pattern on the board.

Separate meats into individual slices and arrange. Get creative by folding them into roses, ribbons, or bouquets.

Place fruit in remaining open spaces. Then add nuts to fill any small gaps.

Add your spreads, olives, and pickled items to the small bowls.

Garnish with fresh herbs.

Set up a variety of cracker options on the side.
What's your favorite type of small charcuterie board?
Shop my kitchen essentials
Learned something new?