Comparing Pinot Noir vs Cabernet Sauvignon is like comparing Celine Dion to Eminem.
They may both be in your top 20 playlist that you belt out in the car when you're alone. But they're on opposite ends of the music (or red wine) spectrum.
That's why understanding these two different grapes is a great way to learn about red wine. What makes one lighter and more elegant? And the other bolder and spicier?
Now, these varieties aren't all opposites. They do happen to originate from France's two most prestigious red-wine-producing regions. And they are some of the world's most renowned grape varieties for winemaking.
Read on to learn about the differences and similarities between Pinot Noir and Cabernet Sauvignon. And find out which one lines up best with your taste preferences.
BTW, if you haven't yet, make sure to grab my free Wine Tasting Planner. It has 20+ wine night theme ideas, including the exact ones I've used for my wine tastings. Plus, a timeline, food pairings, games, free printables, worksheets, and more. Get your copy here.
Pinot Noir vs. Cabernet Sauvignon: What's the Difference?
Pinot Noir and Cabernet Sauvignon are popular grapes for red wine. Pinot Noir wines tend to be light and elegant with floral aromas and flavors of red fruits and vanilla. Cabernet Sauvignon wines are full-bodied with higher tannins and notes of black fruit, baking spices, and green bell pepper.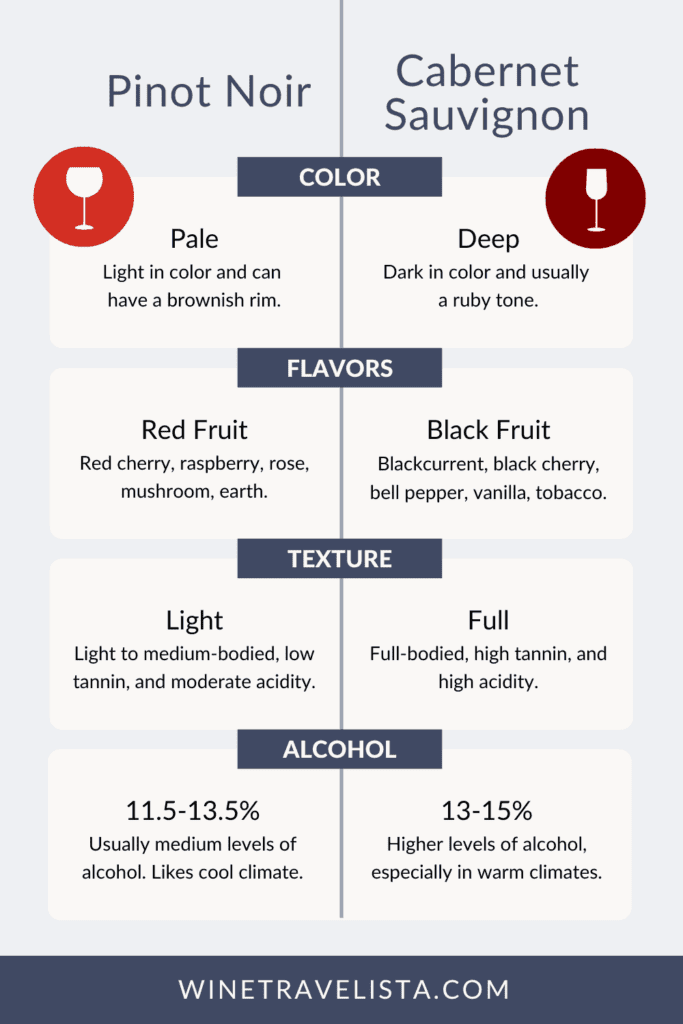 Origins
Pinot Noir history
While the exact origin of Pinot Noir is unknown, we do know it's one of the oldest wine grapes. It has its roots (no pun intended) in Burgundy, France.
Some believe the Romans first discovered it there. But we know for sure that the Catholic Church took a liking to it. French monks were the first to really take care of it in the region. And it became the wine of choice for sacraments.
Fun fact: Pinot Noir is part of a group of mutant grapes. No, we're not talking Ninja Turtle type of stuff here. These grapes all fall under the "Pinot" umbrella and are natural mutations.
This includes the likes of Pinot Gris (aka Pinot Grigio), Pinot Blanc, and Pinot Meunier (the other red grape of Champagne).
Cabernet Sauvignon History
Much like the Slinky, Cabernet Sauvignon was a happy accident. It's been around since the 1600s and was first found in the Bordeaux region of France.
But it wasn't until the 1990s that researchers discovered it was a natural crossing between Cabernet Franc and Sauvignon Blanc.
Yes, you heard that right! This big bold red has a parent that makes white wine. This gives Cabernet Sauvignon its high acidity. And Cabernet Franc lends its structure.
The discovery also helps explain the herbaceous notes you can get from Cabernet Sauvignon. Both parents have these same characteristics, which come from aroma compounds found in green bell peppers (known as pyrazines).
Pin for Later!
Differences in the Vineyard
Growing Pinot Noir
Early budding and early ripening Pinot Noir grapes are notoriously hard to grow.
They need a cooler climate and long growing season to slow down ripening and achieve their full potential. And the vines need careful coddling to keep the canopy open, so the grapes receive enough sunlight and airflow.
The grape's thin skin means that it's particularly susceptible to fungal disease and rot. And it's not a fan of temperature fluctuations. These can all lead to lower yields, resulting in fewer grapes and less wine.
With all that goes into it, you often have to shell out a pretty penny to get a decent-quality version of this fussy wine.
Growing Cabernet Sauvignon
Easy-going Cabernet thrives in warmer climates with plenty of sunshine. It likes stonier soils that are well-draining and retain heat.
But too much of a good thing can make this vigorous vine overproduce. This results in wines that miss the mark on concentration and complexity.
That's why planting on sites that have wide diurnals (cold nights and warm days), helps slow ripening, retain acidity, and produce more elegant styles.
But this late-budding and late-ripening grape can struggle to ripen in cooler climates. And that's when you'll get more of the herbaceous aromas.
Cabernet Sauvignon grapes also have thick skin, making them more resistant to fungal diseases than Pinot Noir.
Differences in Winemaking
Pinot Noir Winemaking
With Pinot Noir's thin skins, it takes quite a bit of work to extract tannin and color. And the winemaker has to be careful not to over-extract, which could result in losing some of the wine's nuance and elegance.
So, the juice will often have a nice cool bath (called maceration) with its skins before fermentation starts. And sometimes whole bunches of grapes are added to the juice. This helps bring out the red fruit and flowery notes in the wine.
Pinot is usually fermented at warmer temperatures than heavier reds like Cabernet. This helps add more color, flavor, and tannin. Although lighter styles may use cooler temps.
This variety is often seen as a solo act, so blending with other grapes is not common. But Pinot Noir wines from different vineyard sites or aging vessels may be blended to add more complexity and balance.
These wines may be aged in oak barrels for a year or two. But new oak can easily overwhelm its delicate aromas. So, it's more common to use older oak that's already seen a couple of vintages.
Cabernet Sauvignon Winemaking
Unlike Pinot Noir, Cabernet's thick skins have no problem giving this wine loads of color and tannin. Winemakers have to be careful not to extract too much before, during, and after fermentation.
Because of this, the grapes will almost always be destemmed so they don't impart additional tannins.
Fermentation takes place at cooler temps than Pinot (but still warmer than white wines). This helps retain the fresh fruit flavors but avoids adding too much tannin.
Cabernet is the king of blends. It's besties with Merlot grapes, which add more softness and fruit. But it's not shy about mixing with many other red grape varieties.
In contrast to Pinot, oak is no problem for the intense flavors and tannins of Cabernet. So, you'll often see it spend time in new oak — anywhere from six months to four years!
Pinot Noir vs Cabernet Sauvignon Taste
what does pinot noir taste like?
The thin skins on this grape mean that Pinot Noir is usually light in color. And it can have a bit of a brownish tinge around the rim.
It's made as a dry wine and usually has light to moderate tannins (again, from the thin skins). You'll get some good acidity from Pinot Noir, but usually not as high as Cabernet. Body and alcohol content typically fall in the medium range (11.5-13.5% ABV).
Pinot is best known for its aromas and flavors of red cherries. But these can sway more toward black cherries in riper and more concentrated versions. You'll also find other red fruits and floral notes like rose and hibiscus.
With oak, it will have more vanilla and spice character. And as it ages it can develop earthy flavors and notes of mushrooms and forest floor.
what does Cabernet Sauvignon taste like?
On the opposite end of the spectrum, Cabernet can be described as a bit extra. It's a deep-colored and full-bodied wine with high tannins and high acidity.
This often comes with high alcohol levels in warm climates (sometimes upwards of 15% ABV). However, it can be made in more elegant, lower-alcohol styles, especially in cooler climates.
Like Pinot Noir, Cabernet is almost always dry. Although, some mass-market versions may have a bit of residual sugar to make them more palatable for entry-level drinkers.
Cabernet is known for its black fruit flavor profile, with black currants being the classic descriptor. No idea what that smells like? No surprise.
This shrub that produces dark berries was banned from the United States for more than half a century. So, you may know the scent better from crème de cassis.
You'll also find black cherry and black pepper. Plus, herbaceous notes like green bell pepper, eucalyptus, and mint in cooler-climate versions.
With oak, Cabernet takes on vanilla and baking spices like nutmeg and cinnamon. And as it ages, you can get things like forest floor, tobacco, and leather.
Top Wine Regions
Pinot Noir regions
Old World
France is the number one Pinot Noir producer in the world. In Burgundy, the most prestigious versions come from Côte de Nuits in the Côte d'Or. These tend to be fuller in body and more ageable than the fruitier styles of the Côte de Beaune.
Pinot Noir is also a primary grape used in France to make traditional method sparkling wines. That's right, we can't forget about Champagne. Here, it adds red berry flavors and body to blends. Or it can stand on its own in a Blanc de Noir style.
In Germany, Pinot Noir is the third most planted grape variety, where it goes by the name Spätburgunder. With its already cold climate, this grape does best in the warmer region of Baden. They are earthy with flavors of red plum.
The Italians call this grape Pinot Nero. And it's found in the northern part of the country. These wines are some of the ripest Pinot Noir in the Old World.
New World
The United States is one of the top Pinot producers. It grows best in the cooler coastal areas of California, like Sonoma Coast and Napa Valley's Los Carneros. Here, it's more fruit-forward and oaky than Old World styles.
And let's not forget about Oregon. The Willamette Valley is famous for its intense Pinots with a flavor profile reminiscent of Coca-Cola. But I'm sorry to tell you that, unlike the beloved soft drink, you won't find Pinot in Oregon's vending machines.
New Zealand's Central Otago region is known for full-bodied and juicy versions of this vino. And down under, it does best in Australia's cool to moderate sites like Yarra Valley, Mornington Peninsula, and Tasmania.
Although better known for Pinotage (a cross between Pinot Noir and Cinsault), South Africa also has some Pinot Noir. Versions from coastal sites like Walker Bay have toasty notes from the use of a portion of new oak.
And in South America, you'll find it in both Chile (San Antonio Valley and Casablanca Valley) and Argentina (Patagonia Region).
Cabernet Sauvignon Regions
Old World
Starting in Cabernet Sauvignon's hometown, the left bank of Bordeaux is most known for Cabernet-based blends. These can often include Cabernet Franc and sometimes Merlot. The wines will be high in tannin to withstand the test of time. And they'll usually have some herbal and floral notes.
Cabernet is increasingly being grown in Spain as well. It's used as a blending grape with Tempranillo and Garnacha to add more color, acidity, and tannin. Look for top-quality versions from Priorat.
Not to be left out, Bolgheri in Italy is becoming a hot spot for Super Tuscans. These Bordeaux-style blends feature Cabernet amongst other international and local grape varieties (e.g., Sangiovese).
New World
Napa Valley is practically synonymous with Cabernet Sauvignon, being its best-known grape. If you want the best of the best, seek out ones from the AVAs of Rutherford, Oakville, or Stags Leap District.
This variety can also be found throughout California (at varying levels of quality) and in Washington State. Versions from the U.S. are typically made as a single varietal wine that's fruit forward with vanilla from new oak. And less tannin but more alcohol from the warm climate.
South Africa makes some beautiful Bordeaux-style blends with Cab (check out ones from Stellenbosch wineries). It's also found in their Cape Blends with Pinotage or as a single varietal. The style tends to be somewhere between California and Bordeaux.
If you want a steal, go for a Cabernet from South America. Chile is one of the best bangs for your buck. Here, it's full-bodied with ripe black fruits and often an herbaceous character. The better versions come from Aconcagua Valley and Apalta in Colchagua Valley.
And in Argentina, Cabernet is the third-most planted variety. It likes Mendoza's high altitude with cool nights and warm days.
Australia also has a couple of key wine regions for Cabernet production. Ones from Coonawarra have a distinctive eucalyptus note thought to come from the eucalyptus trees grown around the vineyards. And Margaret River is known for its Bordeaux-style blends.
Differences in Price
Pinot Noir Price
As a fickle grape, good-value versions of Pinot Noir are hard to come by.
For a quality Burgundy, expect to spend upwards of $40 (but if you have some extra change lying around, you can easily drop a cool $15k on a bottle). And even in California, you'll be looking at $30+ for a good Pinot Noir.
Italy, New Zealand, and Oregon start in the $20 range for decent quality. And more affordable versions can be found in Argentina and Germany for about $15.
Be wary of any Pinot Noir below $15. The effort that it takes to make this fussy wine means that they likely skimped on a few steps in the process.
Cabernet Sauvignon Price
While wine-collection-worthy Cabernet can fetch prices just as high as Pinot Noir, there are more deals to be had with this vigorous and adaptable grape.
A decent-quality Bordeaux or Napa Valley Cab will cost you at least $30. Spain's Priorat can also be pretty pricey.
And while Australia's animal-adorned bottles can be had for the low, low price of $5.99, the better-quality versions will start at $20.
Chile, Argentina, and South Africa have some fantastic values around the $20 price point as well. But you may even find some gems for less.
Washington and other parts of California are also good places to look in North America for quality versions without the premium price tag.
Serving Temperatures & Glass Styles
How to serve Pinot Noir
Because of its lighter body and lower tannins, Pinot Noir can be enjoyed slightly chilled. Aim for around 55-60°F (13-15°C).
Decanting is sometimes thought to be a no-no with this delicate wine. But if it's seen a lot of oak or your bottle has sediment, then it could benefit from 30-60 minutes of breathing.
The traditional glass style for Pinot is the Burgundy glass. It's got a big bowl but still tapers at the rim. This allows the subtle floral and fruit aromas to collect and concentrate. That way you'll get the most out of your swirling and sniffing.
How to serve Cabernet Sauvignon
Cabernet should be consumed at a slightly warmer temperature than Pinot Noir. Too cold and the tannins can taste harsh. Somewhere between 60 and 65°F (15-18°C) is just right.
Because this wine almost always sees oak and has a higher tannin content, it can usually benefit from time in a decanter. And aged versions can develop some sediment. So, decanting will help avoid those gritty bits sneaking into your glass.
Of course, the classic glass style for this beverage gets its name from Cabernet's home region. The Bordeaux glass is taller and skinnier than the Burgundy glass.
This extra height helps dissipate the ethanol from the higher alcohol level. And it allows more oxygen in to soften the tannins and open up the wine.
For more tips, check out this post on the best temperature to store red wine.
Wine and Food Pairings
Pinot Noir Food Pairing
The lightness of this wine can easily be overpowered by heavier meats. So, stick to leaner cuts like chicken, pork, and duck. Pinot Noir can also pair well with a leaner cut of steak like filet mignon.
Pescatarians rejoice because this red wine works with salmon too. Whether baked, pan-fried, or grilled, the richer flavors of this fish are a stunning match.
And an aged Pinot, with its development of mushroom and earth flavors, is a perfect pairing for…surprise, surprise…mushroom dishes! Don't believe me? Try it out with these smothered mushroom pork chops or Chicken Marsala.
When it comes to cheese, semi-soft is best. Think Gruyere or Comté. You can also go with a bloomy cheese like Brie or Camembert.
Cabernet Sauvignon Food Pairing
This wine's boldness and high tannin content love a dish that's high in fat. This will soften any rough edges.
Red meat like beef and lamb is a classic pairing with Cabernet. And the smoky flavors of BBQ or charred notes of grilled foods are a magical match too. Try steak, burgers, lamb chops, or kebabs.
For cheeses, think hard or aged. Cheese already has a high fat content. And the sharp nutty flavors of a cheddar or aged gouda make it a winning combination with Cabernet.
Want more wine and cheese pairings? Try these Burrata wine pairings, Cambozola wine pairing, or snacks with wine.
Pinot Noir vs Cabernet Sauvignon: Which is Right for You?
The only person that can answer that question is you. Do you tend to like lighter more elegant wines? Or do you prefer fuller-bodied wines with more texture?
If you haven't tried either, why not get both and see what you think?
Check out more wine comparisons like Riesling vs Gewürztraminer, Prosecco vs Moscato d'Asti, Sauvignon Blanc vs Pinot Grigio, and Mead vs Wine.
Do you prefer Pinot Noir or Cabernet Sauvignon?
Learned something new?
shop my Wine Accessories
Recommendations may be affiliate links on which I earn a small commission at no additional cost to you. This helps me share new wine destinations with you and I only recommend products and services that I love and think you'll love too!