Sauvignon Blanc and Pinot Grigio are two of the most popular white wines today. But what's the difference between Sauvignon Blanc vs Pinot Grigio?
Whether you're at the beginning stages or well into your wine journey, these are great ones to compare.
From how and where they're grown, to the winemaking techniques, to the aromas and flavors, they have both similarities and differences.
Read on to learn more about these two types of wine. And find out how to choose the best white wine for your palate.
BTW, if you haven't yet, make sure to grab my free Wine Tasting Planner. It has 20+ wine night theme ideas, including the exact ones I've used for my wine tastings. Plus, a timeline, food pairings, games, free printables, worksheets, and more. Get your copy here.
Sauvignon Blanc vs. Pinot Grigio: What's the Difference?
Sauvignon Blanc and Pinot Grigio are popular white wines. Sauvignon Blanc is usually dry with high acidity. It's very aromatic, with bell pepper, lime, and mineral notes. Pinot Grigio is more neutral, with lemon, apple, and peach. It's often dry, but Pinot Gris styles can be sweet.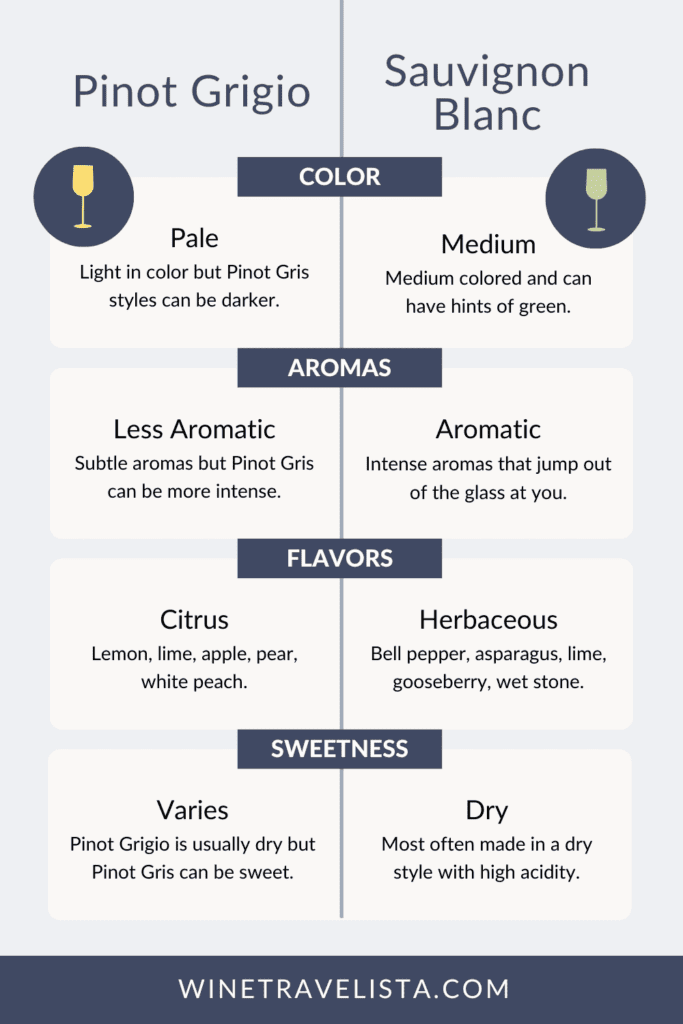 Origins
Sauvignon Blanc History
Sauvignon Blanc is no spring chicken. It's been around for at least 500 years, going back to the Loire Valley in France. And it's thought to be the child of Savagnin, another French grape variety.
Believe it or not, it was treated as a weed until farmers discovered the grapes made some pretty tasty wine. That explains the name Sauvignon, which comes from the French word Sauvage, meaning "wild."
Sauvignon Blanc is also found in France's Bordeaux region. And in the 1970s it was brought over to New Zealand.
The country's cool climate and long days of intense sunlight turned out to be the perfect environment for this white wine grape. It's become New Zealand's most planted variety. And it's gained huge popularity worldwide in the past few decades.
Pinot Grigio History
If you read my post on Pinot Noir vs. Cabernet Sauvignon, you may remember that Pinot Noir is part of a group of natural "Pinot" mutations. Pinot Grigio (or Pinot Gris) also falls under this group, along with Pinot Blanc and Pinot Meunier.
The name translates to "gray Pinot" in French, a reference to its often greyish-blue grape skin.
Like Pinot Noir, Pinot Gris is believed to have come from the Burgundy region of France. But it was also found in Southwest Germany around the same time. And it became one of the four noble grape varieties in Alsace, France.
In the 1960s it made its way to Northeastern Italy, where it became known as Pinot Grigio. And it exploded in the early 2000s, becoming one of the most popular white wines today.
Pin for Later!
Differences in the Vineyard
Growing Sauvignon Blanc
Sauvignon Blanc grapes like cooler climates. They're an early ripening variety so in warmer climates, they'll ripen too quickly.
And even in moderate climates, they need some kind of cooling influence. This can come from things like altitude, cool winds, or being located near cold ocean water.
This slower ripening makes sure that the grape's herbaceous characteristics aren't overwhelming and unpleasant. And it helps keep the grape's refreshing acidity.
Sauvignon Blanc is also a vigorous variety. So, if it's planted on fertile soil and not pruned enough, it can go a little crazy with producing fruit.
Planting on poor soil and proper pruning will keep the vegetal growth in check so the flavors don't become diluted.
Growing Pinot Grigio
Pinot Grigio/Pinot Gris can be made in many different styles. Climate and viticulture practices have a major impact on the final wine.
One of the biggest factors is which clone is used. FYI, a clone is a variation on an individual vine species. Still genetically the same, but there can be positive (or negative) differences between clones.
In France, Germany, and Italian regions like Alto Adige and Trentino, the clone used has darker grey-blue or brownish-pink skin and smaller berries. And it's known to produce more concentrated and complex wines.
The clone used for high-volume wine production in Italy's Veneto region has paler skin and larger berries. Wines made from this clone tend to be more neutral and simple.
Climate also plays a big role in style. Alsace is one of the driest and sunniest regions in France. So Pinot Gris grapes can hang on the vine longer. This means lower acidity, higher sugar levels, and riper fruit.
In contrast, Italian Pinot Grigio will be leaner and have higher acidity due to the growing altitude or from early picking in the lower areas.
Differences in Winemaking
Sauvignon Blanc Winemaking
Sauvignon Blanc is what's known as an aromatic grape variety. This means that it has very intense aromas and flavors. So intense that you often don't even need to stick your nose in the glass to start getting some smells.
For aromatic grapes, most winemakers focus on protecting the oh-so-delicate primary aromas and flavors during the winemaking process.
This means minimizing exposure to oxygen as much as possible. And using what's called inert vessels for fermentation and maturation. These won't add any extra flavors to the wine.
So things like grape skin contact and use of oak are typically avoided when making Sauvignon Blanc wines. Although there are some oaked styles, which I'll get to in a bit.
Stainless steel tanks are commonly used for fermentation because the temperature can be controlled. And fermenting at cooler temperatures will help the wine develop more fruit and floral aromas and flavors.
Malolactic fermentation (converting the malo acid to lactic acid) is usually avoided. This helps keep Sauvignon Blanc's razor-sharp acidity.
Most Sauvignon Blanc is made as a single varietal wine. But you'll see it blended in some regions, most commonly with Semillon to add more body.
Oaked styles can be found in places like Pessac-Léognan in Bordeaux and from California (often labeled as Fumé Blanc). But if not oaked, the wine will be bottled and released as soon as possible so it hits the market young and fresh.
Pinot Grigio Winemaking
A key difference between Pinot Grigio and Sauvignon Blanc is that it's less aromatic. That means the winemaker's choices play a big role in the final style of wine.
If you're wondering what the difference is between Pinot Grigio vs Pinot Gris, they're the same grape. But two different styles.
When called Pinot Grigio, this typically means the wine is made in the Italian style. Here, the focus is on keeping the pure citrus fruit flavors and refreshing acidity. Stainless steel is commonly used for fermentation and oxygen exposure is kept to a minimum.
Pinot Gris most often will be aligned with the style from Alsace, France. Grapes are left on the vine to ripen longer so will have higher sugar levels. This means these grapes can produce sweet wines or wines with higher alcohol levels.
Techniques are used to add more complexity and texture to the wine. This includes large old oak barrels for fermentation in Alsace. And the wine may go through malolactic conversion and spend time in contact with the fine lees (aka particles from the yeast used during fermentation). This gives it a richer, rounder mouthfeel.
Sauvignon Blanc vs Pinot Grigio Taste
What does Sauvignon Blanc taste like?
Almost all Sauvignon Blancs will be dry wines. And they're known for having super high acidity levels. That's what causes your mouth to water like crazy after taking a sip.
Sauvignon Blanc is one of a handful of grapes that has high levels of pyrazines. This is a technical way of saying the wine can smell and taste herbaceous. Think green bell peppers and asparagus.
If the grapes are less ripe, this can be very pronounced (and potentially unpleasant). But in high-quality versions like those from the Loire Valley, it can add a fresh and savory quality (like parsley, basil, and mint, oh my!).
Sauvignon Blanc from this region also typically smells like lime, grass, and wet stones. As in, that mineral smell after a spring rain.
The new world style made famous from New Zealand can have more floral and fruity aromas, but still with some herbal notes. You'll often get elderflower, passionfruit, and grapefruit.
And let's not forget the classic descriptor, gooseberry. Sort of like a really acidic grape, if done wrong it can smell a little like cat pee.
For oaked styles, you'll get less of the floral and fruity aromas. And more creamy flavors like lemon curd and butter.
What does Pinot Grigio taste like?
As a less aromatic grape, Pinot Grigio tends to be more neutral than Sauvignon Blanc. For lighter styles, you may need to really stick your nose in the glass to pull out the aromas.
Fruit-driven versions will have lots of citrus notes like lemon and lime. And often green and stone fruits like green apple and white peach.
These styles will almost always be dry and have higher acidity (although not as high as Sauvignon Blanc). And alcohol content typically falls in the medium range.
Riper, richer styles like Pinot Gris from Alsace will be more honeyed and spicier. You can get things like cinnamon, cloves, and ginger.
And you'll find a range of sweetness levels, from dry to dessert-worthy wines. The sweetest, like Vendanges Tardives and Sélection de Grains Nobles, are harvested late and may have noble rot (a good kind of rot that concentrates the grape sugars).
Top Wine Regions
sauvignon blanc regions
Old World
As the birthplace of Sauvignon Blanc, the Loire Valley is still a source of high-quality, elegant styles. You'll find the best versions in Sancerre and Pouilly-Fumé, where they're known to have great minerality and notes of lime and fresh-cut grass.
This grape can also be found as a single varietal or blended with Semillon in the Bordeaux region of France. Pessac-Léognan in particular is known for having some toasty notes from the use of oak.
And you'll find it in Southern France from the Côtes de Gascogne and Pays d'Oc IGP.
The Rueda region in Spain blends Sauvignon Blanc with the local grape variety Verdejo. And you'll also find a bit in Northeastern Italy's Friuli Venezia-Giulia (which is better known for Pinot Grigio).
New World
Marlborough, New Zealand has almost become synonymous with Sauvignon Blanc. The region's cool climate and intense sunlight produces a style that has exploded in popularity. The mouth-puckering acidity gives way to loads of green pepper, gooseberry, and citrus fruit.
Similar versions can be found in places like Stellenbosch, South Africa. And in the cooler coastal areas of Chile, like Elqui Valley.
Margaret River, Australia makes Bordeaux-like blends with Semillon, which gives it more body. And you'll also find it as a single varietal in Adelaide Hills in South Australia.
In the United States, Sauvignon Blanc grows best on the cooler sites of California's North Coast. You'll also find it from the Columbia Valley in Washington state.
Ripe, full-bodied styles with oak influence will often be labeled Fumé Blanc to differentiate them from the fruitier New Zealand styles.
Pinot Grigio Regions
Old World
Can you guess which area produces the most Pinot Grigio? If you guessed Northern Italy, you got it! Veneto is the source of massive amounts of inexpensive versions.
But you'll find higher quality ones from high-altitude regions like Alto Adige, Trentino, and Friuli-Venezia Giulia. These areas can retain the grape's bright acidity. And they often use the clone found in France that produces smaller berries with more flavor concentration.
Alsace, France is home to the Pinot Gris style of this grape. As one of the region's four noble grape varieties, it can be produced in a range of styles. Late harvest ones will often be sweeter and may have influence from noble rot.
In Germany and sometimes in Austria, you'll find this grape called Grauburgunder. Look for it from German regions like Pfalz, Rheinhessen, and Rheingau. And in Austria, its grown in Bergenland and Steiermark.
New World
While better known for Sauvignon Blanc, New Zealand is also a top new world producer of Alsace-style Pinot Gris. Ones from the cooler south island will have higher acidity. And those from the north will be a riper style.
Neighboring Australia also produces a dry, rich style mainly found from the island of Tasmania.
Heading to North America, check out Oregon for more Alsatian-style versions. Here, it's the second most important wine grape behind Pinot Noir.
And you'll also find it produced in California, Washington state, and Canada's Okanagan Valley.
Differences in Price
Sauvignon Blanc Price
While your basic white Bordeaux or Southern France Sauvignon Blanc can be relatively inexpensive, good-quality versions from France will often run you at least $20.
And it's not hard to drop $30 to $40 in places like Sancerre, Pouilly-Fumé, and Pessac-Léognan.
Sauvignon Blanc can be very inexpensive when produced at high volume. You'll often see these labeled with a broader area like California. Or even an entire country, like Australia (often with an animal on the bottle, if you know what I mean).
You can get some good values in the $15-$20 range from New Zealand and Chile. And higher quality versions can be found if you spend just a little bit more.
Pinot Grigio Price
Like Sauvignon Blanc, Pinot Grigio can be found at a wide range of prices. High-volume versions from Italy's Veneto can be had for less than the price of your Pumpkin Spice Latte.
But better-quality styles from Alto Adige and Trentino will run you more in the $20 range.
And Pinot Gris from Alsace starts there, but can easily reach $50 for Grand Cru versions. Germany's Grauburgunder will fall in a similar price range depending on the quality level.
If you're looking for an everyday wine, you'll find some good values in the new world. You can get great Pinot Gris from places like Oregon and New Zealand for $15 to $20.
Serving Temperatures & Glass Styles
How to serve Sauvignon Blanc
As a lighter-bodied white wine, you'll want to make sure your Sauvignon Blanc is chilled to around 45 to 50° F (7-10° C). But don't go too cold, or you won't get the full flavor effect of the wine.
Forgot to put your vino in the fridge? Check out the secret of how to chill wine fast.
Sauvignon Blanc does not benefit from decanting. In fact, this may cause it to lose some of the delicate aromas before you get a chance to enjoy them.
When it comes to glassware, there's really only one choice for white wine…a white wine glass. This style is medium-sized with a smaller bowl than a red wine glass. This helps gather the fruity notes and direct them to the top of the glass.
How to serve Pinot Grigio
As the lighter style of this wine, Pinot Grigio should be chilled to 45 to 50° F (7-10° C).
With its fuller body and potential for some oak influence, Pinot Gris is best enjoyed slightly warmer. Aim for 50-55° F (10-13° C).
As with Sauvignon Blanc, there's no need to decant your Pinot Grigio. And a white wine glass is the best choice for appreciating its subtle aromas.
Wine and Food Pairings
Sauvignon Blanc Food Pairing
Seafood dishes and Sauvignon Blanc make a beautiful pair. Especially if there's a buttery sauce. The wine's bright acidity will balance out the fatty notes, without overpowering the fish's delicate flavors.
With its herbaceous notes, Sauvignon Blanc also goes great with herbal sauces and green veggies. Try it with fresh pesto, chimichurri, or a leafy salad. Or it can hold its own with the notoriously hard-to-pair-with asparagus.
For the classic pairing, break out a log of creamy goat cheese. With its hint of grassiness, this cheese is a perfect match for a crisp Sauvignon Blanc wine.
Want more wine and cheese pairings? Try these Burrata wine pairings, Cambozola wine pairings, or snacks with wine.
Pinot Grigio Food Pairing
With Pinot Grigio wines, you'll want to be careful to match them with lighter foods. This wine's neutral flavors can easily be overshadowed by bolder foods.
Chicken or lighter fish pair well, especially when accompanied by a lemon sauce. Like your fish raw? Well, you're in luck! Because this dry white wine is a great match for sushi and ceviche.
Fresh veggies that aren't too bitter like cucumber, cauliflower, and squash work well here too. For cheese, go for mild ones like mozzarella, burrata, and Gruyère.
If you're having a Pinot Gris with a little sweetness, you can go for something spicy. Or its fuller body will work with richer cream sauces.
Sauvignon Blanc vs. Pinot Grigio: Which is Right for You?
If you're relatively new to wine, I'd suggest starting with the more neutral Pinot Grigio. This will help ease you into exploring more aromatic and complex white wines.
On the other hand, if you love intense wines with loads of acidity, go for a Sauvignon Blanc.
Not sure what you like? Try both and let me know what you think!
Check out these other wine comparisons, including Riesling vs Gewürztraminer, Prosecco vs Moscato, and Brut vs Extra Dry Champagne. And learn about other great white wines with the 10 best Spanish white wines.
Love sharing your love of wine? Grab one of these 111 inspirational wine quotes to use in your social media caption. And then check out these 200 wine hashtags to grow your reach.
Do you prefer Sauvignon Blanc or Pinot Grigio?
Learned something new?
shop my Wine Accessories
Recommendations may be affiliate links on which I earn a small commission at no additional cost to you. This helps me share new wine destinations with you and I only recommend products and services that I love and think you'll love too!