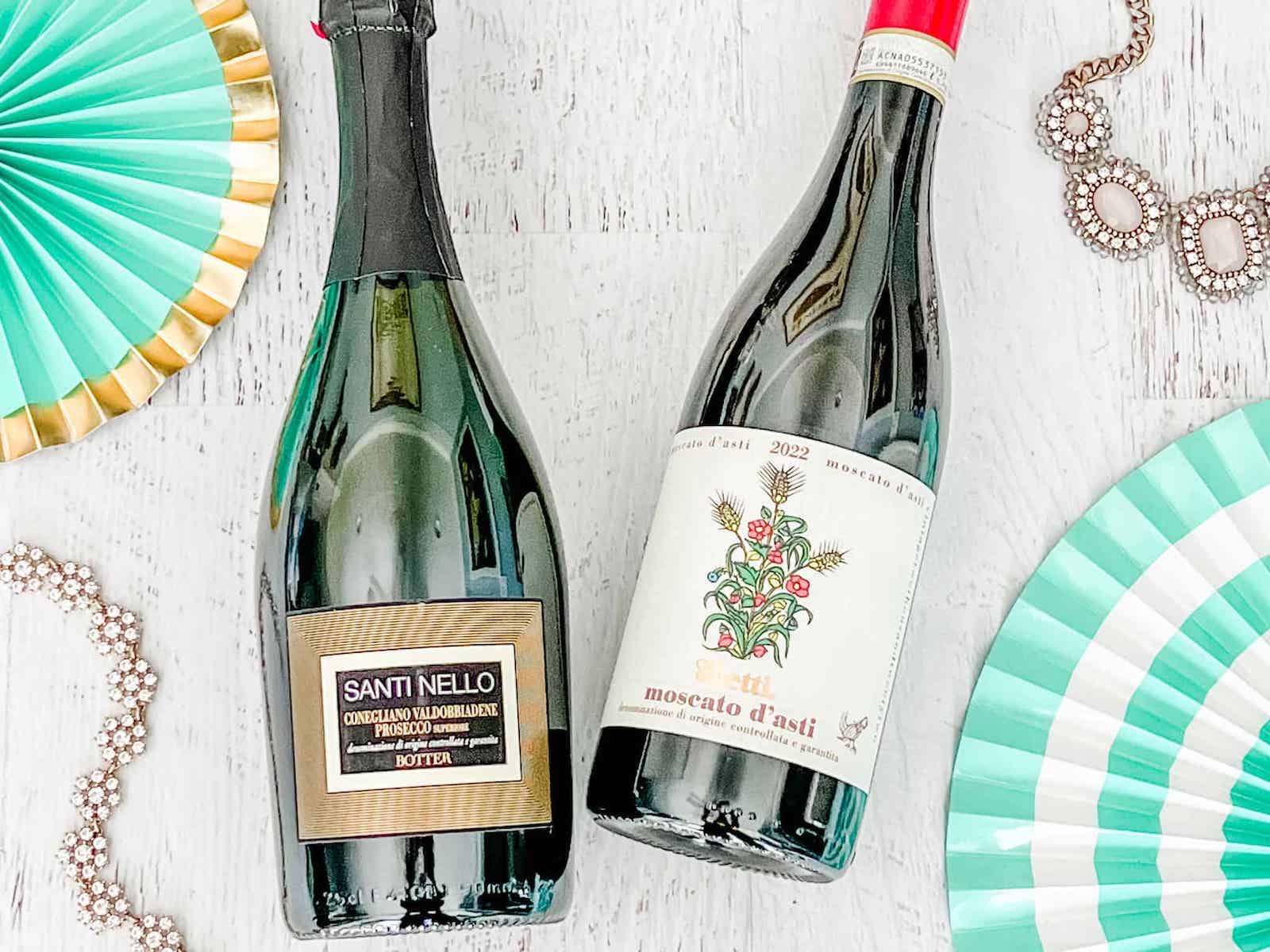 Welcome to the ultimate battle of Italian bubbles: Prosecco vs Moscato d'Asti.
Whether you're celebrating a special occasion, relaxing after a long day, or just want to treat yo' self, nothing beats a good glass of bubbly.
These two Italian favorites have taken the sparkling wine world by storm, each with its own unique characteristics and flavors.
From the crispness of Prosecco to the perfumed aromas of Moscato d'Asti, I'll guide you through their differences and similarities.
So, grab a glass, pop that cork, and let's embark on this fizzy adventure together.
BTW, if you haven't yet, make sure to grab my free Wine Tasting Planner. It has 20+ wine night theme ideas, including the exact ones I've used for my wine tastings. Plus, a timeline, food pairings, games, free printables, worksheets, and more. Get your copy here.
Prosecco vs. Moscato: What's the Difference?
Prosecco and Moscato d'Asti are popular Italian sparkling wines. Prosecco is usually drier and fully sparkling. It has crisp acidity and green fruit flavors like apple and pear. Moscato d'Asti is sweeter and semi-sparkling, with pronounced stone fruit and floral aromas.
Origins
Prosecco History
Italians have been making this sparkling wine in Northeast Italy for hundreds of years. The main grape was called Prosecco. And it's thought to have come from Slovakia or Croatia.
But when New World regions started planting it and calling their wines Prosecco, the Italians got clever. In 2009, they changed the grape name to Glera.
That way, Italy could claim Prosecco as a protected name. Meaning that it could only be used for wines from the designated region. (Like how Champagne can only come from the Champagne region of France.)
In recent years, sales of this bubbly beverage have exploded, becoming the world's most popular sparkling wine. That's right. Even more popular than Champagne! That's because a top-quality Prosecco can be had for far less than its pricey cousin.
Pin for Later!
Moscato History
Moscato, the Italian name for Muscat, is one of the world's oldest grape families. It's grown everywhere, from Italy to France to Australia. I even tried quite a bit at Crete wineries in Greece.
The grape of choice in Northwest Italy's Piedmont region is Moscato Bianco, also known as Muscat Blanc, Muscat Canelli, and Muscat Blanc à Petits Grains. Back in the late 1800s, they started making the frizzante style we know as Moscato d'Asti.
This lightly fizzy bevy was known as the winemaker's wine. Its low alcohol content made it perfect for lunchtime sipping without the afternoon slump. And it worked wonders as a palate cleanser before dessert.
But in the early 2000s it started taking off in the United States. Of course, American producers hopped on the Moscato train. Sadly, many churned out low-quality, sickeningly sweet, and often pink versions. Way to ruin the party, guys!
But don't let those imposters spoil your taste buds. If you haven't tried the real deal, give it a chance.
Differences in the Vineyard
Growing Prosecco Grapes
So, what do we know about the grape that's changed its name as many times as P Diddy (or Puff Daddy…or Diddy?)
Well, Glera is a semi-aromatic variety meaning it has more subtle aromas and flavors. This, combined with its high acidity, make it a great grape for sparkling white wine.
However, given fertile soils and too much water, it can also get out of control producing tons of fruit. And this can result in wines that taste pretty bland.
So, it does best when planted on slopes. This makes the vine work harder for water and nutrients, which produces more flavorful fruit.
I should also mention that besides Glera grapes, Prosecco can include up to 15% of other wine grapes. Bianchetta, Verdiso, and Perera, for example.
Growing Moscato
Growing Moscato Bianco is no easy feat. Unlike Glera, it's a finicky grape with low yields due to poor fruit set (when the vine's flowers start to develop into grapes).
On top of that, its thin skin makes it vulnerable to mildew and rot. Oh, and the name Moscato comes from "mosca," meaning "fly," because those pesky insects can't resist its floral scent.
With its early budding and late ripening, Moscato Bianco needs a lengthy growing season. That's why it does well in Piedmont's long, hot summers.
The crème de la crème of Muscat grapes go into producing the semi-sparkling Moscato d'Asti. While the fully sparkling Asti (formerly known as Asti Spumante) gets the short end of the straw with the less ripe grapes.
Differences in Winemaking
Prosecco Winemaking
Prosecco is made using the tank method. You'll also hear it called the Charmat method, metodo Italiano, or the Marinotti method. Same thing, different names.
This method is way cheaper than the traditional method (or méthode champenoise) used for Champagne. You see, in Champagne, they go all fancy with a secondary fermentation in the bottle.
But for Prosecco, it's all about keeping the pure fruity flavor intact. Minimal contact with yeast lees means no bready, doughy flavors like you'd find in traditional method sparklers.
Here's the breakdown: they start with fermenting the base wine in a stainless steel tank. Then, they toss in a mix of yeast, sugar, and nutrients to kick off a second fermentation.
The magic happens when the yeast converts sugar into alcohol, releasing carbon dioxide. Since the tank is sealed, that CO2 gets absorbed right back into the wine, creating those delightful bubbles we adore.
Before bottling, the wine gets filtered and sometimes dosed with a little somethin'-somethin' sweet, known as Expedition Liqueur, to achieve the desired level of sweetness.
Moscato Winemaking
Moscato d'Asti (and its close cousin, Asti) gets its sparkle using none other than the Asti method. This process helps maintain the incredibly aromatic traits of the Muscato Bianco grape.
Since this wine is all about being young and fresh, it's basically made to order. The grape juice hangs out in tanks at chilly temperatures until it's ready to shine.
Unlike the tank method, wines produced with the Asti method only undergo one fermentation. In a sealed tank, the CO2 gets absorbed back into the wine.
Midway through fermentation, the wine gets a quick chill. This puts the brakes on fermentation, so those yeasties don't have a chance to turn all the sugar into alcohol.
The duration of fermentation determines the alcohol level, sweetness, and fizziness. Moscato d'Asti plays it mellow with a max of 6.5% ABV, making it semi-sparkling or "frizzante." It's sealed up with a regular cork, just like a boss.
On the other hand, Asti goes all out with full sparkle or "spumante," boasting around 6% to 9% ABV.
Prosecco vs Moscato Taste
What does Prosecco taste like?
When it comes to aromatics, let's just say that Glera, the grape used for Prosecco, is a bit more reserved compared to Moscato. So expect a softer and subtler experience when it comes to aromas and flavors.
You'll often find green fruit vibes like green apple and pear. There's a touch of honeydew melon and white flowers dancing in the mix as well.
Now, let's talk bubbles. Prosecco tends to be quite lively, packing around 3 atmospheres of pressure. However, there are frizzante styles that fall into the semi-sparkling category.
When it comes to sweetness levels, Prosecco can vary. Generally, it has less sugar than Moscato d'Asti. And thanks to its medium to high acidity, it can give off a drier impression.
Prosecco packs a bit more alcohol punch compared to Moscato d'Asti, but it's still relatively low for wine, ranging from 8.5% to 12.5%. The alcohol content, along with residual sugar level, determines if it feels light or medium-bodied.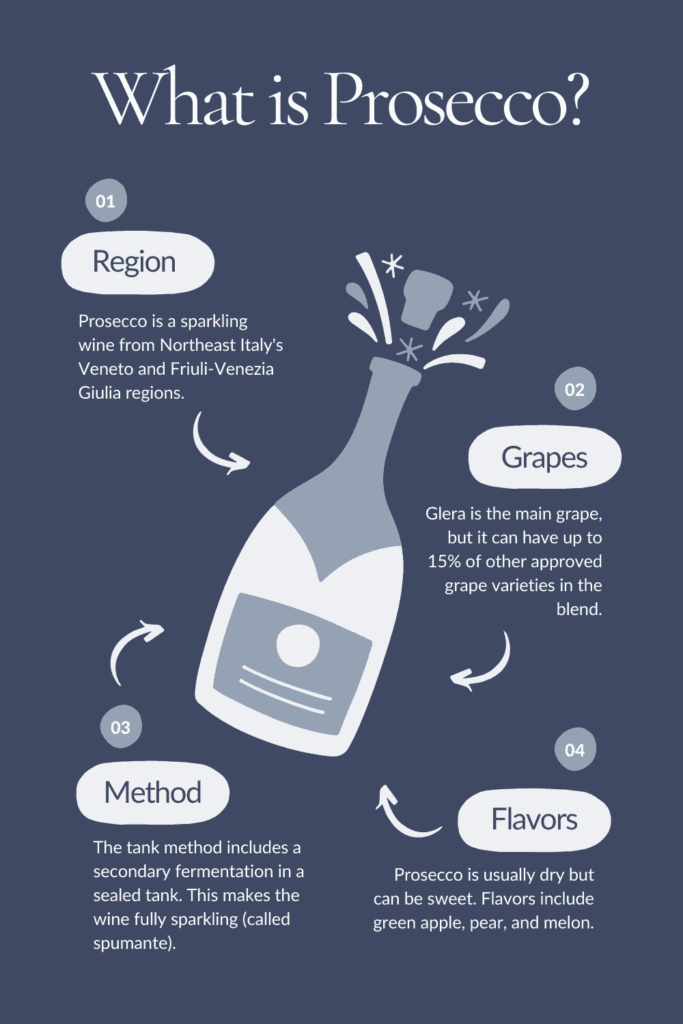 What does Moscato taste like?
Moscato Bianco is a highly aromatic grape variety, so it has powerful smells. It's unique in that it's the one grape that actually has a "grapey" smell when made into wine.
Take a sniff and you'll get a symphony of peach, apricot, and hints of citrus fruits like mandarin orange and Meyer lemon. The floral aromas of rose and orange blossom will transport you to a fragrant paradise.
This frizzante-style wine has a delicate effervescence, with a maximum of 2.5 atmospheres of pressure. It's a gentle dance of bubbles, especially when compared to the fully sparkling Prosecco.
Moscato d'Asti is one of the lowest alcohol wines, ranging from 4.5% to 6.5% ABV. It's refreshingly light on the palate. However, don't underestimate the impact of residual sugar, which adds a touch of body to the equation.
Is Moscato or Prosecco Sweeter?
Prosecco is usually made in a drier style than Moscato d'Asti. But it comes in a range of sweetness levels. The sweetness comes from the Expedition Liqueur that's added just before bottling. Here's a breakdown of the sweetness levels:
Extra Brut: A bone dry wine found only in the Prosecco Asolo DOCG.
Brut: Can be completely dry or have up to 12 g/L of residual sugar, still leaning toward dry.
Extra Dry: A hint of sweetness with 12-17 g/L of residual sugar.
Dry: Noticeably sweet with 17-32 g/L of sugar.
Demi-Sec: A sweet style with 32-50 g/L of sugar, only allowed outside the Superiore DOCG areas.
Compared to Prosecco, Moscato d'Asti can be a pretty sweet wine, with 100 to 150 g/L of residual sugar. That's as much as a can of Coke! But fear not, the bubbles help balance out the sweetness, giving it a delightful semi-sweet taste.
The sweet flavor in Moscato d'Asti comes from interrupting the fermentation process, preventing the yeast from converting all the sugar into alcohol.
Asti, on the other hand, ferments for a longer duration, resulting in a drier profile compared to Moscato d'Asti.
For more on sparkling wine sweetness levels, check out the difference between Brut vs Extra Dry Champagne.
Is Moscato or Prosecco Stronger?
When it comes to alcohol content, Prosecco takes the cake as the stronger wine compared to Moscato d'Asti. Prosecco undergoes full fermentation, so it's usually around 12% ABV. Moscato d'Asti maxes out at 6.5% ABV, and can even be as low as 4.5% ABV. This is because the fermentation process is interrupted.
Prosecco vs Moscato Calories
While Prosecco is higher in alcohol, Moscato d'Asti can have a lot more sugar. So, Prosecco usually has fewer calories. Drier Prosecco styles start at a svelte 80 calories per serving. But sweeter Proseccos can sneak up to 120 calories. This puts it in range with Moscato d'Asti's 110-120 calories.
Top Wine Regions
Prosecco regions
While the grape formerly known as Prosecco is grown in other parts of the world, Prosecco is now a regulated term. That means true Prosecco can only come from the designated area in Northeast Italy.
Grapes for Prosecco wines are grown throughout the Veneto region and Friuli-Venezia Giulia. These regions are classified as Denominazione di Origine Controllata (DOC) or Denominazione di Origine Controllata e Garantita (DOCG). Let's break it down:
Prosecco DOC – This is your base level Prosecco, where grapes can come from any part of Northeastern Italy. Quality can vary across the board.
Prosecco Trieste & Treviso DOCs – These smaller areas tend to deliver better quality than the Prosecco DOC.
Conegliano Valdobbiadene DOCG – This is where the top-quality Prosecco comes from. Nestled in the hills, this region sets high standards for quality. And wines are labeled as Prosecco Superiore. Three sites, Rive, Cartizze, and Asolo, are renowned for producing exceptional Prosecco.
So, when exploring the world of Prosecco, keep these classifications in mind to find better quality bubbly.
Moscato Regions
Moscato Bianco or Muscat Blanc is grown throughout the world. But Italy's light and fizzy Moscato d'Asti is only found in Piedmont (or Piemonte). This region in Northwest Italy sits just across the way from Prosecco's stomping grounds atop the "boot."
Piedmont is renowned for its mighty red wines like Barolo and Barbaresco, crafted from the Nebbiolo grape. But many top-notch producers are also creating delectable Moscato wines alongside their acclaimed reds.
It wasn't until 1993 that Moscato d'Asti was classified as a DOCG. The area revolves around the town of Canelli in the province of Asti, earning the grape its local moniker, Moscato di Canelli.
This same region is home to the Asti DOCG, which offers a fully sparkling and higher alcohol rendition of the wine. And you'll find some other Moscato styles, such as luscious dessert wines made from late harvest or dried grapes.
Last, we have Piemonte Moscato DOC, a base-level version that's usually sparkling and can originate from anywhere in Piedmont.
Differences in Price
Both of these bubbly white wines can be very inexpensive. That's why they've won the hearts of many. With the cost of Champagne skyrocketing to dizzying heights, many reserve it for special occasions. These two wallet-friendly alternatives let you sip bubbly like it's a celebration every day.
The tank and Asti methods keep production costs (and prices) low. So, you'll find a plethora of Prosecco and Moscato d'Asti choices in the affordable $10-$20 range.
But just because these wines are gentle on your wallet, doesn't mean you can't get high-quality versions.
You'll occasionally find Moscato d'Asti gems in the $20s and $30s. And Prosecco hailing from esteemed regions can venture into the $40 territory. But that's still far less than you'll shell out on Champers.
Serving Temperatures & Glass Styles
How to serve Prosecco
To experience Prosecco at its best, make sure it's well chilled. Aim for a temperature of around 45-50° F (6-8° C). This will ensure those delightful bubbles dance gracefully. Learn more about wine serving temperatures.
Definitely don't decant your bubbly, or it will end up flat and deflated. While the classic flute glass is a timeless choice, consider a white wine glass or tulip-shaped glass to fully savor Prosecco's subtle aromas.
And if you don't finish the bottle, use a sparkling wine stopper like this one. Otherwise, the pressure can pop the stopper out. Because let's face it, ending a party with an emergency trip to the hospital due to a cork-to-eye incident is not the grand finale we're aiming for.
Prosecco also makes a great cocktail component. It's the classic mimosa mixer with orange juice. But it's also refreshing in a spritz (Aperal, anyone?). Or as a float on top of limoncello. And for the sweet tooth in you, try it as a delightful topper on sorbet or ice cream.
Don't miss these other great wine and snack pairings.
Recommendations may be affiliate links on which I earn a small commission at no additional cost to you. This helps me share new wine destinations with you and I only recommend products and services that I love and think you'll love too!
How to serve Moscato
While Prosecco is not intended for aging, Moscato d'Asti is meant to be consumed immediately. That's when it's at its best. So don't put it in your wine fridge and forget about it.
This fizzy version of Moscato should be nice and chilled. Again, aim for 45-50° F (6-8° C). And the low alcohol content makes it a great summer sipper on a hot day.
While this grape is powerful enough that you'll get its floral and fruity aromas out of a flute-style glass, you'll appreciate them much more in a wider white wine or tulip glass.
Wine and Food Pairings
Prosecco Food Pairing
Prosecco is super versatile and pairs well with a wide range of flavors. It's great on its own as a refreshing aperitivo, but you can get creative with plenty of delicious pairings.
This crisp bubbly loves cured meats like prosciutto and salami. It's a match made in flavor heaven. And speaking of prosciutto, try wrapping it around juicy melon for a tasty party trick.
When it comes to Brut Prosecco, think seafood and sushi. The wine's acidity and citrus flavors complement your oceanic delights. And if you're craving some spice, slightly sweeter Proseccos are perfect for spicy dishes like Pad Thai or Indian cuisine.
Of course, let's not forget dessert. Prosecco knows how to party with fruit pastries, cakes with fresh fruit, and even fried desserts with creamy fillings.
Moscato Food Pairing
While Moscato d'Asti is a sweet white wine, it's not your traditional dessert wine. With flavors of stone fruits, it makes a great companion for fresh fruit and fruit-based desserts. Think juicy berries, ripe peaches, or even a fruit salad.
When it comes to cakes, opt for soft and delicate options like sponge cake. The airy texture of the cake pairs beautifully with the wine's lightness.
Moscato d'Asti also holds its ground with spicy cuisines like Thai and Vietnamese. Its sweetness provides a pleasant balance to the spice, ensuring that fiery flavors don't overwhelm your palate. Plus, the low alcohol content helps prevent any burning sensation caused by the interaction of heat and alcohol.
For savory pairings, lighter meats such as chicken, turkey, and white fish are an excellent choice. And if you're indulging in a dish with BBQ sauce, Moscato's touch of sweetness can help balance the tangy and smoky flavors.
Prosecco vs. Moscato: Which is Right for You?
Choosing between Prosecco and Moscato comes down to personal preference.
If you're looking for something drier that's fully sparkling, a bottle of Prosecco is a great choice. On the other hand, if you want something sweeter and lighter with pronounced fruity aromas, Moscato d'Asti is the way to go.
Looking for more wine comparisons? Try Pinot Grigio vs. Sauvignon Blanc, Riesling vs Gewürztraminer, or Pinot Noir vs. Cabernet Sauvignon.
Plus, don't miss my guide to Barbera d'Alba, another great Northern Italian wine. Or learn more about the best Spanish white wines.
What's your favorite sparkling wine?
Learned something new?
shop my Wine Accessories