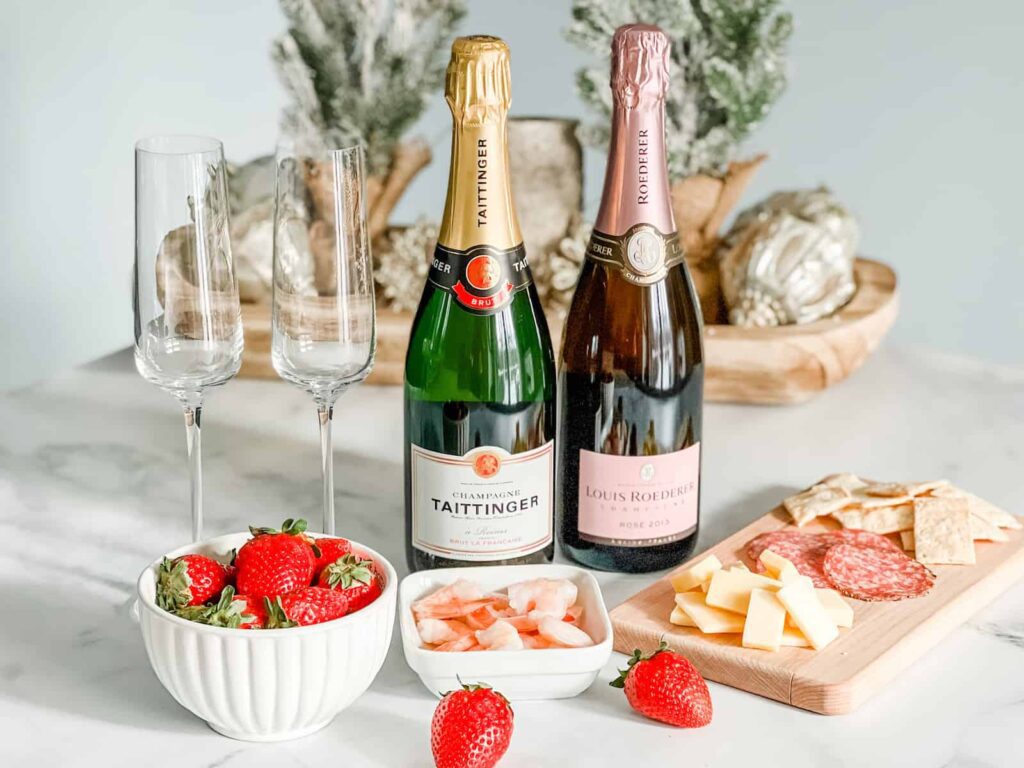 It's New Year's Eve (or a random Friday night) and you're perusing the aisles of your local liquor store, searching for that perfect bottle of champagne.
But your eyes start to glaze over as you look at all the wine labels. There are so many different types of Champagne. And you have no idea what all the foreign terms mean.
What's the difference between Champagne Brut vs Extra Dry? Why do some say Blanc de Blanc? And what the heck is a cuvée?
Rest easy, my bubbly loving friend. I'm here to help you decipher all that gibberish so you can snag a sweet bottle and be on your merry way.
BTW, if you haven't yet, make sure to grab my free Wine Tasting Planner. It has 20+ wine night theme ideas, including the exact ones I've used for my wine tastings. Plus, a timeline, food pairings, games, free printables, worksheets, and more. Get your copy here.
Recommendations may be affiliate links on which I earn a small commission at no additional cost to you. This helps me share new wine destinations with you and I only recommend products and services that I love and think you'll love too!
Champagne Brut vs Extra Dry
In short, the difference between Champagne Brut vs Extra Dry is the residual sugar level. Brut Champagne can have 0-12 grams per liter, making it taste pretty dry. Extra Dry has anywhere between 12-17 grams per liter of residual sugar. You'll get at least a hint of sweetness, and more noticeable sweetness if the sugar levels are on the higher end.
Pin for Later!
Champagne Sweetness Levels
The Champagne sweetness scale goes from Extra Brut to Doux, with Doux being the sweetest. And it's based on how much sugar is in the wine.
To make it even more confusing, there are also ranges of sugar levels allowed for each category. So, you could have one Brut Champagne with no sugar and another with 12 grams per liter of sugar.
However, the carbonation and acidity will make the wine taste drier than it actually is. That means most Brut Champagne will taste pretty dry.
Brut Nature (0-3 g/L)
Brut Nature is the driest type of Champagne. I've always found it confusing that Brut wine has less sugar than Dry. But Brut means "raw" in French. So, I guess the idea is that it's Champagne in its raw form without added sugar.
It will taste bone dry, but it can have up to 3 grams per liter of residual sugar. You may also see it labeled Brut Natural or Brut Sauvage.
Extra Brut (0-6 g/L)
Extra Brut may have a bit more sugar than Brut Nature. But this is still going to taste like a dry wine, especially with the acidity and carbonation.
Brut (0-12 g/L)
Brut is the most popular Champagne style. The amount of sugar is still pretty low. So it will taste dry or it may have a hint of sweetness.
Extra Dry (12-17 g/L)
Next, we go to Extra Dry Champagne, or Extra Sec. There will be at least a hint of sweetness here. But it could have more noticeable sweetness if the sugar level is closer to 17 grams per liter.
Dry (17-32 g/L)
Dry Champagne, also known as Champagne Sec, is getting up there in the level of sweetness. This would fall in the category of a medium-sweet wine, where the sugar is noticeable.
Demi-Sec (32-50 g/L)
There's no question that Champagne Demi-Sec is going to taste sweet, with more than 30 grams of sugar per liter. Here is where you can start to break out the dessert pairings.
Doux (50+ g/L)
Doux is the sweetest of the sweet. In fact, it's sweet enough that you may just want to have it as dessert!
Want to learn more about wine sweetness levels? Get answers to common questions like is Chardonnay sweet or dry, what makes a wine sweet, and what are the different levels of sweetness.
Styles of Champagne
Non-Vintage Champagne
Unlike most wines where you'll see a year on the bottle, most Champagne is non-vintage. This means the grapes come from more than one harvest. The juice is blended together to make the wine taste the same year after year. Non-vintage Champagne usually has fresh fruit flavors and you'll want to drink this while it's young.
Vintage Champagne
In the very best years, producers will make Champagne out of a single harvest's grapes. These gems have to be aged at least 3 years before being released. But they're often held even longer to bring out those delicious toasty and biscuity notes. If you get one of these, you can usually age it in the bottle for a decade or more.
Rosé Champagne
The still version of this pink drink is not typically made by blending the juice of red and white grapes. But in the case of Champagne, this is a common practice. Or a producer can add the color by letting the juice sit on the grape skins. These wines have red berry notes and can be made in vintage and non-vintage styles. Learn all about rosé wines.
Blanc de Blanc Champagne
Blanc means "white" in French. So the translation here is "white from white," meaning white Champagne made from white grapes. These will be light to medium in body and have fresh citrus fruit flavors.
Blanc de Noir Champagne
Similar to Blanc de Blanc, this is a white Champagne but made only from red grapes. Yes, folks, red grapes can make more than just red wine. It's going to be fuller in body than a Blanc de Blanc and will have notes of red fruit.
Prestige Cuvée
This term is used to describe a producer's best wine. Think Dom Pérignon or Cristal. You know, the ones all those rappers talk about. These precious wines are often vintage Champagnes.
How is Champagne Made?
Real Champagne can only come from the Champagne region of France.
So that $10.99 bottle labeled California Champagne? Sorry folks, that is NOT Champagne. But some U.S. producers get away with it because they were grandfathered in before the law started being enforced.
Wine producers in Champagne are only allowed to use certain grapes. The most commonly used white variety is Chardonnay. Which, when grown in this cool climate, has high acidity and citrus fruit flavors.
Believe it or not, the other two varieties often used in Champagne are the red grapes Pinot Noir and Pinot Meunier. You can make white wines from red grapes as long as the juice is quickly removed from the grape skins.
Pinot Noir brings body and aromas to the party. Pinot Meunier gives it fruity flavors and overall balance.
What Happens in the Vineyard
Growing grapes for sparkling wine is a bit different than for still wines. For the traditional method used for Champagne (which I'll get to in a minute), you want the grapes to have high acidity and low sugar.
This is because the wine goes through a second fermentation in the bottle. So, if you have too much sugar, you'll end up with a wine that has alcohol levels that will blow your socks off!
The higher acidity makes your bubbly nice and refreshing. But producers still need to make sure the grapes ripen enough so that you don't end up with any unpleasant "green" flavors.
As grapes ripen, sugar levels go up and acidity goes down. All this works really well in the cool-climate Champagne region, because these changes happen slower at cool temperatures.
And the chalky soils in this area provide good drainage but retain enough water so the vines can survive during dry periods.
Once the grapes reach that perfect level of ripeness, they are hand harvested. These are brought into the winery as whole bunches of unsplit grapes. And then the magical process begins to convert them into an effervescent elixir.
What Happens in the Winery
So, I mentioned earlier that Champagne is made using the traditional method (or méthode champenoise). What does that mean?
Well, it means the wine goes through a second fermentation in the bottle. This is different from other sparkling wines like Prosecco, where the second fermentation takes place in a tank. Or Asti, which only goes through one fermentation.
Here's an overview of the Champagne winemaking steps:
1. Grape Pressing – This happens as soon as possible after the grapes are harvested. This is so the skins from black grapes don't give the wine any color (except in the case of rosé champagne). The first liquid that comes off the press is the purest juice and it's called the cuvée. This is often used to make top-quality Champagne.
2. Base Wine – The juice is fermented in stainless steel or oak until it's a completely dry wine.
3. Blending – The winemaker may blend wines from different vineyards, grape varieties, or vintages to create their desired style.
4. Secondary Fermentation – A mixture of wine, sugar, and yeast is added to the bottle. They seal it and stack it in the cellar to let the yeast do its thing (i.e., convert the sugar to alcohol). This creates carbon dioxide, which gets dissolved into the wine and makes the bubbles.
5. Yeast Autolysis – I know, we're getting to wine-geek level here. But stay with me. This fancy term essentially means that after the yeast eats all the sugar, they die and become sediment. This creates those yummy flavors of bread, biscuit, and toast in your Champagne. The more time this sediment is in the bottle = more of those flavors.
6. Riddling – This is the process of moving the yeast sediment down into the cap of the bottle so it can be removed. It used to be done by hand using what's called a riddling rack. But now they have fancy machines, called gyropalettes, that can do it way faster.
7. Disgorgement – Once the yeast is in the cap of the bottle, the neck is frozen. Then it's easy to pop it out as a little yeast ice cube because of the pressure from the carbon dioxide.
8. Sweetness – Next, a mixture of wine and sugar is added, called liqueur d'expedition or dosage. This helps balance the acidity and gives it the desired level of sweetness. More sugar = sweeter wine.
9. Corking – The Champagne is sealed with a mushroom-shaped cork and a wire cage. This makes sure the pressure of the carbon dioxide doesn't pop the cork off and take somebody's eye out!
On a side note, if you like the style of Champagne, you should also check out South Africa's Cap Classique. It's also made using the traditional method. You can find it being produced by many Stellenbosch wineries.
Champagne Glass Styles
You can spend a pretty penny on top-notch Champagne. But if you drink it out of the wrong glass, you're not going to get the full enjoyment out of it.
Here's a quick guide on the different options to help you choose the right drinking vessel.
Champagne Coupes
Invented in the early 1800s, this was the first official Champagne glass. It's a romantic style that harkens to the Gilded Age. The times of glamorous shindigs held in fancy mansions in places like Newport, RI.
As much as I love a good Champagne tower, the design of this glass is pretty poor when it comes to enjoying your bubbly. The opening is so large that the aromas escape, and the bubbles quickly fizzle out. Before you know it, you're left with a flat wine.
Champagne Flutes
These tall, skinny glasses are what most people drink Champagne from today. They came into favor because the shape helps preserve the carbonation. And it makes the bubbles look pretty!
But the narrowness of the glass is not ideal for inhaling the heavenly aromas of this golden liquid. So if you want to get the most out of your wine, this is not the best choice.
White Wine Glasses
Regular white wine glasses can be a good option for Champagne. Most people already own them. And they allow you to fully take in the aromas, while preserving the carbonation. But make sure the bowl isn't too large or the bubbles will go right up your nose!
Champagne Tulips
Sort of the best of all worlds, this option is like a hybrid between a Champagne flute and a white wine glass. The bowl is wider than a flute but the top and bottom are still slim. The aromas and bubbles are preserved and the shape also helps bring out the fruity flavors in Champagne.
Champagne Food Pairings
Oysters are the classic pairing with Champagne. Why? Well, if you want to get technical, scientists actually proved that the two have "synergistic umami flavors" that complement each other.
For those of us who don't speak science, think about how good fresh-squeezed lemon juice tastes on a briny oyster. The acidity and minerality in the Champagne act in a similar way to complement the salty, briny flavors and meatiness of the oysters.
But if you're not a fan of bivalves, there are plenty of other great pairing options.
Dry Champagnes like Brut work well with rich or fatty foods. Think heavy cheese dishes, lobster with butter, and rich pasta.
For sweeter Champagnes like Demi-Sec or Doux, go with desserts that have dark chocolate or are citrus-based. Or they even work with spicy food, counteracting the heat to cool your mouth.
Now that you're an expert on Champagne, you can go confidently in the direction of that perfect bottle. Pop the cork, pour a glass, and enjoy this heavenly liquid!
P.S. Do you know the difference between mead vs wine? Find out here.
Pin for Later!
What's your favorite type of Champagne? Do you prefer Brut or Extra Dry?
Learned something new?
shop my Wine Accessories