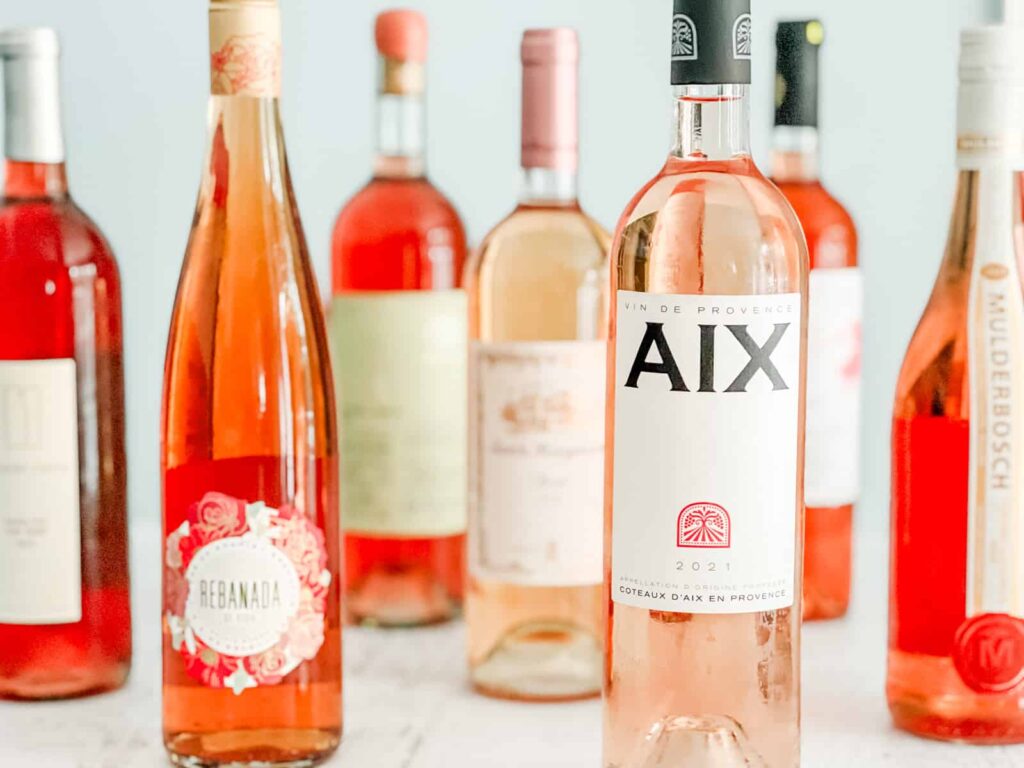 From Rosé All Day to brosé to frosé, it's clear that rosé has rocked the wine world in the past decade. And with so many different types of rosé wine, this fabulously pink drink has won over even the biggest naysayers.
How? Well, rosé is like that friend who's always up for a good time. It's approachable, it's fun, and it's super versatile.
Whether it's a pale pink Provence rosé on a sunny summer day or a rich, complex Tavel on a crisp fall evening, rosé is my go-to buddy. I love to sip it solo or pair it up with a variety of scrumptious bites.
And seriously, who can resist a pink drink? I mean, Barbie shouldn't get all the credit for bringing pink back.
If you're ready to up your rosé game, I'm here to help. As your trusty wine expert, I'm breaking down what sets each type of rosé apart. So you can drink pink like a true pro!
BTW, if you haven't yet, make sure to grab my free Wine Tasting Planner. It has 20+ wine night theme ideas, including the exact ones I've used for my wine tastings. Plus, a timeline, food pairings, games, free printables, worksheets, and more. Get your copy here.
History of Rosé
Ever wondered where that gorgeous pink elixir in your glass comes from? Well, let's take a sip down the lane of rosé history.
Dating back to 4000 BC, the roots of rosé wine run deep. Ancient Greeks are thought to have diluted their red wines to get that paler hue.
In 600 BC, what we now know as the Provence region in Southern France became a rosé capital. The Romans got a taste of it and spread the word about this delicious rosy bevy.
By the 1600s, the dark pink Bordeaux clairet was all the rage. And rosé Champagne made its sparkling debut in 1784.
In the 1900s, sweet styles of rosé became popular. Portuguese producers like Lancers and Mateus created off-dry, fizzy versions that became an overnight sensation.
And who can forget the White Zinfandel craze? Sutter Home's accidental semi-sweet creation dominated the pink wine scene in the 1980s. But it also cast a shadow on rosé's reputation.
Fast forward to the early 2000s, and it started making a comeback. Provence's savvy marketing elevated the pale, dry style to global fame.
In the 2010s, rosé sales exploded, especially in the United States. And today, it's a $3 billion+ industry, with the quality and variety of styles continuing to increase.
How Rosé is Made
A good rosé starts in the vineyard. The best quality versions are grown with the intention of making a rosé. However, some pink wines are produced as a side product of red wine. But hold that thought. I'll circle back later.
Cooler sites are where it's at. Cold climate regions or high elevations are the secret sauce for locking in that zingy acidity. That's what gives your rosé its dazzling freshness.
Now, let's talk dirt. Because when it comes to wine, soil matters. Limestone brings the acidity. Volcanic soil adds minerality. And sandy soils contribute to that oh-so-pretty pale hue.
And let's not forget about grape yields. If vines go all-out and overproduce, you might end up with a wine that tastes, well, watered down.
The age of the vines makes a difference too. Young vines bring fresh, fruity vibes, while older ones can produce more concentration and complexity.
When it comes to harvest time, if rosé's the name of the game, the grapes are picked early to keep that fresh acidity. We're talking a good 10-20 days before red wine grapes. Machines make the job quicker. But handpicking ensures only the VIP grapes make it into the wine.
Types of Rosé Wine by Winemaking Process
While the grape variety definitely puts its stamp on rosé's flavors, the winemaking process is every bit as important in shaping the style.
Let's unravel the rosé-making process through four different production methods.
Maceration
Short maceration is the most common method for making rosé. Red grapes get crushed and mingle with the skins. This extracts flavor, a little bit of tannin, and that signature pink hue.
How long the grapes sit on the skins impacts the final color, flavors, and texture. A shorter skin contact time makes for a paler and lighter rosé. Longer means a deeper and more full-bodied wine. The maceration time can be as little as 2 hours to as much as 3 days.
Once the winemaker's style has been achieved, the juice is drained off the skins. And this goes through a cool fermentation, just like a white wine.
Direct Press
This method, also known as Vin Gris, makes the most delicately colored rosés. Red grapes are crushed and pressed immediately, much like they're headed for white wine.
Thanks to the grape skin's tint, a delicate pale pink hue emerges. And tannins? Nope, they're a no-show here. So, this method makes for a light, fresh, and elegant wine.
Saignée
The saignée method (pronounced sohn-yay) is sometimes poo-poohed by rosé purists. That's because it's the offshoot of red wine production.
Grapes are not necessarily grown in ideal conditions for producing rosé. So, they may be overly ripe for this style of wine.
Mid-maceration, a portion of red wine juice is bled off, amping up the remaining red wine's intensity. Meanwhile, the separated juice is fermented like a white wine. The style of rosé is often deeper-hued and fuller in body.
Blending
In this method, a dash of red wine is added to white wine, turning it pink.
Usually, it's no more than 5%, resulting in a delicate pale rosé with hints of red fruit. But there are deep, full-bodied versions made with a higher dosage of red wine.
While blending is a no-no in most Old Word regions, Champagne is the exception. Here, it's often the preferred method for making pink sparklers. And you'll find it used in some New World regions too.
Other Rosé Winemaking Choices
Most rosés are fermented in stainless steel at cool temperatures. This keeps the wine fresh and lets the bright acidity and fruit flavors shine through.
However, some producers play with oak, tapping into older barrels for texture and complexity without overwhelming flavors.
For rosés with sharp acidity, some winemakers opt for malolactic conversion, transforming lactic acid into malo acid. The wine may also spend time on the lees — those spent yeast particles — adding a creamy touch. This helps balance that tangy punch without the need for residual sugar.
Types of Rosé Wine by Grape
Rosé can be made from any of the thousands of red grapes. But these are some of the top varieties used in pink wine production and where you'll find them.
Grenache Rosé
This popular rosé grape is the dominant variety used in the classic Southern France style. Its thin skins can produce that sought-after pale style. They also don't impart much tannin on the wine, keeping it light and fresh. That being said, Grenache grapes can be used to make bolder styles.
Common Aromas and Flavors: Strawberry, plum, orange
Where You'll Find It:
Provence, France – Pale salmon, dry, and delicate with medium acidity. It's often blended with Cinsault, Syrah, and Mourvèdre. The largest appellation is Côtes de Provence. Look for the highest quality versions from Coteaux d'Aix-en-Provence.
Tavel, France – This rosé-only cru in the Southern Rhône Valley is famous for full-bodied, intensely flavored versions. Here, Grenache is blended with Cinsault or any of the other nine allowed grape varieties. Tavel rosé is one of the most age-worthy styles, and it's great in the cooler months.
Spain – This is the birthplace of Grenache, where it's called Garnacha. Rosado, the local name for rosé, is made throughout the country. But you'll mostly find Garnacha used in northern regions like Navarra and Rioja. It's also a blending grape for rosé Cava, Spain's sparkling wine.
Other New World Countries like the United States, Australia (Barossa Valley, McLaren Vale), and South Africa.
Pinot Noir Rosé
This thin-skinned grape is difficult to grow. But it pays off big when done right. Pinot Noir's high acidity and light body tend to make crisp and delicate rosés. And it's one of the primary grapes used for many pink sparkling wines.
Common Aromas and Flavors: Cherry, raspberry, strawberry, wet stone
Where You'll Find It:
Sancerre, France – These Loire Valley rosés are dry, high-acid, and delicate. They must be made with 100% Pinot Noir and are often very floral, with stone fruits and red berries.
Champagne, France – Sparkling rosés from this famous wine region often add a small amount of still Pinot Noir wine into the bottle before the secondary fermentation process. This gives the resulting bubbly its pink color and more body than its golden counterpart.
Germany – Here, this grape is known as Spätburgunder. And it makes delicate-style rosés with tart red berry flavors and herbal notes.
New Zealand – Pinot Noir rosés are made throughout the country, but you'll most often find them from Marlborough and Central Otago.
Australia – Look for good quality versions from moderate to cool regions like Adelaide Hills and Yarra Valley.
Other New World Countries like the United States, South Africa, and Chile.
Other Sparkling Wine Regions – Similar to Champagne, Pinot Noir is used in the production of other sparkling rosés like Burgundy's Crémant de Bourgogne, Italy's Prosecco, Germany's Sekt, and South Africa's Cap Classique.
Cabernet Sauvignon Rosé
Cabernet Sauvignon's thicker skins mean these rosés are often deeply colored, especially when produced using the saignée method. The higher tannins from the skins are balanced by the grape's naturally high acidity. It's also known to have a herbaceous bell pepper note that comes through when it's less ripe.
Common Aromas and Flavors: Blackcurrant, blackberry, green bell pepper
Where You'll Find It:
Loire Valley, France – You'll find Cabernet Sauvignon used for rosé throughout this region. For a dry style, look for Rosé de Loire. Or for a medium-sweet style, try Cabernet d'Anjou, where it's blended with Cabernet Franc.
United States – As the most prestigious grape variety in places like Napa and Sonoma County, these regions also use Cabernet Sauvignon to produce a variety of styles of rosé.
Chile – This emerging rosé region originally produced darker, fruitier styles of Cabernet rosé. But now you can find the in-demand lighter styles too.
Other New World Countries like Australia (Adelaide Hills, Western Australia) and South Africa.
Cabernet Franc Rosé
As one of Cabernet Sauvignon's parent grapes, Cabernet Franc also has a distinct herbaceousness and sometimes a peppery note. And it tends to have high acidity, but a little less tannin than its child grape variety.
Common Aromas and Flavors: Strawberry, melon, green bell pepper
Where You'll Find It:
Chinon, France – This appellation is known for Cabernet Franc. And it makes some of the best rosé wines in the Loire Valley. This style has beautiful violet aromas and juicy raspberry and plum flavors.
Loire Valley, France – Beyond Chinon, Cabernet Franc is used for rosé throughout this wine region. For a dry style, look for Rosé de Loire. Or for a medium-sweet style, try Cabernet d'Anjou, where it's blended with Cabernet Sauvignon.
United States – You may see these in cool-climate regions like the Finger Lakes, NY, where Cabernet Franc grows well.
Mourvèdre Rosé
This thick-skinned grape originated in Spain where it's known as Monastrell. It produces red wines with high tannins and full body, often with a meaty note. As a rosé it can be quite bold, like the famous wines of Provence's Bandol appellation.
Common Aromas and Flavors: Violet, rose, plum, gamey
Where You'll Find It:
Bandol, France – This Provence appellation uses a higher percentage of Mourvèdre in its rosé blends. This gives it more body and structure than other pink wines in the region. It pairs well with food, and some are even ageable.
Spain – Monastrell is one of the red grapes allowed in the production of rosé Cava.
South Africa – This grape grows well in South Africa's Mediterranean climate, especially in the warmer northern wine regions.
Tempranillo Rosé
This Spanish grape produces spicy red wines that are often heavily oaked. But as a rosé it can be quite pale, with less acidity and tannins than ones made from Monastrell (Mourvèdre).
Common Aromas and Flavors: Cherry, strawberry, watermelon, peppery spice
Where You'll Find It:
Rioja, Spain – As the home of Tempranillo, Rioja is where you'll most often find this style of rosé. Here, it may be blended with Graciano and Garnacha. And some may see some time in oak.
Other Parts of Spain – As Spain's top red grape, you'll find Tempranillo Rosado produced in other regions of the country. These range from light and savory to deep and fruity.
Zinfandel Rosé
Most commonly known as White Zinfandel, this wine is usually produced in an off-dry to medium-sweet style. Although you may come across some dry versions. It's almost exclusively made in the United States.
Common Aromas and Flavors: Sweet strawberry, raspberry, cranberry
Where You'll Find It:
California, United States – Sutter Home made the White Zinfandel style famous. And the majority of Zinfandel grown in the Central Valley is used for this semi-sweet rosé. But you may find dry, more complex styles from Dry Creek Valley wineries.
Syrah Rosé
Syrah makes one of the boldest rosé styles, with a distinctive white pepper note. These wines will be fuller in body and meaty. You can serve them slightly warmer than other rosés. And they'll hold up to heavier food pairings.
Common Aromas and Flavors: White pepper, cherry, strawberry
Where You'll Find It:
United States – These are often deeply colored from use of the saignée method.
Australia – Known as Shiraz, it's the number one grape in this country. And you'll find these from South Eastern Australia.
New Zealand – You'll see these from the north island's Hawke's Bay region.
Sangiovese Rosé
This Italian grape variety makes bright copper-hued rosés with crisp acidity. These can be quite structured and savory. And they pair well with richer food dishes. You may be hard-pressed to find this style outside of Italy.
Common Aromas and Flavors: Cherry, strawberry, rose petal, peach, baking spices
Where You'll Find It:
Tuscany, Italy – The home of Italy's top grape variety. You'll see this labeled as Rosato, the Italian name for rosé. These wines are brightly colored with high acidity and ripe fruit flavors.
Australia – You may also find Sangiovese rosé from South Australia's Clare Valley.
Merlot Rosé
This grape was used for one of the OG rosés, the deeply colored Bordeaux clairet. But you'll now find it made in paler styles too. These can be dry to sweet. And it's sometimes used as a blending grape to add color to wines made from white grapes.
Common Aromas and Flavors: Cherry, red plum, raspberry
Where You'll Find It:
Bordeaux, France – Both rosé and clairet are produced in this region. For clairet, grapes are harvested later and macerated longer to get the deep color and intense flavors. These are mainly Merlot-based but often have some Cabernet Sauvignon and Cabernet Franc in the blend. Clairet is always made in a dry style.
United States – Similar to White Zinfandel, you'll find White Merlot made in the same off-dry style. Merlot is also used to add color to Muscat Blanc when making sweet Pink Moscato wines.
Pin for Later!
Other Types of Rosé Wines
I've covered some of the most well-known types of rosé. But with its increasing popularity, you'll find it made from a variety of grapes throughout the world.
Here are some other styles to look for:
Italy – Beyond Sangiovese, you'll find rosé made throughout the country. Check out ones from regions like Veneto (Corvina), Abruzzo (Montepulciano), Puglia (Negroamaro), and Sicily (Nero d'Avola). Lighter styles are usually labeled Rosato. And Chiaretto is used for deeper colored ones from longer skin contact.
Austria – The Austrian rosé scene is a treasure trove of value and diversity. Discover delicate and bold options made from native grapes like Zweigelt, Blaufränkisch, and St. Laurent.
Portugal – For fresh, fruity styles with a bit of spritz, check out rosés from Vinho Verde. You'll find these made from local grapes like Espadeiro, Padeiro, Vinhao, and Touriga Nacional (a grape commonly used in Douro Valley's port wine).
Spain – Tempranillo and Garnacha may take center stage, but the Txakoli region offers pale, minerally, and tangy rosés crafted from the Hondarrabi Beltza grape.
Greece – In the Nemea region, Agiorgitiko takes the spotlight, producing intense rosés. But you'll find other pink wines made from Greece's many indigenous red grape varieties.
Chile – Keep an eye out for Carménère, an increasingly popular choice for rosés. But be aware it can have very strong green notes of bell pepper and peppercorn.
Argentina – Malbec rosés bring floral notes and delicious blue fruit flavors like blueberry and boysenberry.
South Africa – Pinotage, a cross between Pinot Noir and Cinsault, produces light and fruity style rosés. But you may also find richer styles when it's blended with Cabernet Sauvignon or Mourvèdre.
Food Pairing with Rosé Wine
Rosé is an amazing food wine. With the crispness of a white and the flavors of a red, it brings the best of both worlds.
Stuck on what to serve with Thanksgiving dinner? Rosé's got your back with its all-star versatility. Whether it's salty, sweet, tangy, or savory, it plays well with them all.
Now, on the art of pairing: choose a style of rosé that matches the weight of the food. For pale and delicate versions, go for lighter dishes like citrus-sauce seafood, light pasta, green salads, and sautéed veggies.
A full-bodied, intense rosé can hold up to the bolder flavors of grilled chicken, salmon, seared tuna, and roasted vegetables.
Turning up the heat? Sweet and sparkling rosés cool down the burning sensation of spicy foods. And they balance the sweetness of fruit and citrus-based desserts perfectly.
How to Serve Rosé Wine
All right, let's talk about how to get the most out of your rosé experience.
When it comes to choosing a bottle, remember one thing: fresher is (almost always) better. Most rosé is meant to be consumed young. So, look for the latest vintage where the vibrant fruit flavors will be at their peak.
Now, there are exceptions. Some bolder, full-bodied styles like Tavel and Bandol can handle a little extra time in the bottle. They'll develop more complex tertiary aromas and flavors like dried fruit and nutty notes.
Wondering about serving temps? You'll want your rosé chilled to about 45-50°F (7-10°C). And if you want to get specific, here's a breakdown by style:
Sparkling Rosé: Well chilled to 43-50°F (6-10°C)
Light-Bodied Rosé: Chilled to 45-50°F (7-10°C)
Fuller-Bodied Rosé: Lightly chilled to 50-55°F (10-13°C)
For glassware, you could get fancy with a flared-lip glass made specifically for rosé. But a medium-sized white wine glass will do the trick. This shape gathers all those floral and fruit aromas at the top, making every sniff a brilliant bouquet.
And for a sparkling rosé style, a tulip-shaped glass is best for appreciating the bubbles and aromas. Although, flutes work fine too.
FAQs About Types of Rosé Wine
What is the most common type of rosé wine?
As of 2022, sparkling rosé is the most popular type of rosé wine. This celebratory style is not just for special occasions. And it shines on its own or as a companion to a variety of culinary dishes.
Is rosé a sweet or dry wine?
Rosé comes in dry and sweet styles. These range from bone-dry to semi-sweet and sweet. The sweetness level is determined by the wine's residual sugar content. Learn more about wine sweetness levels here.
Which rosé wine is sweet in taste?
White Zinfandel is one of the most common sweet styles of rosé, made in off-dry to sweet versions. White Merlot and Pink Moscato are made in a similarly sweet style.
And some sparkling rosés, like rosé Champagne, can range from off-dry to sweet. You'll see these labeled as Extra Dry, Dry, Demi-Sec, and Doux (the sweetest). Learn more about Champagne sweetness levels here.
How much does rosé cost?
Mass-produced, inexpensive rosé can be had for as low as $5. But you'll also find premium versions that will run you a few hundred.
Most rosé falls around $10-$25. For the best bank for your buck, go beyond France. You'll find some amazing values in places like Spain, Italy, Austria, Chile, South Africa, and New Zealand.
Looking to explore more types of wine? Check out Spanish white wines, the difference between Sauvignon Blanc and Pinot Grigio, and all about Prosecco vs. Moscato.
What's your favorite type of rosé?
Learned something new?
shop my Wine Accessories
Recommendations may be affiliate links on which I earn a small commission at no additional cost to you. This helps me share new wine destinations with you and I only recommend products and services that I love and think you'll love too!