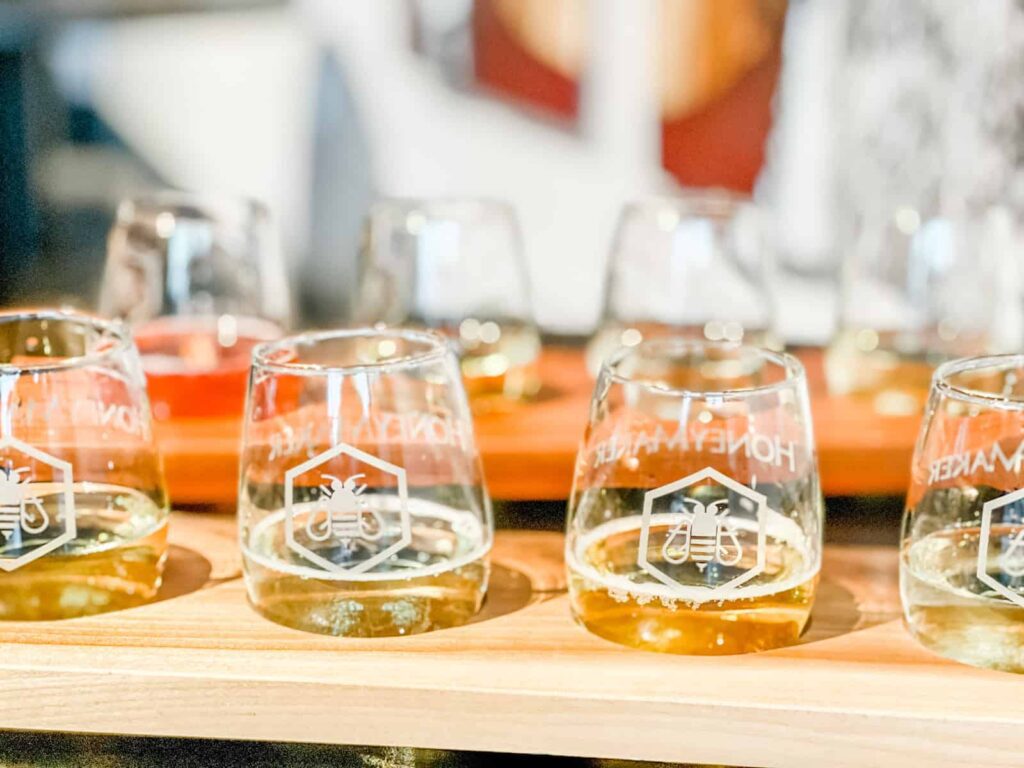 Mead…honey wine…the nectar of the gods. Is it wine? Is it heavenly nectar? Or is it something else? If you're wondering what the difference is between mead vs wine, you've come to the right place.
While wine has been around for thousands of years, mead was the original fermented drink.
And while it may not come to mind as your first beverage of choice, it's currently making a comeback as big as Backstreet Boys when Kevin returned.
Read on to learn about this luscious libation and get the definitive answer on whether it's wine or not.
BTW, if you haven't yet, make sure to grab my free Wine Tasting Planner. It has 20+ wine night theme ideas, including the exact ones I've used for my wine tastings. Plus, a timeline, food pairings, games, free printables, worksheets, and more. Get your copy here.
Is Mead the Same as Wine?
The quick answer is that mead is not the same as wine. Mead, sometimes called honey wine, is not actually wine. It's in its own category of alcoholic beverages. Mead is made by diluting and fermenting honey and can be flavored with other fruits and spices. Wine is made by fermenting fruit juice — most often from grapes.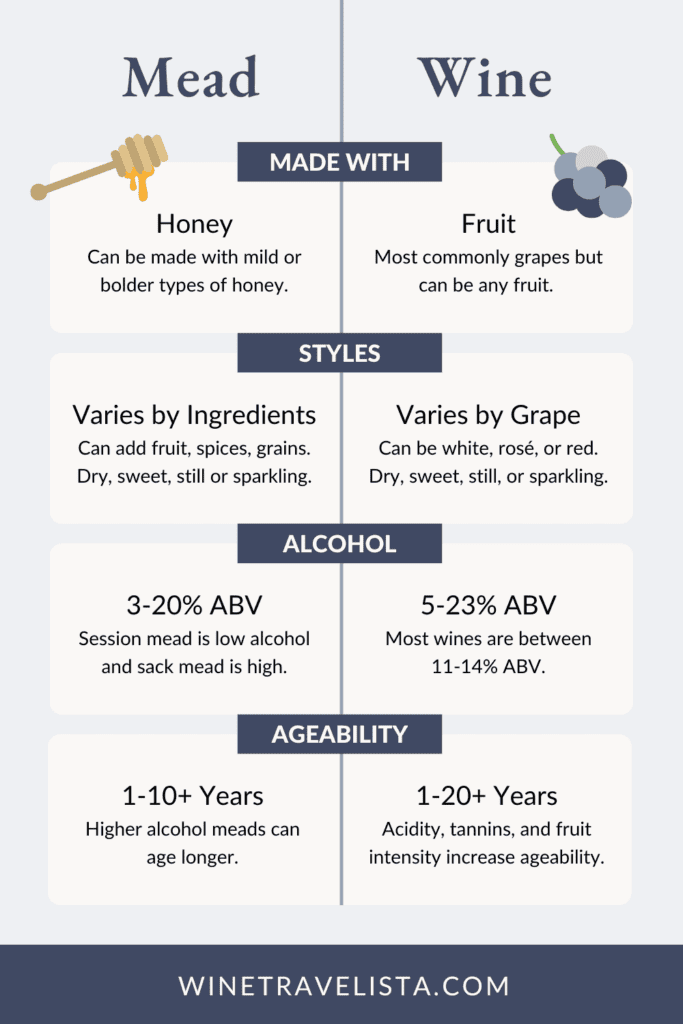 What is Mead?
The noble honeybee is the source of the sweet and sticky liquid that is used to make mead. Honey is diluted with water and then this mixture is fermented to make a delicious and increasingly popular drink.
Mead is very versatile. It can be dry, off-dry, semi-sweet, or sweet. It can be made in a sparkling style. And it's often flavored by adding things like fruit, spices, and even hops.
It's a refreshing bevy on a scorching day served chilled. Or it can warm you up on a winter's eve when consumed hot.
If you're wondering what the difference is between honey wine vs mead, it's the same thing. It's just another name that's been used for mead. Although, as mentioned, mead is not considered wine.
Pin for Later!
What is Wine?
Wine is sunlight held together by water. Well, at least according to Galileo.
While not quite as romantic of a notion, wine is made by fermenting fruit juice. Technically, this can be any type of fruit…apples, pears, strawberries. Heck, I even tried one once made from jalapeños. Not my personal preference, but technically peppers are a fruit.
The juice most often comes from grapes, especially for fine wine. Specifically, the Vitis Vinifera species, which is not your average table grape. And the resulting wine can be white, red, rosé, or even orange depending on the type of grapes used and the winemaking process.
Wine can also be made in a range of dry and sweet styles. And of course, there are plenty of bubbly options.
While connoisseurs describe wines as having aromas like baking spices, cheese, wet leaves, and even petrol, these are (thankfully) not things that are added to the wine. They're aroma compounds that develop from things like contact with the yeast, aging in oak, and time in the bottle.
History of Mead
Once known as the "nectar of the gods" by ancient Greeks, mead is one of the oldest alcoholic beverages in the world.
Some think it was discovered accidentally more than 20,000 years ago in Africa. Bees nested in the hollows of trees. And during rainy season, the water combined with their honey and naturally fermented. The tribes found this tasty tincture and began making their own.
The oldest written records of mead are from 8,000 years ago on the Greek island of Crete. And it was the drink of choice for Vikings as they plundered and pillaged the world. Many have consumed it over the years for its supposed health benefits.
Fun Fact: If you went on a honeymoon, you can thank mead for that. In medieval times (the actual middle ages, not the theatrical restaurant), the tradition was for the newlyweds to drink honey wine (aka mead) for a full moon cycle after the marriage.
This was thought to help the couple seal the deal and encourage baby-making (if you know what I mean). Hence the term "honeymoon."
In modern times, mead went out of fashion for quite some time as other alcoholic beverages like wine and beer gained in popularity. Because it's made from honey and there was a lack of quality mead producers, there's a common misconception that all mead is a sickeningly sweet substance.
But in recent years, it's made a comeback, especially in the United States. With the rise of craft beer, producers have seen an opportunity with this untapped product. And it's fairly simple to make so many homebrewers are making their own mead at home.
According to the American Mead Makers Association, the number of meaderies in the U.S. has gone from 60 in 2003 to 350 in 2020! And at that time, an additional 200 new meaderies were planning to open over the next two years.
History of Wine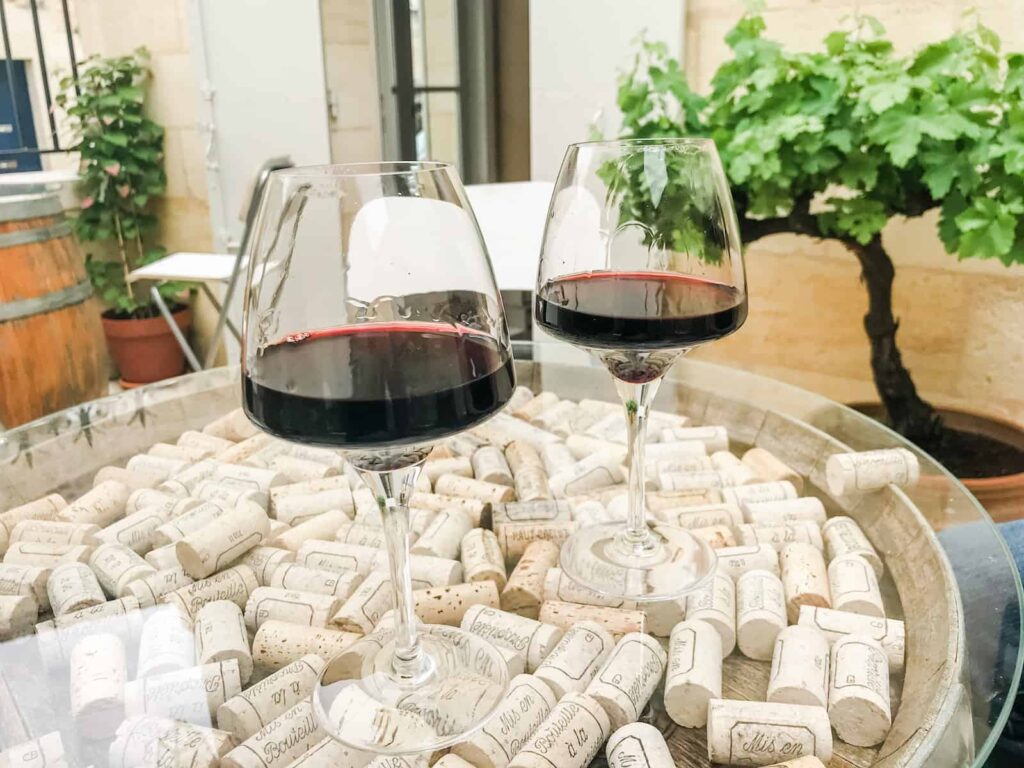 While not as ancient as mead, wine is also one of the oldest alcoholic drinks. Traces of it have been found in China, Georgia, and Armenia as far back as 7,000 BC.
A few thousand years later, the Egyptians took a liking to it, believing red wine had special powers due to its likeness to blood. And we can thank the Phoenicians for introducing wine to the Greeks and Italians by starting the wine trade.
While the Greeks called mead the "nectar of the gods," they must have liked wine even more. Because they named one of their gods after it — Dionysus. And the Romans weren't far behind in creating Bacchus, their own god of wine.
Grapevines made their way into many of today's top-producing wine countries as the Roman empire expanded. And that's why we call places like France, Italy, and Spain the "Old World" of wine.
Winemaking was brought to the "New World" by Spanish conquistadors who arrived in the Americas in the late 18th century. Finally, in the early 19th century, the first vineyards were planted in Australia and New Zealand.
Of course, a few things happened along the way that disrupted the winemaking world. You know, things like world wars…prohibition…phylloxera (the root louse that almost wiped out all of Earth's vineyards). NBD…
But today, wine is one of the most popular alcoholic beverages in the world. How popular? Well, the United States alone consumed 1.1 billion gallons of wine in 2021. And globally, it's a $300+ billion industry. So yeah, it's pretty popular.
How is Mead Made?
Like the different grapes that can be used to make wine, there are many types of honey. Honey can come from bees that make mild honey, like from orange blossoms and acacia.
Or their honey can be bolder and spicier when produced from things like wildflowers and blackberries. The type of honey will impact the flavor and style of the mead.
To make mead, you can't just go ferment the honey from that plastic squeeze bottle in your cabinet. No amount of yeast can survive at the level of sugar in regular honey.
It first needs to be diluted to create what's called a "must." This is usually done by adding water to the honey. But if the producer wants to add some extra flavors, they could replace some or all the water with fruit juice.
They can also add spices and herbs like sage, basil, and rosemary before it's fermented.
The next part is a bit of a controversial step: heating the must. This kills off bacteria and wild yeast that might create funky flavors or spoil the mead. But some mead makers believe you lose some of the delicate fragrances from the honey by doing this.
From here, the process is like wine in that yeast (in most cases, wine yeast!) is added to the must, starting the fermentation process. These little organisms will munch away at the sugar and convert it to alcohol.
Depending on the type of yeast and how much the honey was diluted, the yeast may die off before consuming all the sugar. And this results in a sweeter style mead.
Like wine, mead can be fermented and aged in inert vessels that don't give it any additional flavors. Or oak barrels can be used to add more flavor and complexity.
Mead is typically aged for at least a few months before bottling and releasing. But it can be held for several years for more so it's better integrated and developed.
How is Wine Made?
While wine can be made from many different types of fruit juices, we'll focus on grape wine to keep things simple. Not that anything about winemaking is simple, but we can try!
There are lots of choices that can be made in the vineyard that will impact the style of the final wine.
Are you going to plant white grapes or red grapes? Are you going to select a site on slopes with less-fertile soils that require hand harvesting to produce more concentrated and complex wines? Or fertile plains that can be machine harvested for high-volume production?
And then there's clone selection, pruning techniques, trellising, harvest timing…I could go on, but you get the point. So many choices!
Once the wine grapes are harvested, they can be crushed to release the grape juice. If it's a white wine, the grapes will also be pressed and moved off the skins. Red wines typically sit on the skins and ferment with them to extract more flavors, color, and tannins.
Fermentation can be started naturally with the ambient yeast from the skin of the grapes (called the "bloom"). Or yeast can be added for a more controlled fermentation.
And the wine can be fermented and aged in inert vessels like stainless steel tanks and concrete vats. Or oak barrels, oak chips, and staves can be used to give the wine aromas like vanilla, coconut, cedar, and baking spices.
There are lots of other options winemakers can choose along the way to add complexity and create different flavors in the wine.
For example, leaving the dead yeast in the wine for some time adds notes like toast and biscuit. And converting the malic acid in the wine to lactic acid creates the buttery flavors common in Chardonnay.
Wines can also be carbonated or fortified with other spirits.
What Types of Mead Are There?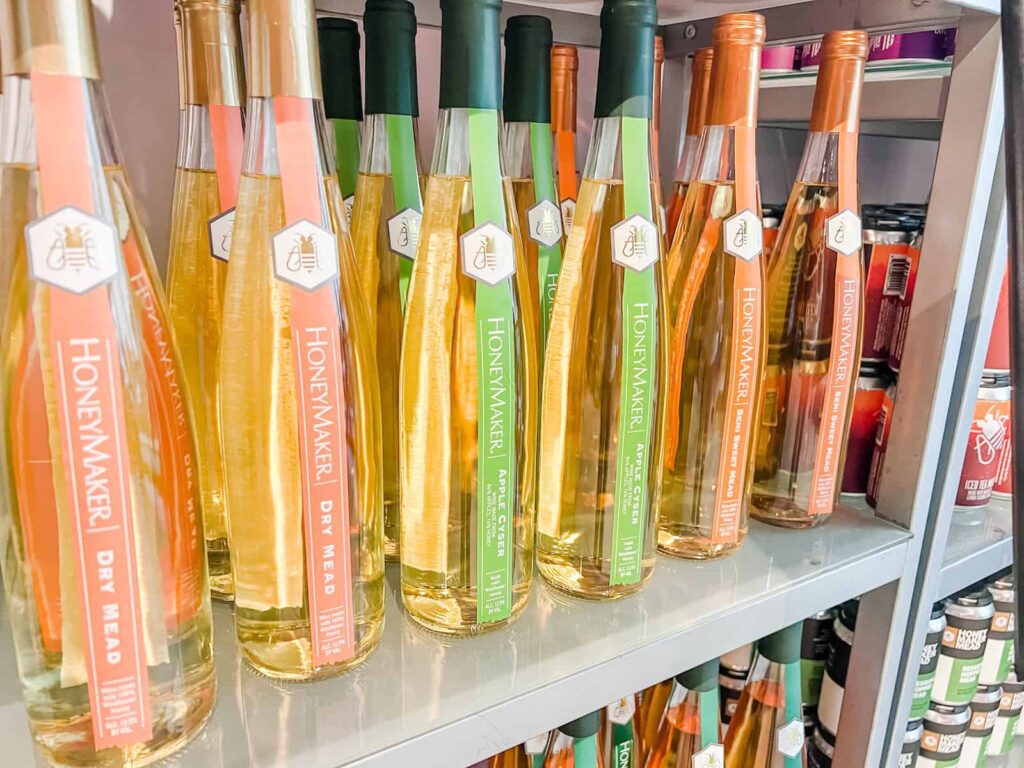 When I first started learning about mead, I was amazed at how many different types of mead there are. Of course, there's dry mead and sweet mead. Plus, still and sparkling versions.
But there are so many other ways to enhance the mead with other flavors.
Traditional Mead
This is the purest form of mead, also known as a show mead. Just honey, water, and yeast. Since no other flavors are added, it's considered the pro version. There's no hiding any mistakes or bad techniques in this one. Alcohol levels are usually between 7% and 14%.
Low-Alcohol Mead
These are known as hydromels, session meads, or draft meads. Usually, the must is diluted more to create a lower alcohol version, around 3-7%. You may see these sold in cans for easy porch sipping.
High-Alcohol Mead
Also called sack mead, this type of mead has a higher alcohol content that can be up to 20% ABV. They're made with a less diluted version of must — so a higher ratio of honey to water.
Mead Made with Other Ingredients
The basic ingredients of mead are honey and water. But you can add all kinds of things to make different styles of mead. These can be added as juice in place of water when creating the must. Or they can be incorporated in their whole form.
Acerglyn – made with maple syrup
Bochet – made with caramelized honey giving it toasty aromas
Braggot – malt is used to make a beer-style mead
Capsicumel – this is a spicy version made with hot peppers
Cyser – honey is mixed with apple juice or cider (my favorite kind)
Pyment – made with grapes or grape juice (can be from Vitis Vinifera or American grape species)
Melomel – meads made with fruit or berries (includes Cyser and Pyment styles)
Metheglin – botanicals or spices are added to the mead
Rhodomel – an old-style mead enhanced with roses
What Types of Wine Are There?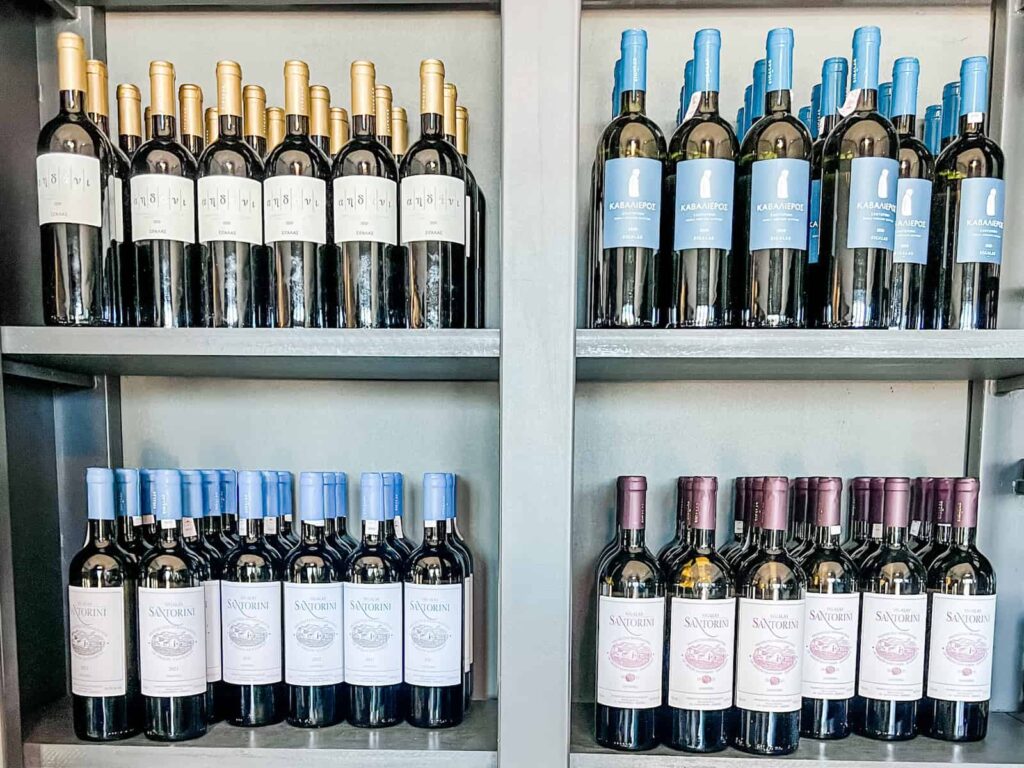 Where do we start? So many wines, so little time! I'll stick to the basics here: white, red, rosé, sparkling, and fortified.
White Wine
White wine is usually made with white grapes, but it can be made using red grapes. During the winemaking process, the grapes are typically crushed and pressed immediately to remove the juice from the skins. This results in very little color and texture being added to the juice.
White wines can be made in dry or sweet styles. Aromatic grape varieties (ones that have extra potent aromas) like Riesling and Sauvignon Blanc are typically produced in a way to minimize oxygen exposure. This preserves those oh-so-delicate floral and fruity notes like honeysuckle, pear, and peach.
Non-aromatic grape varieties such as Chardonnay and Pinot Gris (aka Pinot Grigio) may go through things like lees contact, malolactic conversion, and oak aging to up the complexity.
Red Wine
Red wines like Cabernet Sauvignon and Pinot Noir are made with…yup, you guessed it, red grapes. Although a small amount of wine from white grapes may be blended in.
Red wines get their color and tannins from time spent sitting on the grape skins (called maceration). They're also fermented at warmer temperatures than white wine to increase the extraction.
Pressing of the grapes doesn't occur until after fermentation. And the winemaker may choose to blend what's called the "free run" wine with the press wine.
Red wines typically have aromas and flavors of red and black fruit (think cherry, plum, blackberry). They can also be floral, herbaceous, and spicy. Almost all are made in a dry style, but there are some sweet ones out there.
Rosé Wine
There are three ways to make a rosé wine. With the direct press method, red grapes are crushed and pressed to remove the juice. This creates the most delicate style of rosé, commonly found in Provence. It's often described as having the color of onion skin.
As with red wines, rosé can also be made by crushing the grapes and leaving the juice on the skins. But for rosé, it's a much shorter period. The juice is then fermented at cooler temperatures, like a white wine.
The third method is to blend a small amount of red wine with white wine. In most of the Old World, this is a no-no. But Champagne is an exception. And it's used in high-volume rosé production in the New World.
Sparkling Wine
This bubbly style of wine is usually white, but it can be rosé or red. The traditional method used most famously in Champagne involves a second fermentation in the bottle. The carbon dioxide created gets absorbed back into the wine and gives it its bubbles.
Sparkling wines can also be made using other processes like the tank method, where the second fermentation occurs in a vat. This style will be fresh and more fruit-forward.
Or carbonation can be injected into the still wine, often used for large-volume, low-priced versions.
Fortified Wine
These higher-alcohol wines, like port wine, are often made in a sweet style. They're created by adding a spirit during fermentation that kills the yeast and leaves residual sugar.
Many fortified wines will be aged in oak. Sometimes these are large barrels that don't influence the wine much. But they may also be aged in smaller oak barrels, giving them nutty, caramel flavors.
Mead vs Wine Alcohol Content
There is a pretty broad range of alcohol levels in mead. Some are as low as 3% (e.g., a session mead). This would drink more like a light-style beer.
Traditional mead falls more closely in line with wine's ABV at 7% to 14% alcohol. But sack meads can go as high as 20%. These are often thick, sweet, and drink more like a liqueur.
Wine can start as low as 5% ABV, but most fall within the medium alcohol range at 11-13.9%. With climate change, we are starting to see more wines in the high alcohol category, which is 14% and above.
Fortified wines like port and sherry have their own alcohol level categorization. Below 16.5% ABV is considered low and above 18.5% is high. So, you can get levels that are comparable to a sack mead.
Now that you know the difference between mead and wine, I hope you'll seek out both of these tasty beverages. Whether they are godly nectars or sunlight in a bottle, I'll let you be the judge. Enjoy!
Looking for more wine comparisons? Try Moscato vs Prosecco and Champagne Brut vs Extra Dry.
Do you prefer mead or wine? What's your drink of choice?
Learned something new?
shop my Wine Accessories
Recommendations may be affiliate links on which I earn a small commission at no additional cost to you. This helps me share new wine destinations with you and I only recommend products and services that I love and think you'll love too!