One of my favorite inspirational wine quotes is a Spanish proverb that says, "With wine and hope, anything is possible."
I know I've certainly gotten my fair share of ideas (both good and bad) at the bottom of a wine bottle. I suppose a more accurate statement might be, "With enough wine, you'll think anything is possible."
But it's true that wine has inspired many a writer, poet, or other random famous person to spout witty prose on the subject. That's because it's not just fermented grape juice.
Wine is a living, changing thing. It's history. It's culture. It's laughter, love, and life. And it's all bottled up and sealed with a cork ready for you to savor (or gulp if that's your thing).
I've put together this collection of my favorite inspirational wine quotes. From John Keats to Julia Child, I hope you'll find encouragement, humor, and maybe even the answer to life, the universe, and everything (oh wait, that's 42).
So, grab a glass and be prepared to be motivated (or at least mildly moved).
You stay classy, my wine-loving friends.
BTW, if you haven't yet, make sure to grab my free Wine Tasting Planner. It has 20+ wine night theme ideas, including the exact ones I've used for my wine tastings. Plus, a timeline, food pairings, games, free printables, worksheets, and more. Get your copy here.
Inspirational Wine Quotes About Age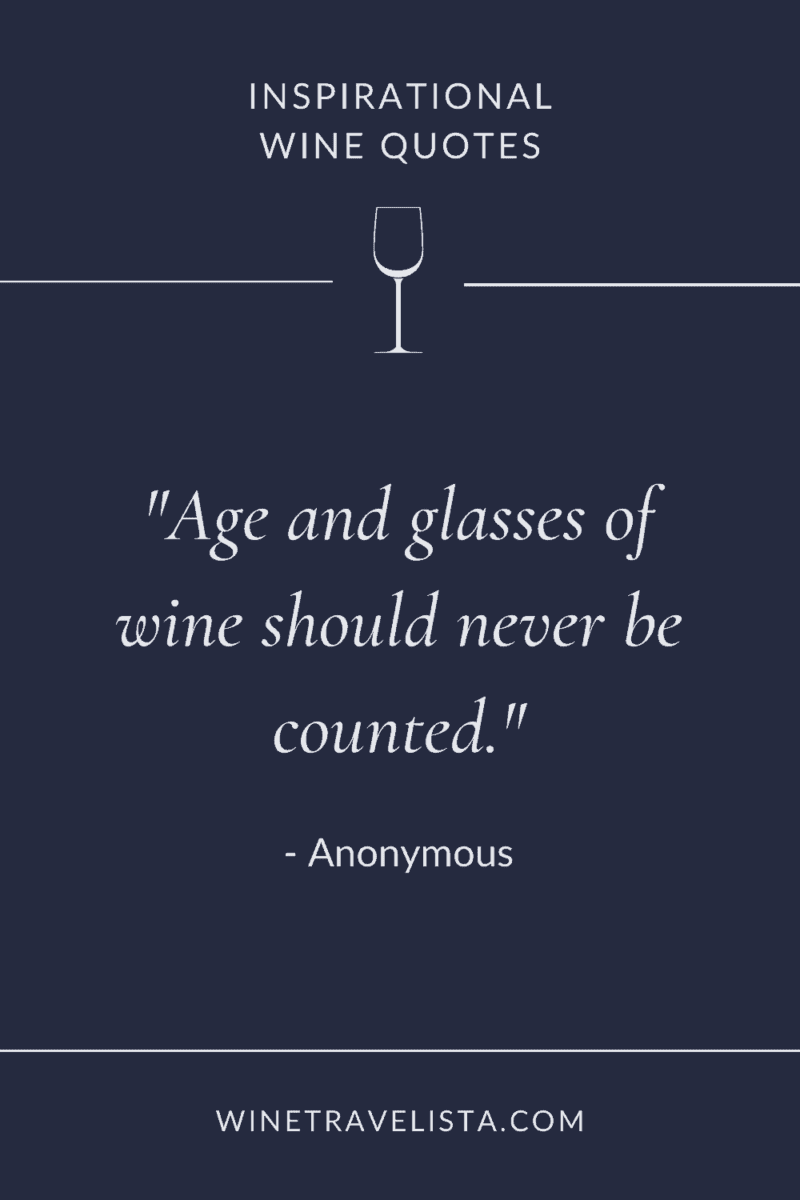 "Age appears best in four things: old wood to burn, old wine to drink, old friends to trust, and old authors to read." – Francis Bacon
"Age is just a number. It's totally irrelevant unless, of course, you happen to be a bottle of wine." – Joan Collins
"Husbands are like wine; they take a long time to mature." – Letters to Juliet
"Men are like wine – some turn to vinegar, but the best improve with age." – Pope John XXIII
"Philosophy is like wine. There are good years and bad years but, in general, the older the better." – Eric Weiner
"We may lay in a stock of pleasures as we would lay in a stock of wine, but if we defer tasting them too long, we shall find that both are soured by age." – Charles Caleb Colton
Pin for Later!
Inspirational Champagne Quotes
"Champagne is appropriate for breakfast, lunch, or dinner." – Madeline Puckette
"Champagne is the wine of civilisation… the oil of government." – Winston Churchill
"Gentlemen, in the little moment that remains to us between the crisis and the catastrophe, we may as well drink a glass of Champagne." – Paul Claudel
"Hardly did it appear, than from my mouth it passed into my heart." – Abbe de Challieu, 1715, upon first tasting Champagne.
"I only drink Champagne when I'm happy, and when I'm sad. Sometimes I drink it when I'm alone. When I have company, I consider it obligatory. I trifle with it if I am not hungry and drink it when I am. Otherwise I never touch it – unless I'm thirsty." – Lily Bollinger
"In victory, you deserve Champagne. In defeat you need it." – Napoleon Bonaparte
"My only regret in life is that I didn't drink enough Champagne." – Robert Noecker
"Too much of anything is bad, but too much Champagne is just right." – Mark Twain
Love Champagne? Check out my post on Champagne sweetness levels, types of Champagne, and how it's made.
Inspiring Wine Quotes About Culture & History
"Making good wine is a skill; making fine wine is an art." – Robert Mondavi
"A bottle of wine is the ultimate distillation of time and place; a poetic expression of individuality itself." ― Amor Towles
"To take wine into our mouths is to savor a droplet of the river of human history." – Clifton Fadiman
Love exploring the world of wine? Learn more about top destinations like Bordeaux, Douro Valley, Santorini, and Crete.
Inspirational Wine & Food Quotes
"I believe every recipe calls for a glass of wine." – Anonymous
"I cook with wine, sometimes I even add it to the food." – W.C. Fields
"Drinking good wine with good food in good company is one of life's most civilized pleasures." – Michael Broadbent
"Enjoying fine food and wine at the family table, surrounded by your loved ones and friends, is not just a joy – it's one of the highest forms of living." – Robert Mondavi
"If food is the body of good living, wine is its soul." – Clifton Fadiman
Looking for food and wine pairing ideas? Check out wine pairings for bolognese, ham, pork chops, carbonara, and lasagna.
Wine Quotes About Friendship
"A bottle of wine begs to be shared; I have never met a miserly wine lover." – Clifton Fadiman
"More important than the food pairing is the person with whom you drink the wine." – Christian Moueix
"People who want you in their lives, respect you whether you are grapes or fine wine." – Sanita Belgrave
"What do friends and wine have in common? The older, the better." – Anonymous
"The best wines are the ones we drink with friends." – Anonymous
Quotes About Wine & Happiness
"All worries are less with wine." – Amit Kalantri
"Clearly, the pleasures wines afford are transitory – but so are those of the ballet, or of a musical performance. Wine is inspiring and adds greatly to the joy of living." – Napoleon
"Give me books, French wine, fruit, fine weather, and a little music played out of doors by somebody I do not know." – John Keats
"Give me wine to wash me clean of the weather-stains of cares." – Ralph Waldo Emerson
"Great wine works wonders and is itself one." – Edward Steinberg
"Here's to the corkscrew – a useful key to unlock the storehouse of wit, the treasury of laughter, the front door of fellowship, and the gate of pleasant folly." – W.E.P. French
"Spilling a glass of wine is the adult equivalent of letting go of a balloon." – Anonymous
"Start the day with a smile and finish it with a glass of wine." – Anonymous
"The discovery of a wine is of greater moment than the discovery of a constellation. The universe is too full of stars." – Benjamin Franklin
"These are the best companions for an intelligent woman: a good book and a good glass of wine." – Augusto Branco
"Wine a little and you'll feel better." – Anonymous
"Wine cheers the sad, revives the old, inspires the young, makes weariness forget his toil." – Lord Byron
"Wine flies when you're having fun." – Anonymous
"Wine is one of the most civilized things in the world and one of the most natural things of the world that has been brought to the greatest perfection, and it offers a greater range for enjoyment and appreciation than, possibly, any other purely sensory thing." – Ernest Hemingway
"Wine makes daily living easier, less hurried, with fewer tensions and more tolerance." – Benjamin Franklin
"Wine rejoices the heart of man, and joy is the mother of all virtues." – Johann Wolfgang Von Goethe
"Working nine to wine." – Anonymous
"Wine is to women as duct tape is to men, it fixes everything!" – Comic Strip Mama
"What many of us experience in a glass of wine isn't wine per se, but another part of ourselves, a sensual and free part of ourselves that seldom comes out because the 'real' world is in constant opposition to it." ― Lebo Grand
"A bottle of good wine, like a good act, shines ever in the retrospect." – Robert Louis Stevenson
"Beer is made by men, wine by God." – Martin Luther
Inspirational Wine Quotes About Health
"I have enjoyed great health at a great age because everyday since I can remember, I have consumed a bottle of wine except when I have not felt well. Then I have consumed two bottles." – Attributed to a Bishop of Seville
"If your arteries are good, eat more ice cream. If they are bad, drink more red wine. Proceed thusly." – Sandra Byrd, Bon Appetit
"Whether wine is a nourishment, medicine, or poison is a matter of dosage." – Anonymous
Inspiring Wine Quotes About Life
"A man, fallen on hard times, sold his art collection but kept his wine cellar. When asked why he did not sell his wine, he said, "A man can live without art, but not without culture." – Anonymous
"Accept what life offers you and try to drink from every cup. All wines should be tasted; some should only be sipped, but with others, drink the whole bottle." – Paulo Coelho
"Drink freely the wine life offers you and don't worry how much you spill." – Marty Rubin
"Life is too short to drink bad wine." – Anonymous
"My only regret in life is that I did not drink more wine." – Ernest Hemingway
"Of all things known to mortals wine is the most powerful and effectual for exciting and inflaming the passions of mankind, being common fuel to them all." – Francis Bacon
"Wine brightens the life and thinking of anyone." – Thomas Jefferson
"Wine brings to light the hidden secrets of the soul, gives being to our hopes, bids the coward flight, drives dull care away, and teaches new means for the accomplishment of our wishes." – Horace
"Wine is a living liquid containing no preservatives. Its life cycle comprises youth, maturity, old age, and death. When not treated with reasonable respect it will sicken and die." – Julia Child
"Wine is, perhaps, the closest thing the planet has to an elixir of life." – Thom Elkjer
"Wine makes every meal an occasion, every table more elegant, every day more civilized." – Andre Simon
"Wine to me is passion. It's family and friends. It's warmth of heart and generosity of spirit. Wine is art. It's culture. It's the essence of civilization and the art of living." – Robert Mondavi
"Wine, it's in my veins and I can't get it out." – Burgess Meredith
"You only live once – so drink great wine." – Anonymous
"I need coffee to help me change the things I can…and wine to help me accept the things I can't!" – Tanya Masse
"Nothing makes the future look so rosy as to contemplate it through a glass of Chambertin." – Napoleon Bonaparte
Wine Quotes About Love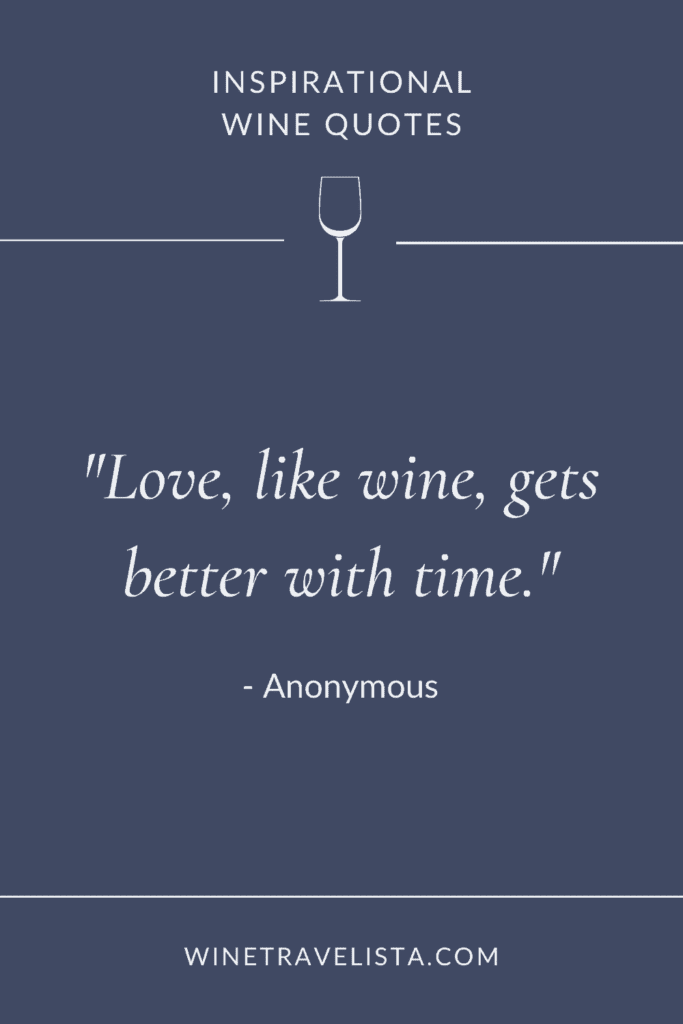 "His lips drink water but his heart drinks wine." – E.E. Cummings
"Love is the wine as old as time, which quenches our lonely longing." – John Mark Green.
"The first kiss and the first glass of wine are the best." – Marty Rubin
"Where there is no wine there is no love." – Euripides
"Compromises are for relationships, not wine." – Sir Robert Scott Caywood
Inspirational Wine Quotes About Wisdom
"A bottle of wine contains more philosophy than all the books in the world." – Louis Pasteur
"A man will be eloquent if you give him good wine." – Ralph Waldo Emerson.
"I drink and I know things." – Tyrion Lannister
"I drink to make other people a lot more interesting." – Ernest Hemmingway
"If we sip the wine, we find dreams coming upon us out of the imminent night." – D.H. Lawrence
"In wine there is truth." – Pliny the Elder
"Mixing old wine with new wine is stupidity, but mixing old wisdom with new wisdom is maturity." – Amit Kalantri
"Quickly, bring me a beaker of wine so that I may wet my mind and say something clever." – Aristophanes
"Take counsel in wine, but resolve afterwards in water." – Benjamin Franklin
"The wine-cup is the little silver well, where truth, if truth there be, doth dwell." – William Shakespeare
"Where there's a wine, there's a way." – Anonymous
"Wine can be a better teacher than ink, and banter is often better than books." – Stephen Fry
"Wine is bottled poetry." – Robert Louis Stevenson
"Wine…the intellectual part of the meal." – Alexandre Dumas
"Wisdom is like a fermented wine. It's only appreciated when shared." – Andrew-Knox B Kaniki
"An empty bottle of wine is better than a filled one. It shows achievement." – Anonymous
"One drop of wine is enough to redden a whole glass of water." – Victor Hugo
Love sharing your love of wine? Check out these 200 wine hashtags to use in your social media posts.
What's your favorite inspirational wine quote?
Learned something new?
shop my Wine Accessories
Recommendations may be affiliate links on which I earn a small commission at no additional cost to you. This helps me share new wine destinations with you and I only recommend products and services that I love and think you'll love too!