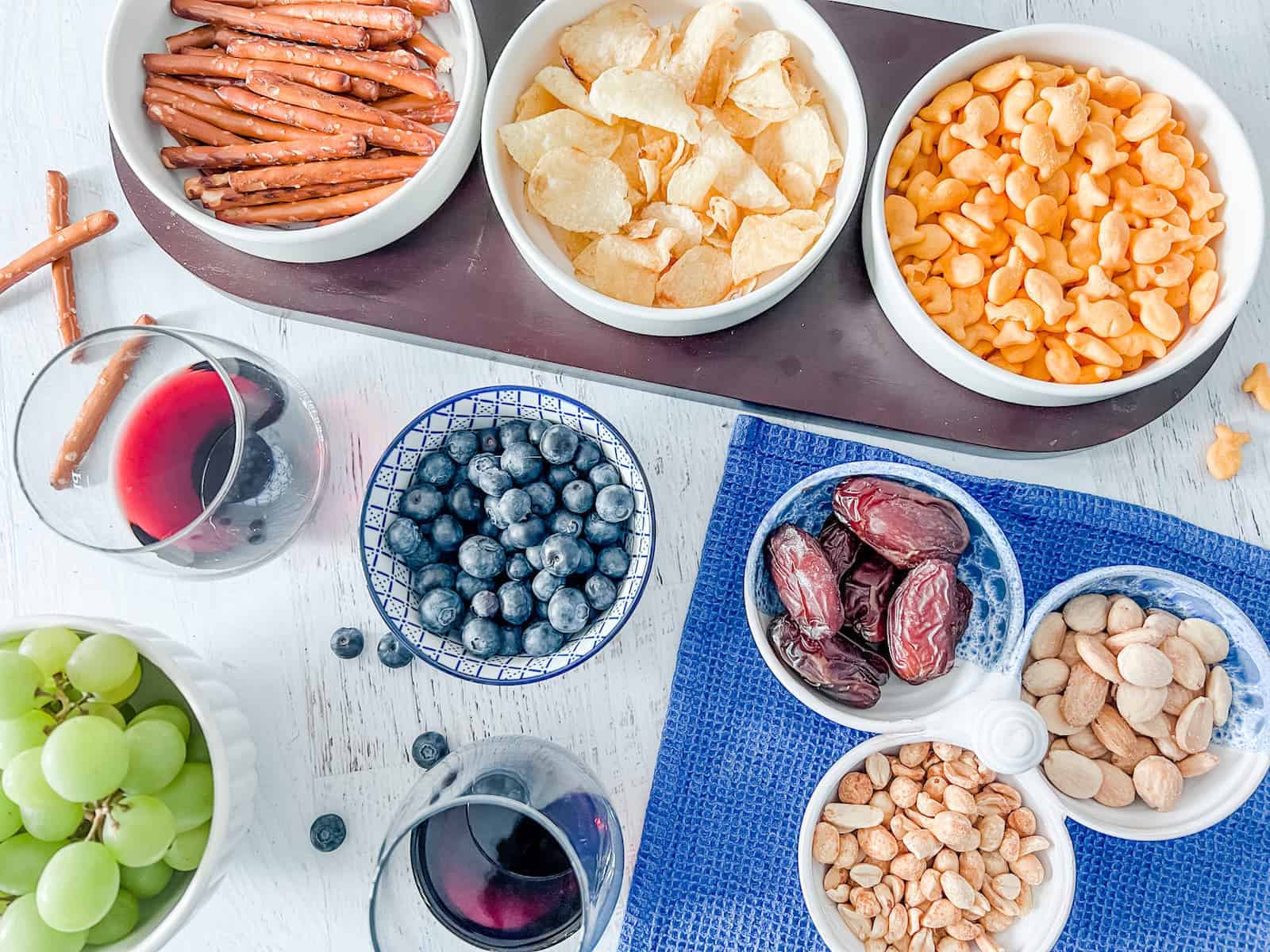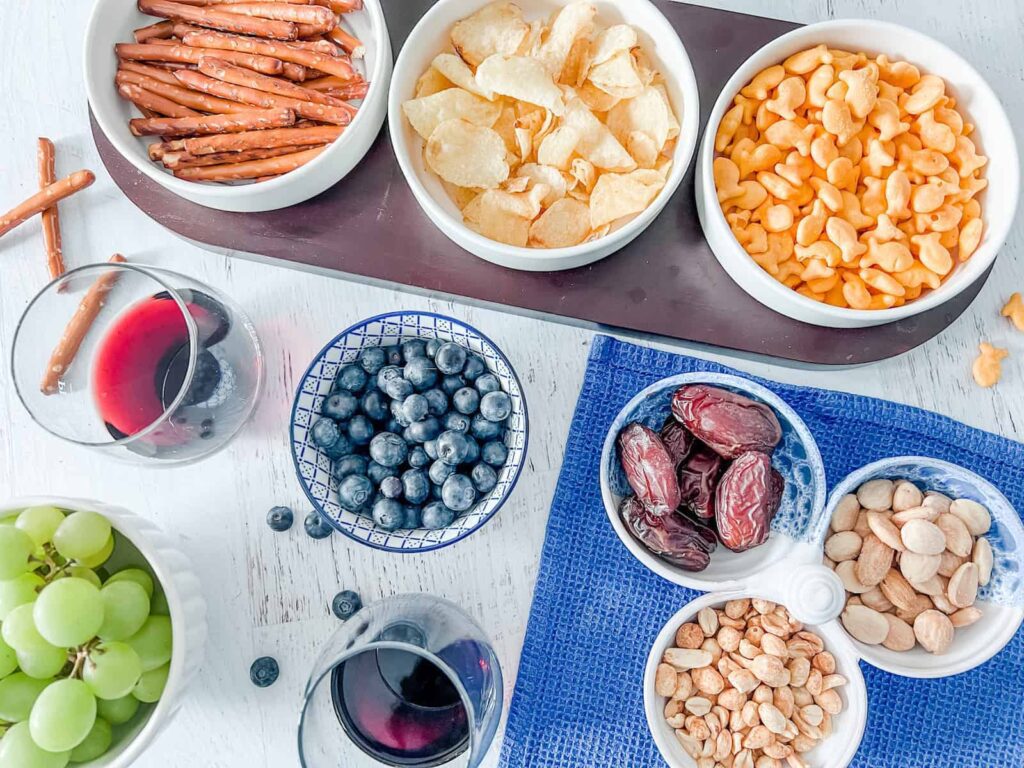 POV: You're up late enjoying a glass of your favorite wine. And your stomach starts to rumble. So, you start thinking of all the different snacks with wine you could have. But you don't want to ruin the delicious flavors of your bevvy by choosing a bad pairing.
Or maybe you're having a casual wine tasting evening with friends. You know, just a couple of choice bottles with a few of your besties. So, you need some ideas for simple finger foods that won't clash with your vino.
Look no further because I've got ideas for all the best munchies to quell those cravings. These tried-and-true wine snack pairings are easy and satisfying. And you probably have many of them in your pantry already!
BTW, if you haven't yet, make sure to grab my free Wine Tasting Planner. It has 20+ wine night theme ideas, including the exact ones I've used for my wine tastings. Plus, a timeline, food pairings, games, free printables, worksheets, and more. Get your copy here.
Salty Snacks with Wine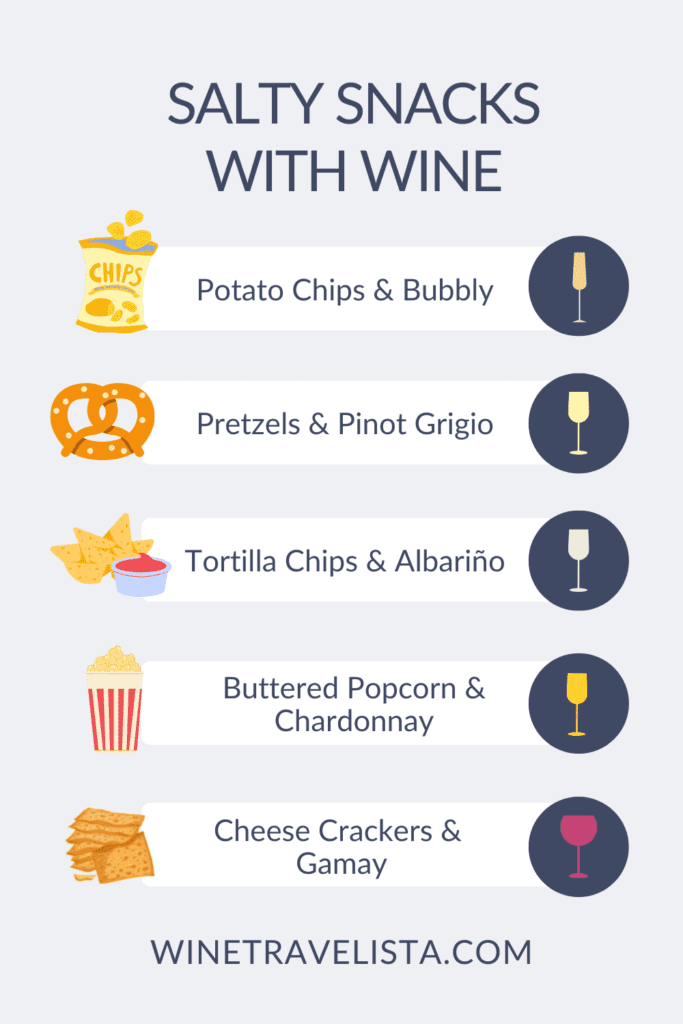 If your favorite snack falls in the salty category, you'll generally want a wine higher in acidity. Salt in food will make your wine seem less acidic, so lower-acid wines will fall flat.
Outside of that, salt is generally wine-friendly and will boost wine's fruit flavors and soften astringency. Here are some tasty pairings you can try.
Potato Chips
Wine Pairing: Traditional Method Brut Sparkling Wine
One of the classic pairings, potato chips and Champagne are a match made in heaven. The saltiness and fattiness of this snack screams for a palate cleanser. And the high acidity and refreshing bubbles of this French sparkler are the perfect remedy.
But really you could go with many other dry sparkling wines. Try Champagne's sibling, Crémant. Or go for Spain's Cava or Corpinnat. South Africa's Cap Classique is a winner too.
Add a little sour cream and onion dip and you've got yourself a gourmet snack.
Pretzel Bites
Wine Pairing: Pinot Grigio
These crunchy munchies have a fairly neutral flavor, so you'll want something that won't overpower them. Light and fruity Pinot Grigio is a great match, with its delicate green fruit and citrus flavors.
The Veneto region in Northeast Italy churns out high volumes of this style. But you'll find better quality versions from Alto Adige. Or keep an eye out for it labeled as Grauburgunder from Germany and Austria.
Tortilla Chips & Salsa
Wine Pairing: Albariño
Craving some crispy corn chips and dip? Before you dig into those tortilla chips and salsa, do yourself a favor and grab a glass of Albariño.
This high-acid, citrusy wine will complement the zesty tomato in the salsa. And it will cut through the salt and fat in the chips, especially if you're melting a little cheese on top (hey, why not go all out?).
Look for it from Rías Baixas in Northwest Spain. Or it goes by Alvarinho in Portugal.
Buttered Popcorn
Wine Pairing: Chardonnay
Whether you're a quick and easy microwave kind of popper or an old-school stovetop purist, you can't go wrong with a piping-hot bowl of buttery, salty popcorn. What movie night is complete without it?
And those buttery flavors are the perfect match for an MLF Chardonnay. No, MLF is not some new chat speak the kids are using these days. It's short for "malolactic fermentation" (basically converting the malic acid in the wine to lactic acid). And it's what gives some Chardonnays those flavors of butter and cream.
You'll often find these styles from California, Australia, and the Mendoza region of Argentina.
Check out more Chardonnay food pairings.
Cheese Crackers
Wine Pairing: Gamay
While your "cheese" snack may be lacking in real cheese, you can be sure this pairing is the real deal. Gamay is a light-bodied, low-tannin fruity red that will complement the saltiness of the crackers. Plus, it won't dry out your mouth.
Beaujolais is the home of Gamay in France. Look for ones labeled Beaujolais Villages, Fleurie, or Brouilly for a lighter style. You'll also find some from the Loire Valley in France and Oregon in the U.S.
Pin for Later!
Sweet Snacks with Wine
For those of you with a sweet tooth, keep in mind that sweetness in food will make your wine taste more bitter and less fruity.
So, a good rule of thumb is to sip on something sweeter than your snack. But in some cases, you can get away with a drier wine that has good fruit concentration. Read on for some mouthwatering pairing ideas.
Dark Chocolate
Wine Pairing: Port
While you may be tempted to go with a dry, bold red wine, decadent dark chocolate deserves a dessert wine. The fruity and slightly bitter flavors of this classic confection work well with the caramel and nutty notes of Port.
This fortified sweet wine is found in Douro Valley, Portugal. Most styles will do the trick. But for the optimal pairing, go for a 10, 20, or even a 30-year Tawny if you're feeling fancy.
Chocolate Chip Cookies
Wine Pairing: Shiraz
Whether homemade or store-bought, nothing beats nibbling on a late-night chocolate chip cookie. This delectable dessert has a nice balance of savory and sweet with its semi-sweet chocolate chips and a hint of salt in the dough batter.
That's why it works with a fruitier red wine like Shiraz. And Australia is the classic place to find this full-bodied vino (think Barossa Valley, McLaren Vale, and Hunter Valley). But you'll also find similar styles in South Africa, Argentina, and Chile.
Just make sure it says Shiraz on the label and not Syrah (same grape, different style).
Peanut Butter Cups
Wine Pairing: Amontillado Sherry
What's better than biting into gooey peanut butter encased in milk chocolate? Pairing it with a sip of amber liquid with notes of hazelnut, herbs, tobacco, and spice.
Amontillado Sherry takes the cake for pairing with this tasty treat. This fortified wine is typically made in a dry style and comes from the Jerez region in Spain. The nutty flavors will heighten the heavenly peanut butter as the two meld in your mouth.
Ice Cream
Wine Pairing: Ice Wine
Dreaming of an ice-cold bowl of ice cream adorned with all the toppings? Whether you're team chocolate or vanilla, this sweet treat needs an even sweeter wine. And ice wine is an absolutely divine pairing.
This late-harvest liquid is a rare treat, most often made from Riesling, Vidal Blanc, or Cabernet Franc. It can only be produced in regions where it gets cold enough to freeze the grapes on the vine. Then they're quickly pressed to extract the concentrated sugary juice that's used to make this dessert wine.
You'll find it from Canada, upstate New York, Germany, and Austria.
Wine and Cheese Pairing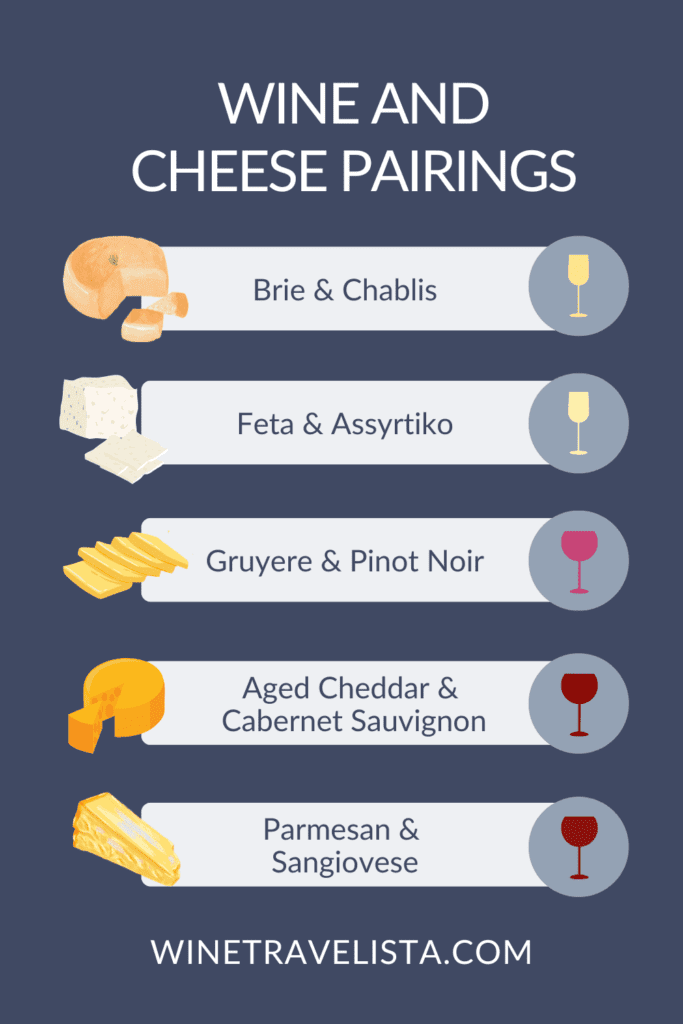 Whether you're creating an elaborate charcuterie board for a group or a simple cheese platter for one, there are tons of classic wine and cheese pairings to try.
As a general rule of thumb, soft cheeses and fresh cheeses go best with lighter wines. Semi-hard cheeses are a good match with medium-bodied wines. And hard or aged cheeses can hold up to big and bold wines.
Goat Cheese
Wine Pairing: Sauvignon Blanc
One of the classics, creamy goat cheese and crisp Sauvignon Blanc are a perfect fit. This tart fresh cheese can be earthy and nutty. And this white wine's herbaceous notes and high acidity make the cheese truly shine.
Marlborough, New Zealand is the benchmark for this style of Sauvignon Blanc. But you can also look for similar ones from South Africa and Chile.
Feta Cheese
Wine Pairing: Assyrtiko
The saying goes, "What grows together, goes together." So, when having rich and salty Greek feta, there's no better match than the crisp, high-acid Assyrtiko.
Hailing from the Greek Islands, this wine has a bit of a bite to it that will be an even match for bold feta. And the intensity of the stone fruit and citrus flavors can hold up to the richness of the cheese.
The best examples come from Santorini wineries, but you may find some from other parts of Greece like Crete.
Brie
Wine Pairing: Chablis
As the creamiest of cheeses, bloomy Brie has a buttery texture that needs a steely wine to cut through it. For those of you ABC drinkers (Anything But Chardonnay), let me introduce you to Chablis.
This Burgundian white is not your typical oak-and-butter bomb. Chablis' cool climate gives it bright acidity and minerality, with notes of apple, pear, and citrus. You can't go wrong with this harmonious pair.
Check out more wines to pair with Brie.
Gruyère
Wine Pairing: Pinot Noir
This semi-hard Swiss cheese is nutty in its youth and takes on earthy tones as it ages. That's why it pairs so well with the distinctive mushroom notes of a Pinot Noir. And the red fruit flavors complement the sweet undertones of Gruyère.
Cooler-climate versions are best with this cheese so as not to overpower its delicate complexity. If a good Burgundy is out of your price range, check out Germany (called Spätburgunder) or New Zealand for better values.
Aged Cheddar
Wine Pairing: Cabernet Sauvignon
What cheese board is complete without some cheddar? And like a fine wine, it just gets better with age. It's sharp and salty and can develop those crunchy little crystals that are oh-so delightful. With bold flavors and a high fat content, this cheese needs a big wine.
Cabernet Sauvignon is just the one for the job. The high tannins and acidity in this full-bodied red wine will soften like butter with the union of this pairing. And from California to France to Chile, there's no shortage of regions producing excellent Cab throughout the world.
Parmesan Cheese
Wine Pairing: Sangiovese
One of the most famous cheeses from Italy, Parmesan is sharp and tangy. And when in Rome (or Emilia-Romagna) you should pair this crumbly cheese with a local wine. So, why not go with a savory Sangiovese?
The darling of Tuscany, Sangiovese has flavors of tart cherry, tobacco, and thyme. It's a classic from Chianti, but you can find it closer to Parmigiano Reggiano's hometown labeled as Sangiovese di Romagna DOC.
Looking for more wine and cheese pairing ideas? Check out Cambozola wine pairings and Burrata wine pairings. And don't miss these small charcuterie board ideas.
Healthy Snacks with Wine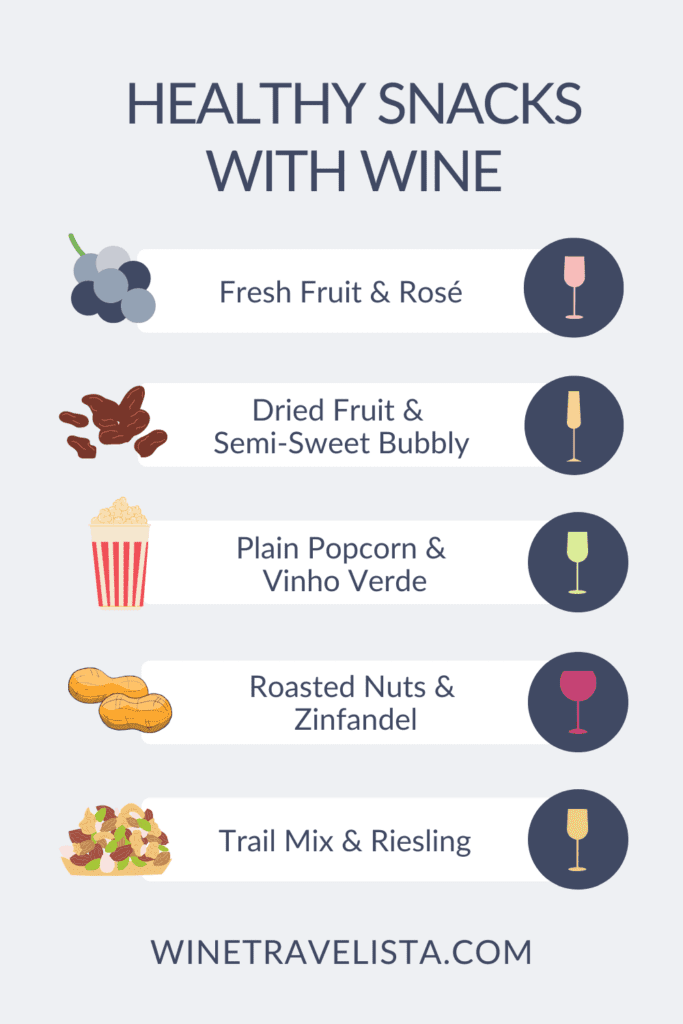 When it comes to indulging, it's all about balance. With these healthy snack ideas, you can sip and munch without breaking your calorie budget.
Fresh Fruit
Wine Pairing: Dry Rosé
When it comes to fresh fruits, it's rosé all day! This pink wine has beautiful red berry flavors that are a great match with strawberries and raspberries. The fruitiness and bright acidity also work well with stone fruits like peaches and tropical fruits like melon.
Go with a lighter style like those that come from Provence, France. You'll also find these in the Loire Valley, parts of Spain and Portugal, and many places in the New World. Learn more about all the different types of rosé wine.
Dried Fruit
Wine Pairing: Semi-Sweet Bubbly
These sun-dried snackers have more concentrated sugars than fresh fruit. So, that means your wine pairing should be a little sweeter. And the chewy, sticky texture needs something that will scrub your mouth clean in between bites.
A semi-sweet sparkling wine will do just the trick. Look for ones that say Dry, Sec, or Demi-Sec on the label.
Veggies & Hummus
Wine Pairing: Grüner Veltliner
Creamy hummus and crudité are an easy and classic healthy snack. The greenness of the veggies needs a wine with some herbaceousness. That's why Grüner Veltliner, with its green pepper and limey notes, is the perfect wine pairing.
You'll find this pretty much exclusively from Austria, where it's fresh, dry, and high in acidity. Have it well chilled with this wholesome snack.
Plain Popcorn
Wine Pairing: Vinho Verde
Going sans butter on your crunchy kernels? While not as satisfying as smothering it in dairy, plain popcorn can still fulfill your craving while cutting calories.
This simple snack calls for a simple wine that won't steamroll its light flavors. Why not reach for an effervescent Vinho Verde? This spritzy Portuguese white wine is a great value. And its lower alcohol levels make it a diet-friendly choice too!
Roasted Nuts
Wine Pairing: Zinfandel
Nuts have loads of healthy fats so they can hold their own with a bolder red wine. A spicy Zinfandel is a great match for the smokiness of roasted nuts. And the wine's fruit-forward berry flavors work well with the hint of sweetness found in these crunchy morsels.
Best-known from California, look for Zinfandel from Lodi, Napa, and Dry Creek Valley in Sonoma. Outside of the U.S., it's found in South Africa and Australia. Or try its close cousin Primitivo from Italy.
Trail Mix
Wine Pairing: Off-Dry Riesling
This salty-sweet snack needs a wine with a little sweetness to balance the sugar. Whether you're hanging at home or hitting the trail, off-dry Riesling is a peak pairing.
It has just the right hint of sweetness to work in harmony with this homerun snack. Check out Halbtrocken or Feinherb from Germany. Or you can find excellent versions from the Finger Lakes in New York.
Happy snacking!
Are you a salty or sweet snacker? Which wine and cheese pairing do you like best?
Learned something new?
Shop my kitchen essentials
Recommendations may be affiliate links on which I earn a small commission at no additional cost to you. This helps me share new wine destinations with you and I only recommend products and services that I love and think you'll love too!