Looking for the perfect wine to pair with Brie? Look no further. I've got you covered!
As one of my favorite creamy cheeses, Brie's buttery goodness is a tasty treat by itself. But what goes better with cheese than wine? Not much, IMO.
I get it. Picking the right pairing can feel like a puzzle. But don't worry.
As a wine expert, I'm here to make it easy brie-sy. Whether you prefer white, red, or bubbly, I'll help you find the perfect sip.
And I've got tips and tricks for all the ways to store and serve your Brie. Plus, don't miss my easy recipe for delicious baked Brie.
BTW, if you haven't yet, make sure to grab my free Wine Tasting Planner. It has 20+ wine night theme ideas, including the exact ones I've used for my wine tastings. Plus, a timeline, food pairings, games, free printables, worksheets, and more. Get your copy here.
Brie Flavors
This soft-ripened cheese comes from the Brie district in France. It's most often made from cow's milk. But it can also be made with sheep's milk.
The texture is soft and velvety. It's got that rich, buttery feel that's so creamy it feels indulgent.
The flavors start off mild. But as you savor it, you'll uncover new layers. The edible white rind adds a touch of earthiness. And there's a nutty flavor and slightly fruity finish that lingers.
The Best Wine to Pair With Brie
When choosing a wine to pair with Brie, sparkling works best. Its bubbles and zesty acidity help refresh your taste buds between bites. But lighter white wines with good acidity like Sauvignon Blanc and Riesling work too. For reds, opt for light, fruity ones like Pinot Noir or Barbera that won't overpower this creamy cheese.
Don't forget to consider what's sharing the plate with your Brie. If it's all savory, stick with dry wines. But if you're adding a lot of sweetness (think honey, jam, fruit), then you may want to go with something off-dry.
Oh, and keep an eye on tannins and alcohol content. Wines over 14.5% ABV pair better with something stronger like a hard cheese or aged cheese.
Best White Wine to Pair with Brie
For white wines, the best pairings are light to medium-bodied styles with plenty of acidity. There are a variety of wines that would work. But some of the best options are Sauvignon Blanc, Riesling, or sparkling wines like Champagne.
Traditional Method Sparkling Wine
Going by what grows together goes together, it's no surprise that Brie and Champagne is one of the classic cheese and wine pairings. But any traditional method sparkler will work (where the wine goes through a secondary fermentation in the bottle).
The effervescence and high acidity of this wine act as a palate cleanser, cutting through the richness of the cheese. And it refreshes your taste buds for the next delicious bite.
Plus, the toasty notes and nuttiness in Champagne complement the earthy undertones of Brie.
True Champagne only comes from the Champagne region of France. But you'll find similar styles made in regions throughout the world. Try Crémant from France, Cava from Spain, Cap Classique from South Africa, or Franciacorta from Italy.
Or for the adventurous, look for up-and-coming sparkling wines from countries like Australia (Tasmania and Yarra Valley), England, and New Zealand.
Sancerre
For those seeking a still white wine, Sauvignon Blanc is an excellent choice. And you don't need to look any further than France to find this crisp white wine.
Loire Valley Sancerre has vibrant acidity and lively citrus and herbaceous notes. These cut through the richness of Brie, creating a palate-cleansing effect that leaves you craving more.
This is one of my favorite cheese pairings for warmer months or as a starter to a meal.
If you can't get your hands on a Sancerre, just about any unoaked Sauvignon Blanc will work. New Zealand Sauvignon Blanc has the crisp acidity this rich cheese needs. You'll get more green bell pepper and tropical fruit notes than Sancerre.
Or try similar wines from countries like Chile, South Africa, and Australia.
Pin for Later!
Riesling
This aromatic white wine works with Brie cheese for a few reasons. Riesling's lively acidity balances the creaminess of the cheese, offering a refreshing contrast.
The wine's fruity notes, like green apple, citrus, and stone fruits, perfectly complement the mild flavor of Brie. And its aromatic intensity, with floral and mineral undertones, adds layers of complexity to the pairing.
Plus, Riesling's versatility makes it work with all the different ways to serve Brie. For savory snacks, stick with a dry style. But if you're going with a sweet topping or side, pair it with an off-dry or sweet wine.
The nearby Alsace region offers crisp, off-dry and dry Rieslings with mouthwatering acidity. These are a great value and an excellent choice with Brie. Or look to Germany in the north for all different styles of Riesling.
In the New World, check out fresh and minerally wines from the Finger Lakes, NY in the United States. And Australia and New Zealand offer more options in the Southern Hemisphere.
Best Red Wine to Pair with Brie
When pairing red wine with Brie, look for a light-bodied, fruit-forward style with good acidity. And stay away from tannic red wines like Cabernet Sauvignon. Some great options include Pinot Noir and Barbara.
Pinot Noir
The notoriously food-friendly Pinot Noir makes a great match for Brie cheese.
The wine's light to medium body and soft tannins won't overpower the cheese. And the red fruit notes, like cherry and raspberry, complement the creamy texture of Brie cheese.
Plus, Pinot Noir's earthy flavors and notes of mushrooms play nicely with this cheese's subtle earthiness.
For something special, select a bottle from Brie's neighboring region: Burgundy. But be prepared to pay top dollar for a worthwhile match.
For more affordable options, check out Germany where it's known as Spätburgunder. Or Italy's Pinot Nero. And you'll find great values in Chile too.
Barbera
While not a grape often found in France, Barbera can be a fantastic wine pairing for Brie.
Barbera's bright acidity and juicy red fruit flavors, like cherry and plum, complement the creamy texture and delicate flavors of Brie.
The wine's lively character and relatively low tannins provide a refreshing contrast that enhances the cheese's richness.
Barbera's home is in the Piedmont region of Italy. You'll see it labeled as Barbera d'Alba or Barbera d'Asti.
It can also be found in other parts of Italy. And it's becoming more common in California too.
Brie Wine Pairing FAQs
Does Merlot Go With Brie?
While it might not be a classic pairing, Merlot can be a good wine pairing with Brie. It's often smooth and approachable with soft tannins. So, it won't overshadow the delicateness of Brie. Just know that Merlot's medium acidity levels won't give you as much of that palate-cleansing effect as higher acid reds.
Does Brie Go With Prosecco?
Absolutely! Brie and Prosecco make a perfect pair. Brie's creamy richness is balanced by Prosecco's effervescence and bright acidity. The bubbles refresh your taste buds between bites of the cheese, enhancing its flavors.
Does Moscato Go With Brie?
Brie and Moscato can be a surprisingly good match. The cheese's creamy texture is offset by Moscato's light sweetness and refreshing fruitiness. And the wine's floral and citrus notes enhance Brie's flavors. It's a palate-pleasing combo that's perfect for those with a penchant for something sweeter.
Find out the difference between Prosecco vs. Moscato d'Asti.
Brie Storage & Serving Tips
All right, let's talk about storing and serving Brie.
First things first, keep your cheese in the fridge. The original container it came in works just fine. It should stay good unopened for about six weeks.
When it's time to serve it, remember this golden rule: let your Brie have a breather. Take it out of the fridge about an hour before you dig in. The time at room temperature lets the cheese's texture and flavors come to their full potential.
Serve your wheel of Brie whole. But it's okay to slice a few pieces, just to get your guests started.
Oh, and that rind? Totally edible. No need to peel it away. It's part of what adds that subtle earthy note to creamy Brie.
Now, let's talk leftovers. If you somehow manage not to devour all the Brie, I'll be impressed. But make sure to store it right so you can enjoy it later.
Cheese preservation bags like these will help it last longer in the fridge. But wrapping it in wax paper and keeping it in your cheese drawer will do the job too. As long as it has some room to breathe, it should last another 1-2 weeks.
Recommendations may be affiliate links on which I earn a small commission at no additional cost to you. This helps me share new wine destinations with you and I only recommend products and services that I love and think you'll love too!
What to Serve with Brie
From tangy to sweet to savory, Brie is even better when served with the right accompaniment. It makes a great addition to charcuterie boards or a cheese platter. And it's a fantastic topping for all kinds of dishes.
Whether you're hosting a gathering or having a cozy night in, these are some of my favorite ways to enjoy this bloomy cheese.
Baguette Slices: A classic duo, soft Brie tops crusty bread.
Crackers: Add a satisfying crunch to Brie's creaminess with multi-grain, herb, or water crackers.
Charcuterie: Go for milder meats that won't overpower Brie's delicate flavors. Think prosciutto, Coppa, mortadella, or summer sausage.
Fresh Fruit: Pair this creamy cheese with juicy apples, pears, grapes, or berries.
Dried Fruit: Figs, dates, cranberries, apricots — they bring a touch of sweetness to balance out the rich flavors.
Nuts: Pecans, almonds, and walnuts bring earthy tones and a crunchy note. Or go sweet and savory with candied nuts.
Spreads: Drizzle honey or spread some fig, apple, or berry jam for a sweet contrast.
Balsamic Glaze: A drizzle of balsamic glaze can add a tangy and slightly sweet note that complements Brie's creamy texture.
Other Cheeses: Make it a cheese board by serving it with semi-soft, hard, or aged cheeses.
Crostini: Layer a crunchy crostini with Brie and accompaniments like cured meats, jam, herbs, and fruit.
As a Topping: Upgrade your dishes by adding Brie to salads, sandwiches, and pasta.
Baked: Wrap Brie in puff pastry and bake it to golden perfection. Get the recipe below for this flaky, gooey delight.
Looking for more wine and cheese pairing ideas? Try cambozola wine pairing and burrata wine pairing. Or check out these small charcuterie board ideas and snacks with wine.
Baked Brie Recipe Equipment
For this baked brie recipe, you'll need the following equipment: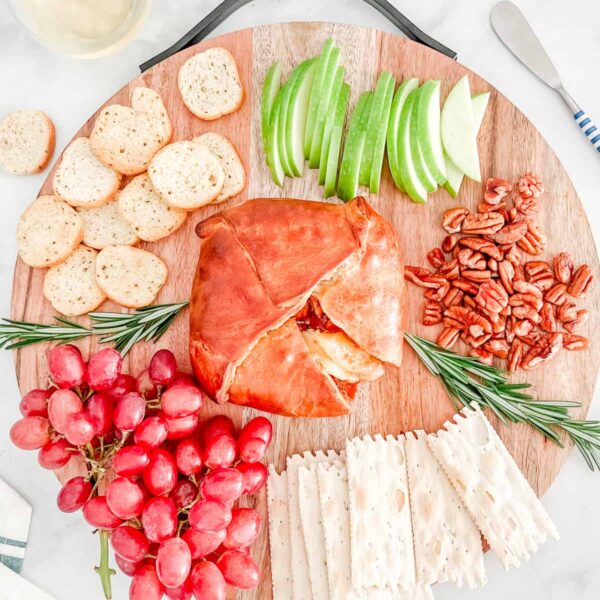 Baked Brie Recipe
This easy recipe makes a beautiful and delicious appetizer for fall or holidays like Thanksgiving and Christmas. Pair it with a crisp, high acid white wine or a light, fruit-forward red wine.
Ingredients
1 8 oz brie cheese wheel
1 sheet puff pastry (if frozen, thaw for 30 minutes)
1 large egg
1 tbsp water
3 tbsps fig jam
2 tbsps pecans, chopped
1 drizzle honey
Instructions
Preheat oven to 400°F.

Line a baking sheet with parchment paper.

Make the egg wash by beating the egg with the tablespoon of water.

Lightly flour a large cutting board or clean, flat surface. Use a rolling pin to roll out the puff pastry sheet into a square. Use a sharp knife to trim it down to 8" by 8". Place it on the parchment-paper-lined baking sheet.

Carefully slice the rind off the top side of the brie. Leave the bottom rind on. Place the brie in the center of the puff pastry square.

Spread the fig jam in an even layer on top of the brie. Sprinkle the chopped pecans and drizzle the honey on top.

Fold one corner of the puff pastry over the brie and brush the top of the corner with egg wash. Do the same after folding each corner to seal them together. Tuck or trim any excess dough around the sides. Once fully wrapped, brush all over the top and sides with egg wash.

Bake in the preheated oven for 20 minutes or until golden brown.

Remove from the oven and let rest for 10 minutes before serving.
Notes
To serve a larger group, use a 16 oz. brie wheel and two sheets of puff pastry. You'll need to roll out each sheet, trim them into circles, and use one on the bottom and one on the top. Trim the excess and use a fork to seal the edges together.
Which wine pairing did you choose for your brie? What do you like to serve with your cheese?