If you're a wine lover planning a trip to the Finger Lakes region of New York, a visit to Keuka Lake wineries is a must. And in this guide, I'm uncorking all the details you need.
This small lake has had a big impact on the U.S. wine industry. And it's built a reputation as one of the top cool-climate wine-growing regions in North America.
Now, with 20 wineries to choose from (not to mention 100+ others in the surrounding Finger Lakes), it can be hard to pinpoint the absolute must-visits.
But fear not! As an American Wine Expert and WSET-certified wine blogger, I've personally done the research for you. I've tasted my way through the region and hand-picked this short list of the best wineries.
So, let's dive in and start planning your unforgettable wine tasting adventure!
While you're here, don't miss taking my wine country destination quiz! It will magically match your taste buds, travel style, and winederlust desires to reveal the wine region of your dreams. Plus, you'll get my wine region guide to make planning a breeze. Take the quiz.
History of Keuka Lake Wineries
Keuka Lake may not be the biggest fish in the Finger Lakes pond, but it sure made some waves in American winemaking history!
Way back in the early 1800s, Reverend William W. Bostwick had the bright idea to plant the first vines in Hammondsport. Soon enough, others hopped on the grape train and started growing native varieties like Catawba and Isabella.
Fast forward to the 1860s, and we witness the birth of the Great Western Winery (now known as Pleasant Valley Wine Company). It was the first bonded winery in the whole U.S. of A. And these folks became famous for their award-winning American sparkling wines.
But prohibition hit the scene in the roaring 20s, putting a damper on the party. After the dust settled, a Frenchman named Charles Fournier swooped in to save the day. He planted experimental vineyards and introduced French-American hybrid grapes like Léon Millot.
And let's not forget the creation of Cayuga, a white hybrid grape introduced by Cornell University's Grapevine Breeding and Genetics Program in 1945.
But wait, there's more! Our story takes a turn when the wise Charles Fournier hires the legendary Dr. Konstantin Frank. This Ukrainian immigrant made history in 1957 by successfully planting vinifera vines in the region (more on that later).
Fast forward through the years, and laws started changing, making it easier for wineries to sell directly to us thirsty folks and even open their own tasting rooms. And just like that, more and more wineries began to pop up around Keuka Lake.
The Finger Lakes AVA (American Viticultural Area) became official in 1982. And now they even have their own Keuka Lake Wine Trail.
Today, New York holds the third spot in wine production nationwide. And with 20 wineries calling Keuka Lake home, you better believe they're producing some top-notch wines.
Keuka Lake Climate and Terroir
When it comes to weather, the Finger Lakes region knows how to keep winemakers on their toes. This cool climate brings all kinds of challenges like rain, snow, and humidity. Growing conditions are unpredictable. So, it's all about adapting practices based on the vintage.
Now, let's talk about the lake itself. This Y-shaped beauty was formed by glaciers that came down from Canada. They carved their way through the land, leaving behind a stunning array of soil types. To paint a picture for you, in one row of vines, the soil can change a half-dozen times.
The lake stretches 22 miles long, with widths ranging from half a mile to two miles. And it reaches depths of more than 180 feet, but not as deep as neighboring Seneca Lake. In fact, it occasionally freezes over during winter.
The "lake effect" is what makes grape-growing possible. In spring, the cold water cools the surrounding air and delays budburst. This protects those delicate buds from potential frost damage.
And come fall, the warm water and sun's reflection extend the growing season, giving the grapes time to ripen.
That means there's only a narrow band where grapes can thrive along the lake's shores. And that's why Keuka Lake's wine production remains on the smaller side.
All these natural elements come together to create wines with a zippy, acidic backbone and intense aromatics.
What Wine Is Keuka Lake Known For?
Keuka Lake wineries, like the rest of the Finger Lakes region, are all about aromatic white wines. Riesling takes the spotlight, often produced in a dry and mineral-driven style.
You'll also find Gewürztraminer and Grüner Veltliner. But don't worry, Chardonnay lovers, you'll find plenty of that too!
When it comes to red wines, Cabernet Franc and Lemberger do best. The latter is also known in Austria as Blaufränkisch and you'll see it labeled both ways here.
Some winemakers also attempt Pinot Noir and Cabernet Sauvignon. But they're tough to grow in this cold, wet climate.
Hybrid grapes like Vignoles and Léon Millot are still common. And if you're feeling adventurous, a few wineries are producing wines with grape varieties from the Republic of Georgia, like Saperavi and Rkatsiteli.
If you haven't yet, check out my guide on the best Seneca Lake wineries.
Pin for Later!
The Best Keuka Lake Wineries
Dr. Konstantin Frank Winery
A visit to Keuka Lake wineries isn't complete without stopping by Dr. Konstantin Frank Winery.
Known as the "Father of Vinifera," Dr. Frank had a passion for wine from a young age. Growing up in the Ukraine, his family grew grapes for winemaking. And by 15, he had already made his own wine!
In 1951, armed with a Ph.D. in viticulture and a wealth of experience, Dr. Frank immigrated to the U.S. Initially scrubbing dishes in NYC, he eventually landed a gig as a field nursery assistant at the Agricultural Experiment Station in upstate New York.
Despite being told that growing Vitis vinifera varieties in the Finger Lakes was a no-go due to the chilly climate, Dr. Frank persisted. He knew it could be done.
Fate intervened when he got the attention of Charles Fournier, the president of Gold Seal Wines. In 1953, Dr. Frank was hired as the director of vineyard research. And in 1957, he planted the first successful vinifera vines in the Eastern United States.
The following year, he purchased his own 188 acres on the west side of Keuka Lake. And began planting an experimental vineyard with 60 varieties. By 1962, he decided to venture out on his own and founded Vinifera Wine Cellars (later renamed Dr. Konstantin Frank Winery).
Over the years, Dr. Frank freely shared his research and vine cuttings with many, helping other Eastern U.S. wine regions like Long Island and Virginia. And he founded the American Wine Society in 1967. His award-winning wines have been served at the White House and even to the Queen of England!
After Dr. Frank's passing in 1985, the family's wine legacy continued with his son Willy who produced the Finger Lake's first all-vinifera sparkling wine using the traditional Champagne method. And Fred, the third generation, joined after working at Banfi, creating the more wallet-friendly Salmon Run label.
Meaghan, the fourth generation, now runs the winery, introducing the Helm series to honor four women of the family.
Their 170 acres of vineyards are split between Keuka and Seneca. Keuka brings a mineral style to Riesling and elegant reds. Seneca offers more warmth for ripening grapes like Grüner Veltliner and Pinot Noir.
They use French oak barrels and also experiment with clay amphoras and skin-contact whites.
Dr. Konstantin Frank wines are stunning. The Rieslings are of course fantastic. But I also loved the sparkling Brut Rosé with its delicious aromas of brioche and red berries.
And they're making some impressive reds, too. If you like Bordeaux-style wines, don't miss the Meritage blend.
Make a reservation at their tasting room for a seated experience guided by knowledgeable wine educators. I recommend getting the cheese and charcuterie board to pair with your wines.
Or for a deeper dive, they also offer the educational (and tasty!) 1886 food and wine experience. And check out Eugenia's Garden for a more casual option — sip wine, enjoy the view, and unwind.
Weis Vineyards
Nestled on Keuka Lake's east side, Weis Vineyards is a newer gem. But it's already making waves, being named New York State's Winery of the Year in 2022.
Hans Peter grew up in his family's vineyard and winery in Mosel, Germany. After formally studying winemaking and a stint in Sonoma, he found himself in the Finger Lakes. And that's where he met his wife, Ashlee, a Hammondsport native.
In 2016, the two founded Weis Vineyards. And the tasting room opened its doors in the spring of 2017. They've since graduated from the one-room schoolhouse to a breathtaking space overlooking the lake.
While they have a small estate vineyard planted in 2020, they mainly source grapes from other Finger Lakes growers.
Weis makes excellent Rieslings in a variety of styles, from bone dry to sweet wines. The Grüner Veltliner was also one of the best I had in the Finger Lakes, with mouthwatering acidity and crisp lemon-lime flavors.
For red wine lovers, don't miss the delicious Cabernet Franc, with beautiful cherry and cranberry notes. And try the Blaufränkisch, with its smooth red berries and a touch of spice.
When you visit, you can enjoy a tasting in the rustic but elegant barn space. Their knowledgeable tasting room staff will guide you through the experience.
Or grab a glass or flight and relax outdoors at the picnic tables overlooking the lake. All seating is first come, first served, as they don't take reservations.
Need a nibble? Their retail shop offers local cheeses, crackers, and snack packs. And keep an eye on the calendar for special events, including Thursday summer happy hours with wine, beer, food, and live music.
Keuka Lake Vineyards
At the southwestern end of Keuka Lake, you'll find Keuka Lake Vineyards — a small, family-owned farmstead.
After retiring, Mel and Dorothee Goldman settled in the Finger Lakes in 1997 and purchased a vineyard. What started as selling grapes soon turned into winemaking glory when their trial batch received resounding praise in France.
In 2005, guided by Morten Halgren of Ravines Wine Cellars, they uncorked their inaugural vintage. And adding winemaker Margot Federkiel, hailing from Napa and Anderson Valley, their team was complete.
They now have plantings on 35 acres, many on steep slopes. One is even aptly named "Falling Man" because, well, tractors have been known to take a tumble there!
Fun Fact: The Silvernail Vineyard is the site of the original Gold Seal Wines plantings. This means they have some of the region's oldest vines, like 150-year-old Concord grapevines and 50-year-old Léon Millot vines.
Keuka Lake Vineyards has exceptional Rieslings. Try the dry Riesling for a more fruit-forward profile. Or the Falling Man Riesling, grown on those dramatic slopes, strikes a beautiful balance with heightened acidity.
Their herbal Vignoles was a standout too. And for something unique, don't miss trying the old vine Léon Millot. This deeply colored hybrid grape was created in Alsace in 1911.
During the summer, tastings take place in their rustic barn. Or you can grab a glass of wine and head to the small deck with stunning views of the vineyards and lake. For larger groups, call ahead to make sure they can accommodate you.
Ravines Wine Cellars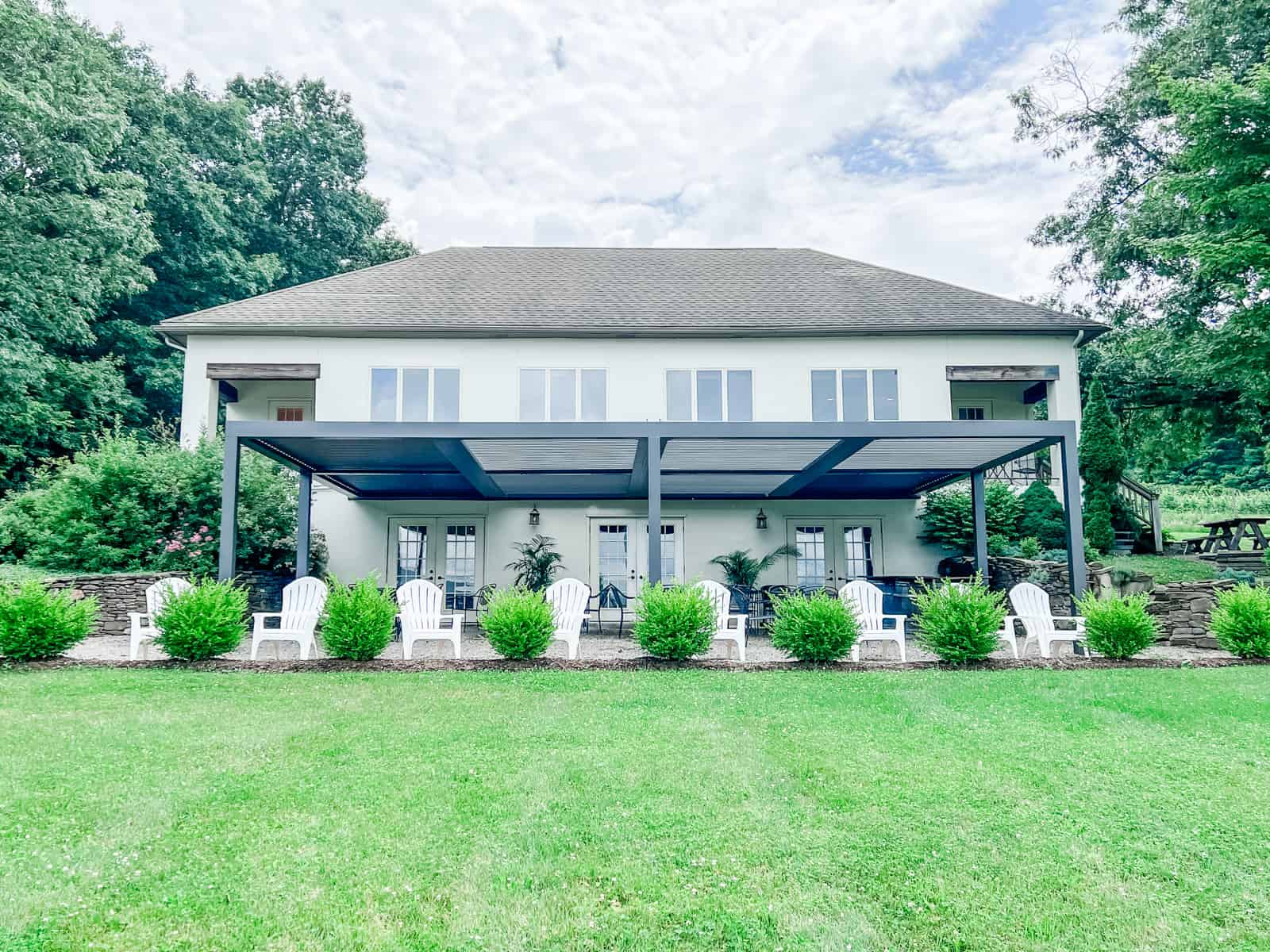 Founded in 2001 by Morten Hallgren and his chef wife Lisa, Ravines Wine Cellars brings a touch of European magic to the Finger Lakes.
Morten has winemaking roots in Provence, France, and a degree in enology and viticulture. After working his way through Bordeaux and several other parts of the United States, he landed in the Finger Lakes. And in 1998, he became the chief winemaker at Dr. Konstantin Frank before venturing out on his own.
With Ravines Wine Cellars, Morten pioneered the bone-dry, mineral-style Riesling that has become a Finger Lakes favorite. In 2003, he even won Best Dry Riesling in the World Riesling Cup.
With 130 acres of sustainably farmed estate vineyards, Ravines grows all its grapes. They specialize in dry, vinifera wines made with European techniques from regions like Burgundy and Bordeaux. And all of their sparkling wines are made in the traditional Champagne method.
Try the White Springs Riesling for beautiful floral aromas and distinctive minerality. I also thought the Sancerre-style Sauvignon Blanc was stellar too.
And for something unique, check out the sparkling Riesling. Made from nobly rotted grapes, it has a golden color. And it offers lovely honey, orange, and brioche flavors.
Ravines has two tasting rooms in the Finger Lakes. The Keuka Lake location includes a cozy indoor tasting room (reservations required!). Plus, a spacious outdoor patio overlooking the lake.
And if you get a chance to visit the Seneca Lake location near Geneva, don't miss their food and wine experiences. They were rated one of the top winery kitchens by Food & Wine magazine!
McGregor Vineyard
In the 1960s, Bob and Marge McGregor embarked on an adventure to find the perfect vineyard spot. It took some time, but in 1971, they finally snagged 70 acres on Keuka Lake's east side.
Planting 28 acres, McGregor Vineyard became one of New York State's early pioneers in Vitis vinifera. And in 1980, they proudly popped the cork on their first vintage. Fast forward to today, and the second generation is carrying the McGregor torch.
Everything at McGregor Vineyard is done by hand, from harvesting the grapes to crafting the wines. They're all about quality, keeping yields low.
But let's talk about their claim to fame — Saperavi. This ancient grape from the Republic of Georgia is a rare find in the U.S. McGregor Vineyard was America's first commercially successful Saperavi producer. This bold red wine ages like a boss, at least 8-10 years and some even longer.
During my visit, I did a comparison tasting of the 2019 Saperavi Reserve vs. the 2017 Grand Reserve, and you could already see the difference. The tannins had smoothed out. And it was developing deep earthy notes, balanced nicely with blackberry and black plum.
Now, McGregor Vineyard isn't a one-hit wonder. Their Cabernet Franc is also delicious, with soft tannins and ripe berry flavors. And I enjoyed their Gewürztraminer — perfumed but not too overpowering as some can be.
When you visit, prepare to be wowed. Their rustic tasting room has spectacular views overlooking scenic Keuka Lake. You'll be treated to a seated tasting with tasty food pairing bites.
Oh, and don't forget to book ahead — reservations are recommended. But if you didn't plan ahead, they'll do their best to accommodate you.
Domaine LeSeurre Winery
Domaine LeSeurre is where French flair meets Finger Lakes fun. Conveniently located next door to Weis Vineyards on the east side of the lake, this winery is the brainchild of Céline and Sébastien LeSeurre.
The two come from French winemaking families. After pursuing wine-related degrees and working in wine regions throughout the world, Céline and Sébastien met in New Zealand. Together, they embarked on a global winemaking adventure before falling in love with the Finger Lakes region.
At Domaine LeSeurre, they source grapes from local growers and age their wines in French oak barrels of varying ages. They're also dabbling in traditional method sparkling wines, although these are only available through the wine club.
While Domaine LeSeurre make a variety of wines, I was partial to their red wines. Try the Reserve Special Blend — a delightful mix of Cabernet Franc, Cabernet Sauvignon, and Merlot. I also enjoyed the spicy Lemberger and the light and savory Pinot Noir.
No reservations are needed for standing tastings at the bar. Afterwards, you can relax on their outdoor terrace and enjoy beautiful lake views while sampling their selection of boards, local cheeses, and French gourmet treats.
Or for an elevated tasting, reserve a spot for a wine and food experience. Wine and French macaron pairings? Yes, please!
Looking for more Eastern United States wine regions to explore? Check out Long Island wineries, wineries near Charlottesville, VA, Northern Virginia wineries, and New Buffalo wineries in Michigan.
Or explore New England with these Cape Cod wineries, Southern Maine wineries, and wineries in Newport, RI.
Keuka Lake Wine Tour
If you're looking for a hassle-free way to explore the Keuka Lake region, this is a great tour option. It includes transportation and tastings at four wineries, including the legendary Dr. Konstantin Frank.
If you're DIYing it, it's about an hour's driving time to do a complete circuit of Keuka Lake. So, you can hit the highlights in one day.
Or split it over two days for the full experience. On day one, head to the east side of Keuka Lake to cover McGregor, Weis, Domaine LeSeurre, and Ravines.
And then visit Dr. Konstantin Frank and Keuka Lake Vineyard on the west side on day two. While you're in the area, swing up to Heron Hill Winery for awesome views.
Recommendations may be affiliate links on which I earn a small commission at no additional cost to you. This helps me share new wine destinations with you and I only recommend products and services that I love and think you'll love too!
Planning Your Visit to Keuka Lake Wineries
When Is the Best Time to Visit Keuka Lake Wineries?
The sweet spot is typically from May to October when the weather is splendid and the vineyards are at their prime.
But each season offers its own charm, whether you want to soak in autumn's vibrant hues or cozy up for more intimate tastings during the winter off-season.
If you're there in July, check out the Finger Lakes Wine Festival to sample fabulous wines from many of the region's producers. And enjoy live music and culinary classes.
How Many Wineries Are Around Keuka Lake?
Keuka Lake is home to approximately 20 wineries, including renowned producers and small family-owned estates.
are wineries in the finger lakes open Year-round?
Many of the wineries in the Finger Lakes, including the ones around Keuka Lake, are open year-round. Just be sure to check their website before stopping by in the off-season.
Do You Need Reservations for keuka lake wineries?
Not all Keuka Lake wineries require a reservation. But it's a wise move to make one, especially on weekends and holidays.
Some have limited spots for tastings and tours, so reserving in advance ensures you'll snag your preferred time slot. And you won't be stuck waiting, or worse, turned away.
How Much is a Tasting at keuka lake wineries?
While the days of free tastings in the Finger Lakes region are gone, you still won't break the bank at Keuka Lake wineries.
With tasting fees averaging just $10 to $15, it's a steal compared to other popular U.S. wine regions. And some wineries even offer a refund on your tasting fee with a minimum purchase or if you become a wine club member.
Can I Bring My Kids to the Wineries?
Unlike regions like Napa and Sonoma, many of the Finger Lakes wineries are fine with the kiddos joining. Some even offer grape juice or other non-alcoholic beverages to keep the little sippers happy. Just keep in mind that policies vary, so check the winery's website before packing up the crew.
Where to Stay for Visiting Keuka Lake Wineries
Keuka Lake has two main towns: Penn Yan at the northern tip and Hammondsport in the south. Both make excellent base camps for hitting the Keuka wine trail.
Now, if your plan includes exploring wineries on Seneca Lake too, Penn Yan is the way to go. It offers the convenience of being closer to Seneca. And you'll be near the fantastic Keuka Lake State Park to enjoy hiking, swimming, boating, and fishing.
When it comes to accommodations, let me share a couple of great options. First up is the charming Los Gatos Bed and Breakfast. Prepare to be spoiled with their award-winning breakfast and cozy atmosphere — it's the perfect place for a relaxing stay.
But if Los Gatos is fully booked the Best Western Plus Vineyard Inn & Suites is another top-notch choice to consider.
Find these and many other great options on Booking.com. Just enter "Penn Yan, New York" and select your dates below to see available options.
Have you visited any of these Keuka Lake wineries? Which one is your favorite?
Learned something new?
Shop My Travel Essentials