If you're a wine lover planning a trip to Texas, a visit to wine country is a must. And this guide to the best wineries in Fredericksburg, TX will give you all the details you need.
This historic United States town was founded by German immigrants. And it's home to some of the best wineries in the Lone Star State. With more than 50 in the surrounding area, it can be hard to tell which ones are worth your time.
But don't worry, I've done the work for you. As an American Wine Expert and WSET-certified wine blogger, I personally research, visit, and taste the wines of every region I write about. That way, you can skip right to the good ones.
So grab a glass, kick back, and learn all about this exciting Texas wine region.
While you're here, don't miss taking my wine country destination quiz! It will magically match your taste buds, travel style, and winederlust desires to reveal the wine region of your dreams. Plus, you'll get my wine region guide to make planning a breeze. Take the quiz.
History of Texas Wine
While winemaking in Texas may seem like a new thing, it's been going on a lot longer than you think. The first wines were made by Franciscan missionaries in the 1600s.
European settlers also found success with the Mission grape, a Vitis Vinifera species, in the 1800s. They found Texas' dry conditions and sandy soils helped avoid the spread of vine diseases and the root louse phylloxera.
Texas even helped save France's wine industry through research on phylloxera. But winemaking fizzled out before Prohibition. And it wasn't until the 1960s that its revival began.
Clinton "Doc" McPherson was a chemistry professor at Texas Tech. After traveling the U.S. to research Vitis Vinifera and hybrid grape growing, he decided to try an experiment.
Doc planted 140 grape varieties in an area called the Texas High Plains. And it worked! Based on the varieties that thrived, he founded Llano Estacado Winery in 1976.
New producers trickled in over the next few decades. And then the Texas wine industry really took off when the state passed a bill in 2005 allowing wineries to sell and ship wine directly to consumers.
COVID played a big role too. The area around Fredericksburg became a hot spot for tourism when other areas of the country remained closed.
And with Texas Tech now offering a whole program dedicated to viticulture and enology, Texas is producing its own winemakers.
These days, the industry is exploding, with new wineries popping up all over the place. Texas is now 4th in the U.S. for the number of wineries and 5th in wine production.
Pin for Later!
Texas Wine Country Climate
Fredericksburg is in the heart of Texas Hill Country. While this American Viticultural Area (AVA) is the largest in Texas at 15,000 square miles, there are only a little more than 1,000 acres of vineyards.
Why? Well, the hot, humid conditions are not exactly ideal for many grape varieties. Growers have to deal with frost risk due to early spring budding. And summer thunderstorms mean higher fungal disease pressure. Or rainfall can dilute flavors if it occurs close to harvest.
But Fredericksburg is convenient to several major Texas cities like Austin and San Antonio. So, many producers build their winery facilities, or at least tasting rooms, in the area.
Most of the grapes for wineries in Fredericksburg come from the Texas High Plains AVA. Yes, that's right, the same area where Doc McPherson conducted his experiment.
This AVA is located way up north on the panhandle. It's smaller than the Texas Hill Country AVA. But it's the most important in Texas, with 85% of the state's wine grapes grown here.
Vineyards on this flat, elevated plateau sit at 3,000 to 4,000+ feet above sea level. This means cooler nights that slow ripening and retain fresh acidity in the grapes.
The well-draining soil is free of phylloxera. Although, Pierce's Disease is a common issue, which can kill grapevines by blocking their water intake.
And while they do still have to deal with hail and frost in this area, humidity is much lower. So, there's less risk of fungal disease.
All of this allows a greater variety of grapes to thrive and produce premium-quality wines.
What Wine Is Fredericksburg Known For?
The early Fredericksburg wineries went for well-known grape varieties that they knew would sell. But popular ones like Chardonnay, Merlot, and Cabernet Sauvignon didn't do so well in the sweltering heat.
So many have smartened up and moved to hot-climate grapes.
With the Texas High Plains often being likened to Spain's Meseta Central, they've planted Spanish varieties like Tempranillo, Monastrell (aka Mourvèdre), and Graciano.
You'll also see a lot of Rhône-style dry wines from Viognier, Roussanne, and Grenache. And other Southern-France varietals like Tannat, Picpoul, and Counoise. Central and Southern Italian grapes like Sangiovese and Aglianico are common too.
There's still quite a bit of Cabernet Sauvignon, which can be made well if grown on the right site. This is used for both single varietals and Bordeaux-style blends with Merlot and Petit Verdot.
With so many new producers popping up and the influx of tourists, there's a shortage of grapes to go around. That means they can be expensive, driving the price of Texas wines up. Don't be surprised to see bottles going for premium prices.
Plus, hail and frost (or even snow these days) can wipe out entire harvests in some years. So, some are sourcing from wine regions outside of Texas in places like California and Oregon.
But it recently became harder for those supplementing to get away with labeling their wines from specific areas of Texas.
A law passed in 2021 now requires that anything labeled with a county, AVA, or vineyard name must be made with 100% Texas grapes. The broader Texas appellation can still be used for wines with at least 75% of state-grown fruit.
When Is the Best Time to Visit Wineries in Fredericksburg?
Summers in Texas are hot. August is the warmest month, with an average high of 92° F in Fredericksburg.
And you may not think of sweaters and scarves when it comes to this southern state. But the continental climate brings temps down to a frosty 34° F in January.
For a few blissful weeks in the spring and fall, the weather is just right for enjoying this beautiful wine region. March and April bring the famous Texas bluebonnets, blanketing pastures and hillsides with their brilliant sapphire blooms.
In the fall, you can catch Fredericksburg's Oktoberfest, one of the largest in the U.S. Plus, late October also sees the Fredericksburg Food and Wine Fest.
To save a few bucks, time your trip so you're there during one of the Texas Wine Trail's Passport events. These quarterly self-guided passes include tastings at up to 4 participating wineries per day. Plus, discounts on your bottle purchases.
The Best Wineries in Fredericksburg, TX
William Chris Vineyards
Winemakers William (Bill) Blackmon and Chris Brundrett got together in 2008 and founded William Chris Vineyards. The two shared a vision to make great wines from all-Texas fruit at their Fredericksburg winery.
And you might say they've succeeded, being named 56 out of 100 in the 2022 list of World's Best Vineyards.
As president of Texas Wine Growers, Chris also led the charge in passing stricter wine labeling laws. And he's a huge advocate internationally for Texas wines.
I had the opportunity to meet him briefly during our visit and he had just gotten back from traveling around Japan and other parts of the world sharing Texas wines.
Many of the grapes for William Chris' wines come from the Texas High Plains. And the team believes in minimal intervention in the winery, letting the fruit speak for itself.
William Chris specializes in Mourvèdre, with an impressive 9 different versions.
One of the standouts for me was their Artist Blend, a Rhône-style GSM (Grenache, Syrah, and Mourvèdre). Each year they have a contest to choose the artwork on the bottle. The current release features a beautiful butterfly drawn by a local 17-year-old.
I also loved Enchanté, a Bordeaux-style blend dominated by Cabernet Sauvignon. And we couldn't resist sharing a bottle of the delightfully effervescent Pét-Nat (short for Pétillant Naturel) rosé after our tasting.
If you're looking for Fredericksburg wineries with food, this is a great spot. You can preorder a picnic with sandwiches, sides, and dessert to enjoy on their beautiful patio.
They also offer special experiences like food and wine pairing and a monthly supper club. And don't miss the live music on weekends.
Lost Draw Cellars
As another believer that Texas wines should be made from Texas grapes, Lost Draw Cellars has close ties with William Chris Vineyards.
Andy Timmons was a farmer in the Texas High Plains. In 2000, he decided to add wine grapes to his plantings. Coincidentally, his nephew Andrew Sides decided to pursue a career as a winemaker.
Andrew's father-in-law happened to have some land in downtown Fredericksburg. And it all came together like it was meant to be.
Lost Draw Cellars produced their first vintage in 2012 and opened the tasting room in 2014. And in 2022, they added a Johnson City location.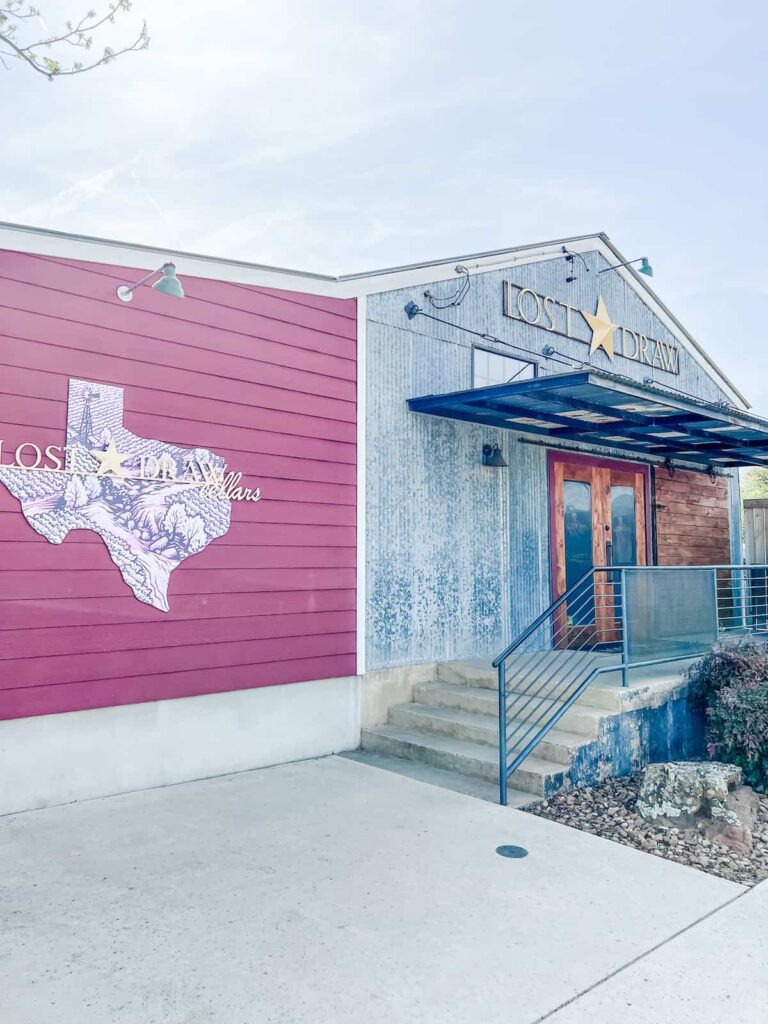 Like many others in the region, they focus on Southern France, Spanish, and Italian varieties. I particularly enjoyed the Picpoul, a high-acid grape variety found in France's Languedoc-Roussillon. It's perfect for patio sipping on a warm summer evening.
I also enjoyed the spicy Tempranillo, grown from older vines in the Lost Draw Vineyard. And the Petite Sirah, a bold wine with loads of concentrated black fruits.
You can choose between a select tasting and a reserve tasting. Or they offer food and wine tasting experiences. And you can catch live music on their patio on Fridays, Saturdays, and Sundays.
Pedernales Cellars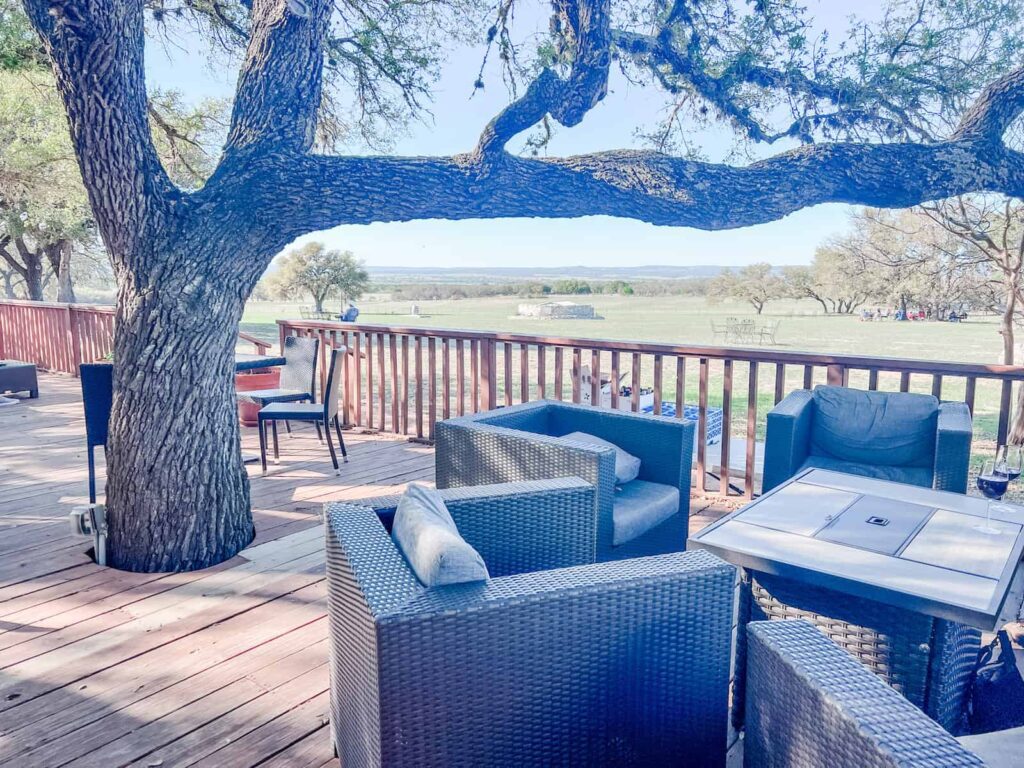 Pedernales Cellars began as an experimental vineyard in what's now the Bell Mountain AVA, a nested AVA of Texas Hill Country. This was the first viticultural area designated in Texas.
Larry and Jeanine Kuhlken saw promise in the cooler evenings and better soil of this site. So, they planted the estate vineyard in the 1990s. Over time, they were able to start producing high-quality fruit with the bold and intense flavors they desired.
Their children David and Julie founded the boutique winery in 2005 to produce small-batch wines from their parents' labor of love.
Today, they're still family owned and operated. Wines are 100% Texas grown, made with fruit from the original 17-acre vineyard and the Texas High Plains. Plus, they use sustainable practices for both grape growing and winemaking.
Pedernales focuses on Spanish and Rhône-style wines, with Tempranillo being a specialty. Their earthy and spicy Tempranillo Reserve was one of the best I tried in the region. And the youthful Joven style is delicious lightly chilled on a warm day with its fresh and juicy red fruits.
They're also making some interesting blends with grapes normally found in the Douro Valley, Portugal like Touriga Nacional and Tinta Cão. Plus, an intense Graciano, a grape rarely seen outside of Spain's Rioja and Navarra regions.
Pedernales' tree-shaded deck has stunning views of the Pedernales River Valley. It's the perfect place to enjoy your tasting and a glass (or two) after. Plus, they have charcuterie boards if you're hungry.
Our host was also very knowledgeable about the wines and did an excellent job guiding us through our tasting. You can choose between their Estate Tasting or an all-reds Reserve Tasting. And to go more in-depth on the winemaking process, add on a cellar tour for your visit.
Texas Wine Collective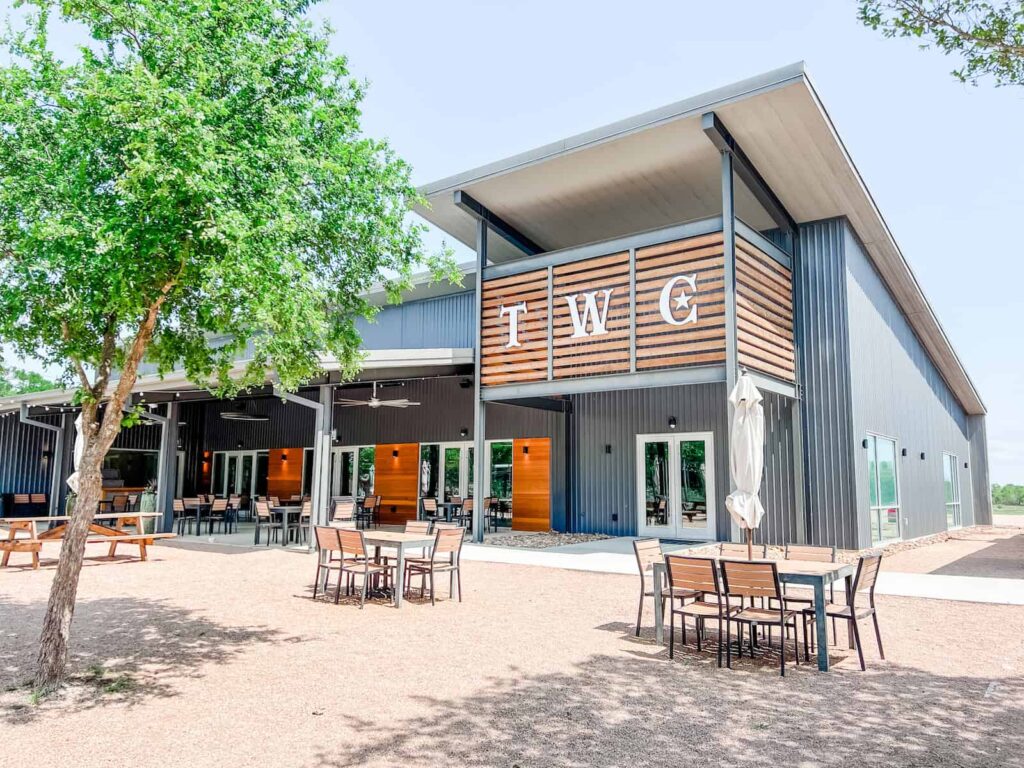 The Texas Wine Collective is a great spot to be able to taste wines from multiple producers. Three wineries came together to create one site where you can swirl and sample an array of wines made from 100% Texas fruit.
Brennan Vineyards was founded in 2001 by Dr. Pat and Trellise Brennan. The two are committed to producing authentic Texas wines that each have their own unique history and story.
They're able to cover 60-70% of the grapes needed for their award-winning wines from the estate vineyards in Comanche and Newburg. And the rest is sourced from carefully selected growers throughout Texas.
McPherson Cellars is named after the one and only Doc McPherson. After studying winemaking and working at the family's Llano Estacado Winery, Doc's son Kim launched McPherson Cellars in 2000.
He makes sustainably farmed, small-batch wines from fruit that exclusively comes from the Texas High Plains.
Lost Oak Winery completes the Texas Wine Collective trio. Gene Estes began making wine in his garage in the 1960s.
He eventually turned his passion into a profession by purchasing Lost Oak Winery in 2006. And his daughter Roxanne Myers runs the place today. Jim Evans is the long-time winemaker, having been with Lost Oak since 1996.
Highlights from my tasting include the Brennan Vineyards Viognier. It had nice acidity (which sometimes Viognier lacks) and yummy peach and nectarine on the palate.
I also enjoyed the McPherson Cellars Alicante Bouschet. Known for its red flesh, this grape produces rich red wines. And this one didn't disappoint, with silky tannins, red plum, and a little peppery spice.
I liked that Texas Wine Collective gives you 3 options for the Signature tasting. You can do a mix of white and red, all red, or sweet wines. They also offer cheese pairings and food and wine experiences.
Saturday afternoons are a great time to grab a charcuterie board and listen to some live music on their large lawn.
Grape Creek Vineyards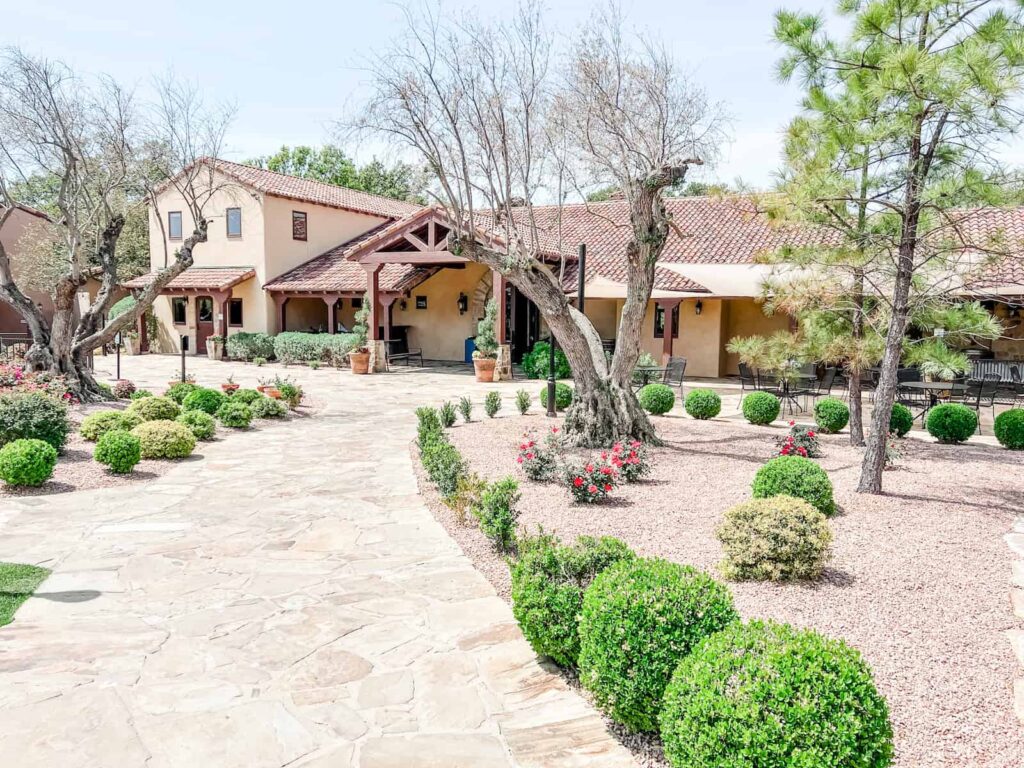 Driving down Highway 290 into Fredericksburg, you'll pass by dozens of wineries. But in the 1980s, things were a little different. As the oldest winery on this road, Grape Creek Vineyards was a pioneer when it opened in 1983.
Jason Englert has been the winemaker since 2004. He started off working as the assistant winemaker at Doc McPherson's Llano Estacado winery. Since then, his wines have won quite a few medals at wine competitions throughout the country.
Brian and Jennifer Heath purchased Grape Creek in 2006 and have done a lot to grow the operation. They planted the estate vineyards and upgraded the Grape Creek winery facilities. Plus, they've expanded into four different labels, including a bubbly line and an ultra-premium collection.
The majority of their wines are labeled under Grape Creek. These wines are made from grapes sourced from the Texas High Plains. Although, due to the volume needed, they do supplement with out-of-state fruit for some wines.
The Cabernet Trois was a standout for me in this line. It had a silky texture and ripe blackcurrant and black cherry fruit.
The Grape Creek Estate wines are made from grapes grown on their 25 acres of vineyards in Texas Hill Country. And they also own 22 acres in the Willow Creek District AVA of Paso Robles, CA. These are used to make the Heath Vineyards wines (not to be confused with their Health Sparkling Wines line).
I was able to try both the Pinot Noir and Syrah from Heath Vineyards. While these aren't Texas wines, I have to say they were both outstanding.
Jenblossom is Grape Creek's newest label. These are ultra-premium wines with a price tag to match. The Scary Good is the line's signature wine. This 100% Cabernet Sauvignon is made with grapes from Napa Valley's Pritchard Hill.
Grape Creek's elegant downtown Fredericksburg tasting room is a convenient spot to sample a flight. Our host was exceptional at describing the wines. And we bonded over having recently taken the WSET Level 3 exam.
If you want to enjoy a little "Tuscany in Texas," head to the original location on 290. The terracotta-tiled tasting room will make you feel like you've stepped into an Italian village. This location also offers more options for tastings and tours.
And for wine club members, you can enjoy a meal at Stout's Signature, their on-site restaurant.
Heath Sparkling Wines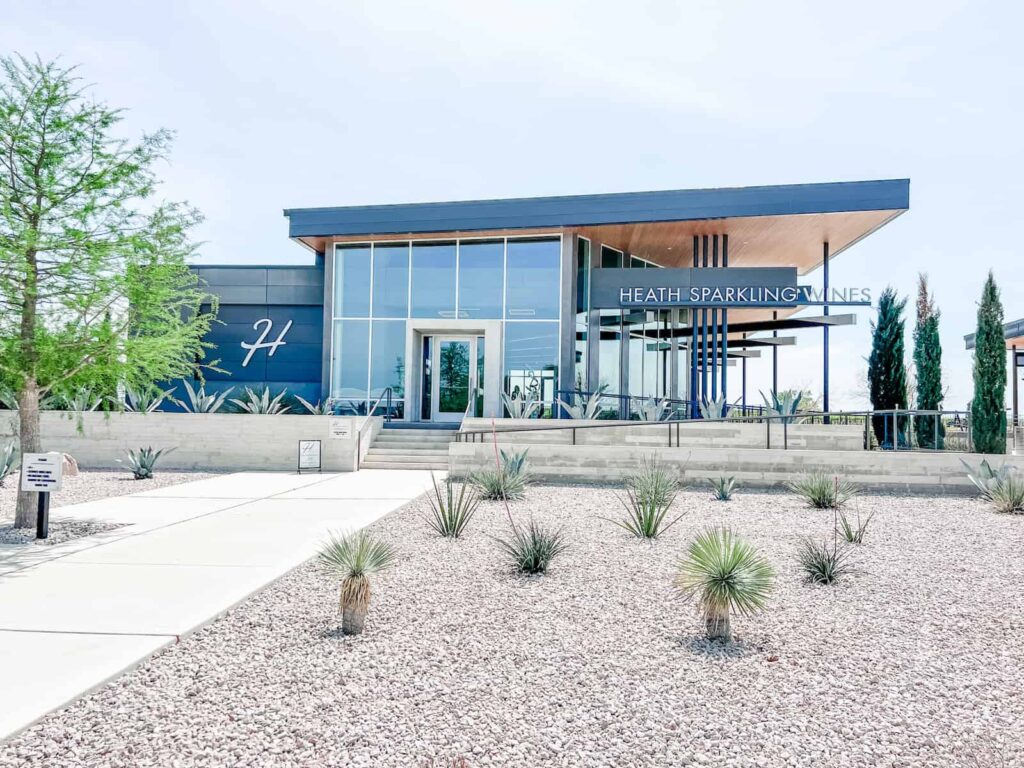 Heath Sparkling is the first winery in Texas dedicated to producing sparkling wines. While technically part of Grape Creek Vineyards, it's a separate tasting experience. But the beautiful tasting room is just across the parking lot from Grape Creek so you can do them back-to-back.
All of Heath Sparkling's bubbly is made in a dry style using the traditional method found in Champagne. These spend 18 months on the lees (the leftover yeast particles from fermentation), which is what gives the wines more of those toasty and biscuity aromas and flavors.
Grape Creek's winemaker Jason Englert oversees the first fermentation and blending at the winery in Texas. But due to the excessive costs of equipment and specialized staff, the wine is sent to California for the in-bottle secondary fermentation.
Their signature wine, Euphoria, uses the traditional Champagne grapes of Chardonnay and Pinot Noir. Plus, they make a Blanc de Blanc from 100% Chardonnay and a rosé from 100% Pinot Noir.
The Ebullience is an interesting find. Made in the Ramato style found in Italy's Friuli region, juice from Pinot Grigio grapes spend time on the skins (called maceration). The pinkish-grey color of the skins gives the wine a copper hue. And the maceration adds texture and richness to the wine.
The Heath Sparkling tasting experience is one of the most unique in the Texas Hill Country. Small bites are paired with each sparkling wine. These are changed up seasonally. But my favorite was a strawberry rhubarb parfait on a vanilla wafer along with a sip of the Adoration rosé.
We had a blast with our tasting host, who entertained us with stories from his wine travels in Chile. And he was very knowledgeable about the wines and the winemaking process.
It's a popular spot, so be sure to make a reservation, especially on weekends.
Augusta Vin
This newcomer to the Texas wine scene opened its doors in 2019. Augusta Vin's stunning property takes its inspiration from Napa Valley, but with a Texas twist.
Planted in 2017, the estate vineyards include 10 varieties that can withstand the Texas heat. Grapes also come from the Texas High Plains and Monterey and Lodi, California.
You'll find Italian, Spanish, and Southern French varieties. The smoky and spicy Mourvèdre Estate Reserve was a winner for me. And I also enjoyed the Estate Tannat.
Love rosé? You're in luck because Augusta Vin has a whole flight of them. The Sirens Brut Rosé was stunning. Made from the Counoise grape found in Southern France, this delicate sparkling wine has a beautiful pale pink color and delicious flavors of raspberry and cherry.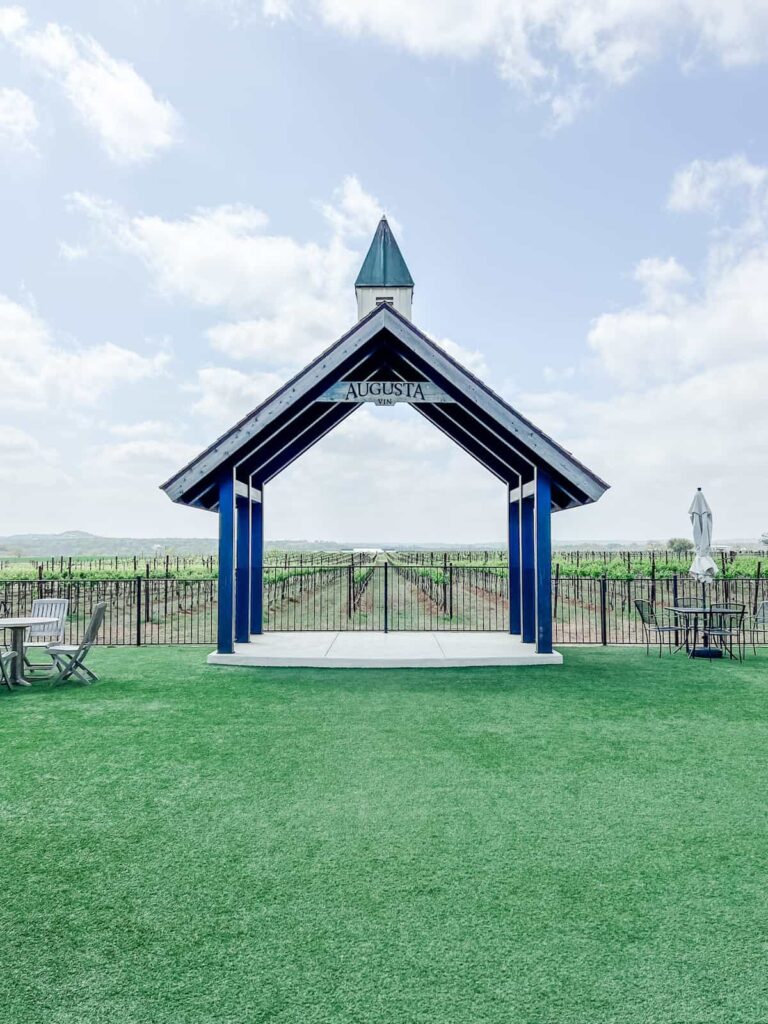 Our tasting host was delightful and shared great information on the wines. Having worked at other wineries in the area, she even gave us some insider tips on ones to check out.
I like that Augusta Vin has a variety of options for wine flights. You can sample a mix of white wines and red wines, all rosé wines, or all red. Or go for the elevated tasting if you want to experience their top reserve and estate wines.
And if you're looking for something to snack on, they have a great food menu. There's something for every taste with cheese plates, charcuterie boards, and sweet treats.
Hilmy Cellars
Erik Hilmy decided to pursue his passion for winemaking in 2008 when he opened Hilmy Cellars. The clay soil vineyard site he selected in the Texas Hill Country is one of the largest in Fredericksburg.
Erik started with Sangiovese but has expanded to other red grapes like Malbec, Tempranillo, and Cabernet Sauvignon. Hilmy also sources from the Texas High Plains and California. And they use French and American oak and stainless steel for their wines.
The current winemaker, Michael Barton, is among the many in the area who came from Doc McPherson's Llano Estacado Winery.
I enjoyed the Albariño, a Spanish grape with refreshing acidity and yummy lemon and melon flavors. And like Augusta Vin, Hilmy is also making a beautiful Counoise rosé.
The reds are an interesting style, with the Sangiovese being one of the lightest I've had. The Tempranillo was a standout for me.
All of Hilmy's tasting room staff are WSET Level 2 certified, so you're guaranteed to get someone who knows what they're talking about.
And you can enjoy their wines in the rustic tasting room adorned with artwork from local artists. Or relax with a glass of wine in an Adirondack chair on the beautiful deck overlooking the vineyards.
You can even enjoy some live music on Saturday afternoons while munching on a charcuterie board.
Signor Vineyards
Clay Signor comes from a family of horticulturalists. His great-grandfather owned the famous Teas Nursery in Houston.
Clay carried on the family's green thumb and purchased the first land for what became Signor Vineyards in 2010. It now stretches to more than 200 acres of the Pedernales River Valley.
Vines were planted in 2015 on a natural bluff that receives cooling effects from the nearby rivers. Mediterranean grapes like Mourvèdre, Sangiovese, and Tannat are hand harvested. Signor also sources from the Texas High Plains and places like the Rogue Valley in Oregon.
The tasting room opened to the public in 2018. This gorgeous property is bedecked with colorful flower gardens, charming white buildings, and an adorable wine barn. It's for sure one of the most Instagrammable spots in the area.
Signor's Roussanne was one of my favorites of the tasting, with ripe peach and tropical fruit flavors. This late-ripening grape is a tough one to grow but does well in the dry conditions of the Texas High Plains.
I also liked the Mozzafiato, a blend of the Italian grapes Sangiovese, Barbera, Primitivo, and Dolcetto.
Signor doesn't take reservations for standard tastings if you're not a member. But we had no problem getting a spot on a busy Saturday. And you can book the elevated tasting in advance, which is offered on select days.
If you're looking for some snacks, check out JoAnna's Market. Named in memory of Clay's mother, you can pick up some delicious food items and ranch-flavored gifts.
Plus, keep an eye on their special events calendar for fun experiences like charcuterie classes, vineyard-side yoga, and even engagement packages. And they have live music on Saturdays.
Becker Vineyards
Founders Richard and Bunny Becker bought a cabin with 46 acres of land in 1990. They discovered native grapes on the land, which sparked the idea to plant a vineyard of their own.
Since the first harvest in 1995, the Becker Vineyards estate has grown to 308 acres, with 56 of those under vine. This includes 9 varietals, including Petit Sirah and Sauvignon Blanc.
They also source grapes from the Texas High Plains. And from places like Sonoma for their collaboration wine with Francis Ford Coppola Winery.
Outside of having their wines served at the White House, one of Becker's claims to fame is that they were the first to plant Viognier in Texas. Richard and Bunny were inspired by a trip to France's Rhône region, where they found similarities to the Texas Hill Country climate.
Other wines include Roussanne, white and red Rhône blends, Tempranillo, and several different Cabernet Sauvignons. I enjoyed the one made with grapes from the Canada Family Vineyard in the Texas High Plains.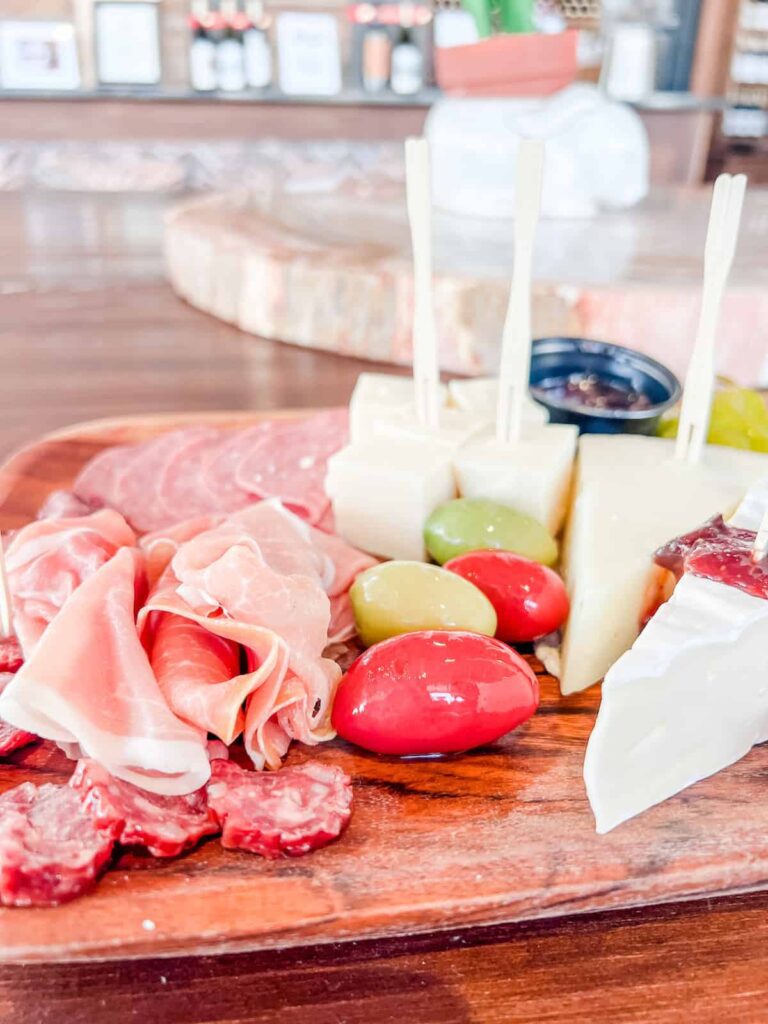 If you're looking for a snack while sipping your way through Fredericksburg, their downtown tasting room is a great place to stop. They have a delicious charcuterie board you can enjoy while sampling their wines.
Or head out to the beautiful estate with a winery building modeled after a 19th-century German stone barn. Grab a spot on the outdoor patio with a view of their 500 lavender plants, which bloom in April and May. And you can purchase products made from these perfumed plants.
At the estate, Becker offers tours, private tastings, and access to special library wines. Got a large group? You can make a reservation for 8 or more in advance.
Looking for more U.S. wine destinations? Check out Dry Creek Valley wineries and North Fork Long Island wineries. And don't miss these wineries near Charlottesville, VA, wineries in Northern Virginia, and Southwest Michigan wineries.
Wine Tasting in Fredericksburg
With more than 50 wineries in the Fredericksburg area, you could easily spend an entire week here and not run out of places to visit.
I'd recommend spending a day exploring downtown Fredericksburg wine tasting rooms. And then another day or two visiting wineries in the surrounding area.
If you have a car, most of the wineries are within a 10-20 minute drive from town.
But if you prefer not to drive, this is a great wine tour that will take you to a few boutique wineries. It includes transportation, tastings, and lunch.
Recommendations may be affiliate links on which I earn a small commission at no additional cost to you. This helps me share new wine destinations with you and I only recommend products and services that I love and think you'll love too!
Do You Need Reservations for Wineries in Fredericksburg, TX?
Most places prefer you make a reservation, especially on weekends. But you'll find some tasting rooms that accept walk-ins or don't take reservations.
If you're there on a weekday like Monday or Tuesday, places will be pretty quiet so you can often get away without booking in advance. But just be sure to check their hours as some of the smaller producers may be closed.
How Much is a Tasting at Fredericksburg Wineries?
Tastings are not cheap in this popular region. Expect to shell out between $25 to $35 a pop. This typically includes sampling 4-6 wines. Although, bonus pours are a big thing here. Plus, some tastings will include extras like small-bite food pairings.
Pro Tip: If you join the winery's wine club, you'll often be credited the cost of your tasting.
Where to Stay for Visiting Wineries in Fredericksburg, TX
Fredericksburg is in the heart of Texas Wine Country. So, it's the best place to stay for visiting wineries along the Highway 290 wine road. The town's German heritage means there are plenty of delicious restaurants. Don't miss the duck schnitzel at Otto's German Bistro.
And you'll be able to walk to the downtown tasting rooms. While you're there, check out La Bergerie, an awesome wine bar.
As a small town, there aren't a ton of hotel options in Fredericksburg. For this reason, I'd recommend booking a vacation rental through VRBO. We stayed at a cute one with a hot tub that was within walking distance of Main Street.
But if you prefer a hotel, I'd suggest the Fredericksburg Inn & Suites. It's in a great location and they even include breakfast.
You can find the Fredericksburg Inn & Suites and many other great options on Booking.com. Just enter "Fredericksburg, Texas" and select your dates below to see available options.
Have you visited any of these Fredericksburg wineries? Which one is your favorite?
Learned something new?
Shop My Travel Essentials