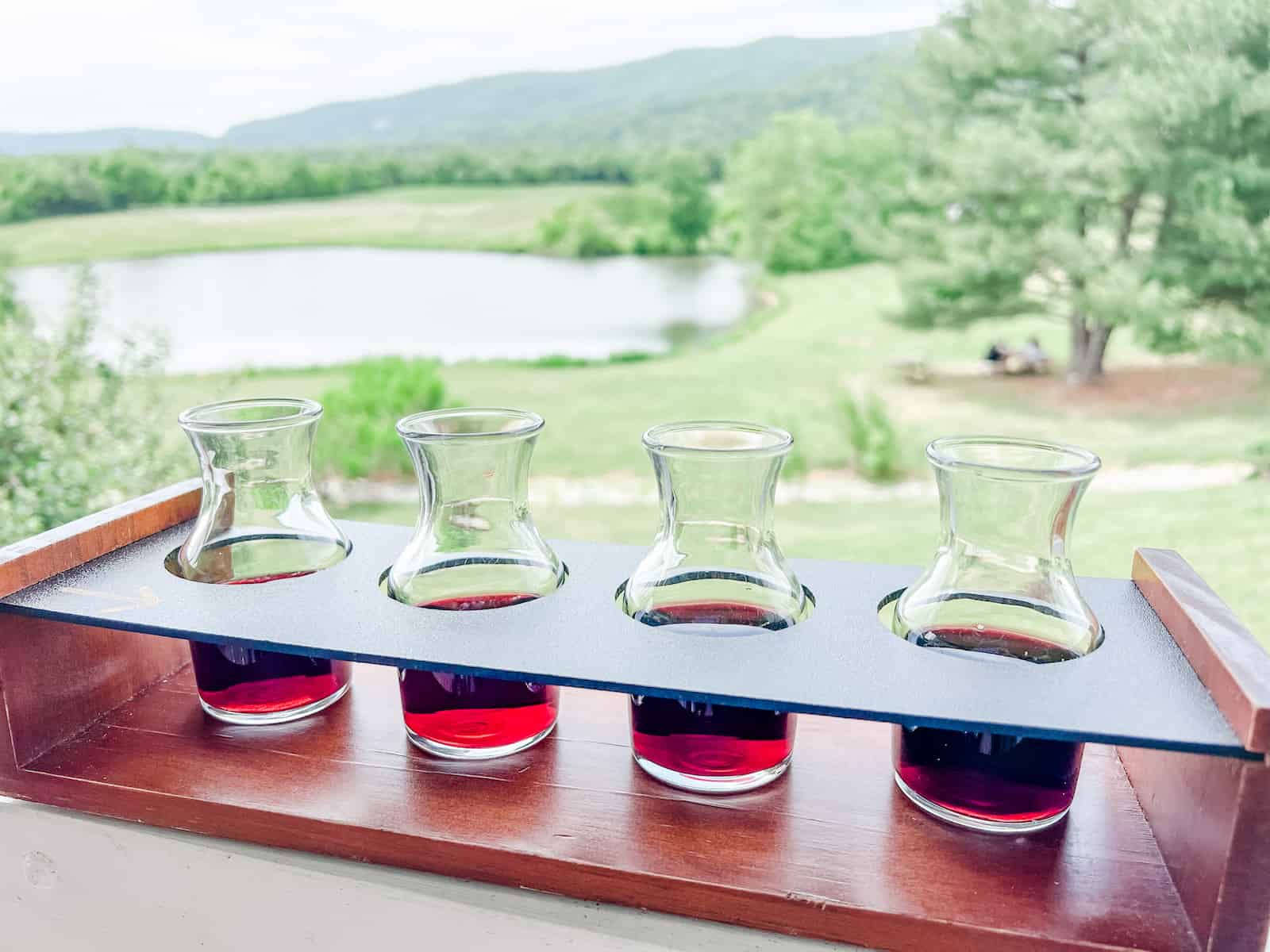 If you're a wine lover planning a trip to Virginia, a visit to wine country is a must. And this guide to the best wineries near Charlottesville, VA will give you all the details you need.
With more than 40 wineries in the Charlottesville area, finding the perfect sip can be a daunting task. But fear not, my fellow wine lover!
As an American Wine Expert and WSET-certified wine blogger, I've done the legwork for you. I've sniffed, swirled, and sipped my way through the region to bring you this ultimate guide. That way, you can skip right to the good ones.
Plus, I'll fill you in on all the inside info. From the fascinating history of Virginia winemaking to a wine-loving founding father to famous varietals, you'll sound like a pro in the wine tasting rooms.
While you're here, don't miss taking my wine country destination quiz! It will magically match your taste buds, travel style, and winederlust desires to reveal the wine region of your dreams. Plus, you'll get my wine region guide to make planning a breeze. Take the quiz.
History of Virginia Wine
Let's take a little trip through the history of winemaking in this United States region.
It all started back in 1607 when the Jamestown colony members attempted winemaking with local native grapes. Let's be honest, the results weren't exactly a taste sensation compared to European wines.
Fast forward to the 1770s, when Thomas Jefferson got together with Philip Mazzei. This wine-loving founding father and the Italian viticulturist were on a quest to grow grapes and make wine. Unfortunately, frost and various challenges dampened their efforts. But they did manage to produce a couple of barrels of wine from wild grapes.
In the 1820s, Dr. D.N. Norton stumbled upon a hybrid grape now known as Norton, which tasted better. Plus, it was resistant to the pesky root-louse phylloxera. And this set off a winemaking boom in the region.
But then Prohibition hit. So, it wasn't until the 1950s that success was found with experimental plantings of Vitis Vinifera grapes (the good kind from Europe).
The 1970s brought a wave of new wineries, starting with Barboursville Vineyards. Gianni Zonin and Gabriele Rausse, now known as the "father of Virginia wines," paved the way for others.
And by 1984, the Monticello American Viticultural Area (AVA) was established. Today, there are more than 300 wineries in Virginia, with 40 part of the Monticello Wine Trail.
I don't know about you, but I think Thomas Jefferson would approve!
Monticello AVA Climate and Terroir
This Central Virginia AVA is east of the Shenandoah Valley AVA and the Blue Ridge Mountains. Not to be confused with Piedmont, Italy, this area is also known as the Piedmont region. And it's Virginia's most important in terms of wine volume.
Back in the 1880s, it used to be called The Grape Belt of Virginia. But when the AVA was formed, it got its name from none other than Thomas Jefferson's famous plantation.
So, what makes this place so good for winemaking? Well, gaps in the Blue Ridge Mountains allow cold air to flow through and mix in the Monticello AVA. The cool air sinks and warmer air gets drawn closer to the ground. This helps reduce frost damage, lengthens the growing season, and makes it one of the best East Coast regions for growing grapes.
And in case you want to nerd out a bit more, let's talk about soil. You've got iron-rich clay, sandy soil, loam (a mix of sand, silt, and clay), and even some granite thrown into the mix. The loamy Virginia soil is a champ at draining excess water while still giving the vines just enough nutrients.
What Wine Is Charlottesville Known For?
Charlottesville is known for Cabernet Franc, Chardonnay, and Viognier (the state grape).
You'll also come across Merlot, Petit Verdot, Petit Manseng, and Cabernet Sauvignon. Although making top-notch Cab Sauv can be challenging in this cooler climate.
Don't miss out on the delightful Meritage blends (pronounced like Heritage), which bring Bordeaux-style red wines to the table.
While Vitis Vinifera grapes dominate three-quarters of Virginia's wine production, keep an eye out for interesting hybrids like Norton and Chambourcin.
The Best Wineries Near Charlottesville, VA
Barboursville Vineyards
When in Virginia wine country, Barboursville Vineyards is THE place to start. Thomas Jefferson himself designed the estate back in the day for his buddy James Barbour. It was accidentally destroyed by a fire on Christmas Day 1884, but we won't get into that.
Fast forward to 1976 when the Zonin family came into the picture. As the head of one of Italy's oldest wine families, Gianni and Silvana Zonin were looking to expand outside of the Veneto region.
Gianni, along with his childhood friend Gabriele Rausse, found the perfect site at this historic estate. It took several attempts to get it right in this unpredictable climate, but eventually, they succeeded.
Then, in 1990, Luca Paschina stepped in as winemaker. The vines were really coming into their own and Luca helped to take things to the next level. He continues to be the winemaker today.
The star of the show is Octagon, named after the octagonal drawing room in Thomas Jefferson's design for James Barbour's mansion. This beautiful red blend has soft, silky tannins and ripe cherry and plum flavors.
I also loved their Italian varietals, with the Vermentino, Nebbiolo, and Sangiovese being my favorites. And they just released an incredible vintage Blanc de Noir sparkling wine.
When you visit Barboursville, there are a couple of options for tasting experiences. Hit up the Discovery Tasting Room for a self-serve adventure. Or step into the Library 1821 for a seated tasting of their best wines, including reserve and library wines.
The library also has a great menu with a cheese board, charcuterie, and other food to pair with your wine. Or bring a picnic to enjoy on the decks by the wine barn.
And if you're looking for a unique place to stay, the historic manor house got a makeover and is now an inn.
Pollak Vineyards
This small family-owned gem was founded in 2003 by Margo and David Pollak. The two share a passion for wine. David's got some serious wine street cred too, having worked in Sonoma's Russian River Valley. And he helped establish one of the first wineries in Carneros, Napa.
Pollak Vineyards focuses on traditional French varietals. They've got about 40 acres of vineyards, and only use estate-grown fruit to make their award-winning wines.
Grapes are hand-harvested and held in a cold room to stabilize the fruit before making wine in small batches. They use stainless steel or French oak barrels. And they create some stellar reserve wines in the best years.
From their Sancerre-style Sauvignon Blanc to their soft and spicy Merlot, I liked virtually every wine I tried. Don't miss the unusually aromatic Viognier. And the Meritage is a great one to hold in your cellar.
Pollak is open Wednesday through Sunday, offering white or red flights. But you won't want to miss any of their wines. So, I'd recommend getting both to share!
They also offer a selection of cheeses and charcuterie to pair. Or they allow outside food, so you can bring your own winery picnic to enjoy on the veranda or at a lakeside picnic table. It's a great place to take in beautiful views of the water and vineyards.
Michael Shaps Wineworks
If you're a fan of Burgundy wines, don't miss Michael Shaps Wineworks. Michael himself started his winemaking journey in the early 90s, studying and training in Burgundy, France.
After making his mark as head winemaker at Jefferson Vineyards and contributing to the success of King Family Vineyards, Michael decided it was time to embark on his own winemaking venture.
He now has the Michael Shaps label, representing his Virginia wines. And here's a fun twist: he also owns and manages a winery in Burgundy called Maison Shaps.
Oh, and in his spare time, he produces wine for several other prestigious wineries throughout the state. So, you could say he's a busy guy.
I recommend visiting the main location on Harris Creek Road, where you can sample both the Virginia and Burgundy wines. The knowledgeable tasting room staff will guide you through a tasting flight at the wine bar.
Among the Maison Shaps wines, the Volnay was a standout. This elegant Pinot Noir has delicious flavors of cherry, raspberry, and dried herbs. The Aligoté was also a unique find, with interesting texture from skin contact.
On the Virginia side, the Meritage was one of the best I tasted. And if you like your tannins, make sure to try the Tannat. It needs some aging, but I had the chance to sample an older vintage and trust me, it's worth the wait.
After your tasting, take advantage of the expansive outdoor deck and patio, perfect for enjoying the scenery. Or wine club members can retreat to the more private loft room.
Short on time? No worries. Check out Wineworks Extended in downtown Charlottesville. While it's not the same as the main location, you can still explore flights of wine, wine on tap, growlers, carafes, and bottles.
Pin for Later!
Afton Mountain Vineyards
Afton Mountain Vineyards holds claim to one of the first vineyards in Virginia after prohibition. Planted in 1978, it sits at nearly 1000 ft of elevation, avoiding frost risk, humidity, and excessive rain.
Owners Elizabeth and Tony Smith grew up near Charlottesville and took over Afton Mountain in 2009. They doubled the vineyard's size, increasing it to 26 acres of vines with 11 different grape varieties.
Their winemaker, Damien Blanchon, brings his French winemaking expertise to the operation. With sustainable practices and respect for the environment, they're all about making quality wine with a conscience.
The self-guided tastings are a preset selection of five wines. But on Saturdays, you can reserve a guided tasting experience.
The stainless-steel fermented Chardonnay was a delight, aged in neutral oak that lets the citrus and floral notes shine through. And if you're a rosé lover, you'll love Afton Mountains', with its mouthwatering minerality and juicy strawberry and grapefruit flavors. For reds, don't miss the Bacco, a Super-Tuscan style red blend with bold black fruit flavors and spicy notes.
Bring your own picnic or pick up some snacks from their selection of meats and cheeses. Then relax on the lawn overlooking the vineyard.
Looking for a vineyard vacation? Afton Mountain has got you covered with their cozy cottages. It's the perfect excuse to extend your wine-filled adventure.
Early Mountain Vineyards
If you're looking for fine wines and fine dining, check out Early Mountain Vineyards. This sprawling 350-acre property has it all.
Jess and Sharon Sweely planted the first vines in 2005. But it was Jean Case and her husband Steve who took it to the next level when they purchased the place in 2010. And they expanded in 2015 to include Quaker Run Vineyards, giving them a total of 55 acres under vine.
The stunning tasting room was voted #1 in the nation by USA Today in 2016. And I can tell you it lives up to the hype.
Sip on your choice of flights, including a mix of red, rosé, and white wines. If you're a rosé lover, they even have an all-rosé flight. Or if you're feeling fancy, opt for their Elevation Tasting to be guided through a flight in their Wine Library accompanied by delicious food pairings.
Among the wines I sampled, the 2020 Eluvium was my favorite. This blend of 75% Merlot and 25% Petit Verdot had nice structure with luscious plum, blackberry, and earthy undertones.
Early Mountain also showcases wines from other top Virginia wineries. This includes some of the best wineries in Northern Virginia like Linden Vineyards and Glen Manor. So, you can sip your way around the state.
Make sure to reserve your spot in advance, especially if you want to enjoy their on-site restaurant, Our Virginia Table. Or for a more casual experience, soak up the sunshine and enjoy the picnic menu at their outdoor dining spot, the Meadow.
King Family Vineyards
Looking for a winery that offers tasty wine, family fun, and even polo? Look no further than King Family Vineyards.
Back in 1996, Ellen and David King bought the 327-acre farm with the dream of owning a polo field. But little did they know that their land had a hidden wine treasure. It was a stranger's request to lease some land for a vineyard that sparked their winemaking journey.
By 2002, they had planted vines and opened a winery. And they brought in top winemakers like Michael Shaps and Rhone Valley transplant Matthieu Finot. Today, their three sons are in on the action.
King Family is known for their Meritage and their crushable Crozé, a crisp rosé named after the town of Crozet. My personal pick was the V, a slightly spritzy and refreshing blend of Chardonnay and Sauvignon Blanc.
Enjoy your flight, glass of wine, or bottle surrounded by 30 acres of vineyards and the breathtaking Blue Ridge Mountains. The views alone are worth the trip.
No reservations needed for regular tastings. But if you want a guided tasting, a tour of the grounds, or even the chance to meet one of the founders, be sure to book online in advance.
Hungry? Local food trucks roll in on Wednesdays, Saturdays, and Sundays, so bring your picnic blanket and lawn games. And make sure to catch the free polo matches every Sunday during the summer. It's the perfect place to sip, play, and unwind in style.
Jefferson Vineyards
Jefferson Vineyards helped turn Thomas Jefferson's winemaking dreams into a reality. While it didn't happen during his lifetime, this historic spot is where Jefferson and Philip Mazzei planted grapes way back in the 1770s.
Shirley and Stanley Woodward Sr. purchased the land in 1939. And with the help of Gabriele Rausse, the "father of Virginia wine," made their first wine in 1984.
The third generation of Woodwards is running the show today. And they've become known for their Viognier, which has beautiful peach and stone fruit flavors.
I also enjoyed the Cabernet Franc. Not too herbaceous, with nice black cherry and blackberry notes and a touch of peppery spice.
Swing by for a tasting, no reservations needed. Take your pick from seasonal flight options. Or sip on a glass and snack on their selection of cheeses, charcuterie, and more.
They've got plenty of outdoor seating. Or you can bring your own chair and picnic. Oh, and don't miss the Sunday afternoon music series in the garden!
Hazy Mountain Vineyards
This newer winery/brewery is the dream project of wine enthusiasts Michael and Sandra McGinnis. The vineyards were planted in 2019 and the tasting room opened its doors in 2021.
Perched on a mountaintop, Hazy Mountain's views of the valley and surrounding mountain ranges are unbeatable.
Grapes thrive on the steep slopes of the Hazy Mountain Estate Vineyard, while an additional 50 acres of vineyards in the Shenandoah Valley AVA add to their offerings.
Winemaker Luke Trainum is a Virginia native who got his start in California. And Matthieu Finot (of King Family Vineyards) serves as his mentor and consultant.
Hazy's BDX red wine (a Bordeaux style blend) was a standout for me. And don't miss their elegant rosé made from the Austrian grape Blaufränkisch.
Enjoy guided tastings at the wine bar. Or pick up a wine (or beer!) flight and grab a spot at their open seating overlooking the stunning vistas. No reservations are needed but book ahead for the covered patio or indoor space.
If you time it right for sunset, you can order dinner from their menu of tasty pizzas, flatbreads, small plates, and shareables. And keep an eye out for fun events like murder mysteries and blind-tasting classes.
Septenary Winery
This historic estate has musical roots. Coran Capshaw, manager of the Dave Matthews Band, once owned the land and planted the first vines.
But it took the Zimmerman Family to turn those grapes into wine. Todd and Sarah acquired Seven Oaks Farm in 2014 to pursue their dream of operating a farm winery in Central Virginia. And they opened the Septenary Winery tasting room in 2017.
Since then, they've added the 10-acre Rock Castle Vineyard. And they practice sustainable viticulture. They even raise free-range Pekin ducks and grass-fed cattle on the property.
Fun fact: The name comes from seven oak trees that were on the estate. Each was named after a Virginia president, but only the one named Thomas Jefferson survived the 1954 hurricane. Septenary comes from "sept," the French word for seven.
Like many in this region, Septenary specializes in Viognier, so don't miss trying it! But you can choose from their latest selection of whites, rosés, and reds like Chardonnay, Merlot, and even a port-style wine.
Stop by for a guided tasting at the pool-house-turned-tasting-room. Or call ahead for private tastings and tours. They also have picnic packs available for purchase.
And a heads-up that this is an adults-only winery. So, leave the little ones at home for this adventure.
Keswick Vineyards
Fancy a round of mini golf with your Merlot? Keswick Vineyards has you covered.
Al and Cindy Shornberg searched coast-to-coast for the perfect site to open their dream winery. They found it in Keswick, Virginia. And they released their first vintage in 2002, winning the best white wine in America at the Atlanta International Wine Summit.
Since then, they expanded into red wines and excelled at that too, taking home the Virginia Governor's Cup twice. They even make a frequently sold-out Norton, the hybrid grape discovered right in Virginia by Dr. D. N. Norton.
At Keswick, you can create your own custom flights to sip and savor among the towering trees. Try their specialty, a stone-fruit-forward Viognier. Or I liked the unoaked Chardonnay, with its crisp acidity and bright citrus fruits.
They also have local beer, cider, canned cocktails, and wine slushies.
But the fun doesn't stop there! Tee off on their mini-golf course adorned with wine barrels. And don't worry, your furry friends are welcome too in their very own dog park.
With live music on Saturdays and a food truck serving up scrumptious sandwiches, Keswick Vineyards is a great blend of wine and good times.
Looking for more U.S. wine destinations? Check out Northern Virginia wineries, wineries in Fredericksburg, TX, North Fork Long Island wineries, and Dry Creek Valley wineries. And if you love cool-climate wines, don't miss these Keuka Lake wineries, Seneca Lake wineries, and wineries near New Buffalo, MI.
Planning Your Visit to Charlottesville Wineries
When Is the Best Time to Visit Wineries Near Charlottesville, VA?
If you're partial to warmer weather, April through October is the best time to plan your winery adventure to Charlottesville.
I love visiting in spring when the buds are bursting on the vines and the weather's not too hot.
Plus, if you're there in May, you can hit up the Taste of Monticello AVA Wine Week. Indulge in winemaker brunches, vineyard tours, and wine dinners. And witness the prestigious Monticello Cup Awards!
But autumn is a magical season too, with the foliage painting a breathtaking backdrop for your winery escape.
What is The Best Way to Visit Wineries Near Charlottesville, VA?
Most of the wineries near Charlottesville are less than a half-hour's drive from the city. So, you can easily get around by car.
If you have two days, you can split your itinerary. Spend a day exploring the wineries to the north and east, like Barboursville, Early Mountain, Jefferson, and Keswick. Then on day two, head west of Charlottesville and hit up Pollak, Afton Mountain, King Family, and others on that side.
Want to enjoy your wine tastings without the worry of driving? This is a great option for a private driver who will take you to any of the wineries you want to visit.
Recommendations may be affiliate links on which I earn a small commission at no additional cost to you. This helps me share new wine destinations with you and I only recommend products and services that I love and think you'll love too!
Do You Need Reservations for Charlottesville Wineries?
Some wineries require reservations for seated or guided tastings, but many don't! It's always a good idea to check their website for the most up-to-date information.
How Much is a Tasting at Charlottesville Wineries?
Most tastings at Charlottesville wineries average around $15 to $20. However, there are some wineries and tasting options (e.g., premium or library tastings) that cost more.
Where to Stay for Visiting Wineries in Charlottesville, VA
When visiting wineries near Charlottesville, there's no better place to stay than Charlottesville itself. It's the perfect basecamp for your wine explorations, with most of them less than a half-hour's drive.
While you're there, you can check out Thomas Jefferson's Monticello, the home of the OG wine lover himself. And there are tons of great restaurants and shops to explore in downtown Charlottesville. And don't miss Michie Tavern for delicious (and unlimited!) southern food and local wine.
If you're looking for a place to stay, I highly recommend the Oakhurst Inn. This charming boutique hotel has a nice pool and a fantastic café. It's the perfect choice for a relaxing stay.
You can find the Oakhurst Inn and many other great options on Booking.com. Just enter "Charlottesville, Virginia" and select your dates below to see available options.
Have you visited any of these Charlottesville wineries? Which one is your favorite?
Learned something new?
Shop My Travel Essentials