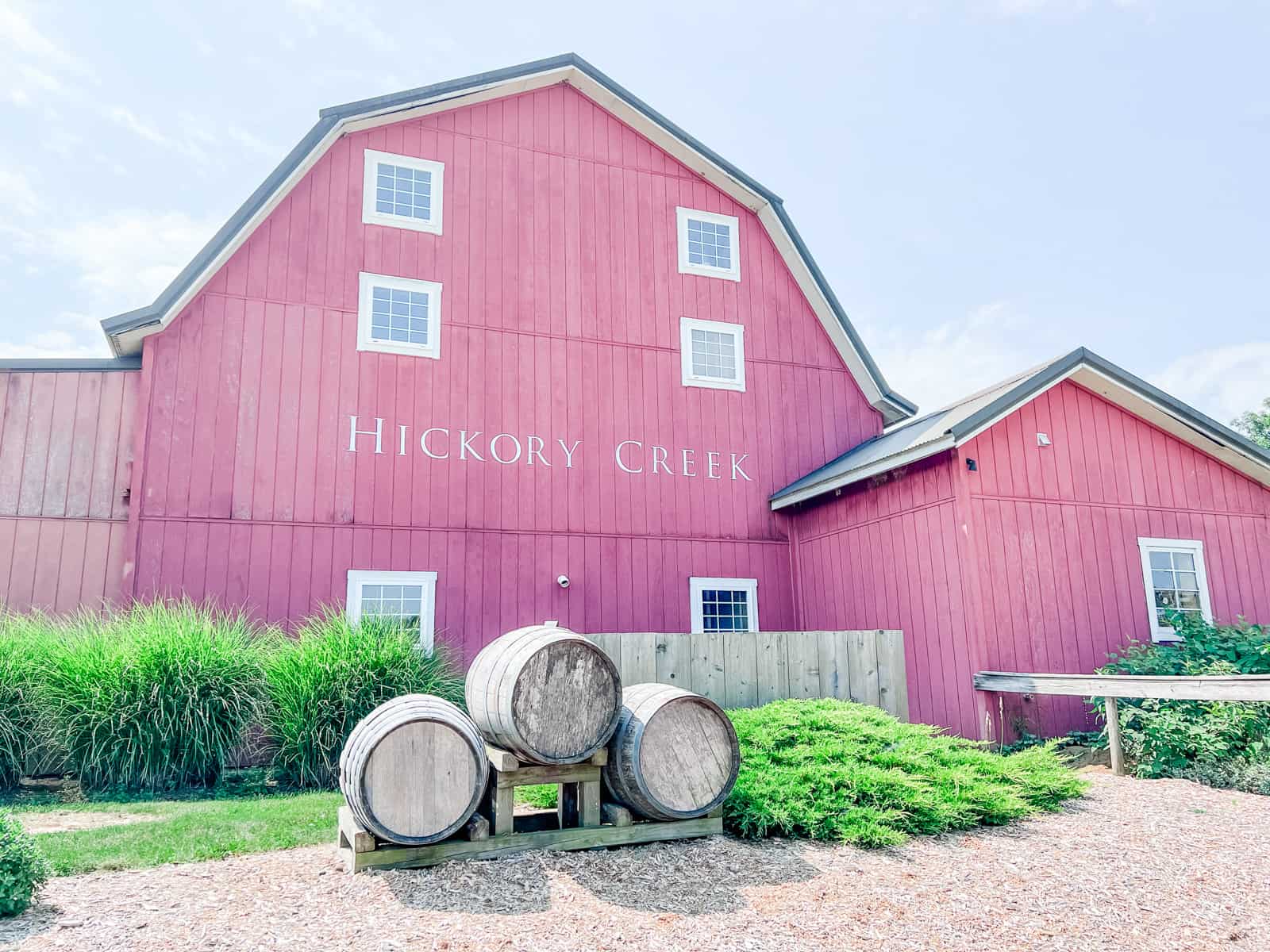 If you're a wine lover visiting Southwest Michigan, then New Buffalo wineries should be at the top of your list. And I've got all the details to make planning your wine adventure a breeze.
New Buffalo has been named by Travel + Leisure as one of America's "50 Best Places to Travel." From crystal-clear beaches to quaint streets lined with ice cream shops and boutiques, this town's got it all.
Now, you might be thinking Michigan is all sweet fruit wine and slushies. Well, you'll still find some of these. But many of the Lake Michigan Shore AVA's 20 wineries are making excellent European-style cool-climate wines. And they're just a short drive from New Buffalo.
As an American Wine Expert and WSET-certified wine blogger, I've personally explored these wineries and tasted the wines. Consider this guide your shortcut to the top spots. I've done the sipping, so you can focus on the savoring. 
Ready to have a fantastic New Buffalo wine tasting getaway? Let's start planning!
While you're here, don't miss taking my wine country destination quiz! It will magically match your taste buds, travel style, and winederlust desires to reveal the wine region of your dreams. Plus, you'll get my wine region guide to make planning a breeze. Take the quiz.
History of Lake Michigan Shore Wineries
The roots of Southwest Michigan wineries go back to 1867 when the first vines were planted. By 1900, things were picking up, with vineyards speckled throughout the region.
Of course, Prohibition was a bit of a buzzkill. Growers got creative and switched to making grape juice during this time. After its repeal, winemaking picked back up. But most wines were still being made from the less-favorable American grape varieties like Concord and Niagara.
It wasn't until 1967 that Len Olson of Tabor Hill Winery shook things up. He began planting hybrid and Vitis vinifera grape varieties. These were the first commercial European vines in Michigan. They turned out to be a success! And soon other wineries followed Len's lead.
The area got its first American Viticultural Area (AVA) in 1981. The small Fennville was the nation's third AVA. Soon after, the larger Lake Michigan Shore AVA was added in 1983.
Today, Michigan is seventh in wine production in the United States. And the southwest area is home to about 20 wineries, 15 part of the Lake Michigan Shore Wine Trail. With vinifera vines now making up 70% of wine grape plantings, the quality of wines shows great promise.
Lake Michigan Shore AVA Climate and Terroir
The Lake Michigan Shore AVA isn't just the largest of the state's five AVAs. It holds 90% of Michigan's vineyards. Although, much of these are used for juice and jelly production. Wine grapes make up about a third of the state's total.
This Southwestern Michigan AVA runs along the coast of Lake Michigan. Thanks to its more southerly location, the growing season is about two weeks longer than northern neighbors like Leelanau and Old Mission Peninsula. In fact, some liken the climate and growing conditions to that of France's prestigious Bordeaux region.
This isn't your ordinary lake. It's a massive 80-mile-wide, 600-foot-deep thermostat. And because of its size, its effect is even greater than in places like Seneca Lake and Keuka Lake in the Finger Lakes, NY. So, grapes can grow farther away from the lake, as much as 45 miles inland.
Come spring, the lake cools the surrounding area, delaying budburst and avoiding damage from frost. Then, in autumn, the warm waters extend the growing season, ensuring grapes can fully ripen. Even winter pitches in with lake effect snow, protecting the vines in a cozy blanket.
Vineyards are planted at elevations over 650 feet (some even reaching above 900 feet). The hills help cool air run off and expose the grapes to extra sunlight.
But hey, it's not all sunshine and rainbows. Rain and humidity do make an appearance. And this can create all kinds of issues with mildew, rot, and flavor dilution.
The Great Lakes were formed by glaciers during the last Ice Age. This means you'll find all kinds of soils throughout the region. The closer you get to the lake, the sandier it gets. This provides good drainage. And it makes the roots dig deeper, creating a stronger foundation.
What Wine Is Southwest Michigan Known For?
While Michigan's wine scene was once flooded with sweet styles made from American grapes, it's come a long way in the last few decades.
Now you'll find many wineries are producing European-style dry and off-dry wines. The cooler climate means lower alcohol levels, making them elegant and food friendly. But if you're a fan of sweet wines, there's still plenty of that too.
Now, let's talk grapes. Riesling, Chardonnay, and Pinot Gris are the top white grape varietals.
For reds, you'll find Lemberger (aka Blaufränkisch), Pinot Noir, Cabernet Franc, and Cabernet Sauvignon. Just don't expect these to be like the big, bold styles found in warmer regions. You'll also find these being made into all types of rosé wines.
Hybrid grapes, the offspring of an American and European variety, are common too. Top ones include Chambourcin, Vignoles, and Traminette.
Pin for Later!
The Best New Buffalo Wineries
Domaine Berrien Cellars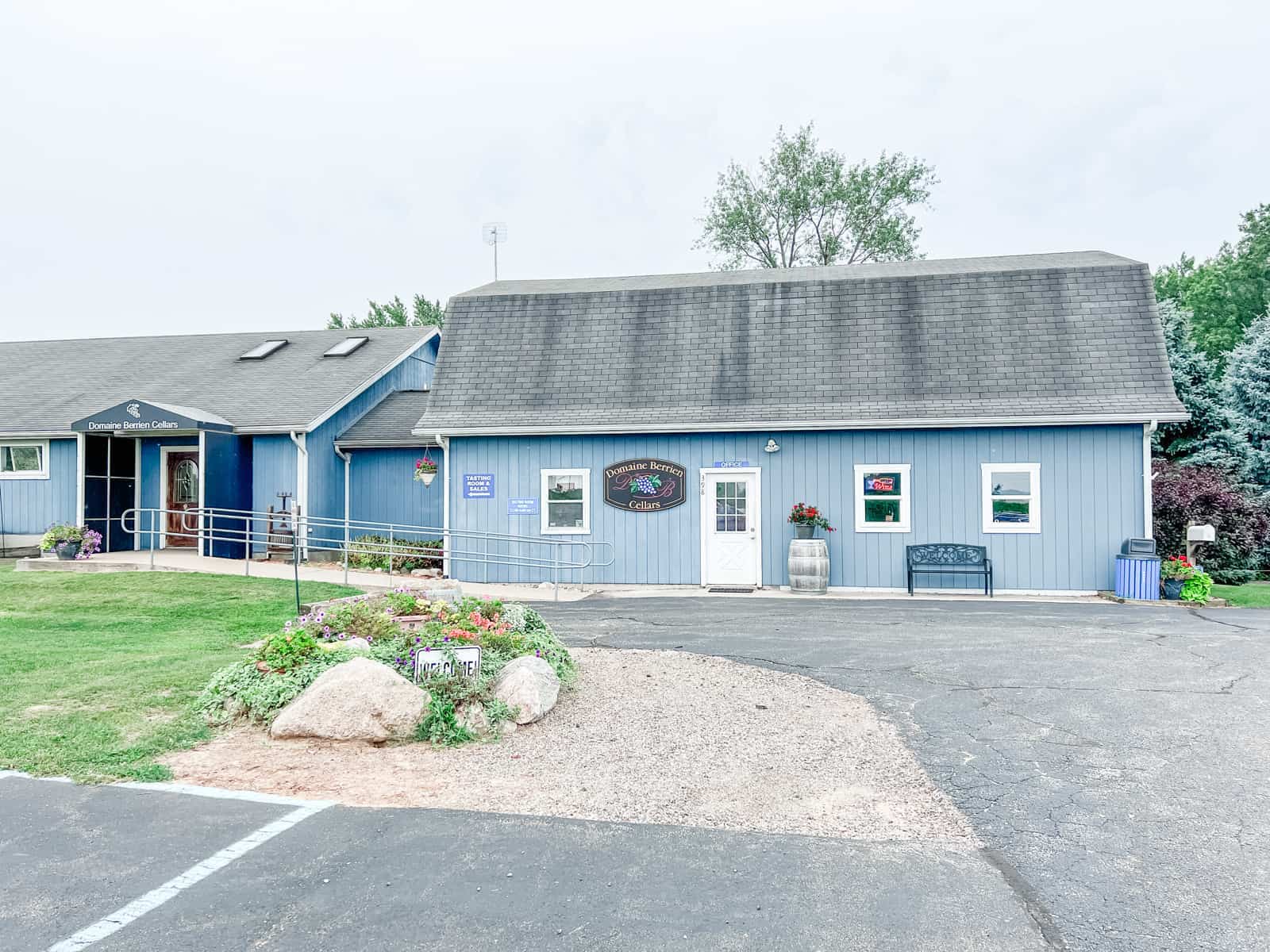 If you're a fan of Rhône region wines, your first stop should be Domaine Berrien. As part of the U.S. non-profit Rhône Rangers, they focus on varietals like Syrah, Viognier, and Marsanne.
In 1992, Tom and Abigail Fricke bought an 80-acre cherry farm. With Tom's belief that it had similarities to France's Northern Rhône region, it was out with cherries and in with wine grapes.
After dabbling in hobby winemaking, their daughter and son-in-law decided to get in on the business. Katie and Wally opened Domaine Berrien Cellars in 2001. Then, 2022 saw the baton pass to long-time employees Amy Birk and Jacob Nivison. The pair bring a vast knowledge of enology, viticulture, and winemaking experience.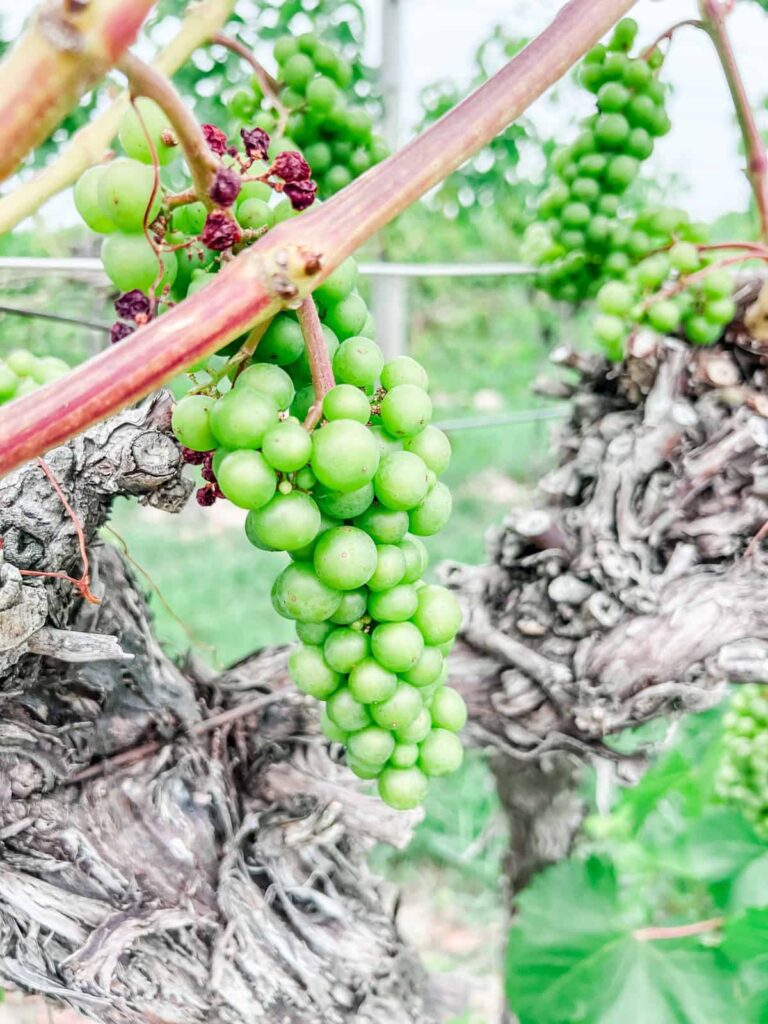 Grapes are all estate-grown on some of Berrien County's highest slopes. Their 40 acres include 21 unique varieties.
Step into the cozy tasting room for a personalized flight of wines. The educated staff will guide you through their dry and sweet options.
For me, the Riesling was a standout, with its crisp lime and green apple notes. The Marsanne was delicious too, with a little more body and a nutty finish. And don't miss the spicy Lemberger and the smoky Syrah.
Afterward, grab a glass and relax outdoors. The deck and lawn are perfect for a bring-your-own picnic. Or they offer snacks for purchase. And furry friends are welcome too!
Hickory Creek Winery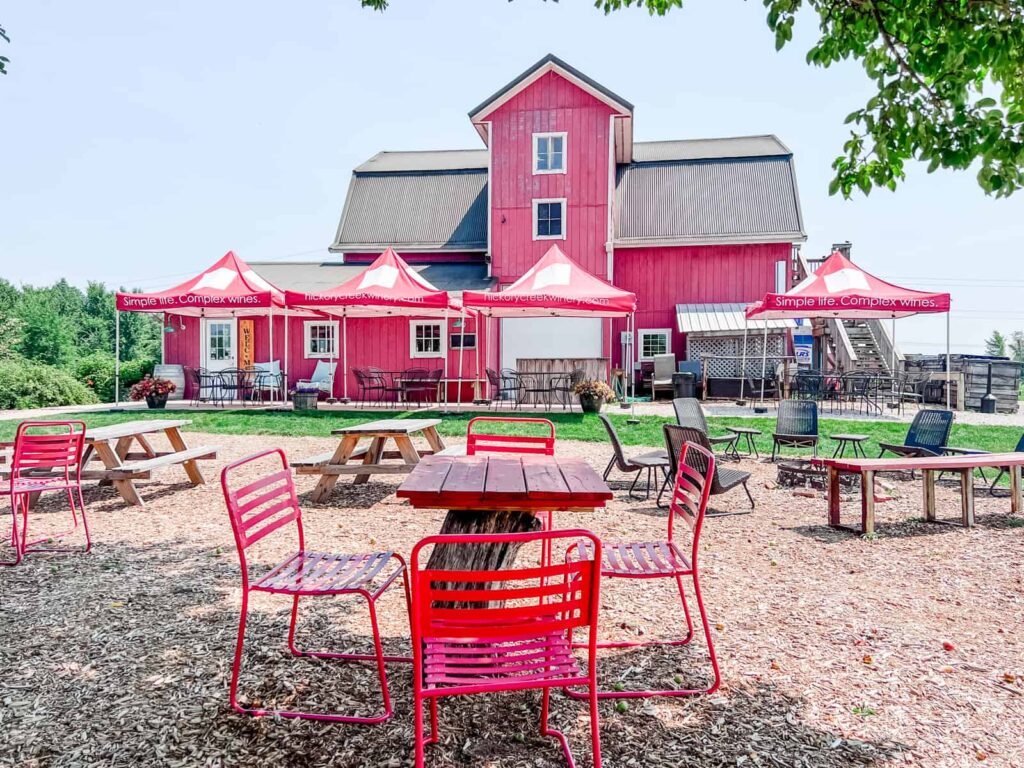 This small-batch producer started as a partnership of grape farmers in 2006. But in 2017, Adam McBride took the reins.
A West Michigan native, Adam's wine spark was ignited while spending two years in Germany's Mosel Valley. After an 8-year stint in the Air Force, he decided to pursue his wine education. And then fully took the plunge when he purchased Hickory Creek Winery.
The wines are made from locally sourced grapes, apart from a small plot of estate-grown Chardonnay. These are fermented in small batches, focusing on quality over quantity.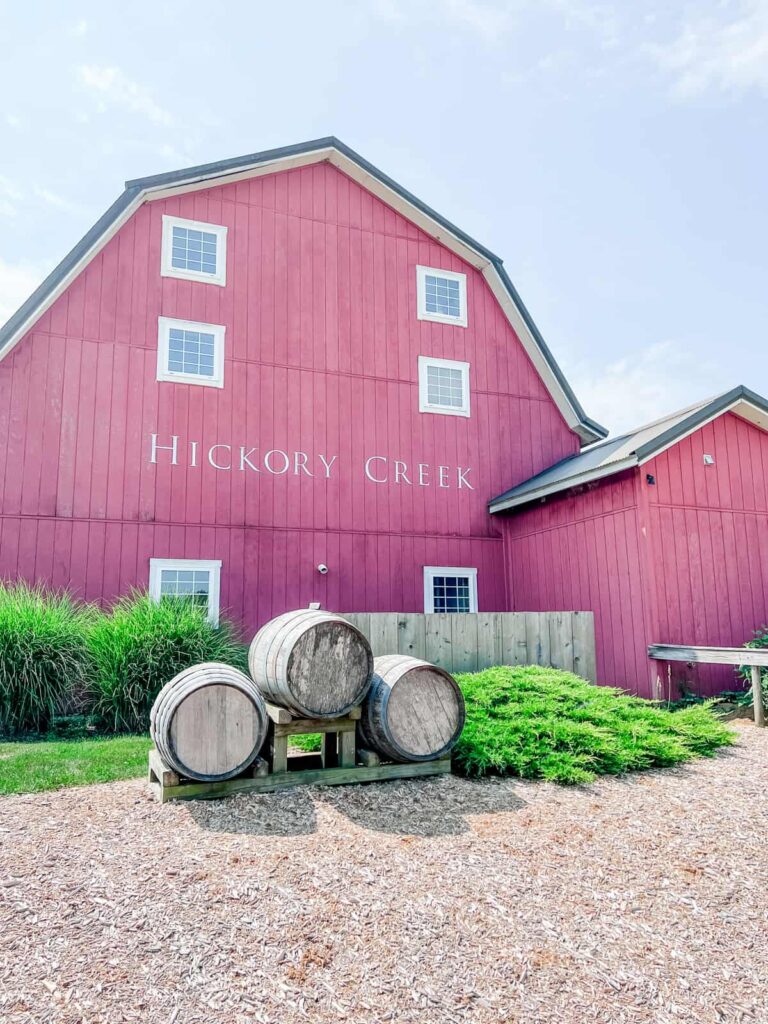 You'll find most are made in a dry or off-dry style. The Riesling and Blaufränkisch were excellent. I also loved the limited-release Pinot Gris with its crisp acidity and citrus flavors. And for you pink wine fans, don't miss the Tiger Lily Dry Rosé.
Reservations are recommended, especially for groups. Start with a guided tasting indoors with one of their knowledgeable staff members.
Or you can order a flight, glass, or bottle to take outdoors. The lawn is a great place for a winery picnic while surrounded by vines. Feel free to bring your own food too.
Plus, this family-friendly spot welcomes pups and kids. And keep an eye on the special events calendar for their rustic wine dinner series.
White Pine Winery
If you're planning to visit the picturesque town of St. Joseph, a stop at White Pine Winery is a must. The downtown tasting room is located half an hour north of New Buffalo. And it's well worth the drive.
Dave Miller has spent decades in the wine industry. While pursuing his Ph.D., he produced wines for Spartan Cellars, Michigan State University's research winery. And as the assistant winemaker at St. Julian, the winery won awards for wines made from his new plantings.
In 1999, Dave and his wife Sandy decided to branch out on their own. They planted a vineyard and began working with local growers. By 2016, White Pine had its own winery facility in Lawton, specializing in aromatic white wines and fruit-driven reds.
Visiting the tasting room you can sample five wines of your choice, perhaps even poured by Dave himself. For you bubbly lovers, start off with the Effervescence Reserve. This traditional method sparkling wine has delicate bubbles and delicious brioche aromas.
The Pinot Grigio vs. Pinot Gris is a fun comparison too. Same grape but different ripeness levels. And don't miss the estate-grown Riesling and the lees-aged Chardonnay.
For reds, it was hard to pick a favorite. But I particularly enjoyed the Serendipity, a Bordeaux-style blend with loads of black fruits and hints of cocoa and baking spices.
No reservations are necessary. But for large groups, be sure to contact them in advance. And while you're in town, stop by the famous Silver Beach Pizza for lunch. Then, take a stroll on the beach path out to St. Joseph's iconic lighthouse.
Dablon Vineyards & Winery
For Napa Valley vibes in the heart of Michigan, check out Dablon. This winery's exceptional experience earned it #8 on USA Today's list of top wine tasting rooms in the U.S.
Owner William Schopf named the winery after Claude Dablon, a French explorer who experimented with making wines from the local Michigan grapes.
The vineyards for Dablon's estate-grown wines were purchased in 2009. Located at one of the highest points in Baroda, they were originally planted with Concord grapes. But Dablon gradually replaced these with a special focus on red vinifera varieties.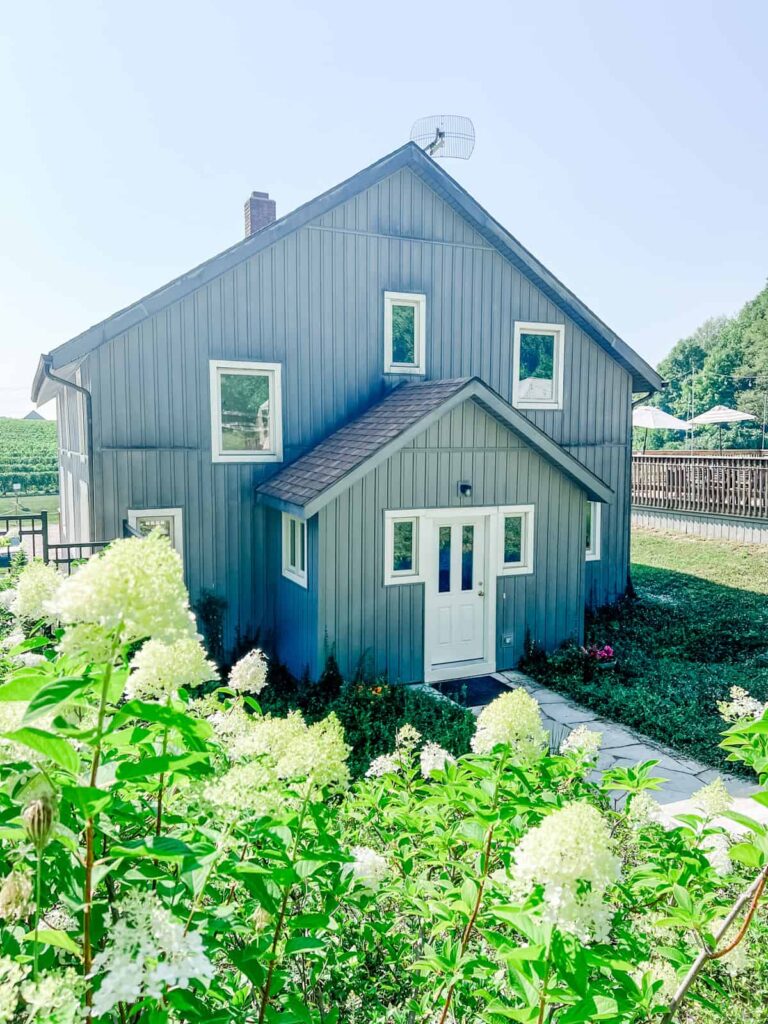 In the stunning tasting room, you can experience guided flights with Dablon's well-informed staff members. They offer a great line-up for red wine lovers, including an outstanding Petit Verdot and a unique red blend of Tempranillo and Tannat.
But sparkling and white wine enthusiasts won't be disappointed either. Check out the Blanc de Noir for bubbly deliciousness. And the Dry Riesling is excellent too. Pro tip: a portion of your fee can be used toward buying bottles of your fave wines.
And don't miss the expansive outdoor patio. Take in live music on Fridays and Sundays while you sip on a glass (or a bottle). Or catch a screening of one of the films from Schopf's Music Box Theatre.
Reservations are optional. And take note that this is an adults-only (and humans-only) spot.
Lemon Creek Winery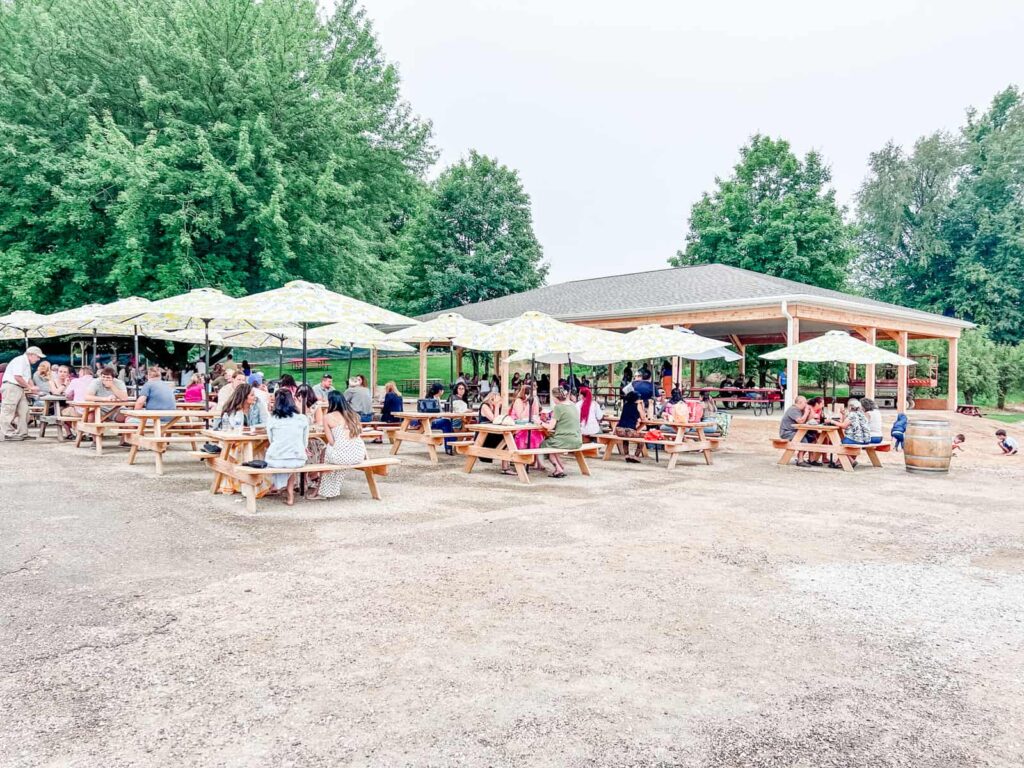 Another must-visit for red wine enthusiasts, Lemon Creek holds claim to the oldest Cabernet Sauvignon vines in the region.
The Lemon family's roots in the area go back to 1834. But it wasn't until the 1980s that Robert, Helen, and their sons expanded the family farm to include a winery. It's since been passed down to the new generation to carry on the winemaking tradition.
Grapes are all estate grown on their 170 acres of vineyards. And the best-of-the-best are used to craft their reserve wines, which have won some pretty prestigious awards.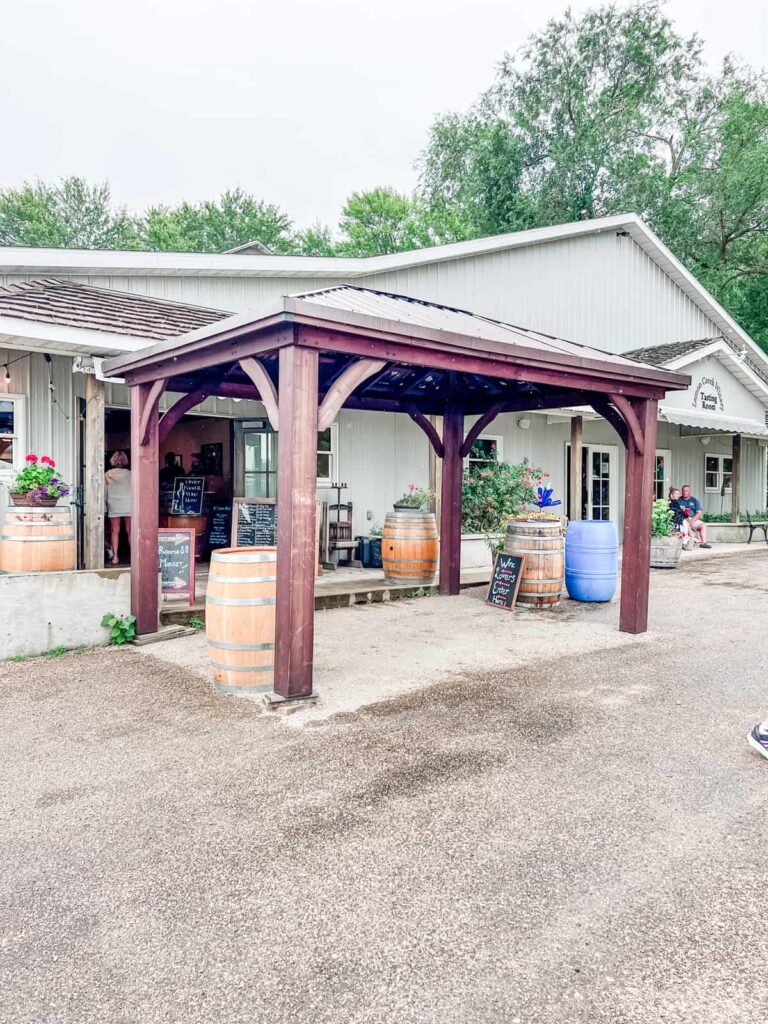 The Cabernet Sauvignon Barrel Select is a must-try if you like this style. The old vines give it concentrated blackberry and black cherry flavors. And the French oak aging adds a touch of nutmeg and clove.
I was also a fan of the Cabernet Franc Reserve, one of their award-winning wines. And if you're a Bordeaux-lover, don't miss the Meritage Reserve red blend.
Lemon Creek's tasting experience is more of a self-serve style, so it's good for groups. Choose from 12 flight options categorized by style and sweetness level. Then place your order at the register to take back to one of the plentiful indoor or outdoor tables.
They also have a separate wine bar where you can order glasses, bottles, ciders, and slushies. Check out live music on Friday nights. And don't miss fresh fruit and veggies available at the on-site farm market.
Free Run Cellars
For small-batch, single vineyard wines in a serene setting, head to Free Run Cellars.
The winery was established in 2006 as a creative outlet for brothers Matt and Chris Moersch. Their father founded nearby Round Barn Winery and purchased Tabor Hill Winery. The family now owns all three under the Moersch Hospitality Group name.
Growing up in the family business, Matt became Round Barn's winemaker in 2002. And he spent time training and tasting his way through France, Germany, Hungary, and California. He and his brother Chris plan to keep Free Run as a small boutique winery.
When visiting, you can choose from a simple menu of flights, including dry red, dry white, or sweet. I particularly enjoyed their white wines, like the Dry Riesling with crisp acidity and juicy stone fruits. And the Dry Gewürztraminer had just the right amount of honeysuckle and rose notes without being too overpoweringly floral.
You can also order wines by the glass or bottle, beer, cocktails, and charcuterie. Relax in an Adirondack chair among the shady trees. Or grab a seat by the vineyard-side creek.
Look for live music on Sundays in the summer. And if you want to up your experience, you can book a bougie vineyard picnic or rent the winemaker's retreat.
Tabor Hill Winery
This historic winery played a big part in changing the quality and reputation of Michigan wines. And it's one of the only wineries in Michigan with an on-site restaurant.
Founder Len Olson planted the area's first commercial vinifera grapes back in 1967. Amidst a sea of Concord and Niagara-based wines, he showed others it was possible. And they followed his lead.
In 1972, Tabor Hill became Michigan's first new licensed winery since Prohibition. It's since changed owners a few times. But it eventually landed in the hands of Rick Moersch, a biology teacher turned winemaker.
Hired by Len in 1979, Rick spent many years working at Tabor Hill. And after breaking out on his own to found Round Barn, he had the opportunity to purchase it in 2017.
The estate-grown grapes include some of the oldest-vine Riesling in the region. And Tabor Hill's wines have had the honor of being served in the White House.
The Albariño, a Spanish white wine grape, was a standout with refreshing acidity and delicious notes of nectarine and peach. The pineapple and pear-flavored Sauvignon Blanc and Pinot-Meunier-based rosé were very good too.
The vibe is livelier than Free Run but a bit more intimate than Round Barn. Preset flights include dry reds, dry whites, and sweet wines. You can enjoy these in the comfy outdoor vineyard lounge. Or order from a selection of beer, cocktails, and charcuterie.
Be sure to make reservations in advance for large groups and dining at the restaurant. Plus, check out options for vineyard picnics, couples packages, and weddings.
Golden Muse Winery
This women-owned winery is a hidden gem where wine and art intertwine.
Analisa and her mother founded Gallery E.G.G. in Chicago in the 1990s. After moving to Michigan in 2016, she caught the wine bug and decided to pursue her education in wine. And soon after, opened Golden Muse in Baroda.
The tasting room slash gallery allows Analisa to combine her love of wine and art. Vegan-friendly wines are named with a nod to Paris's Golden Age, honoring legends like Sarah Bernhardt and Alfred Jarry. And the adjoining art gallery features works from the E.G.G. collection.
Create a custom flight of dry or semi-sweet wines. Or grab a glass, bottle, or specialty drink. I recommend the Unoaked Chardonnay, which had juicy stone fruit flavors and nice minerality. The crisp Dry Riesling was delicious too, with delicate floral notes.
Settle into a seat in the steampunk-style tasting room or newly opened patio. And a stroll through the gallery is a must. Just note that Golden Muse is only open Thursdays through Sundays.
Other Wineries Near New Buffalo to Visit
Chill Hill Winery
If you're looking for a break from the summer sun, but still want those beachy vibes, head to Chill Hill in Baroda. With a beach-bar-style atmosphere, it's all about fun times and tasty wines.
Ashley Nitz's father Dan owns Arrowhead Vineyards. Grapes are mainly sold to other wineries. But Ashley teamed up with her grandmother Norma. Using Arrowhead's grapes, the pair made the family's dream of owning a winery a reality.
Mix and match to make your own tasting flight of wines, ciders, sangrias, and even slushy samples. The standouts for me were the dry whites, including the Pinot Gris, Dry Riesling, and Albariño. But they have sweet options too.
Don't miss the daily choice of chips and dips. Plus, live music and food trucks on weekends. And the private event space is great for larger groups.
Gravity Winery
This group-friendly winery has modern vibes and a great outdoor deck. Rockie and Allison purchased the Rick family's fruit farm in 2008. And by 2011 opened the doors to Gravity Winery.
The name is a reference to the winemaking system where each step is advanced by gravity, flowing from hilltop to cellar. And their estate-grown wines include dry, sweet, and sparkling.
Sample your choice of six wines (and ciders) guided by a friendly and knowledgeable staff member. If you're a fan of Cabernet Franc, they make a nice one. And for a sweet treat, try the Chocolate Cherry dessert wine. It tastes exactly like…yup, you guessed it, a chocolate-covered cherry.
Afterward, head out to the large, covered deck. It's perfect for taking in views of the property's private lake while sipping on a glass or bottle. Groups of up to 15 are welcome. And check out live music on summer Sundays. Plus, they have a bocce court!
Round Barn Winery
Known for its iconic circular-shaped barn, Round Barn is great for groups and families. The large outdoor space provides plenty of room for wine sampling while watching the kids.
The winery was Rick Moersch's first venture into ownership after working at Tabor Hill. Originally known as Heart of the Vineyard Winery, it changed names in 2004. And has since expanded to a second tasting room in Union Pier and a public house restaurant.
Visit the walk-up bar for preset flights of Round Barn's wine, beer, and spirits. No reservations are needed for most of the seating on their expansive lawn. Although they do have cabanas that can be rented for large groups.
Hungry? Check out the food menu for shareable snacks, bowls, and desserts. They even have a kid's menu. Plus, catch food trucks and live music on summer weekends.
St. Julian Winery
Another option close to New Buffalo is St. Julian, Michigan's longest-running and largest winery. Originally located in Canada, Italian immigrant Mariano Meconi founded Border City Winery in 1921.
By the 1940s, it was relocated to the Lake Michigan Shore AVA and renamed after Mariano's hometown patron saint. A hundred years later, the same family still owns and operates St. Julian.
The Union Pier tasting room is one of six in the state. Here, you can sample a wide variety of wines made from Michigan-sourced fruit. For dry style, I'd suggest the Riesling, Blaufränkisch, and Blaufränkisch rosé.
And as Michigan's first craft distillery, the menu also includes spirits and cocktails. Plus, hard cider and slushies. Stop by on Sundays for live music and food trucks.
Planning Your Visit to New Buffalo Wineries
When Is the Best Time to Visit New Buffalo, MI Wineries?
If you want to fit in some beach time between sipping on wine, June through September are the warmest months. Warren Dunes State Park is a must for beautiful beaches, giant sand dunes, crystal clear water, and boating.
October is another great time to visit and catch the New Buffalo Harvest & Wine Festival. It's usually held in the first half of the month. And it features live music, food, and local wines, ciders, and craft beer.
If you prefer a quieter experience, the off-season in New Buffalo is nice too. Just be aware that winters get pretty cold, with temps topping out in the 30s.
What's the Best Way to Get to New Buffalo?
The closest airport to New Buffalo, Michigan is South Bend, Indiana. It's about a 30-minute drive from there. Other nearby airports include Grand Rapids, Michigan (45 minutes) and Chicago, Illinois (1.5 hours). There's also an Amtrak train that runs through New Buffalo from Chicago and Detroit.
How Many Wineries Are There Near New Buffalo?
You'll find about 20 wineries in the Lake Michigan Shore appellation. Most are within a half-hour drive of New Buffalo.
What's the Best Way to Visit New Buffalo Wineries?
Most of the wineries close to New Buffalo are around the town of New Troy. It's about a half-hour drive northeast. Once you're there, all are less than a 10-minute drive from each other. So, it's easy to hit up 3-4 in a day.
From my list, there are a couple outside this area. White Pine Winery is north of New Troy in St. Joseph. And St. Julian Winery's tasting room is in Union Pier, a few minutes from New Buffalo. While you're there, Round Barn also has a tasting room next door.
I'd recommend renting a car as ride shares can be a bit unreliable, especially on busy weekends. But there are some wine tour companies like Grape and Grain Tours that offer limo service in the area. Just be aware that some of the smaller wineries limit vehicle and group sizes.
Are Wineries Open Year-Round?
Many of the wineries in Michigan wine country are open year-round. Just be sure to check their website before stopping by in the off-season.
Do You Need Reservations for New Buffalo Wineries?
Most wineries near New Buffalo do not require reservations. In fact, many don't even take them. But there are a few where they're required or recommended. Make sure to check the winery's website before showing up.
How Much Does New Buffalo Wine Tasting Cost?
Tastings at wineries near New Buffalo are very affordable. Most are around $10 to $15. Some offer reserve wines or library tastings at a higher price point.
Can I bring my kids and pets to the wineries?
Many of the wineries in the New Buffalo area are family and dog friendly. Just keep in mind that policies vary, so check the winery's website before packing up the crew.
Looking for more United States wine regions? In the Eastern U.S., check out Seneca Lake wineries, Keuka Lake wineries, North Fork Long Island wineries, and wineries near Charlottesville, Virginia. Or in the west, find out the best wineries in Fredericksburg, TX and top wineries in Dry Creek Valley, CA.
Where to Stay for Visiting New Buffalo Wineries
New Buffalo is a picturesque town along the shores of Lake Michigan. At less than a half-hour drive from most of the wineries, it's an ideal spot to stay.
While you're there, don't miss dining at The Stray Dog, a waterfront spot with a roof deck and delicious food. And stop by Oink's Dutch Treats for ice cream afterward.
These are two great hotel options in New Buffalo:
Find these and many other great options on Booking.com. Just enter "New Buffalo, Michigan" and select your dates below to see available options.
Recommendations may be affiliate links on which I earn a small commission at no additional cost to you. This helps me share new wine destinations with you and I only recommend products and services that I love and think you'll love too!
Have you visited any of these wineries near New Buffalo? Which one is your favorite?
Learned something new?
Shop My Travel Essentials