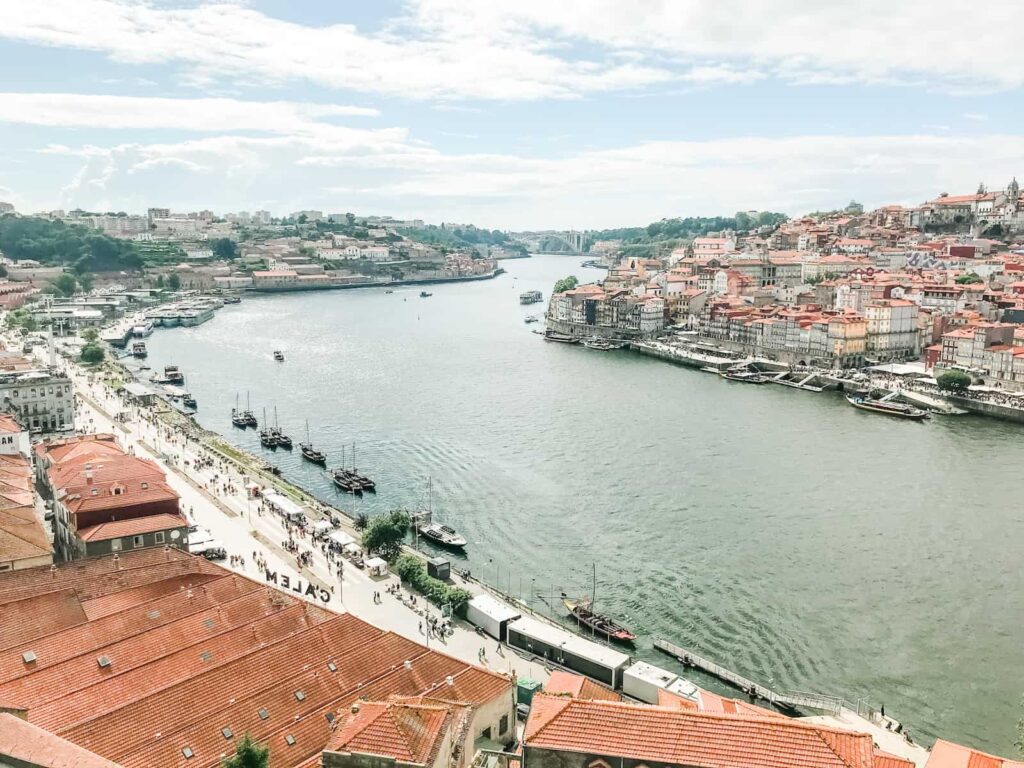 Are you a wine lover planning a trip to Porto, Portugal? If so, there's one thing you absolutely can't miss: Porto port houses.
While technically located just across the river in Vila Nova de Gaia, these historic port producers are just a quick walk or boat ride away. You'll get to tour ancient cellars, learn about port winemaking, and taste some amazing ports.
But with around 60 port wine cellars and tasting rooms to choose from, it can be overwhelming to decide which ones to visit. Don't worry! I've done the work for you with this easy guide that has everything you need to know.
And I'm throwing in a primer on port wine, the history of Porto port houses, and more so you'll sound like a pro in the tasting rooms.
While you're here, don't miss taking my wine country destination quiz! It will magically match your taste buds, travel style, and winederlust desires to reveal the wine region of your dreams. Plus, you'll get my wine region guide to make planning a breeze. Take the quiz.
History of Porto Port Houses
If you're familiar with port, you know that it's made in the Douro Valley, which is about 60 miles inland from Porto. But you may be wondering how all these port houses ended up by the coast.
Well, back in the day when Great Britain was at war with France, they could no longer get their beloved Bordeaux and Burgundy wines. So, they started looking for a new source of good wine.
The British took a liking to Portuguese wines. But found they would often spoil on the long journey.
But then, a couple of English brothers had the brilliant idea to add some grape brandy to the wine before one trip. They found that it worked to preserve the wine. And just like that, port wine was born!
So, British-owned port houses began popping up in the city of Vila Nova de Gaia. This cooler coastal climate was much better for aging the wines than the hot Douro Valley.
The Brits would buy the wine from the Douro Valley and it would be transported downstream in flat-bottomed boats called rabelos. Once aged, the port houses also handled the transport to England.
In the late 1800s, the root-louse phylloxera devastated much of Europe's vineyards. And many of the Portuguese winemakers gave up and sold their land to British companies.
After the solution was found of grafting vines to American rootstock, port production started up again. Except this time many of the British companies were running the production from start to finish.
So, that's why you see so many port lodges today with British names like Graham's, Croft, Taylor, and Sandeman.
How is Port Wine Made?
Grapes for true port wine are grown in the Douro Valley, the oldest demarcated wine region in the world. The vineyards are planted along terraces on steep slopes that rise above the Douro River.
If you're visiting Porto, make sure to take a wine tour of Douro Valley. It's seriously one of the most beautiful places I've ever been. And you'll get to see where all the magic happens.
There are actually 100 grape varieties allowed for port production. But the top ones used for premium ports are Touriga Franca, Touriga Nacional, and Tinta Roriz (aka Tempranillo).
Since port wine goes through a shorter fermentation process, winemakers use special techniques to extract lots of color and tannin. The traditional method is called foot treading, which involves getting a bunch of people together to stomp (or dance!) on the grapes in large granite troughs (called lagares).
But nowadays, they also use machines like autovinifiers and robotic lagares that don't require as much manpower.
Once the grape juice reaches 5-9% ABV during fermentation, a neutral grape spirit called aguardente is added. This spirit can be up to 77% ABV, which kills off the yeast before it can convert all the sugar to alcohol. And voila! You have a sweet wine with alcohol levels between 19% and 22%.
Back in the day, all port was aged at the Vila Nova de Gaia port houses. But with the invention of air conditioning, some producers are now aging their ports in the vineyard area.
What are the Different Types of Port?
Port wine is typically made from a blend of grapes. And often from different harvest years. But there are some single-year versions, such as Vintage Ports, Late Bottled Vintages, and Colheitas.
The style of port varies based on the type of aging vessel. For example, small vs. large oak barrels or stainless-steel tanks. And how long it's aged.
Here are the most common types:
White – A white port made from a blend of indigenous white grape varietals
Rosé – A newer port style made like a rosé wine with red fruit and floral notes
Ruby – Fruity style of red port aged for 1-3 years in large oak barrels or stainless steel
Tawny – Red port aged for 1-3 years in smaller oak barrels called pipes, giving it nutty and caramel flavors
Reserva – Higher quality versions of the basic ruby or tawny ports, with tawny requiring 6 years of aging
Aged Tawny – A long-aged tawny port that can range from 10 to 40+ years old, giving it flavors of walnuts, coffee, and chocolate
Late Bottled Vintage (LBV) – Ruby port produced from a single harvest year, aged 4-6 years before releasing, and may or may not be filtered
Vintage – Ruby port produced from a single vintage, aged 2-3 years, and released unfiltered
Single Quinta Vintage – Vintage port made with grapes from a single estate vineyard
Colheita – Special tawny port made from a single harvest year and aged a minimum of 7 years
Most ports are released ready to drink. But vintage ports are meant to be aged in the bottle for as much as 40 years. And unfiltered LBVs can improve similarly with time in the bottle.
Guide to Visiting Port Houses
When is the Best Time to Visit Port Houses?
The summer months are the best weather-wise for visiting Porto. July and August are the peak tourist months. If you want to avoid the crowds, you'll still have great weather in May, June, September, and October.
You could also time your visit around the Essência do Vinho event that's held in Porto each year. Wine producers from all over Portugal come together at the Palácio da Bolsa. You can join masterclasses, walk-around tastings, and find out who made the list of the top 10 Portuguese wines.
Where Are All the Port Houses in Porto?
The port houses are all located in Vila Nova de Gaia. This is an area on the southern bank of the Douro River just across from the city of Porto.
Getting there is easy. Just walk across the double-decker Dom Luís I Bridge. Take the lower deck for the faster route.
Or for spectacular views, I'd recommend walking across the top deck. At the other end, the Gaia cable car will take you straight to the pier. And you'll be right in the middle of all the port houses.
Another option is to take a boat taxi across the river for a few euros. These run every 15 minutes but may not be available in the evenings.
Vila Nova de Gaia is perfect for exploring on foot. But be warned that the port houses farther from the river are up steep hills. So, wear comfortable shoes. And don't worry, the port will be worth it!
Do You Need Reservations for Port Houses?
Visiting port houses is a popular activity in Porto, so it's best to be prepared before you go. Some places don't require reservations, but it's always a good idea to check ahead of time to avoid any surprises.
If you're set on visiting a specific port house, make a reservation in advance to ensure you get in without any wait time. But if you didn't plan ahead, you can try walking in and see if they can fit you in.
Keep in mind that port is stronger than your average wine. And those small tastings can add up fast! It's best to limit your tastings to 2-3 per day, but at most 4.
What if I prefer a guided tour of port houses?
If you're not the DIY kind of traveler and prefer a guided tour, this is a great half-day port wine tasting tour. It includes an English-speaking guide who will take you to 3 port houses. You'll get to visit a cellar and enjoy tasting 7 different ports.
Recommendations may be affiliate links on which I earn a small commission at no additional cost to you. This helps me share new wine destinations with you and I only recommend products and services that I love and think you'll love too!
The Best Port Houses for Port Tastings
These port houses are great for enjoying port tastings without a tour. And they're all right along the Douro River just steps apart from each other. So, you can easily do them in one day.
C.N. Kopke
If you're looking for a unique experience, head to C.N. Kopke, the oldest port house. What makes it so special? Well, for starters, they pair their delicious ports with chocolate. Yup, you heard that right!
Kopke has been in the game since way back in 1638 when Nicolau Kopkë started a wine-buying venture. But it became a port producer in 1781 after snagging a farm in the Douro Valley.
And let me tell you, they've got some seriously old ports. You'll find vintages dating back to the 1930s. And even a 50-year tawny.
If you want to try some non-fortified wines too, Kopke's got you covered. These come from Quinta de São Luiz, which they purchased in the 1920s. The vineyards are in the Cima Corgo area of Douro Valley, where you'll find many of the top quintas.
They make some tasty reds, rosés, and white wines from vines planted as many as 50 years ago. You'll see top grapes like Touriga Nacional and Tinta Cão.
In Kopke's cozy tasting room, you can choose from a selection of tastings that include their ports and Douro Valley DOC wines. The tasting room staff is very knowledgeable, and they'll give you just the right amount of information without overwhelming you.
Plus, you'll get to enjoy stunning views of the city while sipping and snacking on traditional Portuguese chocolates.
Quinta do Noval
This famous port wine house is another great spot to stop and sip along Vila Nova de Gaia's waterfront.
Quinta do Noval's Douro Valley vineyards date back to 1715. After being hit hard by phylloxera, the property was bought and replanted by a port shipper named António José da Silva.
By 1931, Quinta do Noval was making a name for themselves as one of the only ones that year to declare a vintage. And the president of Portugal chose it for Barack Obama's visit in 2010. Talk about a good endorsement!
Today, Quinta do Noval makes a variety of ports and non-fortified wines. These are all produced and aged in the Douro Valley.
You won't want to miss unique finds like the single-vineyard vintage port made from ungrafted vines. Plus, they make an unfiltered Late Bottled Vintage that you can age in the bottle.
For non-fortified wines, you'll find red wines and white wines from local grape varieties. But they also make international varietals such as Syrah and Petit Verdot.
Quinta do Noval's tasting room is open for walk-ins, so stop by to try five of their delicious port wines. And did I mention they make their own olive oil too?
Espaço Porto Cruz
If you're looking for an interactive and fun wine experience, check out Espaço Porto Cruz.
Cruz is one of the largest port producers, with 10 million bottles sold annually. Their grapes are grown on 400 hectares in the Douro Valley and the wines are produced at Quinta de Ventozelo.
Their ports run the full gamut, with ruby, tawny, white, and rosé. And they've got a variety of Vintage, LBV, and Colheita port wines.
The 5-story Espaço Porto Cruz is like a wine lover's playground. There's a tasting room, restaurant, wine shop, and even a gelateria! I mean, it's hard to say no to wine and ice cream.
If you're planning ahead, you can make a reservation for one of their delicious wine, chocolate, and cheese tastings. But if you're just popping in, there's plenty to see and do.
The first floor is a multimedia center with interactive experiences and sensory activities to help you learn all about port wine. And you can even check out some cool contemporary Portuguese art while you're there.
But the real gem is the fourth-floor roof deck. The 360-degree terrace has jaw-dropping views of the river and city. It's the perfect spot to order a glass of wine and a cheese platter, and just take it all in.
Besides Cruz ports, they also serve ports from Dalva, a smaller producer owned by the C. da Silva family. And a great selection of white, rosé, red, and sparkling Portuguese wine.
The Best Port Houses for Port Cellar Tours
While there are many great port houses, these are my picks for some of the best port wine cellars for port tours. All offer options for an English tour and have excellent port wines to taste.
Taylor Fladgate
For experiencing one of the larger and most famous port houses, I'd recommend Taylor Fladgate. This OG producer has been making port for more than 300 years.
It all started back in 1692 when an English merchant named Job Bearsley arrived in Portugal. In later generations, they were the first British wine shipper to buy land in the Douro Valley. And they even invented Late Bottled Vintage port.
Taylor specializes in vintage ports. And you'll find ones dating back to the 1960s. Their tawny ports go up to 50 years. Plus, they have a newly released Very Very Old Port (VVOP), made with wine from before the Second World War!
Take a self-guided audio tour to explore the ancient cellars at your own pace. Learn about the history of port wine and how production has changed over the years.
After your tour, you can enjoy a tasting and fantastic views from the terrace overlooking the city. And if you're there around lunchtime, grab a meal at the on-site restaurant, Barão Fladgate.
Plan to spend an hour and a half to two hours for the informative tour and port wine tasting. No reservations are needed for the audio tour. But you can book a private tour and tasting in advance.
Churchill's
If you're looking for a more intimate visit, head to Churchill's. This family business is located a bit off the beaten path. But it's worth the walk.
Although founded by a descendant of the Graham's Port family, Churchill's is a newer port producer. John Graham (aka Johnny) arrived in Porto in the 1970s.
His family had recently sold Graham's Port Lodge to the Symington Family, who also own Cockburn's Port, Warre's Port, and Dow's Port.
Johnny wanted to make port wines in a more modern, drier style. So, he founded Churchill's, naming it after his wife Caroline Churchill.
Grapes for the wines come from Quinta da Gricha, a grade-A vineyard in the Cimo Corgo sub-region of Douro Valley. These are hand-picked and foot-treaded, ensuring the best taste and quality.
Churchill's is a smaller place, meaning that you won't have to deal with massive groups during your tour and tasting.
You'll have the opportunity to visit the cellars with a tour guide and learn about the port-making process. And then enjoy a tasting of their excellent port and other Douro wines in the 1982 bar and garden.
Ramos Pinto
Another great option for a tour and tasting experience is Ramos Pinto. This historic port house was founded by the young artist, Adriano Ramos Pinto, who had great success exporting his ports to Brazil.
Over the years, Ramos Pinto continued to expand by acquiring more vineyards in the Douro region. They currently own four quintas. And they're now part of the famous Louis Roederer Champagne house.
During the museum visit, you'll learn about the company's history and Adriano's unique marketing methods. Then you'll take a guided tour of the cellar, followed by a tasting of Ramos Pinto ports.
The tasting pours are generous. So, if you plan on visiting multiple port houses, you may want to share one between two people. There are also different levels of tastings to choose from, so you can tailor your experience to your preferences.
You can make a reservation in advance online, but they do take walk-ins if space is available.
Porto Wine Museum
While you're in Vila Nova de Gaia, don't miss the WOW museum complex. With 7 museums and 12 restaurants and bars, you'll be hard-pressed to run out of things to see, eat, and drink.
Learn about winemaking and Portugal's wine regions at The Wine Experience. Plus, enjoy a wine tasting at the end of your visit.
And did you know Portugal is the world's largest producer of cork? Find out how wine corks are made at Planet Cork. This interactive museum has kid-friendly exhibits so it's great for the whole family.
If you're looking to visit Douro Valley while you're in Porto, check out my experience with this excellent Douro Valley wine tour.
And for more great wine destinations in Europe, see my posts on Cava tasting near Barcelona, Bordeaux wine tasting, the best wineries in Santorini, and the best wineries in Crete. Plus, don't miss these incredible Stellenbosch wineries in South Africa.
Where to Stay for Visiting Porto Port Houses
As one of the most affordable places to visit in Western Europe, there are lots of great accommodation options in Porto. If you plan to spend most of your time seeing the historical attractions in the old city center of Porto, then you'll want to be on the Porto side of the river.
Eurostars Porto Douro is a great value. Located right along the banks of the Douro River, it's close to the Dom Luis I Bridge. So, you'll have easy access to both the port houses and Porto's main attractions. And they even have room options with kitchens.
But if you're all about the wine, there are great places to stay in Vila Nova de Gaia too. The Yeatman is a fantastic luxury option. All rooms have river-facing views. And the hotel has a great program of wine tastings, seminars, and wine dinners. Plus, a 2-Michelin-star restaurant.
You can find these hotels and many other great options on Booking.com. Just enter "Porto" or "Vila Nova de Gaia" and select your dates below to see available options.
Have you visited any of these port houses? What's your favorite port wine?
Learned something new?
Shop My Travel Essentials