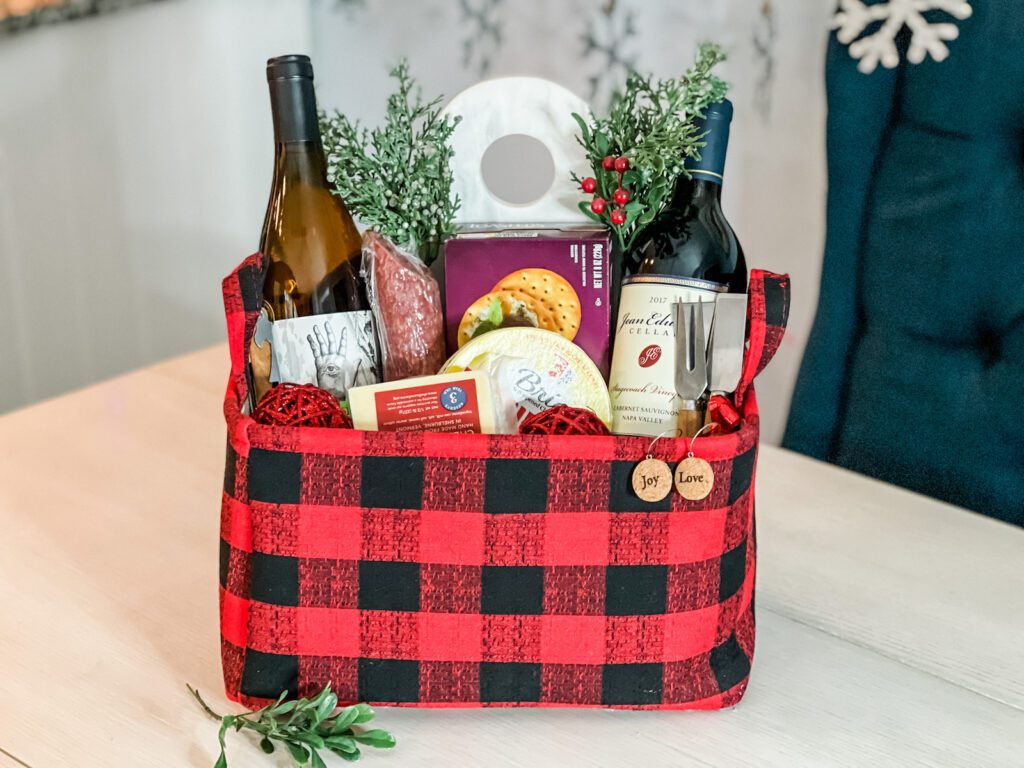 It's the holiday season. What does that mean? Well, besides all the merry and joy, it means the stress of finding personalized wine gifts for all your nearest and dearest wine-loving friends.
But you've run out of creative ideas for your wine connoisseur friend who already has all the latest gadgets.
And you're not sure what to get for your favorite uncle that he doesn't already have in his 1,000-bottle wine cellar.
Plus, you want to impress your oenophile boss with a creative gift so maybe you can (finally) get that promotion you're after.
Don't worry, I've got you! Read on for ideas that are sure to impress any friend/relative/coworker who loves wine.
This post was sponsored by the brand, but all opinions on the product are my own. As an affiliate, if you purchase through my links, I earn a small commission at no additional cost to you. I am so grateful for brands I love supporting what I do. Thanks for supporting them back!
Personalized Wine Gifts Idea: DIY Wine Gift Basket
A DIY wine gift basket is super easy to put together and you can personalize it to your recipient's taste. It shows a lot more thought than just purchasing a premade one online.
The first step in putting together your fabulous basket is to select your wine.
Sure, you could grab a couple bottles with pretty labels while you're at the grocery store.
But why not make it a bit more special with some hand-selected wines from small producers.
How can you get these wines, you ask?
Well, you could buy a plane ticket, fly to California, book a bunch of appointments at small wineries, taste all of their wines, select the best ones, and squeeze them into your suitcase, praying they don't break on the way home.
OR…
You could order them from The California Wine Club since they've done all the work for you!
This is one of my favorite wine clubs and you can read my review here for more information.
But essentially, they partner with small producers whose wines you won't normally have access to outside of the winery. After tasting their wines, if they meet the quality standards, they choose their best bottles to be offered through the club.
They also offer great gift options. For your wine gift basket, I'd recommend taking a look at their 3-bottle Gift Sets. These start at $65 and you can choose from ones for:
Chardonnay lovers
California Cabernet Lovers
Luxury Napa Cabernets
If you don't find what you're looking for in their Gift Sets, then check out the Wine Store. They have tons of great options and deals on red wines, white wines, and even rare finds.
And it's not just California wines. Here you can shop from their full library, which includes winery partners throughout the world.
BTW, if you decide you want to become a member yourself, you can get two extra bottles in your first wine club shipment for free. Just use code TWOEXTRA.
Wine Gift Basket Ideas: What to Put in It
Next, you'll want to pick up a cute basket to hold all the goodies.
You could choose a classic winter white one that they could repurpose and use throughout the year. Or go with something more festive for the season. Either way, you'll find lots of great options at home goods stores or online.
Besides the wine you've selected, here are some ideas for things you can include in your gift basket:
Cheeses – aged cheddar, brie, or Manchego all work great
Cured meats – think genoa salami, coppa, and prosciutto
Crackers or French bread
Nuts – I love Marcona almonds or cashews
Jam or honey – seasonal flavors are great to go with the theme
Small charcuterie board – so they have something to put their spread on
Set of cheese knives – go classic or choose ones to match your recipient's personality
Holiday-themed wine charms – great for wine-tasting parties
Wine stoppers – because you can never have enough
Personalized wine opener – include their name or a personal nickname
Once you've gathered all your items, arrange them in the basket and add some festive accents. Get creative here with some greenery, colorful ornaments, or other fun holiday items.
Then get ready for all the "oohs" and "aahs" you'll get when they open their gift!
pin for later!
Wine Club Gift
Another great personalized wine gift option is a wine club gift.
The California Wine Club offers one of the best wine club gifts. They have five different club series so you can choose one that matches the style of wine your recipient likes.
Shipments can include 2-4 bottles of wine and start at less than $45 for two bottles. And you can gift anywhere from 1-12 shipments of any of these series:
Premier – hand-selected California wines from small producers; see my review of the series here
Signature – the highest-rated wines from top producers in California; see my review of the series here
International – family-owned wineries from Europe, Australia, New Zealand, South America, and more; see my review of the series here
Aged Cabernet – Napa Valley and Sonoma Cabernets that have been aged 7-12 years
Pacific Northwest – small producers in Oregon and Washington that you likely won't find outside of the winery
Here's how it works:
Choose a club level
Decide how many shipments you want to gift.
Personalize the shipment by picking red only, white only, or a mix of wines depending on what your recipient likes.
Select the timing of the shipment so it's a surprise.
The California Wine Club will take care of the rest!
The shipment will include a gift message from you and a $25 wine credit, which is great if they want to reorder any of the wines they receive or choose others from the Wine Store.
You can also add the Gift+ option for $22. This includes a gift box, a card, a wine stopper, and a corkscrew. Have it sent directly to your recipient. Or ship it to yourself so you can wrap it and give it to them in person.
And you don't have to worry about your gift recipient having to cancel their membership. They'll only receive the number of shipments you purchase, and nothing else. Unless of course, they love their wines so much that they decide to sign up on their own!
You can check out the club series gifts here.
Wine Gift Card
Now, if you've read this far and you're short on time. Or you're stressing about not knowing what kind of wine your friend or family member likes, you could always fall back on a gift certificate to The California Wine Club. Then you can let them choose what they want.
Just select the amount you want to gift (starting at $60), checkout, and you'll get the gift card via email the next business day. Easy peasy!
The gift card can be used toward gift sets, club membership, or case orders.
Personalized Wine Gifts Promo Code
Don't forget, you can find all of the gift options here.
And if you decide to treat yo' self with a gift, you can get two extra bottles in your first wine club shipment for free with code TWOEXTRA.
What other items would you add to a personalized wine gift basket?
Learned something new?
shop my Wine Accessories